Costa Tropical Paddle Surfing Video
Known for its rugged and mountainous landscape, the beaches on the Costa Tropical are not long stretches of fine golden sand, more like smallish coves of pebbles and shingles.
This harsh rocky landscape, has created some postcard-perfect little coves and small hidden beaches. Places that are just waiting to be explored, some of them are only accessible by the sea or via hair raising paths that cut down the mountain side.
A far better (and safer) way to explore these hidden coves and beaches is by canoe or by stand-up paddle surfing. I opted for the latter.
What is Standup paddle?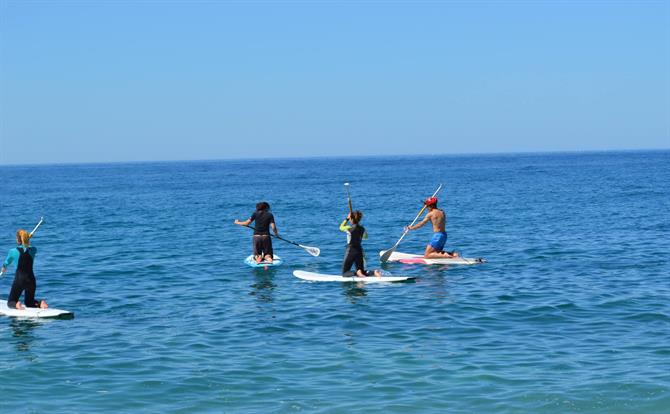 A very good question and one I had no answer to before agreeing to my little excursion.
Stand up paddle surfing (SUP), also known as stand up paddle boarding, or as its known in its original Hawaiian "Hoe he'e nalu" is a sport that is quickly gaining in popularity.
It first became popular in the 1960s - by surfers standing on boards to take photographs. The 'Beach boys of Waikiki,' would stand up on their long boards and paddle out past the breakers to take photos of the tourists learning to surf. These action shots would then be sold onto them.
Bit-by-bit stand up paddle surfing's popularity has spread. And recently it really has taken off. Every beach in Spain seems to have someone paddle surfing on it.
Its appeal is easy to understand. Stand-up paddle surf is very straightforward, very safe and requires very little effort to paddle long distances.
One of the things I liked most about paddle surfing was the angle of visibility.
Being at standing height, you see both deeper into the water and further across the water's surface. Its a great way to explore the coastline.
The Costa Tropical
The Costa Tropical is a watersporting meca.
In particular, the section of coast that falls under the Los Acantilados de Maro-Cerro Gordo Natural area, the area is carefully protected and maintained.
The border of the natural park stretches out to sea, meaning that fishing is not permitted and has meant over the years that the underwater flora and fauna has thrived. Combined with the fantastic water quality (the area often wins awards to that effect), it is of little surprise that the Costa Tropical is the spot to practise scuba diving.
One of Granada's first beaches and sitting right on the border with the province of Malaga is the beach of Cantarrijan. Not a place for the squeamish, it is also widely known as the Costa del Sol's best nudist beach.
There are actually two sections, one that is clothing 'optional,' the other that tends to be completely nudist. In saying that, the sections are very mixed. You will see nudism. Its inevitable.
The specifics
I went paddle surfing with a locally based company called 18nudos. They have regular tours leaving the beach of Cantarrijan and the surrounding areas. For more information and upcoming activities see see 18nudos.com/actividades.html or tel. (34) 609543577.
Stand up paddle is surprisingly easy to get the hang of. Within about fifteen minutes and a few falls, you should find your balance and enjoy a fantastic day out!