Cádiz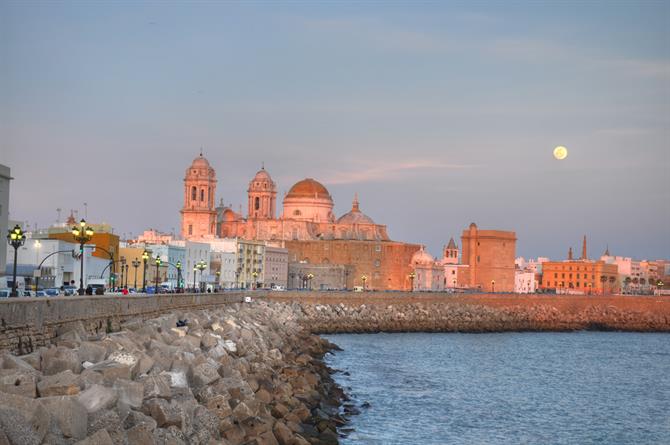 Cádiz, they say, is Europe's oldest city.
There are those who disagree but either way, it's old. Columbus set out from here twice on his voyages to the New World. Built on a narrow spit of land, Cadiz is accessed by a single road over the sea, which gives it a magical air.
The city's golden age was during the 18th century and this is evident in the architecture of its rambling old town, a maze of lanes and broader streets. Bars, cafes and many of the shops have a wonderful 'vintage' feel to them.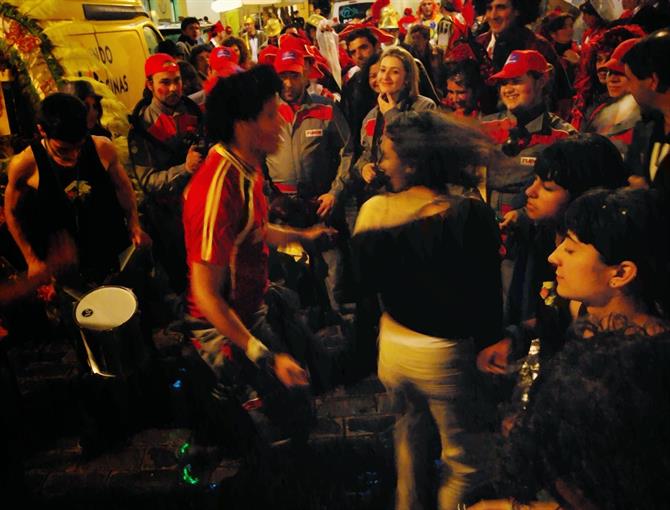 There are very few human settlements on earth with this kind of historical pedigree; spilling over with monuments and historical remains, Cadiz should be added to your bucket list if it isn't already on it, but if you need more reasons to visit, try Carnaval in the spring, second only in scale to Rio's, or the Ruta del Tapeo in summer when the cadiz's tapas bars – well-known for seafood – battle it out for your custom.
Jerez de la Frontera
The word "sherry" was born as a mistake – a mispronunciation of 'Jerez', early British visitors couldn't handle the sound of the Spanish "J".
Not far inland from Cádiz, this is where the famous fortified wine comes from and a must-do while here is to take a tour in one of the town's old bodegas – Harveys, Gonzalez Byass or Williams & Humbert to name just a few.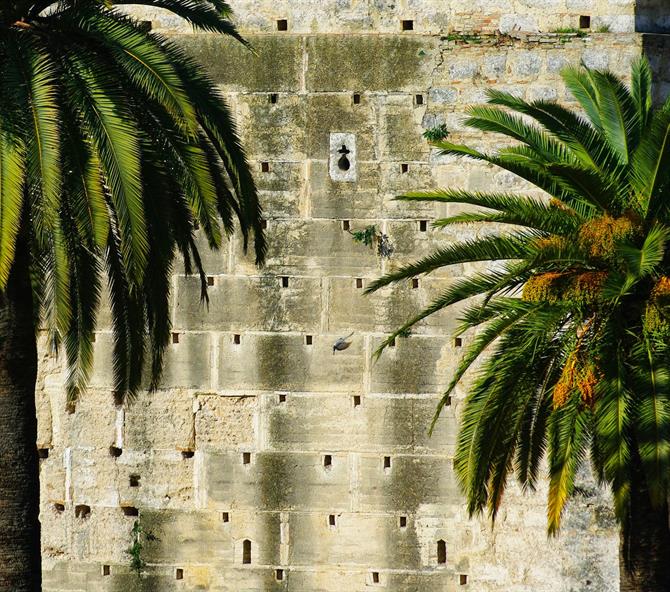 If you're still in reasonable shape afterwards, Jerez boasts a huge number of amazing bars and restaurants, so you can carry on enjoying the local product with some quality tapas. Generally tapa-free, but unmissable, are the handful of old sherry tabancos: barrel rooms where wine is sold by the glass and by the bottle.
If you bring along an old two-litre coke bottle they'll fill that for you too. It isn't all about sherry either – have you ever heard of a horse dancing to flamenco? Such a thing exists, and this beautiful city's Horse Fair is the place to see them. The next fair is in May 2014.
Tarifa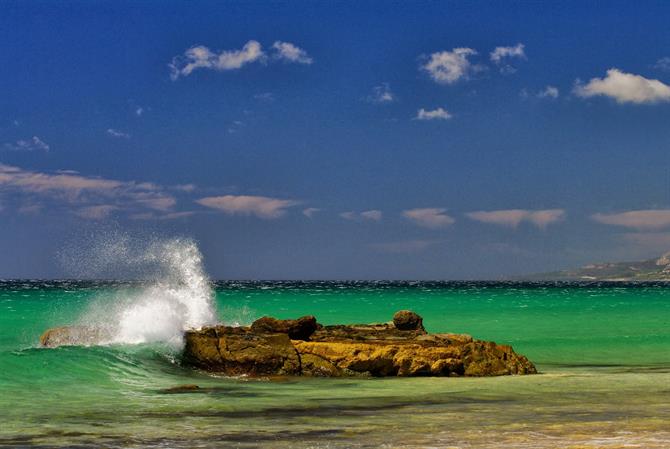 It isn't all about culture and history (mind you, both are in plentiful supply in Tarifa) – the main attraction of this costa for a lot of its younger, sportier visitors is kitesurf.
A famously reliable supply of wind the whole year round make this the kitesurf capital of Europe, and if strapping one end of yourself to a board, the other to a kite and flinging yourself off the windiest coastline on the continent is something you are absolutely determined to do, then do it in Tarifa.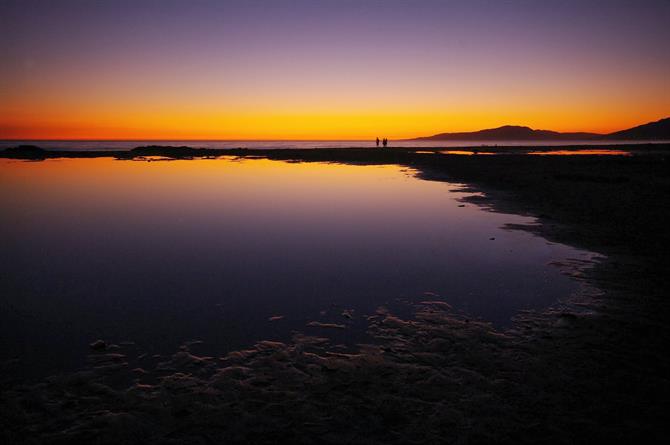 A variety of schools can get you trained up and if you don't feel like it you can take a whale-watching trip, or just savour the atmosphere where two seas converge in yet another intoxicating Spanish town.
Even here, though, among the hordes of surfers you can't quite escape history. The town was strategically crucial when the Moors invaded in the 8th century and is still boasts some well-preserved Moorish fortifications.
Vejer de la Frontera
This province has its fair share of white villages (pueblos blancos), and Vejer is arguably the most spectacular.
Perched on a hillside a little inland from the coast, it is easily driven past if you don't look up, but if you do you will be presented with a uniquely Andalucian scene – whitewashed walls built right into the cliffside of a steep hill.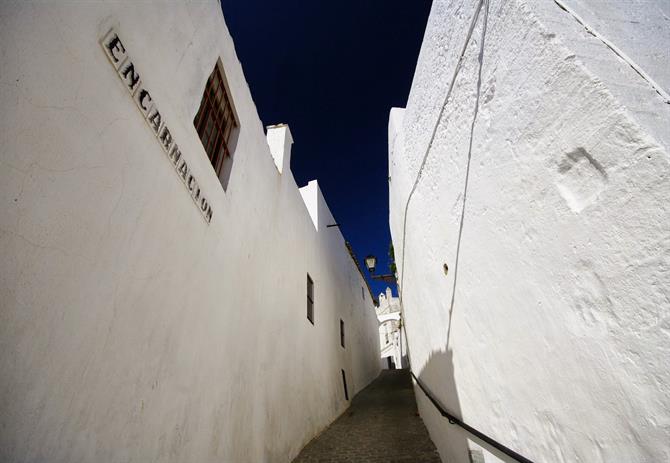 Up there you'll find yourself in an antique maze of impossibly charming streets and squares. Vejer is visitor friendly with a lot of menus printed in two or three languages (not usually the case in this area) and shops catering to tourists and collectors as well as a number of surprisingly accomplished restaurants for such a rural location.
Sanlucar de Barrameda
Most visitors to Andalucia, and even to Cádiz province, will never see Sanlucar and that's a shame because there are several great reasons for going. It sits on the southern bank of the mouth of the river Guadalquivir, just across from the legendary Doñana National Park, a huge area of protected wetland that is home to endangered species like the Spanish Imperial Eagle and the Iberian Linx.
Romantically enough, the park may also have been the site of the lost city of Atlantis.
As well as making a great base from which to visit the park, Sanlucar is the wonderfully shabby, laid-back little town that produces Manzanilla wines, the bone dry sherries that are said to get their slightly salty flavour from the sea breezes that blow through the old bodegas here.
With a beautiful old castle and bars and restaurants to die for – including the famous Bajo de Guia strip of fish restaurants – what more do you want?
El Puerto de Santa Maria
The port of Santa Maria provides a perfect excuse to board the catamaran that starts out in Cádiz city and whisks you across the bay on a beautiful, if sometimes choppy, half hour boat trip, docking in this altogether quieter little sister of a town.
Turn one corner and you could be in Cádiz itself, turn another and it looks a bit like Jerez, another still and you might be ambling through Sanlucar, just up the coast. The comparisons are apt because Santa Maria is the third point on the famous Sherry Triangle and is where fino wine, a dry sherry, originates.
Quieter than Cádiz it may be, but it is a lively holiday destination in the summer months, full of Sevillanos fleeing the unbearable heat of their own city, and it boasts a range of restaurants that reflects its popularity, including the famous Romerijo, a must-do seafood treat.
Arcos de la Frontera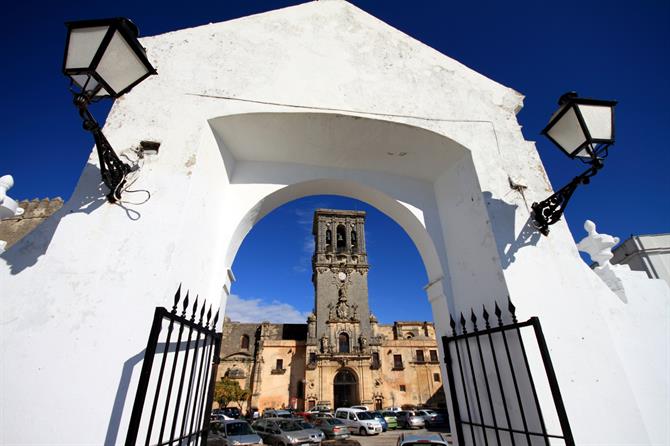 Perched on a sandstone ridge, inhabitants of Arcos would probably argue that their town is an even more spectacular sight than Vejer, but we'll leave them to sort that one out between themselves. Like most pueblos blancos the town has Moorish history - a number of Moorish banners were seized during the nearby battle of Zahara and have been on display in a church in Arcos for over five hundred years.
The town is a visual treat with all the hallmarks of a white village - maze-like cobbled streets and pretty, white-washed little squares. It is also very sizeable for a pueblo blanco so if you do get lost, you could stay that way for a while. The castle is 15th century and there are any number of grand old churches and buildings from the 16th and 17th centuries to gawp at before lunch in one of the town's countless restaurants.
Grazalema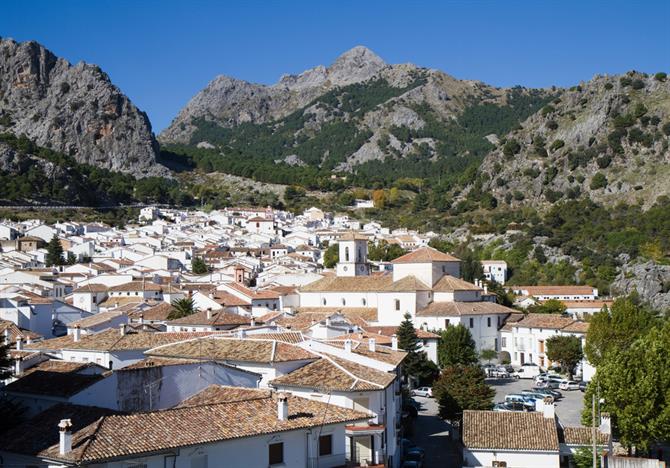 They say that Grazalema is Spain's rainiest town but that shouldn't stop you going. This is a pretty dry country and Grazalema is no stranger to beautiful, blue sky weather. Situated in the Sierra de Grazalema Natural park, the little pueblo blanco, overlooked by a dramatic outcrop, is the most popular base for the visitors who flock here for climbing and hiking. The area abounds with artisan food products such as Queso Payoyo, a unique and sweeter-than-usual goat's cheese and the town itself has a long heritage of woollen mills, one of which is still operating and makes ponchos, rugs and scarves. The surge in rural tourism has swelled the town's compliment of bars and restaurants so it isn't all about the great outdoors, although that is undoubtedly the main draw here.
Medina Sidonia
The next time you're down the pub and your claim that Cádiz is Europe's oldest city is angrily challenged, Medina Sidonia is probably the reason. Nowadays you could probably describe the hilltop town as 'little known', which is incredible since it may well have been founded by the Phoenicians and has found some way of being important in just about every historical period since. Romans, Moors and Castillians – they all coveted it and fought over it until, in the 15th century it became one of Spain's most important ducal seats.
Thankfully, modern Medina Sidonia is a peaceful place with few tourist trappings and a stately central square. It has once again achieved fame but this time around for its 'alfajores', a traditional Spanish sweet of Arab origin made from almonds, hazelnuts, sesame, cinnamon and cloves.
Jimena de la Frontera
The words 'de la Frontera' which follow the names of numerous villages and towns in Cádiz province refer to the fact that this was frontier land when Spain was being fought over by Christians and Moors. And like a lot of frontier towns, Jimena clings jealously to a hill, topped with the remains of a castle. Steep cobbled streets lead up to it and are lined in places with great little restaurants which provide real value.
The Hozgarganta river flows around the base of the hill and there are a number of good spots to bathe in. The town has been very popular with British expats, tucked away as it is from the more developed coast. The surrounding countryside is beautiful and there are various, fairly easy hikes to enjoy.
Images Copyright Robin Graham 2013