For some Mallorca is Magalluf ...
and for others it's Deià.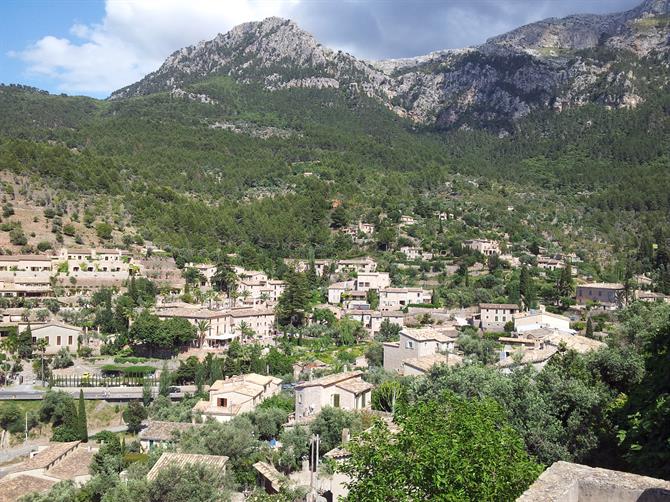 Drive for about half an hour north of Palma, winding through beautiful countryside, up, up into the Tramuntana mountains. Up through Valldemossa and then another ten miles onwards until you arrive at this lovely sight. Deià (or Deya) which shelters underneath the Teix mountain is known for harbouring millionaires behind it's green shuttered doors.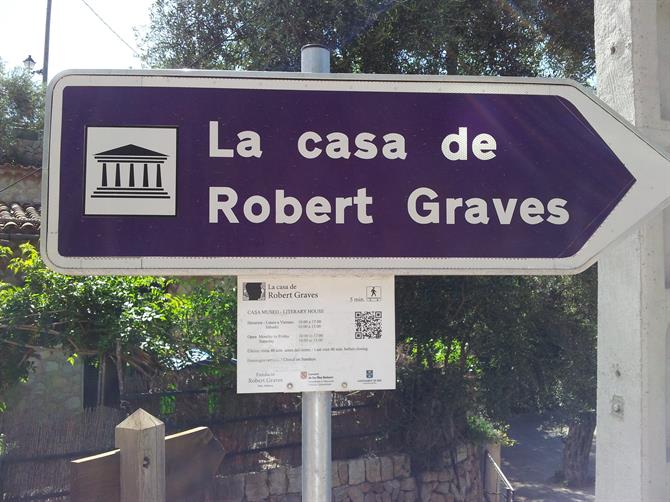 Poet and author Robert Graves made Deià his home when he moved there with his lover Laura Riding in 1932. He returned after the war and made Deià his permanent home until his death. He used the town, its idyllic appearance with its terraced olive groves and orange trees, as the setting for many of his stories. Over time other artist friends joined him in the village and it began to get a reputation for its artistic residents and their strange activities.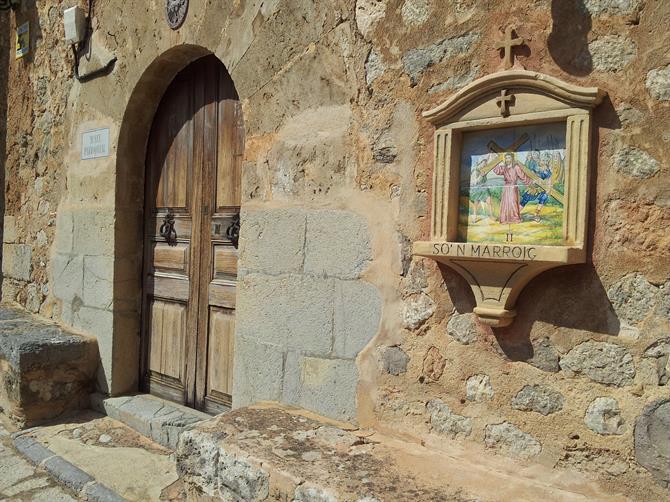 Deià is, quite simply, charming. During our day we climbed up to the top of Deia hill and visited the Parish Church of San Juan Bautista to look for the grave of Robert Graves.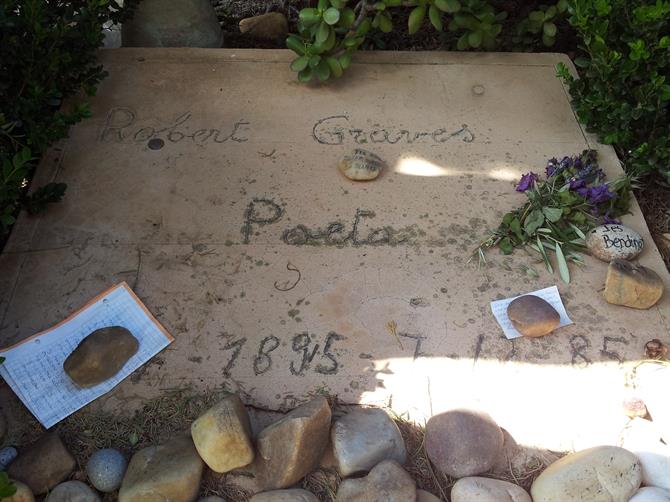 We didn't feel like leaving a note, but others do visit his grave and leave poetry or messages. The view from the church is quite amazing as well, so it's well worth the effort to get up the steepish hill. If you want to celebrate Mass at the church then take note of these times: Summer (June - August) : Saturday at 20:30h. Winter (September - May) : Saturday at 18:00h.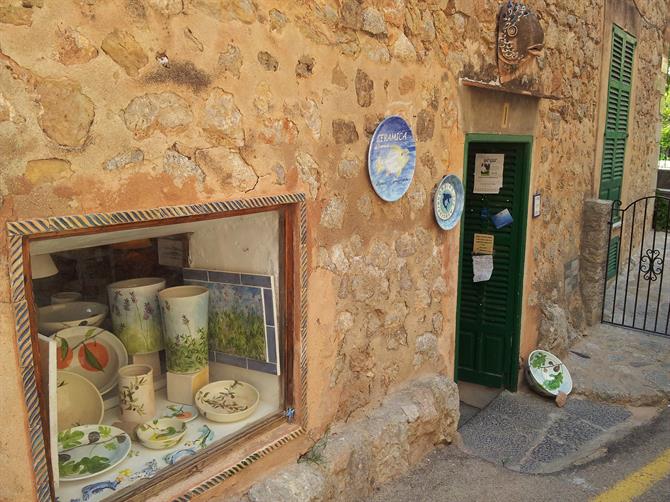 Wander along the streets in Deià and you will quickly feel the 'bohemian vibe', there's art everywhere! Depending on what you are interested in you can visit the Archaeological Museum (dedicated to the painter Norman Yanikun), the Parish Museum, the Robert Graves House Museum and the Son Marroig Museum on the Archduke Salvador's estate. There are many cultural events throughout the year, more so of course in the summer months, but look out for impromptu happenings as well. Keep an eye on the posters in the town.
So stroll back down the hill and through the town. Past the shops selling art, and the 'bo-ho' cafes, keep an eye out for the many well known celebrities who own houses in the town, and then down towards Cala Deia.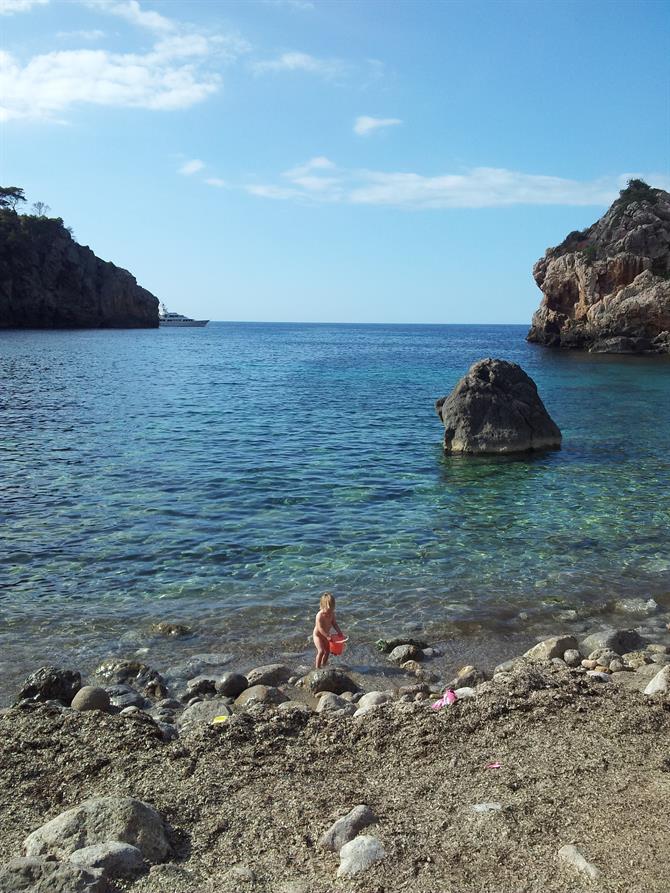 If you're not up for it then you could drive down there, but walking isn't so bad. Once you are down at the Cala why not take a dip or a sip. The beach is shingle so not so comfy to lounge around on, but the water is gloriously clear. There are two Chiringuitos (beach cafes) to choose from. Both serve fresh fish, salads, tortillas (Spanish omelettes), and meat. Prices start from 6€ for a mixed salad, 10€ for grilled sardines and 14€ for lamb chops.
Chiringuito Son Marroig Telephone:0034 971 63 63 41 (Closed Mondays and in the winter).
C'an Lluc Telephone:0034 649 198 618 (Closed in the winter).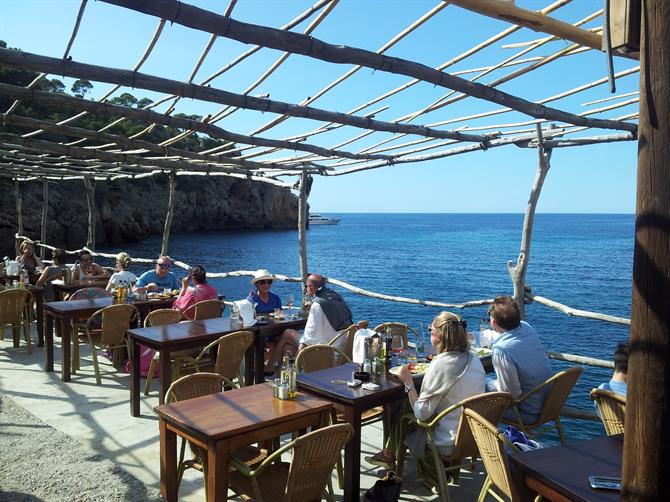 If you can, stay until sunset, it's amazing.
HANDY INFO
You can get more information about the Robert Graves museum here: www.lacasaderobertgraves.org
You can find the bus timetable for Deia here: http://www.tib.org/portal/web/ctm/autobus/linia/210. It's route number 210.
The local taxis can be contacted on Tel. N°: +34 609 386 168 and Tel. N°: +34 619 096 275