Planning a summer holiday can be a lot of fun, especially when children are in eager anticipation for the moment of departure. However, it can also be a challenge as the little ones are the most demanding. We have therefore gathered a list of the best activities to do with your kids in Empuriabrava, to make sure that everyone will have the holiday of a lifetime.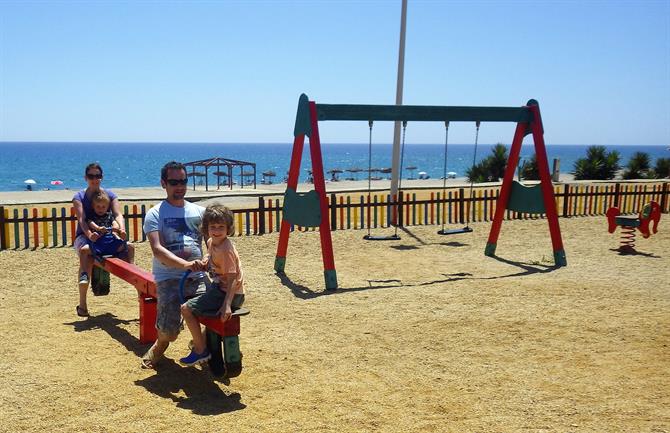 We assure you that even the most demanding, difficult kids will not be able to resist participating in these fun activities. There is no doubt that the holiday memories will last for the rest of their lives!
An exciting day at the Empuriabrava Flight Simulator
Approximately three years ago, a wind tunnel was opened in Empuriabrava (in the region of Castelló de Empúries) by a Catalan company called Windoor Realfly. A wind tunnel produces a continuous flow of air which is generated by four high-power turbines. This simulates the experience of a free fall, while being supervised and in a safe environment. As there is no risk involved, even the youngest of children will be able to participate: the minimum age is 4 years.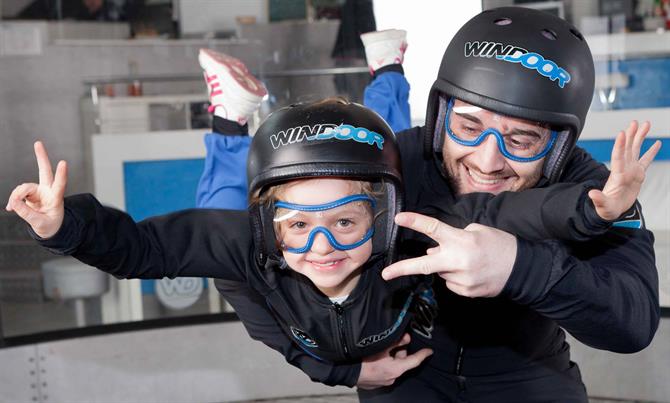 Inside the wind tunnel, an air flow is generated that reaches up to 300 kilometers per hour which will lift anyone into the air, regardless of size. This use of technology is nothing new for the Empuriabrava local government; they have a lot of knowledge about free flying and parachuting as they also offered these services before the company started. However, these services were restricted to professionals only.
For first time flyers the entrance price is €49, which includes two flights and a break in between. The force of air flow generated by the turbines lifts your body up to 10 metres high. In order to avoid accidents, an instructor is always present to guide you through the whole process. Apart from that, it is mandatory to wear a helmet and a special suit to eliminate risks.
At that height, you can enjoy a magnificent view over the Bay of Roses, as the top of the tunnel is made of glass. It will not take long until you feel the adrenaline rushing through your veins! Apart from the amazing experience you will remember for the rest of your life, you are also given a pen drive with the best moments of your flight. It includes both photos and videos to impress your friends and family.
We can guarantee that this experience does not involve any risk, so feel free to take your child with you in the tunnel. This is definitely one of the most exciting events they will experience, so make sure they do not miss out! Are you not convinced yet? It is scientifically proven that those who those who share intense moments of fun, establish a stronger emotional connection that will last for the rest of their lives! Do not miss out on this opportunity.
Watch parachutists flying through the air at the Aerodrome
After having experienced a free fall in the wind tunnel, it is time to see the professional parachutists in action. In order to have a great holiday it is definitely not always necessary to spend a lot of money; at the Aerodrome of Empuriabrava your children will be entertained without having to spend a single penny. Enjoy the looks on their faces while they breathlessly observe the planes shooting through the air. They will surely be amazed if they find out that the sky is not just the birds´ territory; humans can sail freely up in the air as well.
The Aerodrome in Empuriabrava was founded 30 years ago and is the main hub for parachutists on the Costa Brava. It has an area of 35 hectares and is freely accessible for everyone that is interested. You will not get bored, as thousands of jumps take place every day. In one year there are about 6000 airplane takeoffs and close to 130,000 jumps at the Aerodrome.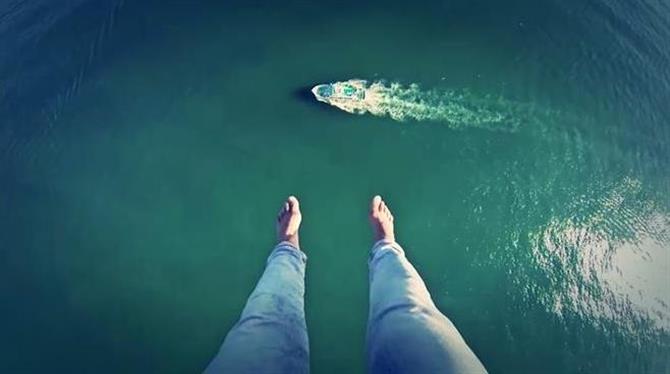 This activity is obviously not suitable for the youngest family members, however if you are with a group of adults and want to experience a parachute jump together this is a great option. The area is well known for its variety of sports activities. To ensure maximum safety during the jump, it is obligatory to go together with an specialised instructor on a so called tandem jump. This instructor jumps with you and also opens the parachute, so you do not have to worry about anything apart from having a good time.
At an altitude of no less than 4000 metres, you will jump out of the airplane. After a free fall of a minute, the parachute will be opened and is followed by a controlled landing of approximately five minutes. While doing the jump you can enjoy the breathtaking view of Cap de Creus, the village of Empuriabrava, the Pyrenees and the coastline of the Costa Brava. It is an unforgettable experience, for both participants and observants.
Rent a holiday home in Empuriabrava near the Aerodrome, to spend the day watching people fly through the sky like birds.
Take a break from the adrenaline in the Butterfly Park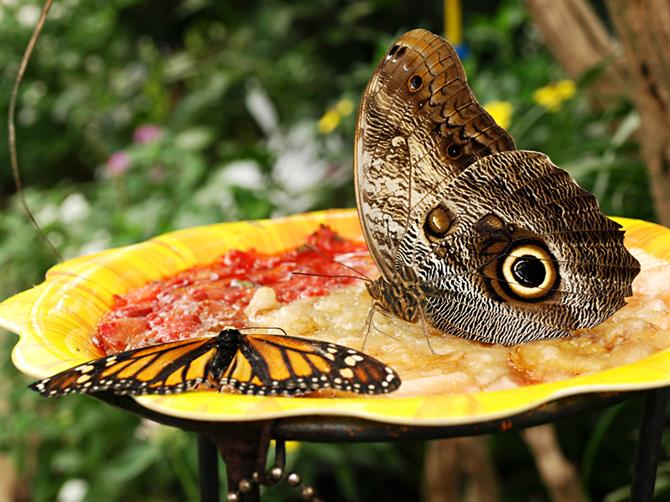 If you are looking for an enchanting place to take your children for a stroll and to relax, then the Butterfly Park in Empuriabrava is the place to be. This lush garden recreates a tropical environment and covers 1000 square metres. It is rich in flora and fauna; you will be amazed by the different species that there are to discover. From turtles to parrots and from iguanas to exotic butterflies, it is a feast for the senses! With a temperature of 28ºC and a humidity level of 80% this truly is a tropical environment and emulates the natural habitat of the colourful species that call this garden their home.
The change in temperature and humidity is immediately noticed when entering the garden. Children are usually fascinated by all the reptiles that pass by, especially the iguanas. The birds perched in the trees and the butterflies with their colourful wings should not be forgotten either, as they never fail to amaze. When walking through the park you will find many signboards that tell you more about the species living there. For instance, did you know that butterflies have taste sensors in their feet?
The Butterfly Park has an almost rainforest-like environment with many waterfalls that your children will definitely love. The animals living in the garden are accustomed to the presence of human guests, so there is even a possibility to make great pictures and to feed the birds. The park is open between April and November, however we recommend visiting in summer. As the sun shines brighter during the summer months and the butterflies will be more active.
Dive into the Aquabrava Water Park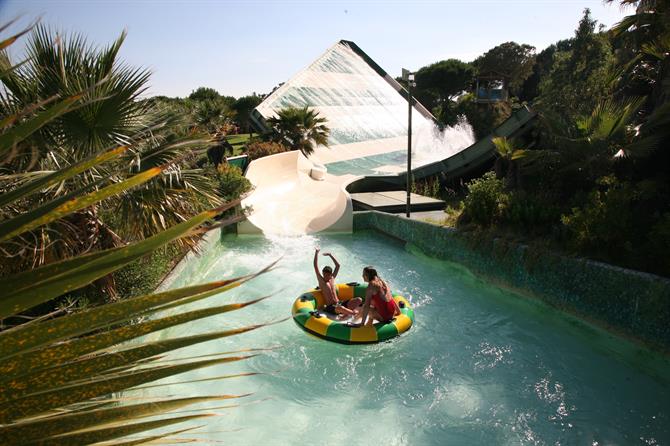 Aquabrava is a well known water park on the Costa Brava, located only a short distance away from Empuriabrava in the nearby town of Roses.
Your kids will love spending the day here: with the 19 different amusement options (pools and slides) they have access to, they will most definitely be entertained! The options are divided based on grades of enthusiasm, varying from For Kids to Very Enthusiastic.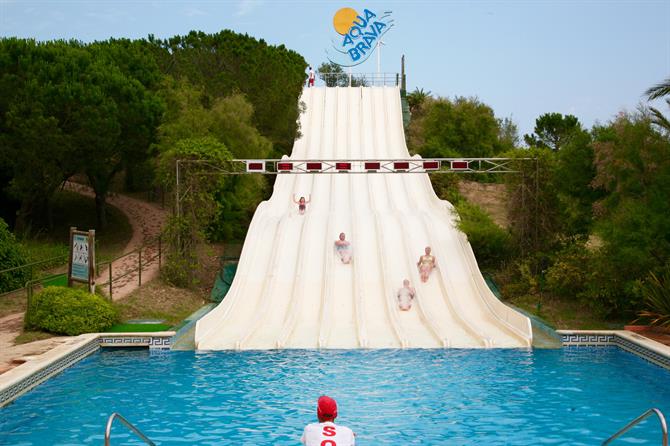 Between long slides, waterfalls, relaxing pools and wild rivers there is enough to choose from to have fun in the water. The children can enjoy this day to Aquabrava to the fullest as there is a specially designed kids´ area. It consists of 11 safe slides, a wave pool and a pirate boat they can explore. They will not get bored anytime soon!
Entrance fees depends on the height of your child and on the time of day. The tickets cost between €16 and €30 per person, however children below 80 centimetres enter for free. Find all the information on the website.
Explore Empuriabrava´s canals on a rental boat
Did you know that it is possible to rent a boat in Empuriabrava without needing an official license? It is easy, convenient and your children can be sailors for the day. Don´t miss out on the opportunity!
Canals I Mar at Avenida Joan Carles I is one of the companies that offers boats to rent for an hour, from prices starting at €40 per hour. They have various models and sizes, so there are enough boats to choose from. One of the employees will provide you with all the information and instructions you need to ensure your trip will be as safe and enjoyable as possible. You will see that it is a relaxing and fun activity to do on a summer day!
Visit Empuriabrava´s canals from a different point of view, transform the whole family into authentic captains and sailors and enjoy the time together on the water. This will be an experience you will never forget.
Try Mini Golf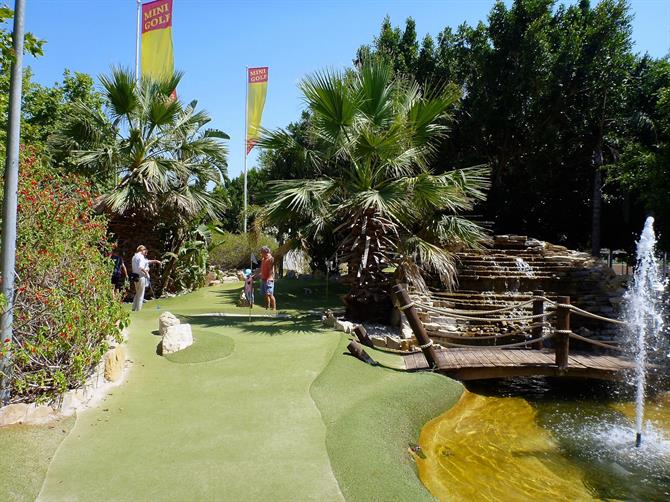 In the historic centre of Empuriabrava you can test your golf skills at Minigolf Carmansó, with a good variety of mini golf courses. There are obstacles and 18 holes where you can score points. This company has been in Empuriabrava for a very long time; they opened their doors in 1983 and nowadays it still is one of the best places to have fun.
Paying a visit to this mini golf course will not only serve as an introduction to the world of golf for your children, but will also improve their problem solving skills. Trying to avoid the obstacles and to score points will let them have a good time while they also learn something. The golf course opens at 10 in the morning and it only costs €5. Enjoy!
Go to Platja d´Empuriabrava and enjoy the inflatables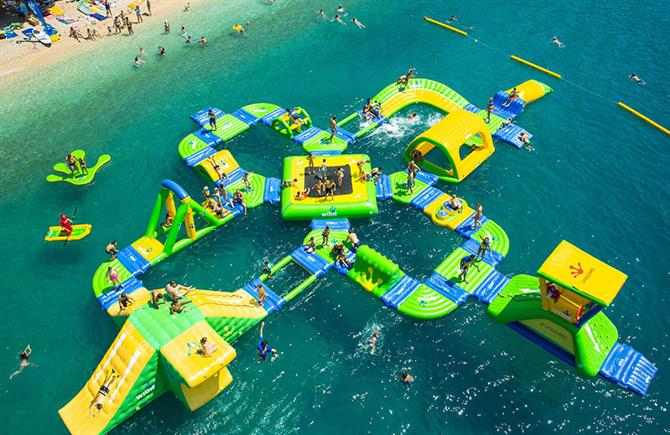 The beautiful Platja d´Empuriabrava can be found at the entrance of the city and will not leave anyone disappointed. In the sea, at short distance from the beach a big inflatable complex can be found. There are trampolines, obstacle courses and many floating platforms that will keep the little ones busy for a while. This natural water park on the beach is a great way for children to entertain themselves.
The company that operates this water complex is Aquamar Cemm. The entrance fees vary from €6 for half an hour to €25 for a whole day of fun on the inflatables.
It doesn´t matter if you relax at the beach or get your inner adventurer out at the obstacle course, Platja d´Empuriabrava means a great day with the whole family.
Many more adventures are waiting for you in Spain. Spend your holidays in one of our comfortable holiday homes in the province of Girona and be enchanted by this wonderful area.