Girona's not only a place to fly into and out of. Stay a while before heading to Barcelona or the Costa Brava, and you'll discover what the city has to offer. Or set aside a day on your return. It's worth 24 hours of anybody's time. Here are our sights to see.
Església and Pont de Sant Feliu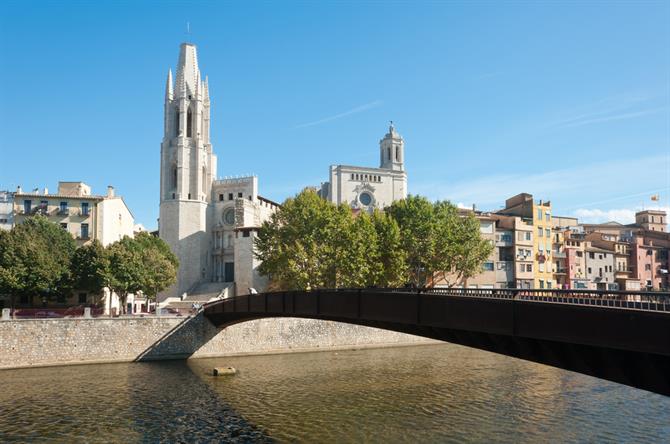 Park your hire vehicle in the car park adjoining Parc de la Dehesa. Before crossing over to Girona's Old Town by way of the considerably newer Pont de Sant Feliu. This bridge over the River Onyar dates back to 1995.
The curiously flat-topped bell tower of the Església will catch your eye. As will the nearby rear view of the Leona de Girona statue which has a ladder next to it for people to climb to plant a smacker for good luck. Now talk about kissing ass.
The church is dedicated to Girona's patron, Sant Narcís, known as the saint of the flies. Legend has it that a swarm of flies emerged from the saint's tomb in 1285 and tormented the besieging French troops into withdrawing. You'll see a painting depicting this very episode close to the saint's tomb.
El Call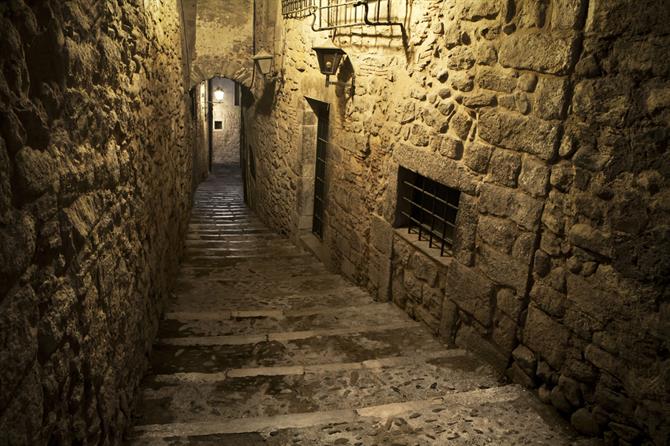 Girona, Schirona. The Call is Girona's Jewish Quarter. And considering the city was the capital of Judaism's mystical Kabbalistic theology in the Middle Ages, it's not surprising this ghetto's perfectly preserved. Despite La Reconquista of 1492 which saw Spain's Jewish communities expelled.
The epicentre of this Jewish ghetto is Carrer de la Força. It's here where you would have found each of Girona's three synagogues. Nowadays you're able to explore the eleven galleries of the Centre Bonastruc Ça Porta, the city's Museum of Jewish History.
Pont de Pedra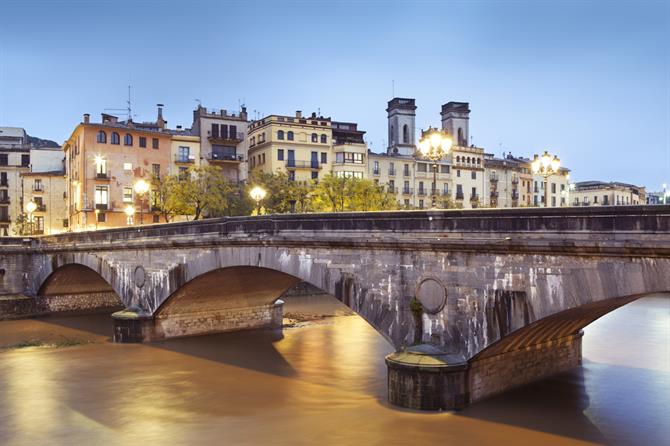 They began building Stone Bridge in 1850. During the reign of Isabel II. It's best viewed at night when the lights transform this pont into Lovers Crossing, perfect for strolling across arm in arm with your partner.
Catedral de Girona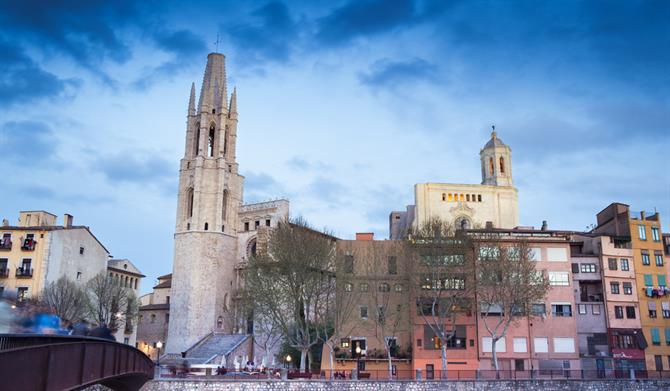 Girona Cathedral provides another great twilight view. Although bear in mind its opening times. They are November to March 10:00am to 7:00pm and April until October 10:00am-8:00pm, Monday through to Sunday.
Travel back and forwards in time with a visit here. To enter, you must ascend a staircase built in the 17th century. The cloister though dates back to the 12th century with the bell tower even older, having been constructed in the 11th century.