My personal mission to visit every single one of Gran Canaria's 80+beaches continues and I recently ticked another one off my bucket (and spade) list. That beach was Playa de Veneguera. And what a boy's own adventure I had in getting to and fro.
Into the valley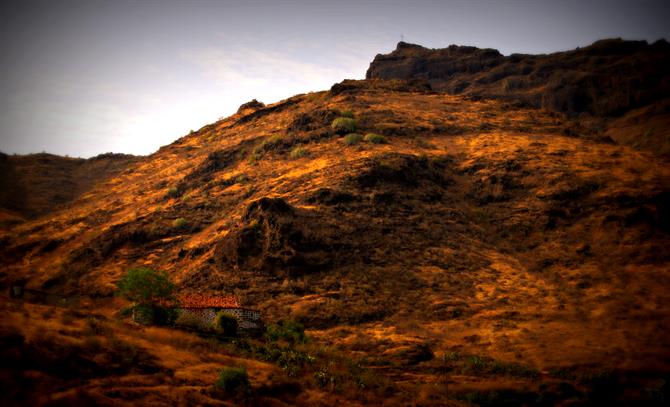 Following a short family break in La Aldea de San Nicolás, it was time to head home. To avoid another heart-meets-mouth bus journey via Agaete, I decided to take the gentler journey offered by the opposite direction. But not before stopping off at Veneguera.
Veneguera hamlet's a rather charming whitewashed affair whilst the beach, I would later discover, is altogether rougher and, indeed, readier. I was surprised to learn that they share the same GMT time zone let alone 35149 postcode. Such is the distance between the two.
It's showtime

As I started my walk, I felt like an audience member in a West-End theatre. For nature had decided to put on some show. The skyline was dramatic, the flora fantastic, and the estimated walking time of one hour and 45 minutes increased to two hours as I just couldn't help but stop to take photo after photo.
Whilst the valley of the countless palm trees screamed tropical location, the mango orchards shouted it. Well, geographically I was west (of) Africa. Although the banana plantations could confuse you into thinking you were on the Caribbean rather than Canary Islands.
The way to Veneguera

You'll see the Atlantic well before you see the beach as you continue your trek. It's all part of Veneguera's magical mystery tour. Earlier, I exaggerated the near-10km distance between caserio (hamlet) and playa for effect, but this is still a half-hour road trip if you opt for four wheels over two legs.
Do remember to pack water if hiking plus a hat. That's because although there's plenty of shade, it's in the background rather the foreground. And also bear in mind that whilst those tunos (cactus fruits) do indeed look tempting, you will prick your fingers should you decide to pick them; as I did in a bid to further quench my thirst.
The beach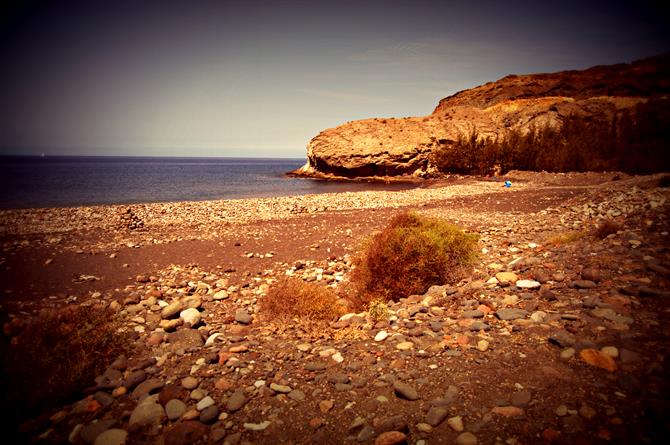 The journey to the Playa de Veneguera will spoil you rotten. If anything, the 370-metre-long beach will come as something of an anti-climax. Half stone, half sand, it reflects Gran Canaria's position in the middle of the Canary Islands, between sandy Lanzarote at one end and stony El Hierro at the other.
Yes, that is tumbleweed pictured above. A rather apt metaphor for the near-empty beach I encountered. After a refreshing dip and dry off under sultry September sun, it was time for me to hit the road again as I continued my incredible journey home.