There are many reasons to visit Granada. Apart from the spectacular Alhambra palace, Granada has many other attractions to see in this corner of Andalusia. Flamenco is just one of those popular attractions to enjoy in the city of the Alhambra.
The Sacromonte caves and Albaicin are both unique settings to see Flamenco shows. Enjoying a typical concert on a summer evening is an unforgettable experience.There are even schools that offer Flamenco courses. You can learn Flamenco during a week´s holiday in Granada.
Flamenco has been performed in Granada and across Andalusia since the 17th century. Declared
Intangible Cultural Heritage
by the UNESCO several years ago. There are many different places to see and experience Flamenco shows in the city.
The most typical area is the Sacromonte where you can find several tablaos. Shows are performed most evenings throughout the year. The Sacromonte neighbourhood is uphill from the historic quarter of Granada. Most of the buildings are set along a narrow road on one side of the Albaicin. This area is almost opposite the Alhambra and Generalife. It makes a fabulous viewpoint, yet another is magical spot in Granada.
Natural caves carved into the hillside make homes for the local performers. The road is dotted with prickly pear trees lining the Camino de Sacromonte. La Buleria, Cuevas El Rocio and other tablaos such as Los Tarantos and Maria La Canastera are all here. Also along this road is the Museum of the Sacromonte. This Interpretation Centre shows how a typical cave house is set up. Visitors get an insight into how cave living can be.
Flamenco caves are cool inside in summertime. These natural caves are also warm in the winter. Typically walls are decorated with copper bowls and local ceramics. There are also pictures of flamenco artists from past generations or famous dancers who performed there.
If you go to the Camino de Sacromonte to see a show, make sure you leave plenty of time. Sometimes this narrow road gets busy with mini buses each evening.
Maria La Canastera
is one of the typical Sacromonte caves with an authentic atmosphere. Just the right size to be intimate enough, close enough to notice the energy as the dancers perform. The cave is often open to see even if there isn´t a show on that evening. They have a website with contact information and show times.
Address: Camino de Sacromonte s.n, Granada

Cuevas El Rocio
is one of the larger Flamenco places in the Sacromonte. It has several different rooms inside, they have been in business since 1951. There are shows on continually here.
Address: Camino de Sacromonte s.n, Granada

The Auditorio
La Chumbera
is an indoor theatre rather than a cave. The shows are by professionals here and run from September until the beginning of the Summer. Information and tickets can be found at the Theatre Isabel La Catolica in Puerta Real. This is a more polished experience. If you go you need to eat before or afterwards as no food is included in the ticket price nor on sale at the venue.
Address: Camino de Sacromonte s.n, Granada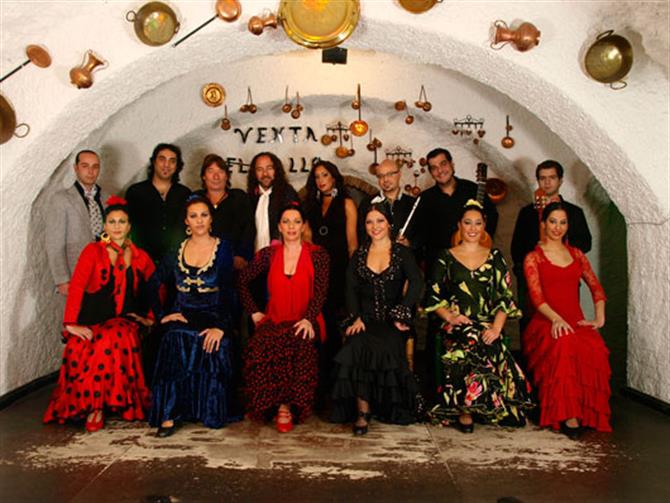 Palacio de los Olvidados

The Sefarad Museum in Granada close to Plaza Nueva have concerts on most weekends. Check their website for listings as they change each month. Many of them have Flamenco performances usually starting at 9.30pm. You can purchase tickets at the museum entrance ahead of the event.
They have more recently began to offer hands on workshops too. Run by Mula Palmero Flamenco Company they teach several different aspects of Flamenco. You can learn the Compas´ Flamenco rhythm or the basics to dance.
See more information here:
Palacio de los Olvidados


Another alternative is the
Jardines de Zoraya.
Set in the Albaicin; this restaurant offers great food and a Flamenco show too. In Summer you can sit outside in the open air terrace but there is plenty of space indoor too for the cooler months. There are two sittings, book ahead for confirmation of the start time each evening.
Festival International of Music & Danc
e takes place in the Alhambra grounds. This festival offers a wide variety of music and dance concerts. There are many flamenco acts too. This is on every year in the month of June. Tickets go on sale towards the end of April. This often sells out quickly so you need to be quick when booking the dates online.
The Generalife theatre has summer concerts in the evenings. Usually Ballet and Flamenco performances in July and August. This is a must see if you visit Granada during the Summertime. The Alhambra website has all the information in several languages about the current shows.
The
Templo del Flamenco
is close to Gran Via, just a short walk up from Puerta Elvira. You can book ahead and meet at the meeting point near to Puerta Elvira as this is tricky to find.
Inside this is a large room with some parts of the building using natural caves for the wall. The stage at the front of the room is tastefully lit and they have performances on most nights. The entrance here covers the meal and the performance. The dinner is a three-course meal with generous portions sizes and good quality food.
Typically the shows here are Cuadro Flamencos. A mixture of male and female dancers with percussion and Spanish guitar. The shows here are authentic flamenco as there is certainly quite a lot of improvisation.
Address: Calle Pernaleros Alto, 41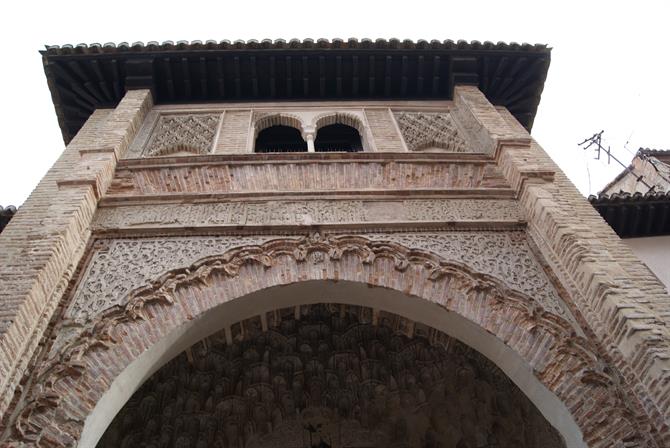 Flamenco Festivals in Granada


March/April
Flamenco festival organised by Instituto Andaluz de Flamenco. Venue:Teatro de la Alhambra on Calle Molinos 56
June
Festival International of Music & Dance annually inside the Alhambra grounds – tickets on sale online in April/May.
Corpus Christi – Annually Mid-June. Flamenco performances during the fiesta week across the city. Check Feria del Corpus programme for details.
July
Veranos del Corral is a Summer festival held in Corrala de Carbon. Tickets and venue off Calle Reyes Católicos.
Festival de las Cuevas in Sacromonte – Information from Carmen de las Cuevas. Venue: Museo de Interpretacion de Sacromonte at Camino de Sacromonte.
Springtime & Winter Season
Patrimonio Flamenco every Saturday from November to May. Venue: Teatro La Chumbera, Camino de Sacromonte.
December at the Theatre Isabel La Catolica. There are several Dance and Musical performances throughout the month. Tickets at Teatro in Puerta Real, Granada.