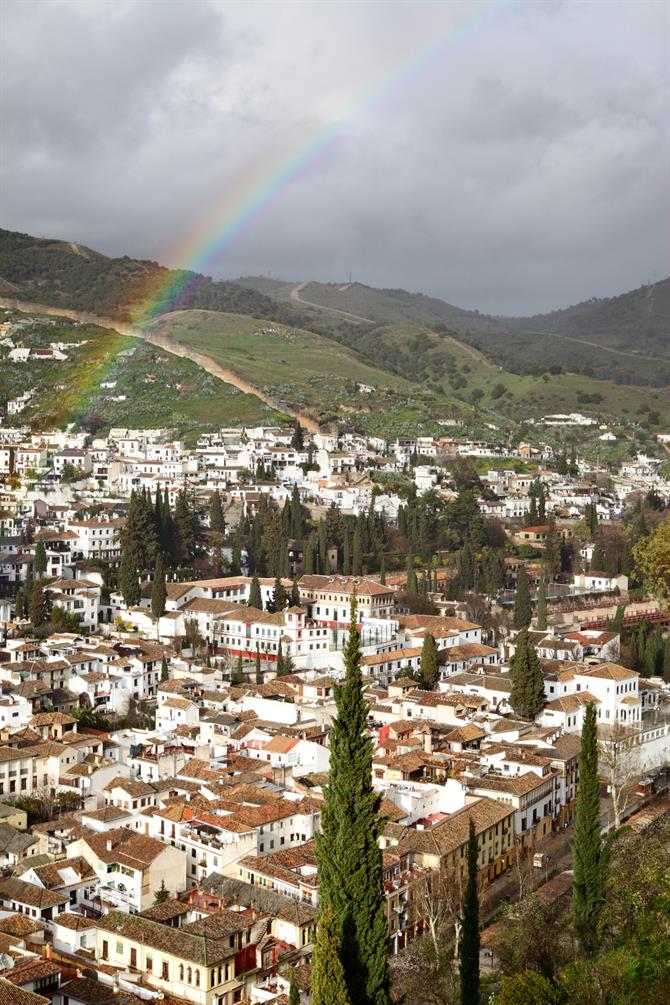 Granada is usually sunny. Even in Autumn and Winter although the temperature may cool we often enjoy blue skies and sunshine, The city only has an average of 50 rainy days per year. That leaves more than 310 days without rain to enjoy.
If you happen to be in the city on a rainy day, it doesnt have to spoil your visit. Here are ten of activities to enjoy whilst keeping dry.
1) Hit the shops
Granada doesn't have an out of town shopping centre just yet. The Centro Commercial Nevada is expected to open in the Summer of 2015. It will be an important development in Andalusia with 275,000 metres of shopping and restaurants. The site is just South of the City of Granada next to the motorway.
In the meantime you can check out Serrallo Plaza. This shopping centre has a handful of restaurants and some high street stores. The lower floor has a large supermarket and upstairs there is a gym, cinema and leisure activities for children. (Address: Paseo Lagunas de Cameros 1, 18008 Granada)
2) Granada Science Museum
Located just on the edge of the city. El Parque de las Ciencias has temporary and permanent exhibitions to visit. With a range of cultural and scientific themes filling 70,000 square metres there will be something to please everyone. Many of the exhibits are interactive and children will have a great day out. The planetarium and butterfly garden are particularly recommended areas for a visit on a rainy day.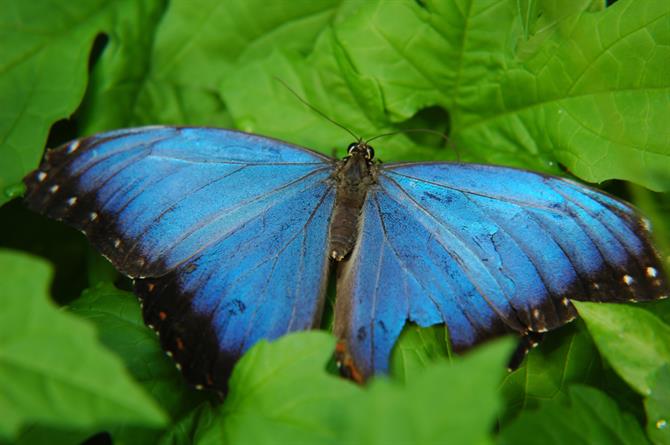 3) Cosy up to a log fire.
Take a short drive to Cumbres Verdes. This area close to Granada is just past La Zubia. This hillside setting in the countryside is full of country style Merenderos to have a hearty lunch. Some well-known ones are Restaurante La Guitarra and Casa Macareno at Fuente del Hervidero. The rustic style is perfect for a rainy day and you will want to eat well and cosy up to the fire.
Other areas just outside of Granada with beautiful landscapes and good food options are the villages of Guejar Sierra and Pinos Genil.
4) Mint tea
The Arab tea shops or Teterias along Caldereria Vieja are cosy little places to head on a grey day too. These two streets just off Plaza Nueva in the historic part of Granada feel world´s away. The Moroccan style interiors feel welcoming inside. Ask for the typical mint tea, it´s packed with fresh sprigs of mint and will warm you up. If you feel like something sweet they have many varities of Baklava, typical pastries, made from nuts and honey.
5) Arab baths in Plaza Nueva
If you enjoy the Arab vibe you may like to unwind at the Hammam Al Andalus. All you need is a swimming costume (and a reservation) Choose one of the four pools, they have varying temperatures. The benefit of this is the temperature contrast for skin and muscles.
If you want the full pampering experience try the Ilbira Ritual. This new treatment (Autumn 2014) is an exfoliation with Moroccan Kessa soap and mitt. Then a 30 minute massage with an essential oil. Choose from Pomegranate, Rose, Amber or Lavender. All the sessions at the Hammam last around 90 minutes. You will come out feeling revitalized and relaxed, the rain will have probably stopped too.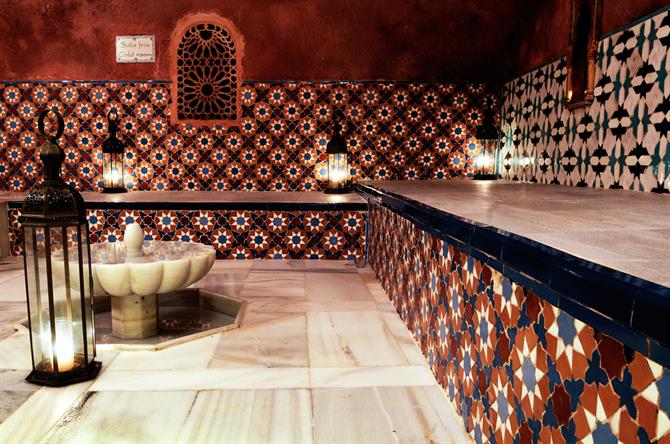 6) Hot Chocolate
Nothing is so delicious as hot chocolate and churros on a rainy day. Churros are fried dough and are served freshly made and piping hot. The chocolate served is very thick drinking chocolate, perfect for dipping your churros into. The most popular places with locals are Cafe Futbol on Plaza Mariana Pineda. Cafes on Plaza Bib Rambla near to the Cathedral are also typical too.
7) Strike!
Play Ten Pin Bowling inside the Ozone bowling alley. This bowling alley is inside the Leisure complex Kinepolis Pulianas. Bowling starts daily from 6pm.
If Football is more your scene, check out the fixtures for Granada C F. They are a primer league team and there could be home match at the stadium Los Carmenes.
8) Museum culture
With over twenty Museums to see in the city you will have plenty of things to discover indoors if its raining outside. If you only have chance for one or two, highly recommended are the Museo de la Alhambra which is inside the Palacio de Carlos V and the Caja Cultural de Granada. Find more details on my detailed museum guide, including location and opening times. The Alhambra Museum is free to go inside and have several temporary and permanent exhibits.
9) For Bookworms
Why not treat yourself to a new book? Find a good selection in English and French at the Metro International Book store at Calle Gracia 31. If you prefer books about The Alhambra, Granada or some local history pop over to the Tienda libreria de la Alhambra, on the edge of Plaza Nueva and in the Palacio de Carlos V. They have books in many languages and a great selections for children too.
10) Watch a film.
Most cinemas around the city show films in Spanish. Great if you want to improve your language. However a few places do offer Original Version films (English) Kinepolis in Pulianas usually show two English films each week. Serrallo Plaza has a cinema and one of the films will be in original version each week too.
There are also free showings occasionally at Filmoteca de Andalucia or in the Teatro Isidoro Marquez Caja Cultural (opposite the Science Museum) of Foreign films (English and French) which are worth checking out.
In some of the shops around Plaza Nueva there are umbrellas for sale with photos of the Alhambra palace and Courtyard of the Lions on. If it rains you have a great excuse to buy one. Then you have a lovely souvenir to take home with you to remember your visit.