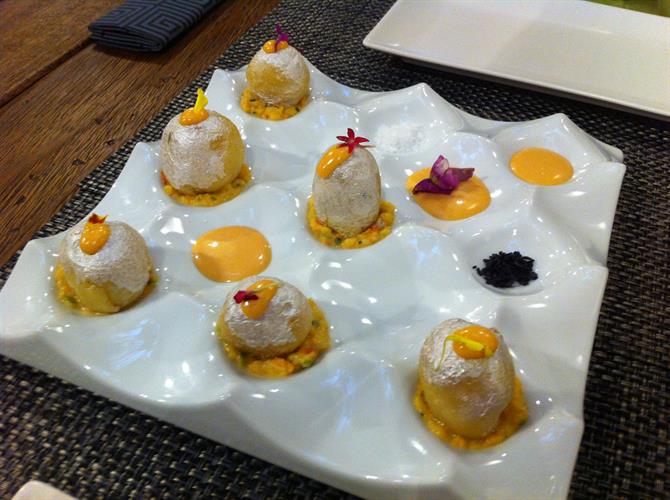 When you arrive into the city of Granada the amount of bars and restaurants in the city centre can be overwhelming. It can be difficult to choose amongst so many different options. Over the last year many new places have opened.
Here are some of the smartest places to try out in 2015.
Eat out in Granada
Sibarius

This restaurant is in one of the oldest squares in Granada. Plaza Bib Rambla. Sibarius has been open for 18 months and offers a menu of Japanese and Peruvian Cuisine. Choose to sit outside on the terrace overlooking the square or stay inside. The sleek interior has both a bar area as well as tables downstairs. The upper part have more space for busy periods and private events.

Recommended dishes here are the Causa Peruana made from potatoes, vegetables and avocado. Also the seafood here is exquisitely selected Oysters and Sushi are favourites with the locals here. You can choose to just have a few beers with the complementary tapa at the bar or dine three courses if you prefer. (Photo: Japanese tapa seen below)

La Platea

This restaurant opened on Calle Angel Ganivet in July 2014. This is their second establishment, the other Platea is at Calle José Pérez Pujadas. (near to the Science Park Museum and Forum building) They offer a New York Style Brunch at this city centre location, every Sunday from 11.30am to 1.30pm. The brunch service has two options. 11 euros for the standard option or 16 euros for the large brunch. P
art of the brunch is buffet style you can eat as much as you like. It´s currently the only one in Granada. Perfect for lazy Sunday mornings.
The restaurant is tucked into a small street in the Realejo area of Granada, inside an elegant and understated setting. It isn´t a new restaurant but it´s reputation has been increasing over the past year. Damasqueros has been in business for 4 years are now known for some of the best cuisine to be found in the region.
There is a small bar area for tapas and wines to one side of the restaurant if you don´t want to have a full meal.
One of their signature dishes is Red tuna with pumpkin ravioli. All the ingredients served here are of the highest quality. The menu is regularly changed to adapt to seasonality of produce.
Closed on Sunday night and Mondays.

Arriaga

Alvaro Arriaga is well known in culinary circles in Spain. A basque chef he will only use the best quality meat and fish for his kitchen. The res
taurant is one of the more elegant options for lunch or dinner in Granada. (It´s opposite Science Park Museum)
Dine at Restaurante Arriaga on a table on the seventh floor. As you savour the food you will enjoy a vast panoramic view over the Sierra Nevada Mountains. This is located inside the Museum Caja Cultural de Andalucía and perfect for viewing Granada too.
Meat lovers shouldn´t miss the tender Beef Cheek cooked for 24 hours. Also choose dessert the Marscapone Flan which is highly recommended. (photo above)
In April 2014 Alvaro Arriaga opened a new venture, Caradura Bistrot at Calle María Guerrero. Plaza de la ilusión. This bar is informal, perfect for lunch on the run or a few beers with friends. It´s located in a residential area but a handy address to have if you are close to train station or around that side of town.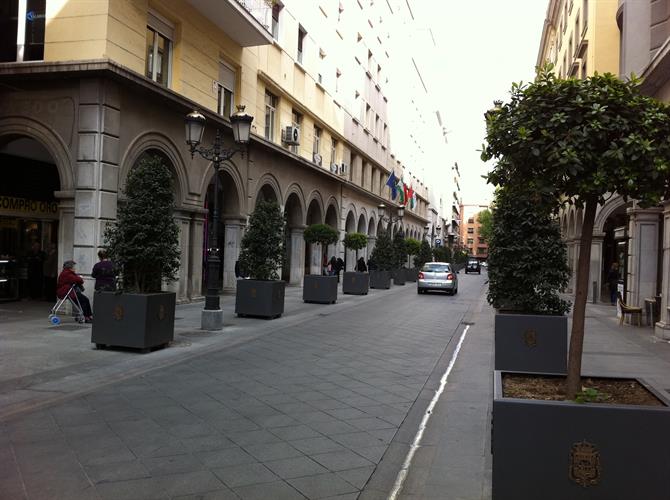 Drinks in Granada
The street Angel Ganivet has undergone a huge transformation in 2014. This was the entrance to the Realejo quarter in times gone by and more recently the area where high end boutiques were located. As some of those stores have moved to other more commercial streets in the city or closed down, this street has now been filled with new bars and restaurants.
Some of the names which opened this year were:
This smart addition to the street opened in Autumn 2014. Offering a selection of good food as well lots of great Gin & Tonics and cocktails. The interior is elegant and luxurious. Some of the disehs on the menu here are pork skirt steak with reduction of rum and a generous Cesar Salad

Artik
Opened in November 2014. This bar has an extensive list of specialist Gins and tonics as well as cocktails too. The music is low key so that you can actually talk. Artik is a bar with a relaxed atmosphere but yet has an ultra modern interior design. The list of Cocktails without alcohol is extensive.

Tinta Fina
This bar has been open slightly longer that the others and is one of the busiest along this street.It has good food and great wine selection too. Sit inside or outside on the street terrace and watch the world go by.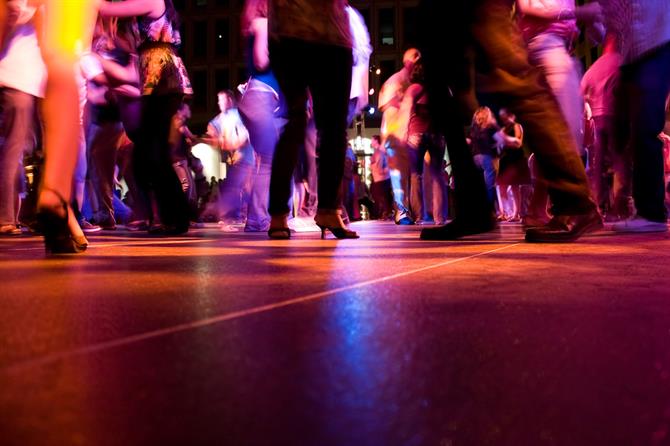 Nightlife in Granada
In 2008 this nightclub opened right in the centre of Granada. Previously a cinema, the interior is spectacular due to the high ceilings and large scale of the building. Often there are events such as fashion shows and launch events which are organized here. On a typical weekend night it will get busy after 1am and stay open until 7am on weekends. Aliatar is at Calle Recogidas 2
Upper 683
Opened in September 2012 in the Serrallo Plaza this nightclub is one of the most modern in Granada. It has a chill out terrace outside overlooking Granada which is open in the afternoons. There is a smart restaurant inside with Asian Mediterranean fusion too.