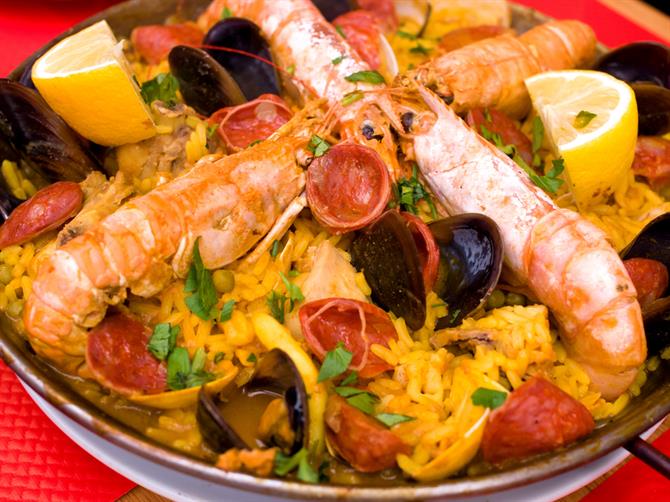 Don´t Eat Paella
Paella is not typical in Granada. Rice dishes are famous from the Levante and Valencia regions of Spain. In Granada Paella is on the menu in tourist areas such as Plaza Nueva and Calle Navas. (You may be served homemade paella as a tapa in some places). When ordering a meal switch rice for Migas which are a local dish. Try Broad beans and ham which is a Granada specialty made from local produce.
If you must try authentic Paella while visiting Granada there are two places that do it well. Restaurante Los Patos on Calle Recogidas has a Valencian chef who specializes in a selection of rice dishes and paellas. Restaurant Oryza on Calle Nueva de la Virgen, 12 have some great rice dishes on their menu too.
Note: Rice is a lunchtime dish. The Spanish never eat rice in the evening.
Don´t Buy Boomerangs
Why do they sell Boomerangs in Granada? I have often asked myself this as I walk through the historic quarter. Lots of the souvenir shops around the Cathedral and Plaza Nueva have them displayed outside. Perhaps there more Australian tourists in Granada than I first thought. You will also see huge coloured sombreros. They are Mexican. Please don´t support these silly trends, don´t buy them. There are so many local souvenirs to choose from in Granada. Ideas such as local wine, excellent books about the region or even beautiful embroidered scarves.
Don´t take home cheap souvenirs
Apart from the boomerangs, other imported souvenirs fill shop shelves. Taracea is a local craft. Marquetry is used to decorate furniture and wooden boxes. Made with tiny mosaics of wooden pieces this has been typical since the Moors arrived in Granada centuries ago. It is a time consuming and intricate art. Beware of places selling cheap plastic replicas rather than the real craftwork. The shiny surface makes a plastic version easy to spot. The individual wooden pieces are visible on a closer look at a real artisan piece. On the real thing the shine is clear varnish to seal the wood. The workshops still making artisan Marquetry are Artesania Beas and a few other craftsmen in lower Albaicin. Find them along Cuesta de Gomerez and Cuesta Marañas. Authentic pieces usually have a sticker or stamp on the bottom. The shops should be able to point out the authentic pieces for you too as they will know which are the locally sourced items.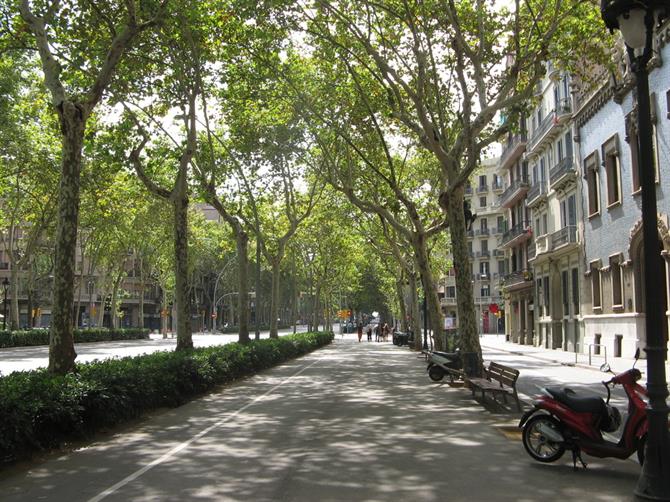 Don´t Walk in the Sun
A great way to understand the locals is to observe their customs. Are they walking in the shade or in the sun? In winter as sunlight hours decrease the Spanish walk on the sunny side of the street. But in spring and summer they walk in the shade to prevent fatigue, sunburn or dehydration. If you want to look like a local walk on the same side of the street as they do.
Don´t Order from the Menu
Tapas are the order of the day in Granada. Offered with a drink in bars around Granada, they welcome the customer into any bar. If you are hungry, complement the tapas with an extra racion. (Racion is an extra serving chosen from the list and paid for separately.)
At lunchtime the best option is the popular Menu del dia. Usually it is three courses for around 10 euros. If you order from the main menu at lunchtime, (a la carte) the cost will be higher and the food will be of similar quality to the daily specials. Menu del dia is a great option Monday-Friday in most of Spain. Only order from the menu for a special occasion or if you want to splurge.
Do leave your car behind
Narrow cobbled streets are the norm in Granada. The Albaicin and Realejo are particularly tricky to negotiate if you don´t know the area well. One street that comes to mind is Calle San Juan de los Reyes. Along here at some points in the road local Taxi drivers push in their wing mirrors so they do not scrap them on the walls.
Granada is a great city for walking. Remember to pack comfy shoes. If you get tired or it´s a very hot day a short taxi ride is an option worth considering: Taxis fares are not expensive especially if there are 3 or 4 people. To get to the Alhambra from the city there is a tourist train. There are also bus routes C3 and C4 available. They depart from Isabel la Catolica statue on Gran Via, these routes are run by the city bus company Rober.
Don´t be late to get Alhambra tickets
To visit the Alhambra palace when you come to Granada you will need to book the Alhambra tickets early. Try to organize this at least 10 days ahead of your visit. This way you are able to choose the time of your visit and type of visit. If you can book weeks or months ahead even better. You will need this forward planning especially around Eastertime and festivals when more people come to the city.
In 2013 2,315,017 people visited the monument. Each hour in the day has a limited number of tickets and with such a high demand tickets can sell out for the more popular time slots. There is only one way to book your tickets: Online. When you arrive in Granada collect the printed tickets in the Tienda Libreria Alhambra in Plaza Nueva. At the main entrance or Alhambra ticket offices you can also print them out at the machines close to the entrance.
If you arrive in Granada without tickets, there are several solutions. You could visit at nighttime. Ticket sales are lower than the daytime ones. The visit is equally worthwhile. Some people prefer the nighttime visit over the daytime one.
Then there are always 200 tickets sold on the door each day. You have to get there early, as soon as they open to be first in the queue to ensure that you manage to get tickets for that day.