Winter sunshine
Winter days in Spain are all about sunshine and blue skies, with more than reasonable temperatures during daylight hours. Shake off that turkey waistline with a pleasant stroll and explore the Generalife Chico in Vélez de Benaudalla. Not quite the Generalife proper of the Alhambra Palace, but a Nazrid garden all the same, awaiting you in another corner of Granada - and you'll also find the perfect spot for a winter walk.
Gardens of Andalucia
Green fingers? Then you'll love to explore the gardens of Andalucía. Even better when there's a little Arab influence, such as the stunning Generalife gardens at the Alhambra Palace, a must-see on any visit to Granada province. But sometimes smaller scale gardens can be just as rewarding, we took a trip just before Christmas to see what was growing in Vélez de Benaudalla, in the province of Granada.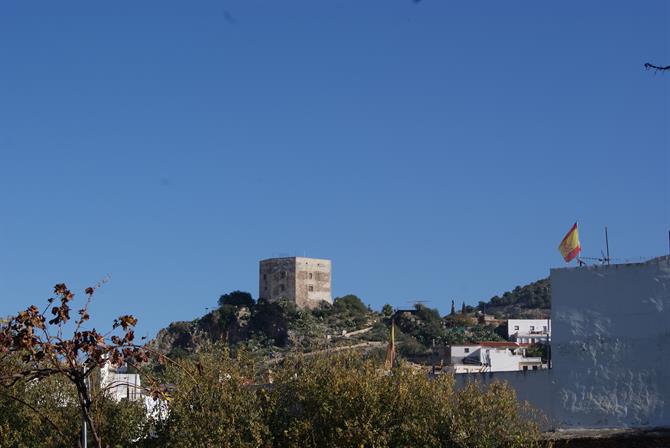 Where is it?
Vélez de Benaudalla is situated 14 kms from Motril on the Costa Tropical, and just over 50 kms from the city of Granada. You'll find the gardens as part of the Ayuntamiento, or town hall, in the centre of the small town - which is pretty and clean, with a decent amount of café bars and places to eat. A Moorish castle sits above the town.
Plaza de la Constitución, 1
Vélez de Benaudalla
Granada
Cost of entry: €3 per adult - concessions available. Price correct at time of visit, December 2014.
*Not suitable for wheelchair access, or pushchairs.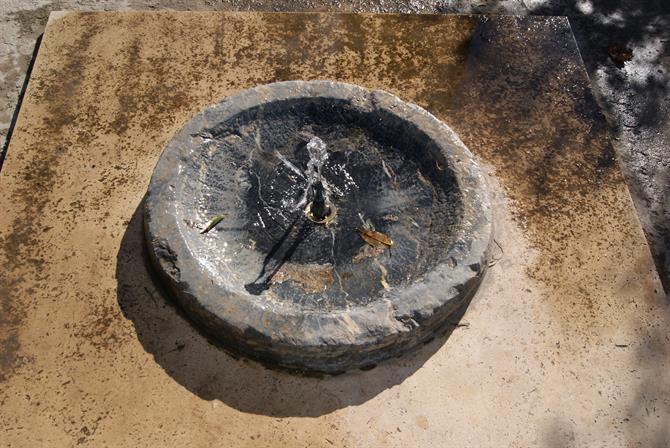 At the entrance
Passing through the ticket hall and armed with the requisite brochures - available in English and Spanish - we entered an inner courtyard. Unsurprisingly, given the Moorish connection, here water was the main feature, a stone fountain bubbling away peacefully in the centre. Set off the courtyard are rooms, one explaining through photos and information boards the history of the gardens and what's to see there. The other room is an exhibition of local painters, the subject is the location, and they're also all for sale - I was quite tempted by a couple as they were pretty good.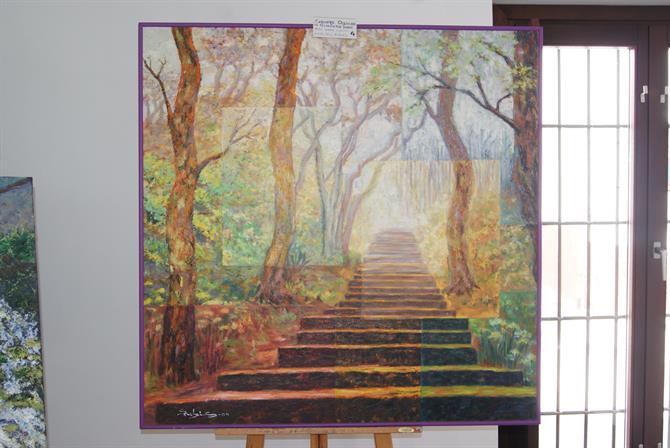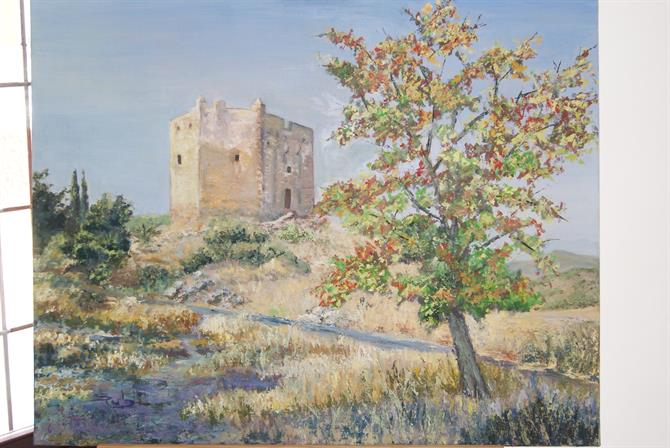 Water, water, everywhere
At this time of year, we were unsurprised to find ourselves - yet again! - the only visitors. Which, to be honest is rather nice - somewhere so peaceful is better for not being overrun with other visitors. Firstly fossilised steps led us down through herbaceous borders, we brushed against flowering lavender, and the scent rose up and mingled with the warm winter sunshine on our backs. Just the distant sound of a few workers tidying up the hedges and weeding in the distance. The overriding feature here is water - from neat Moorish water tunnels to noisy gushing waterfalls. *Retrospective tip - perhaps avail of the toilet facilities back at the entrance before embarking on the tour :)
Jasmine dome
To the right, a wonderful wired dome covered in jasmine, still in flower and with its heady scent - it must be fabulous to stand underneath it on a Spanish summer evening. More water and a pathway lead you to the other end of this level, vegetable plots laid out either side like soldiers lined up on parade. Herbs too, rosemary and mint, oregano and thyme, the temptation to roll a clump or two between my palms too much to resist. Down another level and we spotted a rocky stairway, steep and perilous, what was down there?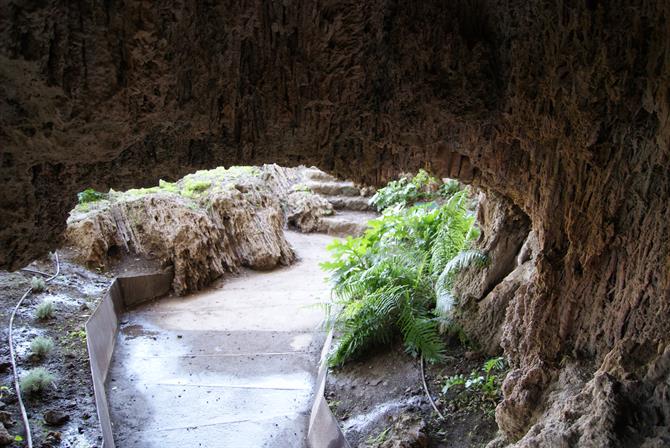 Exploring the Caves
Down we went, to find walls of fossilised rock, water pouring down at intervals to be dodged. Then inside the discovery of a large cave with a pool at the centre, lit from underneath - an underground fairytale! Reminding me of Fingal's Cave and just missing the soundtrack from Mendelssohn's overture.
Kids and geologists alike will absolutely love this, the stalagmites and stalactites holding on tightly, and the shadows from the water throwing imaginary monsters and figures around the walls. I wasn't terribly keen on the thick woolly cobwebs though...!
Further on down leads to many more perilous steps, and more sheets of carved and sculpted rock, and tiny grotto-like spaces to play hide and seek and to explore.
Just remember the further you choose to go that you have to also climb back up to get out, but it's worth it. We loved our trip to the Generalife Chico. Even at this dormant time of year there's plenty to amuse the gardeners amongst us, but even better would be a trip in spring to see the garden in full bloom - so a return trip to Vélez de Benaudalla is already planned.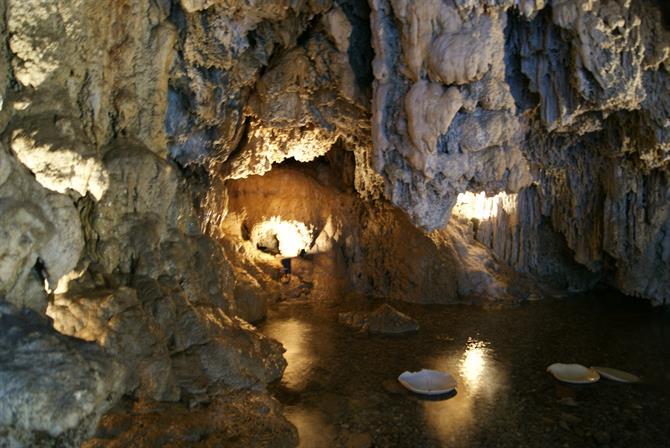 Nearby areas of interest
While you're there, stop and see the Rules Reservoir. feel as tiny as an ant and view from the top the deafening thunderous water and extraordinary feat of engineering.
To the north, visit Órgiva and Lanjaron, the latter town famous for yet more water and gives you the chance for some holiday treatments at the renowned Spa.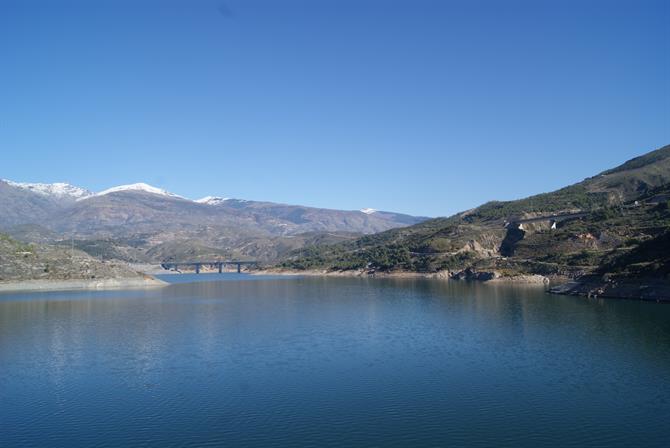 Other gardens of Andalucía
Still hankering for more garden visits while holidaying in Andalucia? There's plenty to whet your appetite for all things green.
Visit Finca de la Concepción in Málaga where there are over 100 different varieties of the Palm tree.

Córdoba in May? Then wake up and smell the blossom at the Patio festival, where hidden spaces and places are thrown open to the public for the duration of this floral event.

Also in Córdoba, don't miss the Patio de los Naranjos leading to the famous Mosque.

In Seville, head for the Parque de María Luisa, French designed and stylish.

And of course Granada, where the real Generalife Gardens await your green fingers - and the Alhambra Palace sits, just waiting to take your breath away.