A city visit is always welcome. A injection of culture and the lively destination of Granada city even more so - there's always something new to see. Bustling and friendly, Granada makes for a city break suitable for everyone.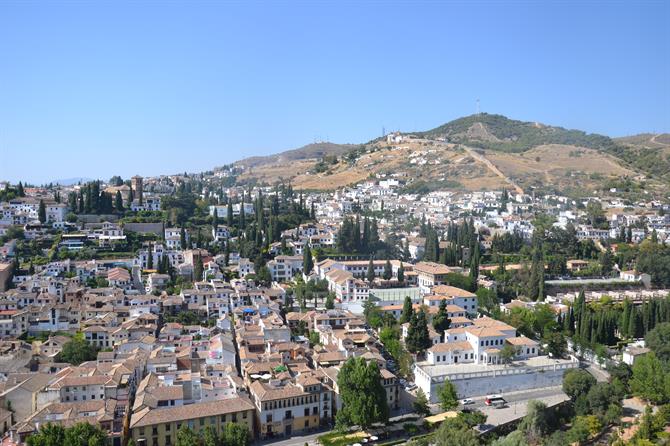 One night in Granada
Earlier this month, we had the opportunity to spend a night in
Granada
. A few hours meant a little forward planning and perhaps better quality time spent in this wonderful city. We hadn't planned to visit the Alhambra, although that would certainly be the first stop on any wish-list for a first time visit to Granada. So, what did we plan to do before the sun set on Granada?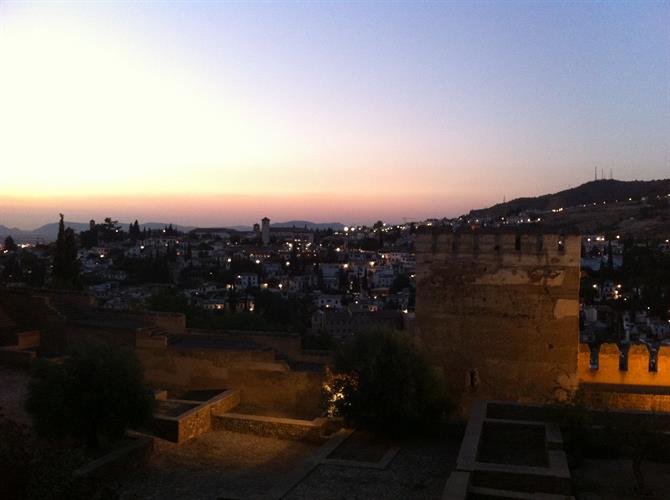 Museums of Granada
Museums were on my mind that day - there are so many to see in Granada, mostly all within easy walking distance. That's the beauty of a
holiday in Granada
, it's compact and very easy to navigate with the help of the many free and available street maps. And there's always something to see, even just wandering the narrow streets and simply looking up will bring fresh rewards. A pleasant pastime, interspersed with a cool drink and a plateful of welcome, and of course free in Granada, tapas.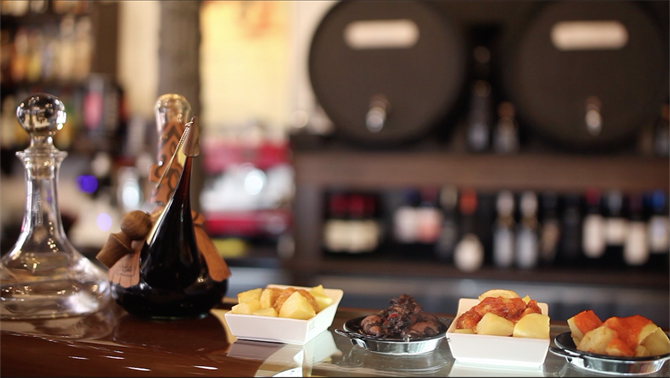 Art attack
Art is all around in Granada. You won't have to stumble across the cobbles for long to peek into the past through the eyes of artists, both modern and long gone from the streets of Granada. The churches are stuffed with the works of Old Masters. And there are lots! Stand at the
Mirador of San Nicolas
- great for panoramic photos of the city - and you'll be hard pressed to count the spires of Granada, there are just so many.
Our aim was to see the work of a fairly modern artist that day - one José Guerrero, a famous son of this Moorish city in deepest Andalucía. An artful and modern antidote to the sombre and solemn art of churches and cathedrals of Granada.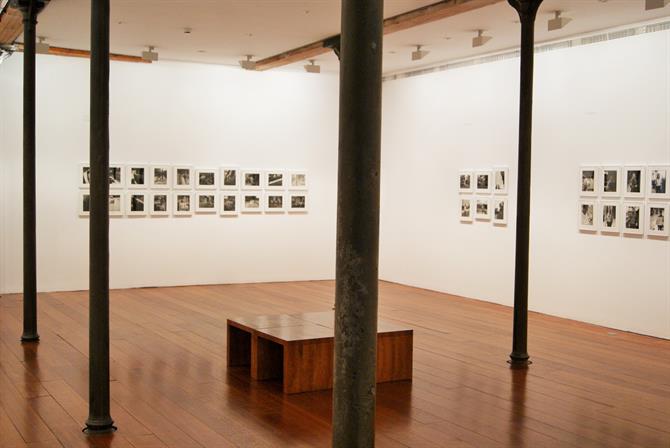 Who was José Guerrero?
Born in Granada in 1914, José Guerrero studied at the School of Arts and Crafts there before graduating to the San Fernando School of Fine Art in the capital of Madrid. He also had the opportunity to lodge in Velázquez's former house - not a bad start!
After a couple of successful exhibitions he was awarded the chance to go and study the Fresco technique in Paris - which in turn gave him the opportunity to travel around Europe and gain exhibitions in other countries. Connections were made with the likes of
Kline
and Rothko, and he was the recipient of many grants enabling him to travel to New York and teach drawing, where he stayed until 1965.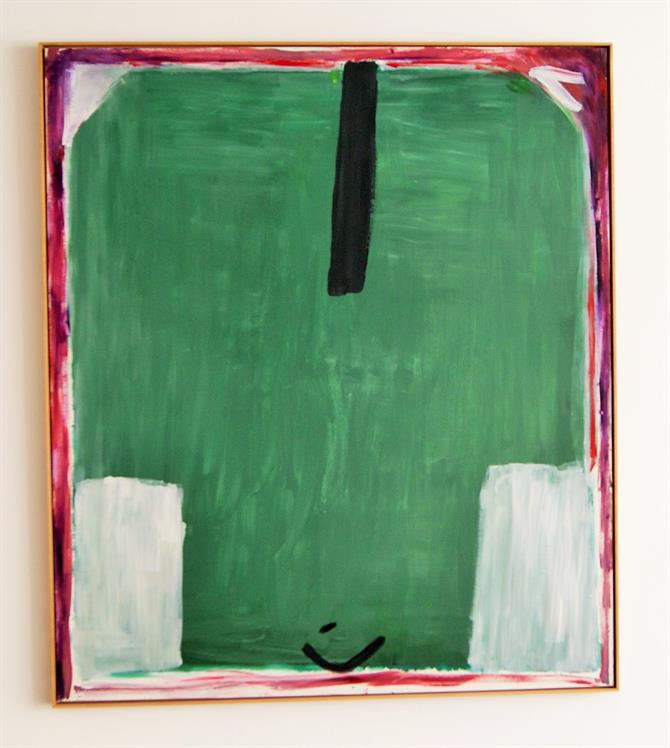 Back in Spain
Returning to Spain and Madrid, after 16 years in the US, he enjoyed a renewed fame. The work of José Guerrero was internationally recognised and used by young artists as an example of the emerging abstract art of the 70's. Several accolades came his way, including:
1978: Officer's Cross of the Order of Isabel la Católica
1980: Officer of the Order of Arts and Letters by the French government
1984: Gold Medal - Medalla de Oro al Mérito en las Bellas Artes de España
1988: Andalusia Award for the Visual Arts
He lived between Madrid, Granada, and even had a country house in
Frigiliana
, Málaga. Several exhibitions were staged and warmly received with international recognition. In 1994, after his death in 1991, the Reina Sofía National Museum and Art Centre dedicated a retrospective to José Guerrero. Finally, in 2000 Granada Provincial Council inaugurated the José Guerrero Centre which is in a building opposite the Capilla Real - next to the Cathedral. This was our destination.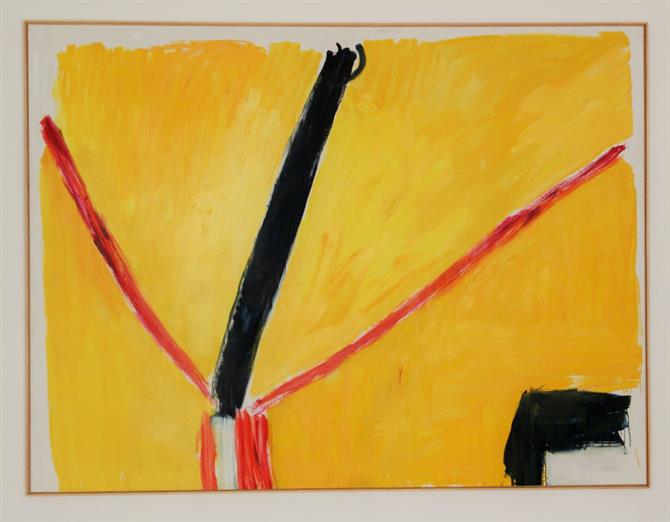 Essential information
Address details:
Centro José Guerrero
Calle Oficios, 8, 18001 Granada
958 22 51 85
Opening Hours:
Monday: CLOSED
Tuesday to Saturday: 10:30 - 14:00, 16:30 - 21:00
Sunday: 10:30-14:00
Admission: FREE
*Suitable for wheelchair access, lift on all floors.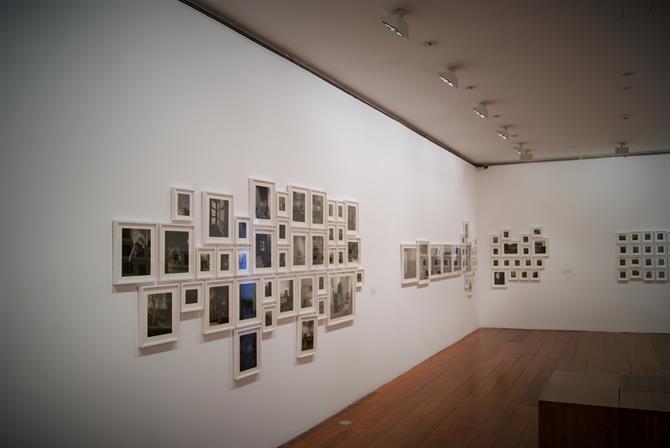 Exhibition hall
There are several floors, given over to temporary exhibitions. For what's on when you visit, check out the
official website
before you go.
A modern, steel, glass and light-wood building close to the Capilla Real that's easy to find. Entering through the glass doors, we went straight to the lift in the corner and up to the 3rd floor, which is dedicated to a permanent exhibition of Guerrero's work. It's very modern work, with bold splashes of primary colour across huge canvas - thick black outlines. Reading an information board, Guerrero used the black outlines to 'hold' the colours in - so aware was he of the sheer life in his paintings. Nice thought.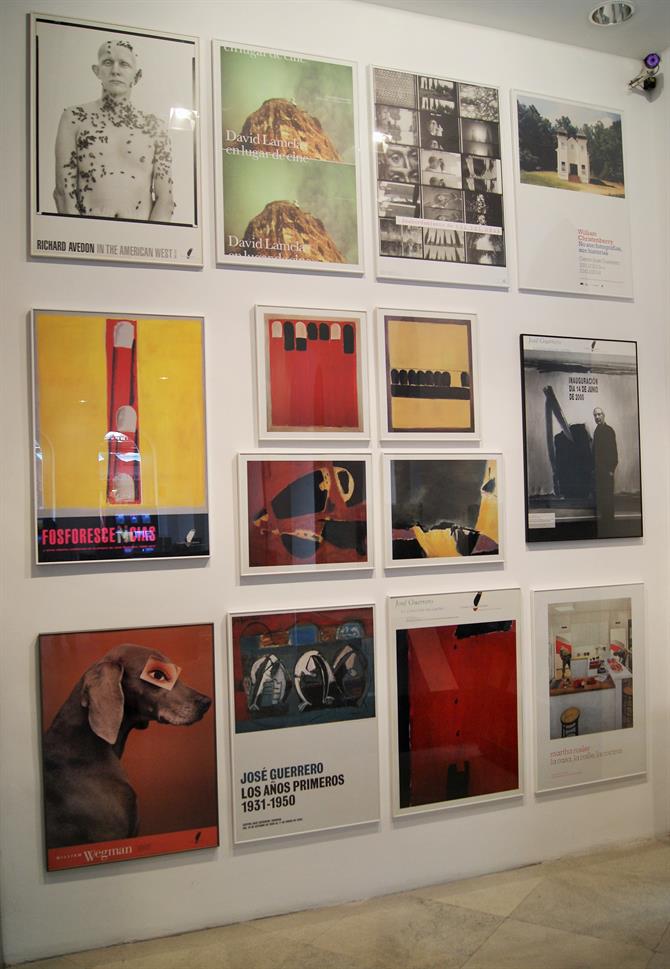 Educational centre
The aim of the building is not just to host the work of Guerrero, but to celebrate all contemporary art, and to increase awareness of its innovative role in the 21st century. There were lots of groups of school-kids there, on the day we visited. The Centro José Gerrero is known for the excellent art education opportunities, and the kids were making the most of it. Picking up some postcards at the desk on the way out I peeked in for a few moments. I felt quite envious to see them all cross-legged, sketching and drawing, a lively art instructor shouting out information. It was energetic and loud.
Don't go to the José Guerrero museum for peace and quiet! Youth, life, energy and despite the best efforts of the artist, with his strong black lines, boundless and boisterous colour are what it's all about. If you love modern, bold, abstract art, then don't miss it.