Granada is a great destination to savour Real Spain. Here are ten luxury ideas to treat yourself to a little something whether it be a beauty treatment, an amazing view or daytrip.
Granada´s local cuisine boasts many locally produced foods. It even has its own production of Organic Caviar. This gourmet product is exported internationally from Riofrio, Granada. The sturgeon fish are kept in excellent conditions in this location in the poniente granadino. Make sure you taste this delicacy when visiting the area. The sturgeon fish can be found on menu´s as well as the caviar. It is also sold in delicatessen stores and some high end bars and eateries have caviar too.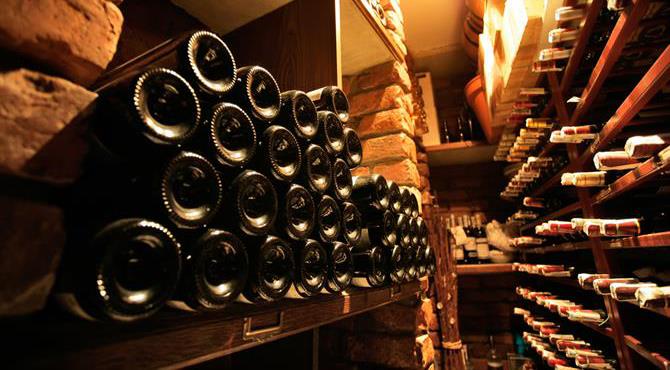 Wine. The Granada wine business is still rather new, not as well established as other areas of Spain. However some of the bodegas have been creating rather special wines that have won awards already. Why not take a visit to a local winery just South of the city.Try Senorio de Nevada is Ctra. de Cónchar, in the village of Villamena. Their large premises have a restaurant and a store with their products on sale. They offer tasting sessions and other daytime activities too. If you prefer your wine to go, just pick up a local Granada wine such as Mencal or Calvente at the local supermarket. Both these wines are produced in Granada and have received several international awards already. Bar La Tana in Calle Rosario, Granada also offers a good selection of quality local wines.
Spanish ham. You will come across this delicacy in all good restaurants. There are also lots of online stores with Jamon Iberico now selling internationally, if you can´t wait til you arrive in Spain. Many places sell vacuum packed so you may take some home with you.The best is ham available is known as Pata negra. Locally in Granada a well-known village for ham curing is Trevelez which is high up in the Sierra Nevada national park. In Andalusia however the best quality comes from Jabugo in Huelva province. Mariscal is an excellent delicatessen in Granada and have a good selection to try while in Granada. They are next to the Corte Ingles on Acera del Darro and also Plaza Menorca, 21.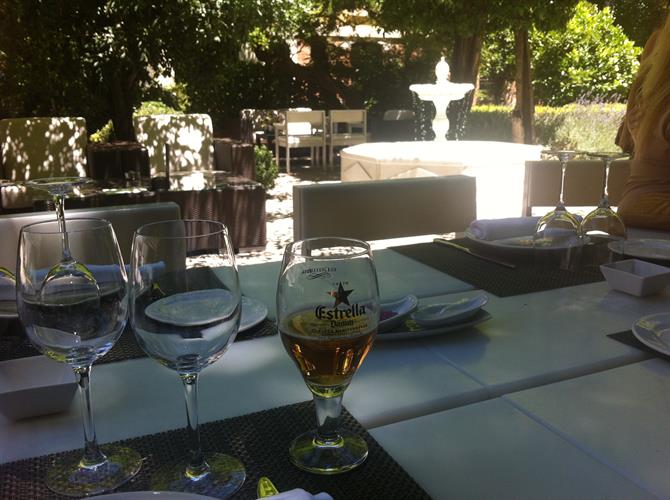 Eat well. There are many places to eat good food in Granada´s province. For a special treat head to the Granada coast. Near to Almiuñecar is the Calabajio restaurant. Set in a small bay, you will find good food and a relaxed setting. In a perfect place to sit and watch the sun go down over the sea. If you aren´t hungry stay for a coffee or a minty mojito.
In the city of Granada try the Restarante Los Patos. This summer they have a special rice menu. The extensive list has many variations of rice dishes. The most popular is the rice with lobster. Black rice (arros negre) is also a firm favourite with locals too. This rice menu showcases the skills of Valencian Chef Blas Hidalgo, who joined the restaurant earlier in 2014. The patio garden at Los Patos makes a discreet setting to enjoy a family meal. The garden has a few trees which are over 100 years old. The plants and flowers make it an oasis in the centre of Granada.
Arab baths and Spa. Since the Arab rule water has been an important part of life in Granada. So unsurprisingly there are several spas and arab baths to choose from. The Balneario de Lanjaron near to the Alpujarra is one of the oldest ones. The spa waters were recognised in 1770. The list of treatments and beauty sessions is extensive.
Other places to discover are the Balneario at Alhama de Granada or the Arab baths in the city. Hammam Al Andalus are in Plaza Nueva but locals head to the Aljibes de San Miguel. They are located just below the Plaza de la Trinidad. In the Arab baths most visitors opt for the baths and a massage during the session. Inside these baths is design to recreate the bathouses which would have been in Granada and the Alhambra palace centuries ago.
Sail away. A private charter can be booked from Marina del Este (near La Herradura) You can choose to sail for just a few hours at sunset and enjoy the pink skies. If you are lucky you may even see a dolphin or two alongside the boat. You can book the boat for the whole day and see the Natural Park around Maro as you sail. Anchor down at lunchtime and head to lunch at a beach hut for a tasty seafood paella on land.
A day out in the country. Why not take a drive to the Pueblos blancos? The area around Gaucin is where writer Gerard Brenan once stayed. Get into character with a beautiful Hurtan car. These Hurtan cars are vintage-styled vehicles. They are produced in Granada with exquisite care and have elegant wooden finishes inside.The production is in very small quantities. The cars have soft leather seats and are fitted with modern features such as power steering, CD player and anti-lock brakes. It is possible to rent one of the cars for a day or several days on the Hurtan Experience.
If you want a round of Golf in the sunshine. There are several courses in Granada to choose from. The one which is closest to the city itself is Santa Clara Golf in Otura. Then on the coast in Motril you have the Campo Los Moriscos which is practically on the beach, at Playa Granada.
High Flyers. Tropicopter based in Motril, offer private Helicopter rides. On these trips you will see birds eye views of the Alhambra palace and Sierra Nevada mountains. If that doesn´t appeal a quieter option is to take a hot air balloon ride. Glovento fly over the Alhambra palace but also have trips all across Andalusia.
Relax on your holiday with lots of luxurious properties to choose from along the Costa tropical. Here are a few ideas to ensure that your holiday is a stress free and comfortable time for you and your family.
See this Holiday home in La Herradura or this smart Villa in Salobreña