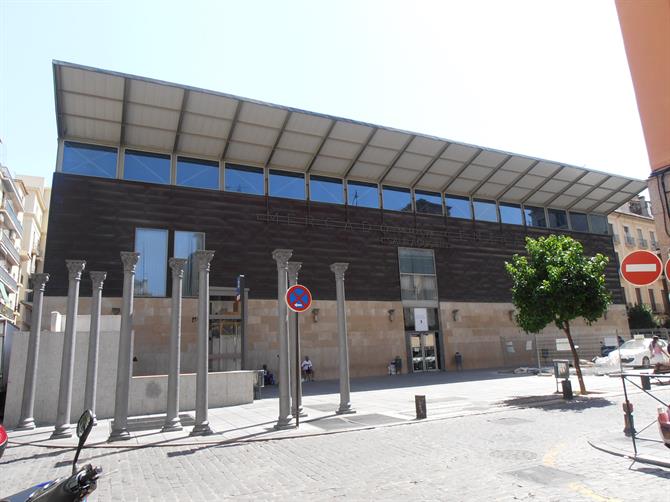 The city of Granada is the main commercial hub for part of eastern Andalusia. Shoppers come from areas of Almeria and Jaen, as well as from Granada province to buy clothes and other goods.
Similar to other Spanish towns and cities the city hosts regular markets and others events which happen monthly or even once a year.
Here are 10 different Craft fairs and Markets in the city of Granada worth seeking out when you visit.
Zoco del Salon
This delightful market is set up along the banks of the Genil River. The market on el Paseo del Salon takes places each month. The stalls are open all day usually from 11am until 8pm. The items which you´ll find here are made by local artisans. Expect to find cosmetics, decorative items, small gifts and fashion accessories. They often have activities for children, such as balloons or face paintings, perhaps some live music.
Address: Fuente de las Granadas, Paseo del Salon, Granada
Made in Granada
Stalls are set up on Campo del Principe in the Realejo district. This small market is held the third Sunday in each month. As there are lots of items made from paper and card this date moves if there is a poor weather forecast. As the name suggests the people are Granada crafters creating goods made with paper crafts, wood and textiles. Some products for sale here can even be personalised.
Address: Campo del Principe, Realejo, Granada
Specialist Markets
The area around Puerta Real and Paseo de los tristes are often used as locations for specialist markets. Stamp and Coin collections, paintings and artwork, Antique Books and Pottery fair. These are held annually and usually coincide with bank holiday weekends and festivals.
(Check local press for details)
Mercado del Agua – Mirador de San Nicolas (bimonthly on weekends)

Artists Fair ´Granada Pinta Bi

en´- Plaza Romanilla & Paseo de los Tristes Craft Fair (Bimonthly)

Antiques Fair – Plaza de Alonso Cano (3rd Sunday each month)

Stamp & Coin Collectors – Puerta Real de España

Feria del Libro – Annual Book Fair – 3

rd

week in April Annually.

Spanish Pottery Fair - Puerta Real de España – Feria del Corpus Christi – Anually in June Old Book Fair – Puerta Real de España - Annually last week of Oct and 1st weeks of Nov

Autumn Fruits – Local Autumn fruits and typical cakes on sale in Puerta Real de España This annual market has pomegranate, quinces and other seasonal fruits as well as the ´torta de la virgen´ a large pastry filled with chocolate, crème patisserie or pumpkin pie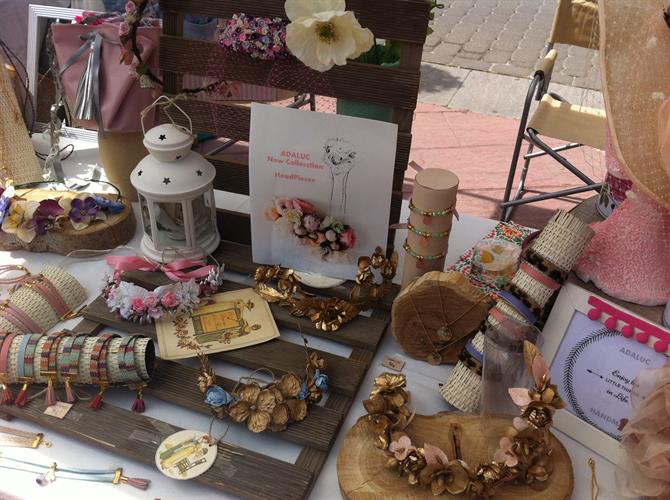 Christmas Markets
From the first weekend in December until the 5th January Plaza Bib Rambla and Puerta Real de España has a large Christmas market. The stalls sell nativity scenes and artisan gifts such as wooden toys, leather goods and jewellery. There are also biscuits and cakes made by the local nuns in the convents around Granada too. This stall is in Puerta Real opposite the post office.
Address: Puerta Real de España, Granda & Plaza Bib Rambla, Granada
Medieval Market
Annually in Granada there is a Medieval Market held in Plaza Bib Rambla. Mainly selling food, the stalls are laden with rustic bread and cakes, local cheese and cold cuts. There are also some crafts and traditional toys for sale too. In nearby Santa Fé the medieval market is held the third week in April to celebrate the Capitulations of the Catholic Kings in 1492. The large market also has plenty of atmosphere, as there are jesters and scoundrels dressed up to liven up the market too. Stalls are found along Calle Real and close to Plaza de España. Open from 10am to 10pm.
Address: Plaza Bib Rambla, Granada & Santa Fe
La Marcha Verde
One of the most talked about markets in town the marcha verde. This is held close to Granada bus station in the north of the city on Sunday mornings. However there is a similar market in the Zaidin district at Palacio de Deportes every Saturday morning. This street market sells cheap clothes and novelty items, some electronics. Be careful with your bag and money here as it can get busy.
Address: Calle Gobernador Pedro Temboury, Granada & Calle de la Sultana, Zaidin, Granada
EcoMercado
This organic and slow food market is set up outside opposite the Palacio de Congresos. It´s on the first Saturday in each month. Head over to this Granada style farmers market to buy local cheese, bread, fruit and vegetables. Timetable from 10am to 3pm
Address: Ribera del Genil, Granada (Open paved area opposite Palacio de Congresos)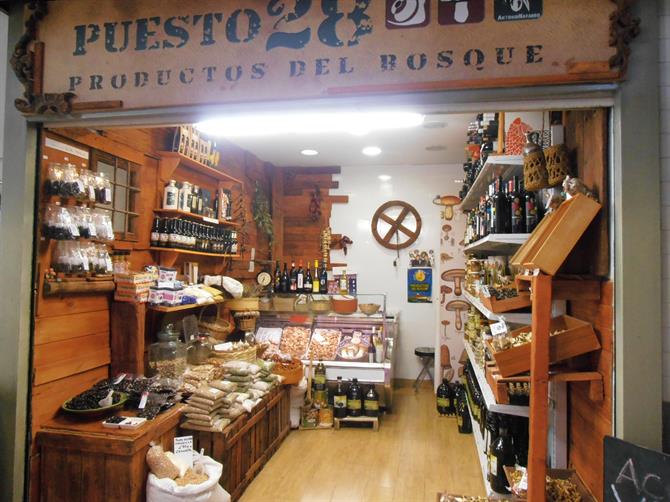 Mercado de San Agustin
Close to Granada Cathedral and below Gran Via de los Reyes Catolicos, this central market is indoors and sells all kinds of food. This is open all day weekdays and Saturdays. There is now a gourmet space so you can have lunch or some tapas inside the market. There are also food stalls selling home cooked meals to take away.
Highlights of the market are the cheese and wine stalls, the mushroom stall at the entrance and the fried fish bar towards the back of the market. In Summer there is an outdoor patio to sit and enjoy your tapas too.
Address: Calle Alvaro de Bazan, Granada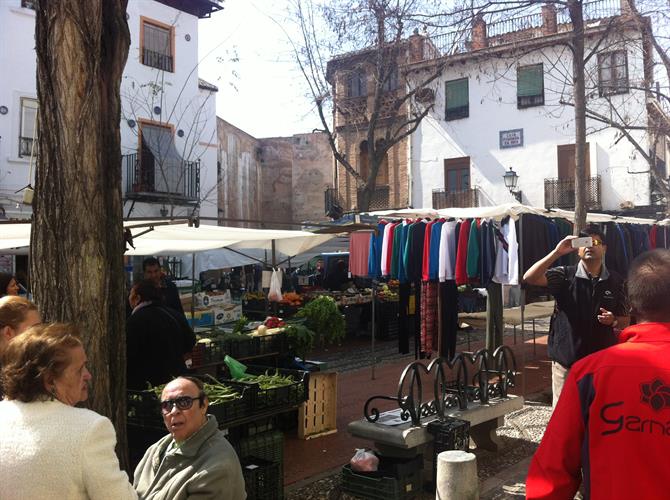 Plaza Larga, Albaicin
On Saturday mornings, a small food market is set up on the square in the heart of the Albaicin. Great for buying fruit and vegetables, this typical market place has been used for several centuries. There are a few bars and cafés on the square where you can watch the hustle and bustle from.
Address: Plaza Larga, Albaicin, Granada
Merca 80
This popular food Market in the Zaidin neighbourhood has some great value stalls. Especially for buying quality Fruit and vegatables. The fresh fish is also working seeking out. This indoor market is open all day Monday to Friday and Saturday mornings.
Address: Calle Palencia, Zaidin, Granada