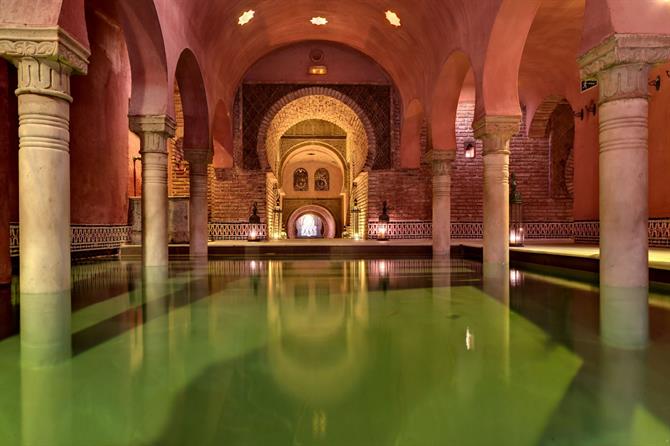 The Alhambra palace and city of Granada has a special connection with water. Since the first settlers many ages ago noticed the pure mountain water from the Sierra Nevada mountain range and geography of the area creates an oasis in the hottest area of southern Spain. This made a perfect place for setting up towns.
It is easy to understand how this natural environment creates a perfect location to relax, enjoy sport and unwind. Historically with the influence of the Nazaris many Arab bathhouses sprung up around the city. Especially in the Albaicin neighbourhood. Some of the modern hammams in the city hope to offer you a similar experience to the old hammams from medieval Granada. As well as the arab style baths or hammam there are also other options around Granada to try when you visit.
The broad selection of Spa´s and beauty salons in Granada can be overwhelming. Lets take a look at some of the most popular locations for treatments and relaxation.
Arab Baths in Granada
Hammam Al Andalus
Although this modern hammam doesnt actually use any of the old installations, you can book a session knowing that you are on the exact same site as the medieval bath house back in the day.
Inside enjoy seven different pools with varying temperatures. First try a warm pool then alternate with the cold water bath in the centre of the room. This is challenging at first but becomes gradually easier and is great for the skin and circulation. If you decide to opt for the massage, during the pool time you will be called at some point. They will ask you to select an aromatherapy oil, usually the choice is between rose, pomegranate, amber or jasmine, all typical essences in Granada historically. These plants are mostly grown locally and are typical of the nazaries.
You can even choose the full Kessa treatment similar to an authentic Moroccan Hammam, including the exfoliating treatment and Kessa soap. This is a luxurious experience although you have less time in the baths, so have to choose.
After your Hammam experience you will leave feeling relaxed and soothed. Booking is necessary especially at weekends and bank holidays.
Address:

Calle Sta. Ana,

Granada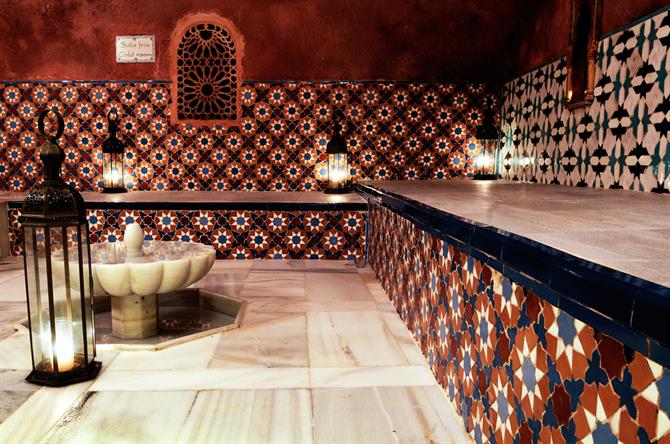 The Aljibe de San Miguel is below the Cathedral. This bath house is relaxed and informal but very professional. The massages here are great.
When you call to book a session here ask which session has the least appointments so that you can enjoy the baths will fewer people. Even though each time slot is limited to a low number of bathers its always a treat to have the place to yourself or share with just a couple of others. The late session is a good option as you can head straight to sleep after the relaxing baths.
The bath time lasts 90 minutes and has practically the same organisation as the Hammam explained above.
Here they offer the same options for massage, exfoliating treatment and baths. You can even get special deals if you intend to visit more than once.
You will need a swimming costume but no flip flops or pool shoes as you need to go barefoot (as were the hammam´s historically).
Towels are provided.
There is a hairdryer in the changing room too.
Ladies remember to take any hair products you need as sometimes the massage oil can wreak havoc with your hair.
Address:
Calle de San Miguel Alta, 41, Granada
Not only does Granada offer Arab baths which will provide an atmosphere and an experience to prepare you for your visit to the Alhambra palace. It also has some other original options.
The Japanese spa is not far from the Corte Ingles, tucked away in a little side street. Away from the crowds this experience will calm you after a busy day sightseeing.
The interior is decorated with typical Japanese paper screens and oriental touches. They have sessions throughout the day. Book ahead for the time you prefer. Duration is usally around 2 hours including time to change.

The system again is simillar to the Hammam although the setting and atmosphere is oriental rather than Arab style. Several different temperature baths and an optional massage during the 90 minute session.
Reservation is required. Select one of the scheduled times for the session which best suits your schedule.
Address:
Plaza General. Emilio Herrera, Granada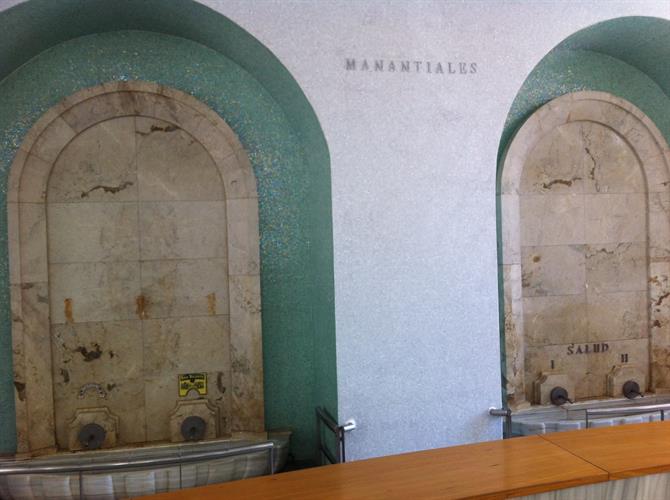 Balneario de Lanjaron
This historic Spa has been running since 1928 although the properties of the waters in this town have been recognised since 1770. Located in the centre of Lanjaron this large spa has 5 local water sources nearby.
Manantial Capuchina with cleansing properties

Manantial Salud II,

Manantial Capilla and

Manantial Salud I recommended for the digestive system

Manantial San Vicente to promote weight loss
Each water has different mineral properties. You can drink the water at the fountain in the main hall of the Balneario. The list of treaments here is varied. Some even last for several days but there is also a day spa.
Address: Avenida de Madrid, Lanjarón.
Club Montebajo Sierra Nevada
If you are a keen skier this is a great Aprés Ski option for sore muscles after a day or the slopes. There is a large swimming pool as well as a jacuzzi, steam room and sauna.
Non skiers will also find this a great place to relax if they are accompaning skiers in the Sierra Nevada resort. It costs 18 euros for a full day and 12 euros for half day pass.
Address: Plaza de Andalucía, Pradollano.
The Yhi Spa has a small area for Children with a slide and Childrens pool. They must be accompanied by an adult but this is a great option for families looking to spend some time in Sierra Nevada. The Spa offers lots of fabulous treatments with Natura Bissé products, facials and anti cellulite treatments. Aromatherapy and Reflexology. There are standard beauty treatments such as waxing and manicures. The water circuit has a colourful modern design with hot stone beds, flotarium and lots of jets and it is open from 1pm until 10pm daily.
Address: Plaza de Pradollano, Sierra Nevada.