Granada's tapas bars are unlike most. Of all the towns and cities in Spain where tapas, as a matter of tradition, are served for free with your drink, this is the most renowned.
A lively university town, it boasts bars from the old and venerable to quirky, themed novelties and everything in between. Pedants will point out that a small beer will cost you slightly more in Granada so the tapas are not in fact free, but come and see for yourself; in the more generous establishments a couple of beers will furnish your lunch and you'll be left in no doubt that there's magic going on here.
1) Espadafor
If there's a bar in Granada that deserves the name 'institution', Espadafor is it. A large room with high ceilings it appears today much as it would have when it opened its doors in the early years of the 20th century. They specialise in habas con jamón (broad beans with ham and garlic) and roast ham but everything on the menu is good. Sherry from the barrel and décor to keep the photographer in you happy, the walls are tiled in ceramics that depict scenes from Andalusian life. You're welcome to take a table if you can get one and have your tapas there – a waiter will even bring them over for you.Espadafor screams Granada, Andalusia and the south.
Calle Gran Vía de Colón 59
2) Casa Torcuato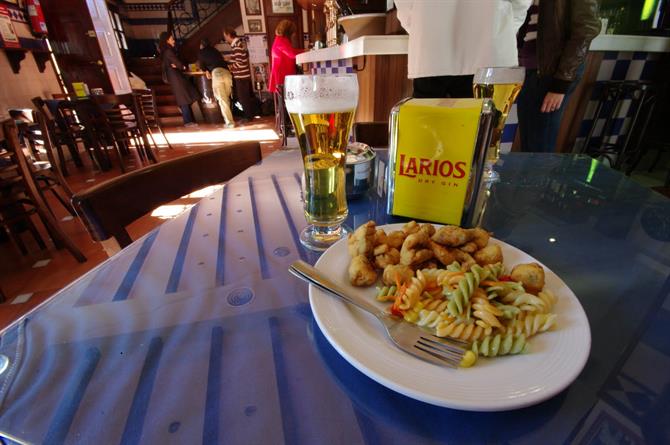 Not far from the Mirador San Nicolas, where you can take in that view of the Alhambra with the snow-covered peaks of the Sierra Nevada beyond. Casa Torcuato is a long established neighbourhood place with a restaurant upstairs and a terrace for al fresco dining, but nothing beats sitting at the bar and enjoying their generous tapas of fried fish,gazpacho, garlic fries and so on. A real no-nonsense bar that doesn't care where you're from, you'll be well fed here.
Calle Pagés 31
3) La Trastienda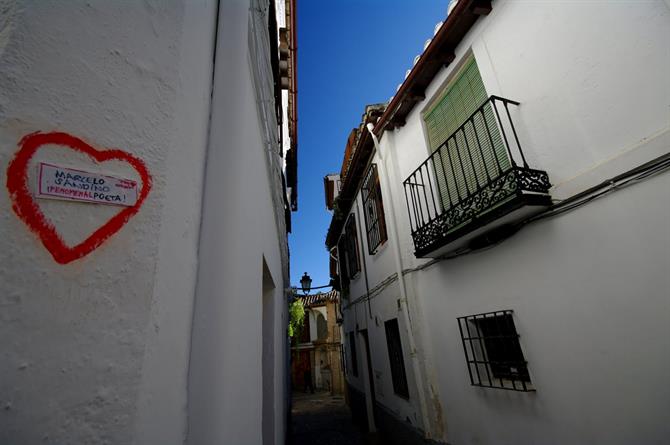 Although they've gone and spoiled the surprise a little in recent years by adding a terrace out front, La Trastienda has had Granadinos and tourists alike asking themselves the same question for years – is this a shop with a bar out the back, or a bar with a shop at the front? Before the terrace, first timers would edge their way shyly into a tiny charcuteria and look confused until the lady in the white coat invited them to squeeze past the antique till and into the little bar, hidden behind. Tapas consist, unsurprisingly, of chorizo, salchichón and the like. Even with the terrace (can you tell I'm not a fan of the terrace?) it's a charming bar and one of my top choices for a quieter drink outside the busier hours.
Calle de los Cuchilleros 11
4) Bar Casa Julio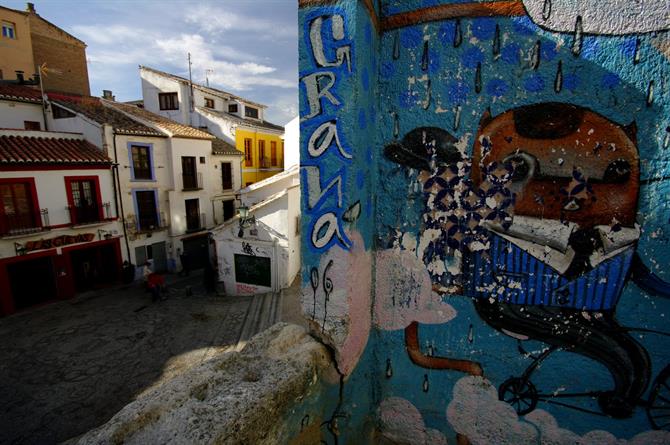 Granada is less than an hour from the sea and this is reflected in the quality of the fish and seafood on offer. Nowhere more so than in Casa Julio – a place that at first glance has nothing to recommend it.Hidden down an alley just off Plaza Nueva, it doesn't even appear to have a proper toilet. Ladies were asking for a key at the bar and going out back somewhere. Gents were standing in a cubicle that was more or less in the bar itself. No seats. But a quick glance along the bar changes everything. Generous tapas of marinated monkfish, shrimp, deep fried aubergines and anchovies that arrive in cumin-spiced batter. An experience.
Calle Hermosa (Plaza Nueva)
5) Bar Poë

Bar Poëis a bit of a phenomenon in Granada. If you're on the look-out for über traditional tapas in settings to match then it might not make your radar, but you'll be missing out. The first surprise is the barman and owner, Matthew – as English as beans on toast, as their website points out. The second surprise is the range of tapas. Out back, Matthew's Angolan wife Ana fills little cazuelitas with flavour combinations that draw on her own very international background and that you won't find in any other tapas bar in this city or indeed Spain. Brazilian bean stew, Italian vegetables,spicy chicken liver with rice or fiery Portuguese Piri-piri. There is usually such a mix of clientele – Spanish, young and old, students and expats – you'll feel like you're in the Tangier of days gone by.
Calle Verónica de la Magdelena 40
6) Oum Kalsum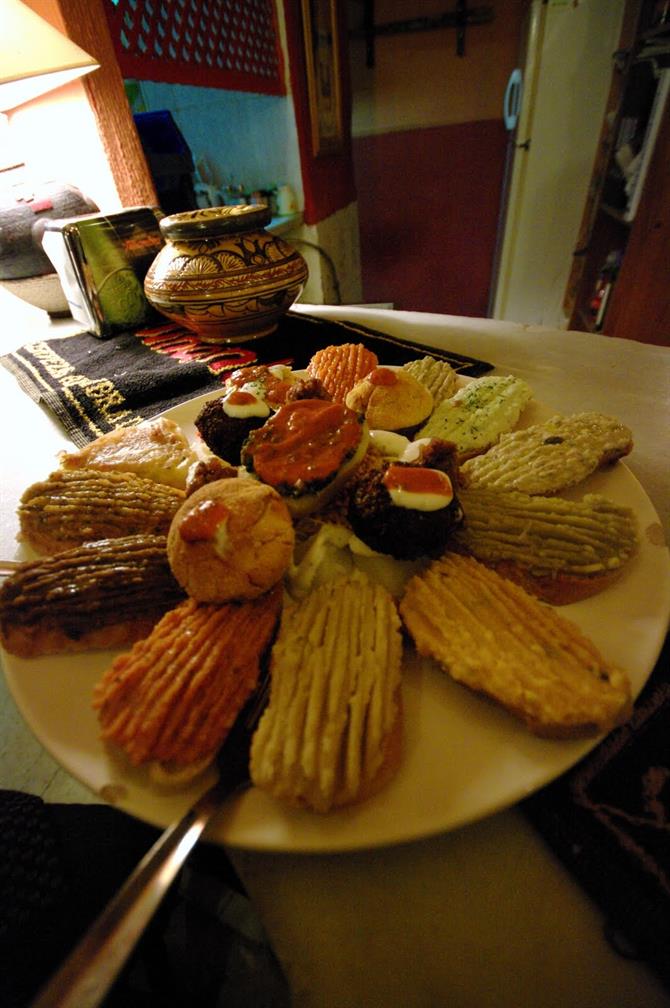 I suppose it was inevitable, given the city's history, that someone would open a tapas bar that specialised in North African flavours. The folks at Oum Kalsum have been there for a while now and know what they're doing. People actually get excited about the couscous here.There are sampling platters available but unless you're super hungry and there are twelve of you, I'd stick with the tapas which are generous and delicious.As well as couscous you can expect bite-sized versions of falafel, schwarma and various other classics. Their €14 deal (a bottle of rioja and seven tapas) goes down a treat. Named after the legendary Egyptian chanteuse and national heroine.
Calle Jardines 17
7) Bodega de Antonio
This is old school. Granadinos rave about the food here but you could easily walk past it, or turn around having peeped in. Pleasant enough but unexceptional in appearance with a largish dining room and a bar at the back, Andaluz green predominating, Bodega de Antonio is a family place so think tradition, quality and value. In a city so well-populated with novelty themed bars and unnecessary attempts at chic and quirky, it actually isn't that easy to find a place like this. On Jardines, the same street as Oum Kalsum, both of them just around the corner from Poë.
Calle Jardines 4
8) Al Sur de Granada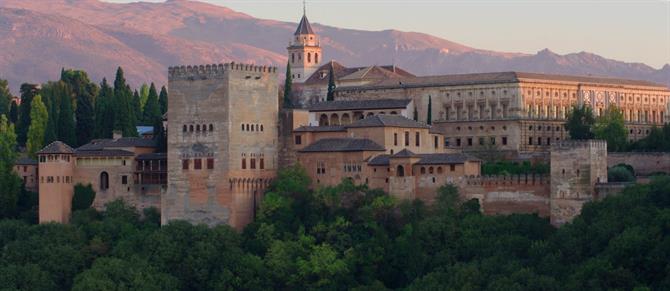 I normally don't like this sort of set up – Al Sur de Granada is as much a shop as anything else; there are a couple of barrels with stools on the shop floor and they look unappealing when the place is quiet. I mean, who wants to sit in a shop and eat? However, it isn't any old shop,specialising as it does in the wines and artisan food products of the city and region. That they'll serve them up for you too makes a lot of sense and when the place is busy, which is often, it spills out onto the street and down into the cellar space. As you'd expect in such a venue, the quality of the cheeses and embutidos is sky high. Organic produce and exquisite ham.
Calle Elvira 150
9) Los Mascarones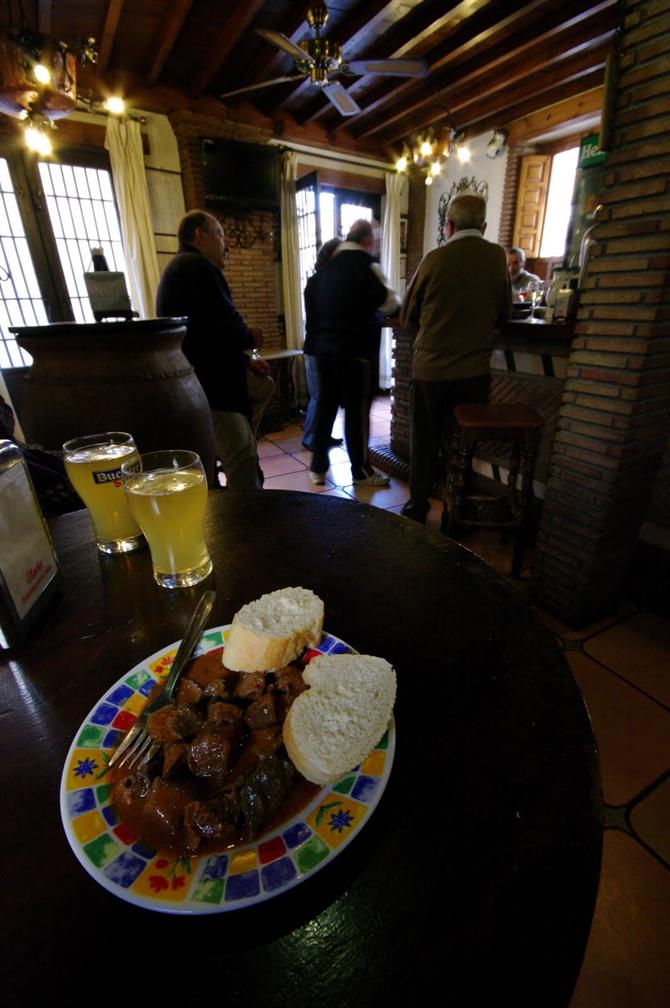 On Pagés, the same street as Torcuato, and equally unpretentious, Los Mascarones is named for the old Carmen it's a part of, the facades adorned with large masks. The Granadino poet, Pedro Soto de Rojas, used to live here if that means anything to you. If it doesn't, come for the genuinely friendly service and down-to-earth, tasty tapas like migas(breadcrumbs) with sardines, broad beans and ham, bull's tail, scrambled eggs and snail.
Calle Pagés, 18
10) Los Diamantes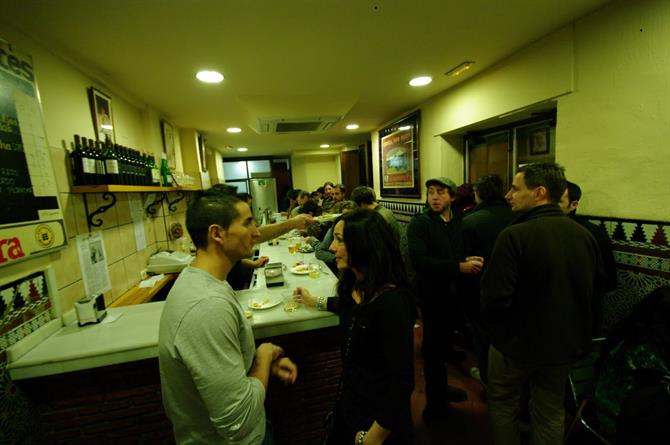 Los Diamantes has been such a favourite in the city for so long that it has become a small chain, but the original is where it always was on Calle Navas and the same rule applies: get there when it opens or forget it.Small and cramped, it's the fried fish that draws them in here – clams, razor clams, baby squid, deep fried vegetables, rock salmon. You name it, they'll fry it for you and serve it up for free with your beer. A must-sea for fish lovers when in town.
Calle Navas 28
Images copyright Robin Graham 2013