The beaches in Ibiza are truly stunning and are consistently mentioned as some of the best in Spain. The majority are characterised by fine white sand, sparkling turquoise water and rocky coves. Wherever you choose to stay in Ibiza, there is a beach to suit all tastes, from large lively spots to small intimate bays.
There is no "one best beach location in Ibiza," from the party corners on the west of the island to the quiet destinations in the east, rent a holiday villa in Ibiza for your ideal beach holiday.
Cala Llonga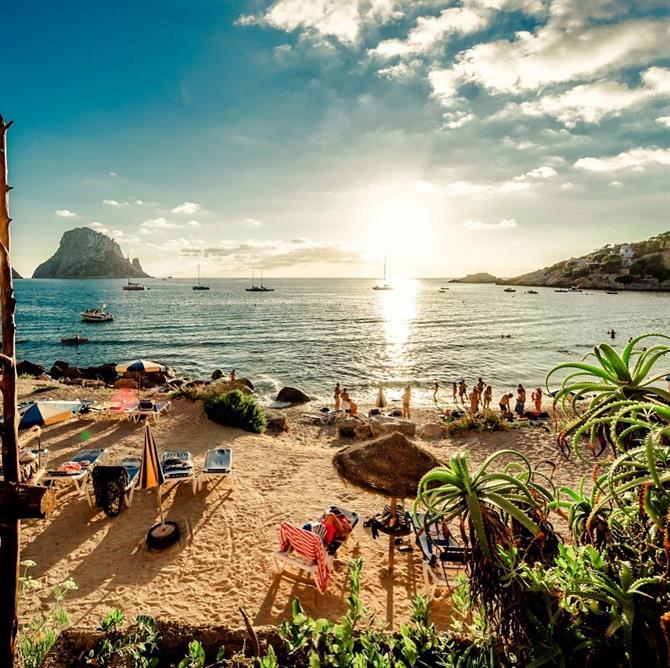 Located along the east coast and just 10 minutes north of the capital of Ibiza, Cala Llonga is one of the largest beaches on the island. With golden sand sheltered from the wind, it has a combination of virgin nature and crystal clear waters.
There is also a diving school here, which allows you to explore the underwater wonders of the Mediterranean. A wide range of water sports are available at Cala Llonga and you will have no trouble finding sports equipment to hire. You can enjoy wide access to suitable beach facilities, including special play areas for children.
Access to the beach is fairly easy, with several parking options available, although in summer many people go to this beach and finding a parking space can be difficult.
Ideal for: families, friends, water sports fans
Beach size: 200 metres long and 100 metres wide
Services: watersports, children's areas, restaurant, shops, parking, sunbeds and umbrellas
Playa de Santa Eulàlia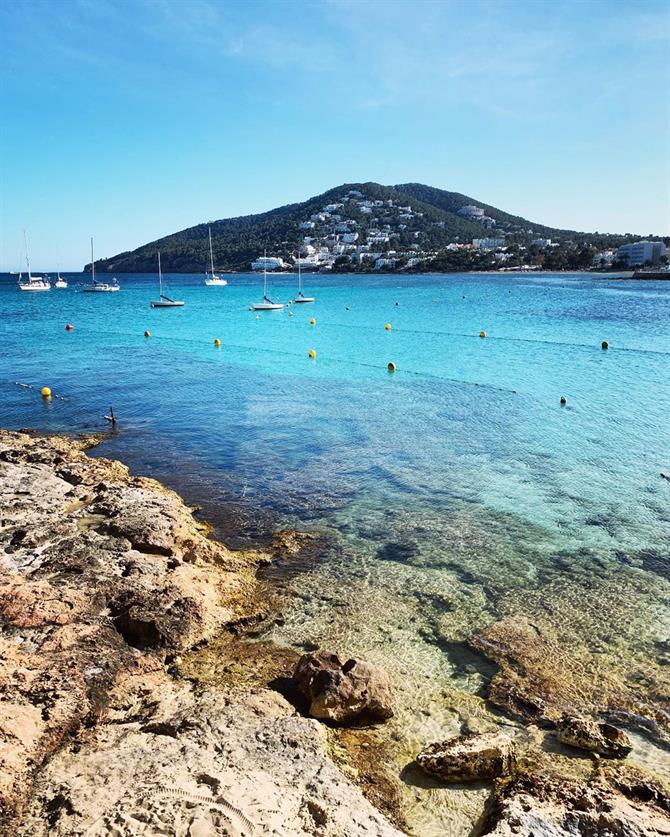 Just five kilometres from Cala Llonga is Playa de Santa Eulalia. Its waters are especially calm and warm. Possibly one of the best beaches for swimming with the little ones thanks to the shallow depth. In addition, the bathing area is partitioned off by buoys for safety.
Many experts consider it to be a privileged place for the environment, where it is possible to observe marine ecosystems. Vast underwater prairies of Posidonia seagrass found only in the Mediterranean basin support incredible biodiversity and have been declared a natural heritage by UNESCO. Maintaining this biodiversity is the main objective in Ibiza.
Santa Eulalia is also the starting point to board a small cruise. The port of Santa Eulalia is located on the left side of the beach and has many moored yachts. Also found around the resort of Santa Eulàlia, are an excellent selection of upscale restaurants, appropriate for the most discerning palates.
Taking a leisurely walk around the old town is highly recommended. Dating back to the thirteenth century and perched atop a hill overlooking the sea, the location offers great views of the entire coast.
Ideal for: families with children
Beach size: 300 metres long and 35 to 40 metres wide
Services: watersports, restaurants, sunbeds and umbrellas, showers and toilets.
Cala de Sant Vicent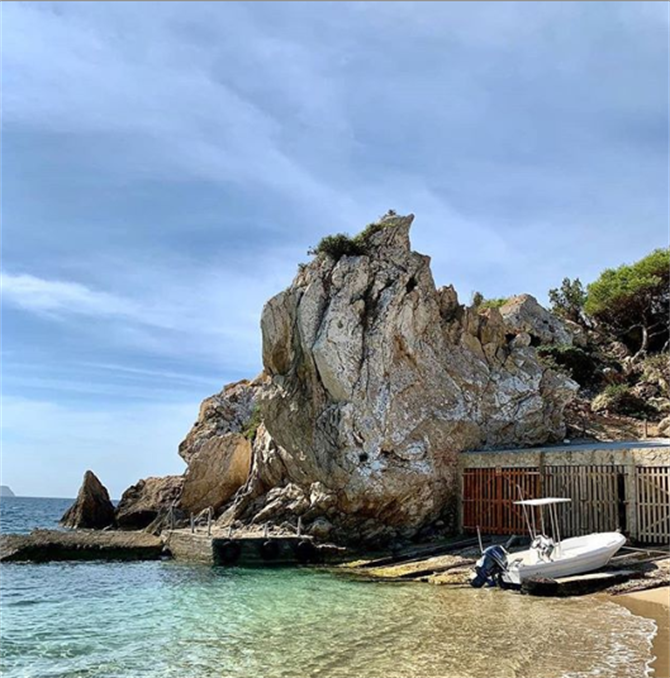 North of Santa Eulàlia, towards Figueral, an incredible view unfolds before your eyes. From the top of the cliff, you will see stunning views over the bay with crystal blue waters. This particular beach is rarely crowded, even in midsummer, so finding parking won't be a problem.
The waters contrast with the palm trees that shade the promenade. You can combine a visit to this beach with an excursion to the nearby cave of Cova des Culleram, where around 600 terracotta images of the fertility and fortune goddess Tanit have been found. Access to the cave is through a beautiful pine forest.
Lining the boardwalk is an assortment of restaurants and souvenir shops. Families with small children and those with limited mobility won't come across a single obstacle to their enjoyment when using the well-built infrastructure found here.
Ideal for: families with children
Beach size: 380 metres long and 30 metres wide
Services: watersports equipment rental, restaurants, hammock and umbrella rentals, showers and toilets
Cala Portinatx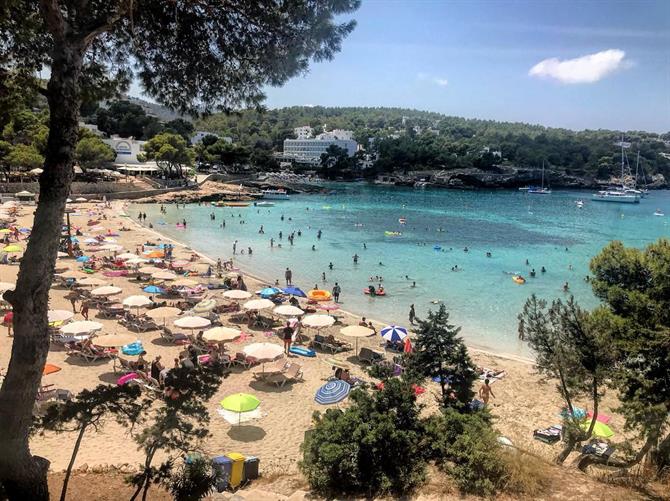 Continuing along the north coast, we arrive at one of the most familiar beaches in all of Ibiza. There are three beaches in Portinatx, surrounded by hills, offering views normally reserved for postcards.
The largest is Playa S'Arenal Gross, a white sandy beach, enclosed by pine forests. With many play areas, this beach is an ideal destination for family holidays to Ibiza. Head up to the 18th century fortified tower, for unparalleled views over the bay.
Ideal for: families with children
Beach size: 30 metres long and 50 metres wide
Services: watersports equipment rental is offered (stand up paddle, kayaks, diving, boat rentals) restaurants, sunbeds, umbrellas, showers and toilets.
Cala Xarraca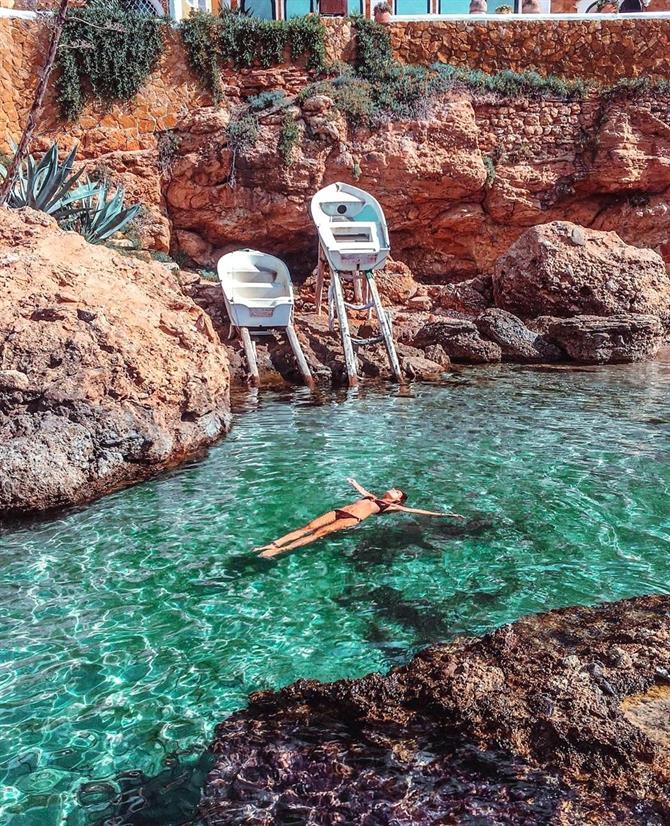 Cala Xarraca is one of the best beaches in Ibiza for couples and is the ideal place for those who want to escape from the large crowds. This narrow and rocky beach is perfect for those seeking privacy and a more intimate environment.
Unlike most other areas in Ibiza, swimming here must be done very carefully as a large number of rocks occupy the waters. With its unique charm and undeniable beauty, this particular beach will be difficult to confuse with any of the others on the island.
The surrounding area is covered by a pine forest. This area has become a true mecca for divers who will find a variety of underwater caves.
Accessing Cala Xarraca is a little more difficult than other beaches. Although a fairly steep beach road allows you to get there by car, finding parking here can be a problem, especially in high season.
Here you will also find the family restaurant Cala Xarraca, with over 30 years, has earned an excellent reputation especially for its fresh fish and delicious paellas.
Ideal for: couples and groups of friends or those seeking some privacy
Beach size: 70 metres long and 20 metres wide
Services: Restaurant, sunbeds and umbrellas
Playa de Sant Miguel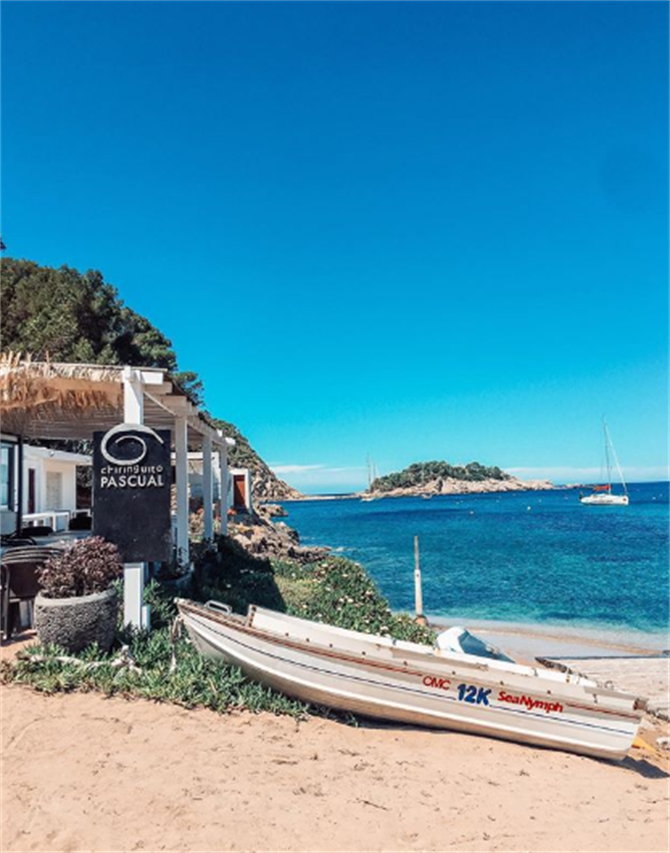 Playa San Miguel is one of the most welcoming beaches in northern Ibiza and is sheltered by rocky slopes that line the small bay. The fine sandy beach has a nice shoreline to facilitate entry to the sea. Playa San Miguel is one of the best beaches in Ibiza for kids and families.
On the way to this beach, you will find many shops, bars and restaurants, including a restaurant considered to be one of the best in Ibiza, Port Balansat. In this restaurant, it is recommended to try the island's speciality: Bullit de peix.
Ideal for: families, swimmers, water sports fans
Beach size: 100 metres long by 80 metres wide
Services: water activities, hammocks, umbrellas, showers, restaurants, bars and shops
Playa Sant Antoni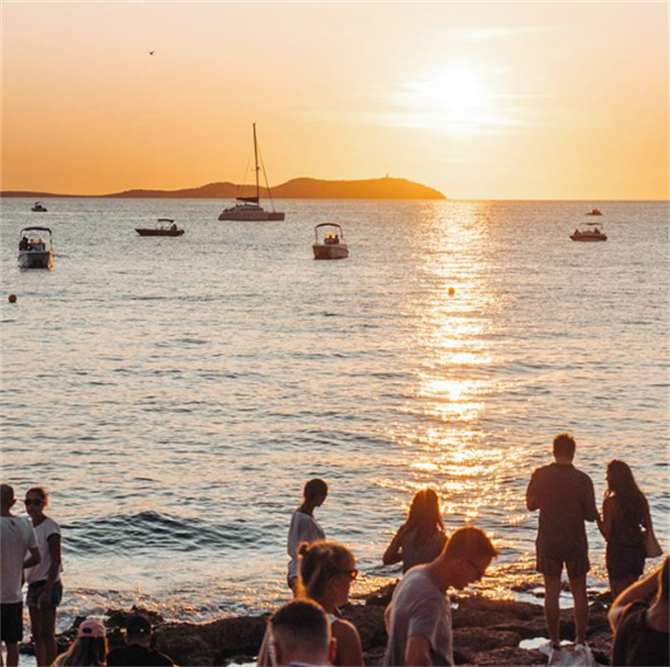 This fine golden sandy beach is located in the centre of Sant Antoni de Portmany, on the west coast of Ibiza. Places like this have given Ibiza most of its fame, and this beach is one of the most visited by lovers of dance music.
Sant Antoni is often favoured by young holidaymakers. The music played in the clubs nearby extend beyond the calm, shallow waters, making this beach popular with groups of twenty-somethings. This destination is lively both day and night.
Playa Sant Antoni is equipped with excellent facilities for water sports. It is also one of the best places in Ibiza to catch an incredible sunset.
Ideal for: Young people, groups of friends
Beach size: 500 metres long by 50 metres wide
Services: water sports, showers, sunbeds, toilets, kiosks, restaurants
Playa Cala Moli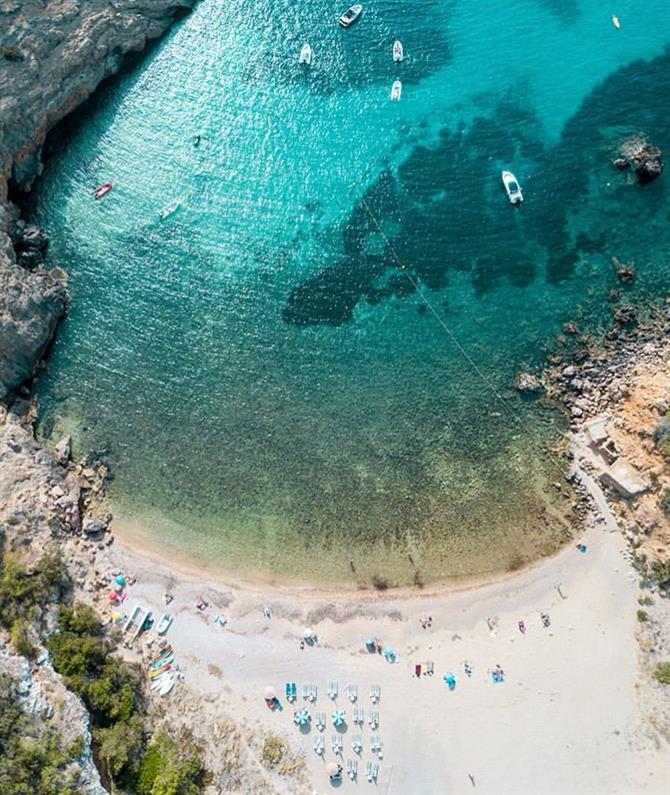 Just 15 minutes from the bustling San Antonio, you can find peace and tranquillity in Cala Moli. This is one of the best beaches in Ibiza for those looking to avoid the crowds and find a quiet place.
The rocky cliffs that surround the beach offer magnificent views of the entire east coast and many possibilities for divers. There is a hidden world of underwater caves and rock formations waiting to be explored. Cala Moli is surrounded by pine trees and is protected by local authorities to preserve its natural beauty as well as protect the indigenous plants that grow there.
Ideal for: families and people seeking tranquillity
Beach size: 75 metres long by 35 metres wide
Services: umbrellas, deck chairs, restaurant
Cala d'Hort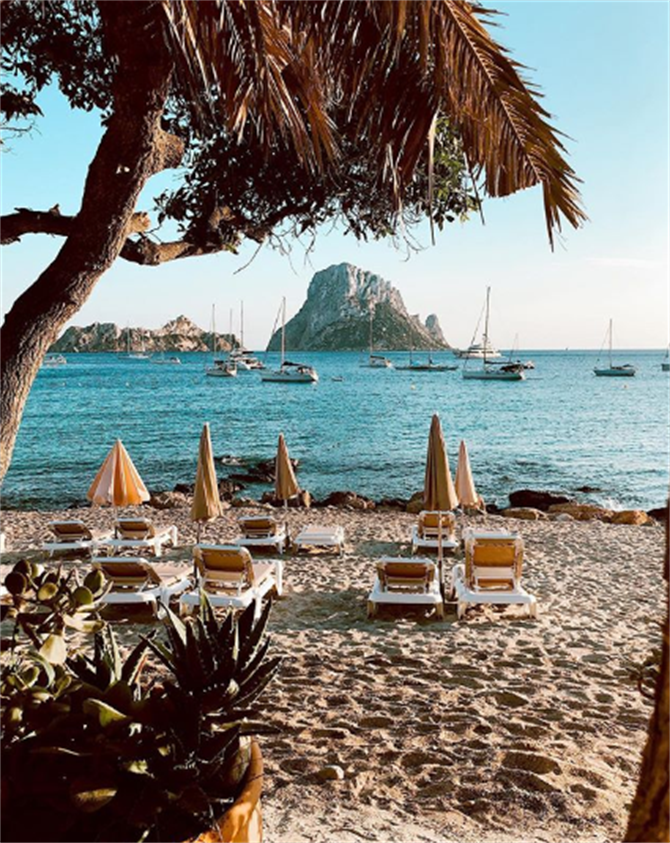 Cala d'Hort is a perfect depiction of a Nature Reserve. With spectacular views of the uninhabited island of Es Vedra, it is a quiet white sandy beach with a few rocky sections.
The charm of this privileged and intimate space means it is busy in the summer and limited parking options. On the hillside, there is a restaurant where they mainly serve fresh fish and paella. There are also a few little shops where you can pick up holiday souvenirs.
Ideal for: families and nature lovers.
Beach size: 200 metres long by 25 metres wide
Services: umbrellas, hammocks, restaurant and a small parking area.
Playa de Ses Salines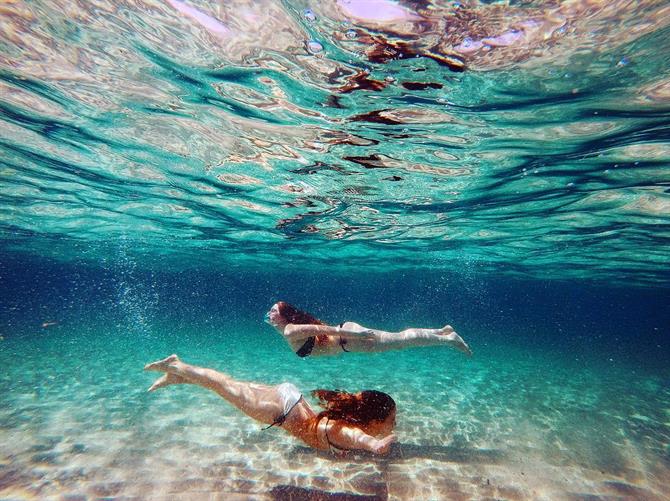 This beach forms one part of the famous Las Salines Natural Park where, for centuries, nature has provided merchants with valuable sea salt and where 200 unique species of birds now make their homes, iconic flamingos among them.
Ses Salines is one of the most famous and most visited in Ibiza. It is located at the southern end of the island, about a ten-minute drive from Playa d'en Bossa or the city of Ibiza.
Constantly in the spotlight for attracting celebrities, this beach is undoubtedly one of the most idyllic in all of Ibiza, both for its white sands and for its turquoise waters. The warm temperature of its waters also makes it ideal for the little ones to bathe.
Surrounded by a lush pine forest, the beach is one of the epicentres for social life in the island during the summer months. The beach bars become the best option to enjoy a refreshing cocktail or a cold beer. However, finding privacy on this beach is hard in the high season and the high level of occupancy will likely be accompanied by music from nearby bars and the buzz of water activities on the beach. If you want more discreet and isolated areas, go to Es Cavallet. There you will find a small nudist beach and a much quieter atmosphere.
Located near this famous beach in Ibiza, hike up to La Torre de Ses Portes, the eighteenth-century defensive tower which looks out over the bay. The structure can only be reached on foot and should take only about 20 minutes when coming from Las Salines.
Ideal for: families, friends, young people, lovers of water sports
Beach size: 1500 metres long by 25 metres wide
Services: restaurants, parking, beach bars, water activities, sunbeds, umbrellas, toilets, showers
Playa d'en Bossa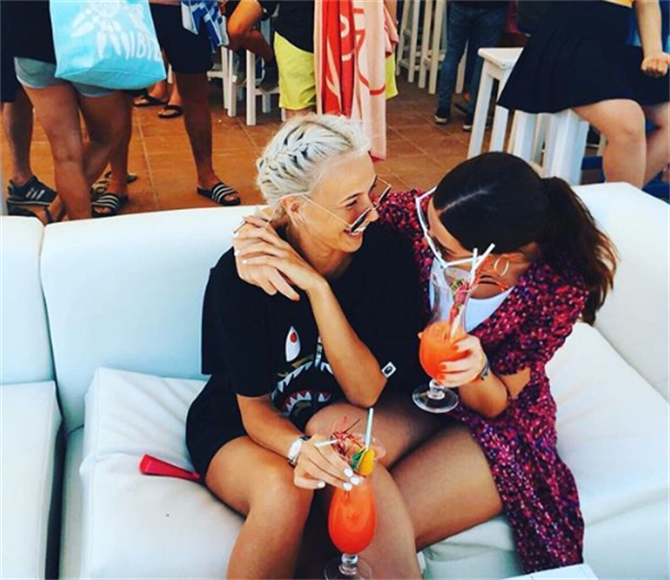 Located on the outskirts of the capital, this is one of the largest beaches in Ibiza. It's almost three kilometres of clean white sand which coexists with incessant parties seven days a week. However, sometimes you can find some quieter stretches.
If you've heard of the Bora Bora Beach Club, here it is. One of the most famous beach clubs in Ibiza with a selection of international events and great guest DJs.
With just a short walk from the coast, you can get to explore the heritage of Ibiza's old town. A dream view of the sea and the port awaits you at the Dalt Vila viewpoint.
Ideal for: Ideal for: families, friends, young people, lovers of water sports
Beach size: 2,700 metres long by 40 metres wide
Services: restaurants, parking, beach bars, water activities, sunbeds, umbrellas, toilets, showers
Map of Ibiza's Most Beautiful Beaches