In spring, the valleys are filled with pink and white blossom from the fruit trees which provides a lovely perfume as well as a gorgeous view. In summer and autumn, the harvests are celebrated with a party involving wine and food.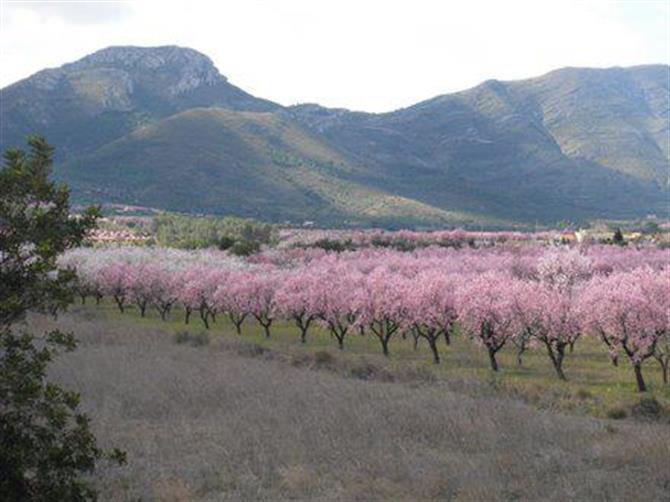 Jalon's a top spot for cycling teams
The Jalon Valley, also known as the Vall de Pop, is a favourite spot for visitors who enjoy visiting traditional Spanish towns, cyclists who enjoy the challenging windy mountain roads, hikers and nature lovers.
During the winter and spring months, it is common to see teams of amateur and professional cyclists racing along the winding roads up to the mountains. The temperate climate and challenging roads have encouraged many teams to train here.
For more information on cycling in Alicante
Food lovers will enjoy the rustic, regional produce and great wines as well as local honey and olive oil.
Say hello to Jalon's history
It is only about 30 minutes by car from the coastal resorts of Denia and Moraira to the Jalon Valley where you can step back in time to discover the region's Moorish past.
Each town has its own parish church and traditional square where people meet for a coffee in the local bar or to share the latest gossip.
When the Moors were defeated and banished from Alicante lands, many towns were practically deserted.
Families from the island of Mallorca started to move in and brought their traditions with them. In the shops, you will find the spicy sobrasada cured sausage made with pork and paprika as well as the sweet ensaimada pastries.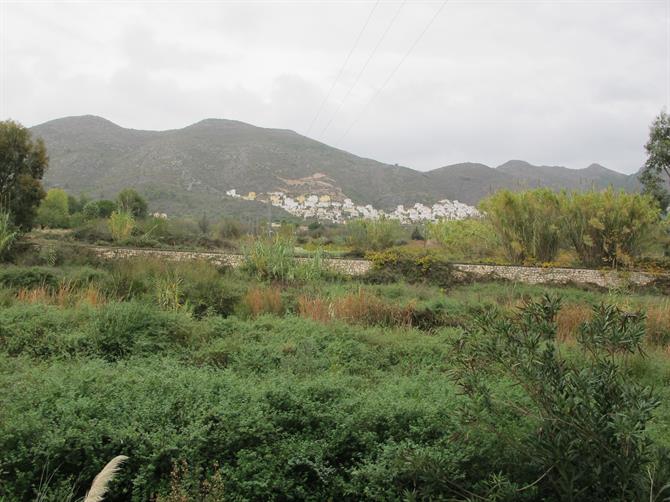 Jalon cuisine
Today, many expats have also fallen in love with this beautiful rural part of Alicante so you are likely to hear English spoken as well as finding British bars and a traditional fish and chip shop in the centre of Jalon.
Regional cuisine may include rabbit with garlic; wild boar; little pizza-like savouries with anchovies, tuna or tomato; sausages; puchero made with meat, chickpeas and vegetables; paella; and cherries steeped in liqueur.
The valley can be visited in a day or you can easily spend a long weekend or a holiday here to enjoy a relaxing pace of life amid beautiful countryside.
Paradise in Parcent
Parcent is a traditional little town with an interesting history. It's surrounded by orchards of picturesque almond and orange trees, which are amazing to see when in blossom in spring. Spanish writer Gabriel Miro lived here and called it 'a paradise between the mountains' - a view which still holds true today.
It's worth visiting the pretty parish church during your visit.
The town was in the hands of the Moors until it was conquered by James 1 of Aragon in the 13th century.
In 1850, the town suffered a devastating outbreak of leprosy, which may have influenced Miro to write about this disease in two of his novels.
Interestingly, you can also visit the last leper hospital in Spain in Tormos, nine kilometres away. The sanctuary was set up by the Jesuits in 1909 and was still in use until the 1990s.
Rural restaurants in Alcalali
On the way to Jalon is the traditional little town of Alcalali, well-known for its rural restaurants. You can also pick up local oranges and honey from the shops here.
Through an archway, you enter the main Plaza de Ayuntamiento (town hall square) with its charming church and museum.
Opposite the church is a 15th century tower, which is all that remains of an historic palace. The top of the stone tower is a modern, glass lookout which looks odd, to say the least. It is a talking point as some say it is definitely out of keeping with the original structure while others feel it is an eclectic mix of architectural styles.
You can visit the raisin museum in the tower to find out about the history of the industry and its demise. Raisins were an important part of the local economy after being planted by the Moors up until the last century.
In and around Jalon you may notice unusual barns, known as riu-raus, which were used to store and dry the grapes.
Wine tasting in Jalon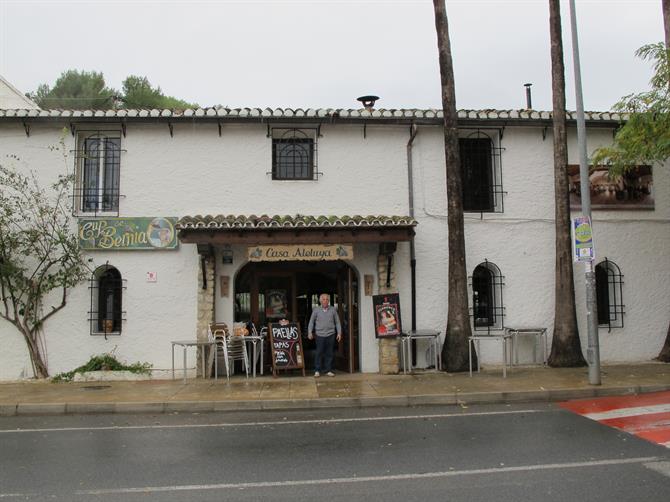 From Alcalali, you enter Jalon by an old stone bridge. This is the centre of the wine-making region with several bodegas where you can try and buy various wines.
Just by the bridge is the best-known wine producer Bodega Xalo. Inside are giant barrels where you can buy wine by the litre, award-winning wines such as Bahia de Denia, cavas, spirits and liqueurs, olive oils and raisins at bargain prices.
The mistela (sweet muscatel) wines are great value for money in these bodegas.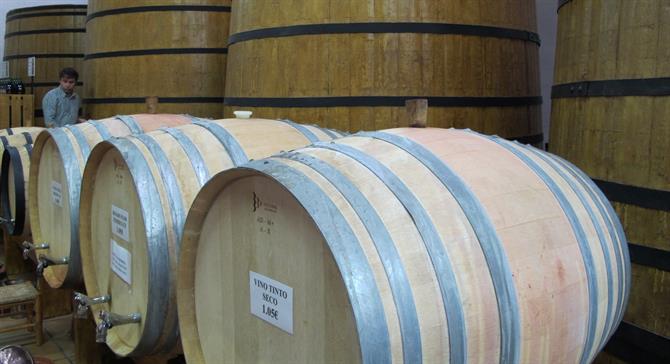 As well as picking up bargain wines, Jalon also houses a couple of interesting antiques shops and a shop selling dozens of different varieties of honey.
Many people head here on Saturdays for the antique or flea market held by the river, opposite Bodega Xalo. It's a lively affair with interesting collectors' items, paintings, old furniture, coins and bric-a-brac on offer.
Another market is held on Tuesdays around the church square with stalls offering fruit, vegetables, clothes and household goods.
The church square is a pretty place to stop for a coffee before visiting the traditional butchers, with strings of home-made sausages, and bakers. The grand church with its blue-tiled dome is definitely worth a visit.
Wandering around the town, you will notice the lovely townhouses with giant doorways.
The town has several restaurants, some offering regional cuisine while others serve Mediterranean cuisine. There is also a traditional English fish and chip shop, near to Bodega Xalo.
Just outside Jalon, on the road to Benissa, are the stunning Lavender Gardens. This Mediterranean garden has been created to provide another peaceful oasis in the Jalon Valley, where you can enjoy panoramic views of the surrounding mountains.
Also from Jalon, you can take a trip up the Sierra Bernia mountain, climbing higher and higher, to enjoy fabulous 360º views of the stunning rural countryside.
For more information on wine tasting in Alicante
Stunning views in Lliber
Stunning views over the countryside and vineyards can be enjoyed from the little town of Lliber.
Entering the village, in the car park, is a large old stone on top of the town well which supplied farmers and shepherds with drinking water for their animals and women filled their pitchers for domestic use.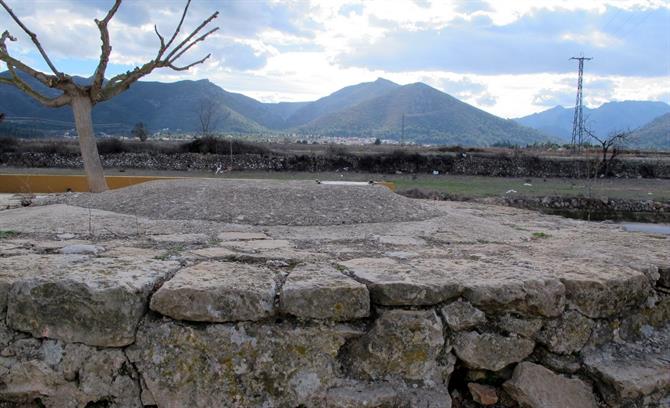 This traditional little town is home to an impressive stone church with clock tower, bars and restaurants.