The small coastal town of
Jávea
boasts nine of the most spectacular beaches that Spain's
Costa Blanca
has to offer. Located in the Province of Alicante, Jávea's coastline stretches 20 kilometres providing a uniquely charming variety of beaches and landscapes with plenty to do.
The impressive cliffs that line this coastal area have various look-out points that are commonly referred to as miradores. From above; they provide you with tranquil and romantic views that this area's pure natural beauty is well known for. From below; the sun-drenched beaches deliver something for all to enjoy the sand, soft breezes, and warm waters of the Mediterranean. The cliffs along the coast contain a number of delightful coves while the crystal clear water inviting you to jump in for a swim, scuba dive, snorkel, surf, or kayak. And while Jávea is a great place to relax, here they certainly know how to let loose holding
fantastically
unique fiestas throughout the year.
The beaches in J
á
vea
are strung together along the coast between two headlands, the northern Cabo de San Antonio and the southern beach bay Cala Granadella. Find your own piece of paradise and
rent a
villa in Javea
and visit Javeas best beaches on your doorstep.
1. Playa La Grava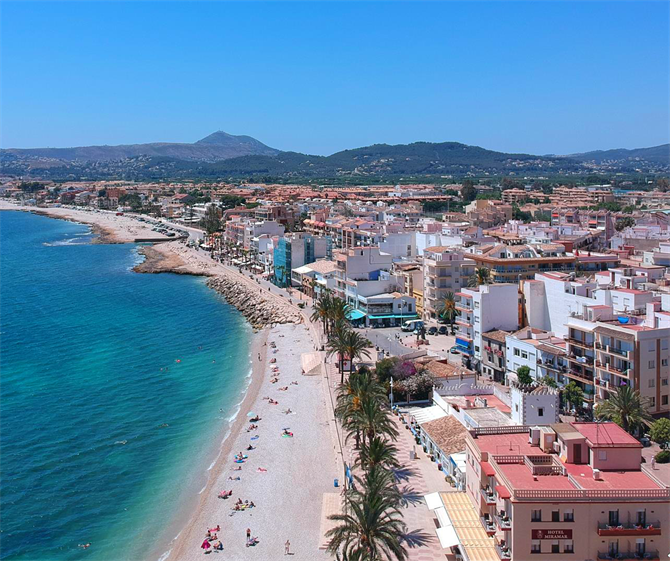 When you think of the beach the word "gravel" typically doesn't come to mind, but Playa La Grava-meaning gravel beach in Spanish-is just that. Don't let that deter you though. This lovely little spot sits right next to the marina of Jávea and near the old fishing district of Duanes de la Mar. The beach is easily accessible with lots of amenities and therefore busier than most of the other beaches in the area.
The calm and clear water here is inviting for a relaxing swim (this beach is Blue Flag quality approved) or pleasant walk among palm trees along the wide promenade. In summer there is a lovely atmosphere with artesian market stalls and a water playground for the little ones. All in all, this is one of the best beaches for family holidays on the Costa Blanca. Cape San Antonio, a beach just near, is lovely to see as well.
2. Playa del Benissero / Primer Muntanyar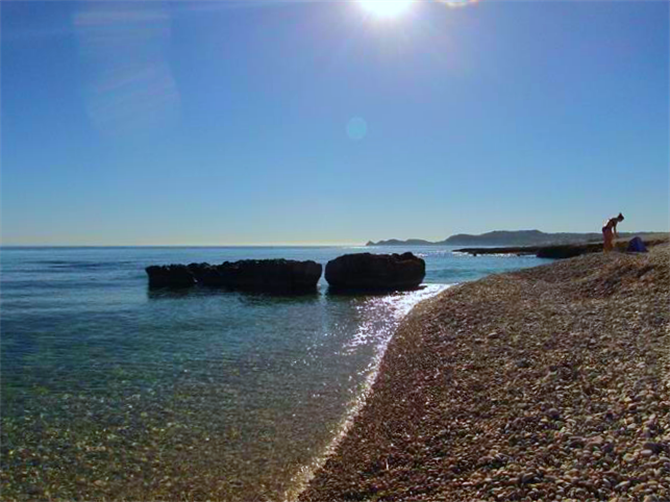 If water sports are your thing, look no further than this gem. Unlike the other beaches in Jávea, this sweet spot is open and exposed to fantastic winds making for excellent kite surfing opportunities. During the summer months, and only 300 metres from the harbour, you can easily find something to satisfy your desire for water sports including stand-up paddle boards, kayaks, and jet-skis, that are all available for rent.
It is a dynamic beach with a wonderful atmosphere, bordered by villas, rather than high-rise buildings. Looking for some savoury treats or perhaps a delicious mojito? Then you are in luck as there are fantastic restaurants, chiringuitos, and many other convenient amenities. Amenities include parking, toilets, wooden walkways, lifeguards and beach chairs with umbrellas to rent.
The name 'Benissero' comes from a man who once resided in the neighbouring town of Benissa. His home is now a chiringuito by the name of La Siesta. Previously families would sit at picnic tables and have dinner at the beach every Sunday evening by the light of a campfire. A tradition that is still observed on special summer evenings.
El Primer Muntanyar is an extension of Benissero. These 1900 metres of paradise extend all the way to the swanky Parador de Jávea and is the longest beach in our line-up. With an attractive combination of boulders and turquoise water, typical of this amazingly beautiful coastline, it makes an excellent site for snorkelling and scuba diving. Swimming is also popular here thanks to the inviting clear water. Steps for easy access into the water, appear periodically are a nice convenience. The lovely natural surroundings and the amazing chiringuitos are a bonus making this a pleasant place to kick back and enjoy all day and/or evenings during the summer months.
3. Playa del Arenal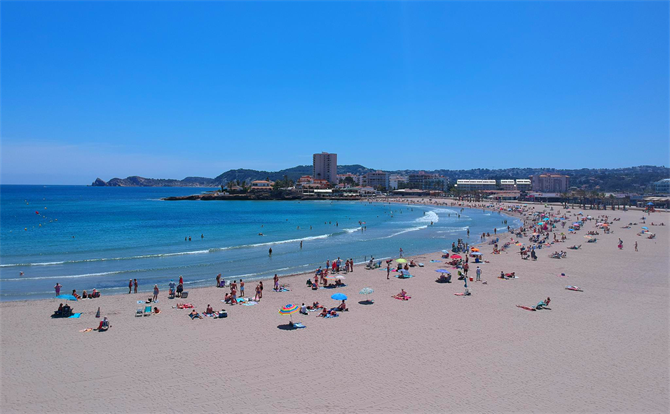 Arenal translates to sandy ground, and just like its counterpart La Grava, its name is a candid one. As one of the only sandy beaches in Jávea, it is also the biggest beach on our list.
Located right in the Bay of Jávea, it is the main beach and therefore very hard to miss. The fine sand here feels good between the toes while gently sloping down to the sea, providing people of all ages and disabilities excellent and easy access to the water. The water quality has been recognised as being blue flag standard, so jump on in!
People can be found lounging on the sand, playing football, volleyball, building sand castles, etc. With a lively promenade, it delivers bustling markets with stalls, cafes, and restaurants. The watersports rental businesses provide the necessary equipment to satisfy any appetite for fun and adrenaline.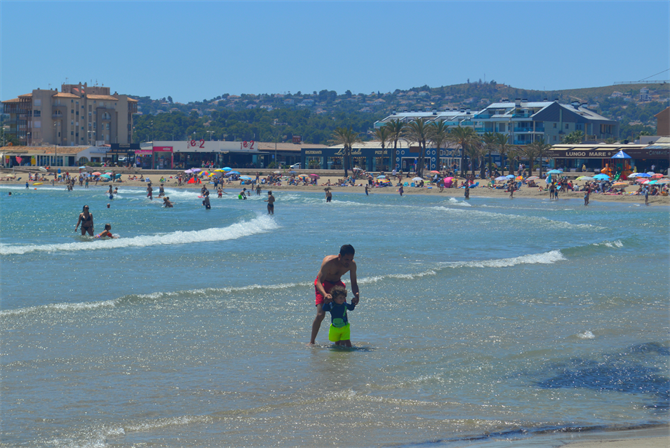 To top it off, the views of Montgó Mountain are truly fantastic and in the summer months, there is an exciting and wonderful fireworks show nightly. Clearly, this beach has it all, and may even be the envy of the others on our list.
4. The Segon Muntanyar
Heading south of Arenal beach we find ourselves at this rocky stretch of shoreline where the gravel is a product of petrified sand. The Segon Muntanyar (Second Muntanyar) is named so due to the similarities it shares with its cousin; Primer Muntanyar. It is just as a spacious and open, with stairs that provide quick access to the water.

Swimming, snorkelling and scuba diving are a real pleasure, but more so early in the morning when the water is likely to be calm. The varieties of colourful fish that seem to be drawn to this area are a real treat. The beach is a 1700-metre strand of sparsely occupied paradise, which may draw those who would enjoy a quieter place to relax.

Restaurants and chiringuitos are still present here as well as a car park and bus stop. The Mirador de Sèquia can be found here as well as La Noria. The view is gorgeous, with links to the Cabo de San Antonio and Cap Prim.
5. Cala Blanca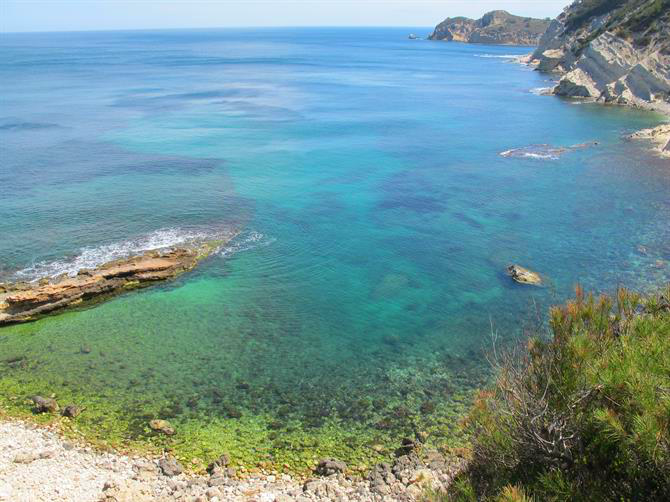 The Cala Blanca or "White Bay" is named after the white pebbles and rocks that adorn this hidden gem. The crystal clear water facilitates excellent snorkelling and has spectacular views of both the Montgó Mountain and the surrounding landscape. Surprisingly this beach is consistently sparse in population, unlike its counterparts, making it a truly fantastic place to get away from it all. The patrons that are typically found here are friendly locals or tourists from the nearby region. The only disturbance in tranquillity one may experience is created by the boats towards the Cala Sardinera.
The Cala Blanca is roughly 300 metres in length and consists of three smaller calas (coves) that sit next to each other and give this piece of rocky coast its unique form. These Calas are only accessible on foot by following a long staircase constructed in the rocks down from the miradores of the neighbouring cliffs. These stairs can be accessed from Mirador de Cala Blanca or the Mirador de Les Caletes.
Caleta I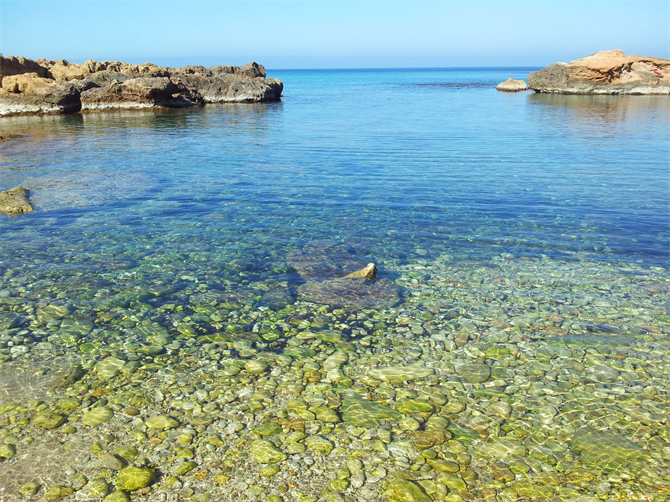 This rustic Cala (cove) presents an 80 metre stretch of pebble-strewn shoreline. It lies at the end of the Avda. Ultramar, the road through which the Cala Blanca is easily reached. From the car park, there is a remaining 100-metre walk. From here one also has access to the Mirador de Cala Blanca.
Caleta II
A natural pearl of beautifully clear water on pebbles offers a sense of pure tranquillity where one may receive undisturbed rest and relaxation. This beach is roughly 40 metres in length and can only be reached on foot from the Caleta I, or via a set of stairs from the Mirador de Les Caletes. The water is always nice and calm due to an arm of rough stone that extends into the sea creating a protective barrier from sea swells. From here the view of the surrounding natural landscape and the white cliffs of Jávea are truly spectacular!
Caleta del Francés
Caleta del Francés or "bay of the Frenchman" derives its name from a certain Monsieur Lambert who once resided there. This small Cala is accessible from the adjacent Caleta II. The pat, however, between the rocks and water, is a narrow one so it would serve one well to be cautious. The reward for this small effort is the absolute tranquillity that can be found there. You can also descend from above, though this task is not as easily accomplished.
6. Cala Sardinera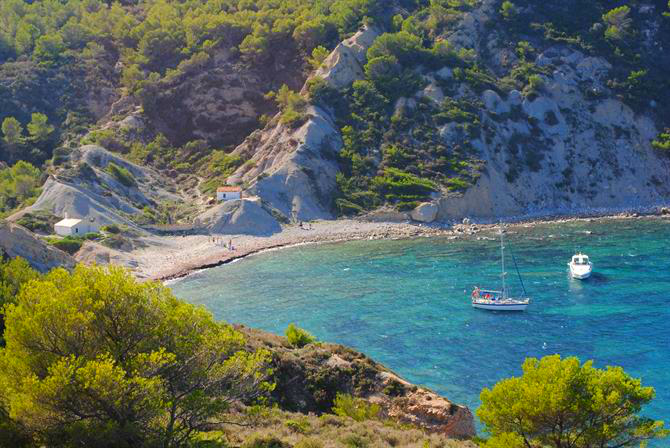 Once upon a time Cala Sardinera, as the name suggests, was the best place to catch sardines with 'Sardinales' (fine nets) that were released two times a day: once at dawn and once again at sunset. It has since become a wonderfully unspoiled cove with a shore covered in; you guessed it, gravel and pebbles. It lies on the north side of the Cap Prim and Sant Martí. It can be reached by foot from the Mirador de la Cruz del Portitxol via a path that runs through a lovely untouched piece of nature.
This beach is also a nice quiet stretch and provides excellent snorkelling and swimming opportunities, Come prepared with provisions as there are no facilities here.
7. Cala Barraca o Portitxol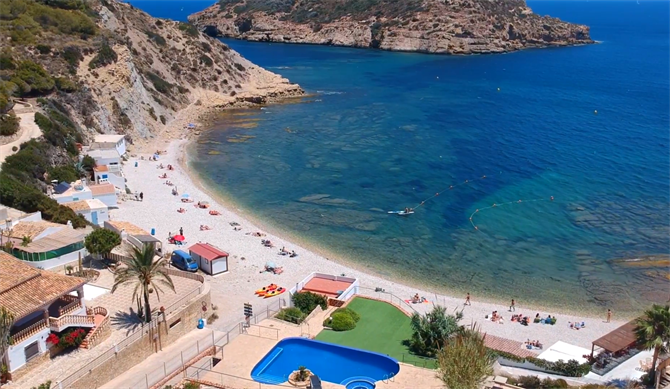 This pebble-covered beach with clear waters is located between the Cap Prim and Cap Negre. It overlooks the Portitxol Island, which is approximately 300 metres from the coast. The crystal clear waters here make this site highly regarded as one of the best beaches in Jávea for scuba diving and snorkelling.
Like the Cala Sardinera, you can access it by foot from the Mirador de la Cruz del Poritxol, but is also accessible by car via the Road, Cabo de la Nao. Getting in early is recommended though as this beach typically has a higher occupancy while coming in at only 900 metres in length.
8. Cala Ambolo
This unspoiled Cala humbly provides pure white silica sand complemented by clear blue water, just before the Cabo de la Nao, and is reminiscent of a tropical paradise! This paradise also happens to be a nudist beach in Jávea. Though bathing suits are allowed as well and are often worn by the majority.
The beach here is located near the Mirador de Ambolo. Its name originates back to la Torre de Ambolo, one of many watchtowers found in the area of Portitxol, which were built in the 16th century for the purpose of defending against pirate attacks.
Here you will not find any Lifeguards on duty nor beach chairs for rent, but it is undoubtedly one of the most beautiful beaches in Jávea. The occupancy of this bay is relatively low, and it is roughly 300 metres in length. In the summer months, it would be wise to arrive early as parking can be a bit of a bother later in the day.
The beach is popular with snorkelers and climbers alike. There is a small rocky island where it is popular to climb and cliff jump from. A little further outlays the island "Isla del Descubridor".
NOTE: This beach is sometimes susceptible to landslides, visit the official tourism website of Jávea labelled Cala Ambolo for updates on the beach. Sometimes it is stated as 'closed' due to a risk of landslides. Yet it is accessible and many beachgoers and snorkelers still attend. The meaning of "closed" is merely a warning - if you enter the beach then it is at your own risk.
9. Cala La Granadella
Concluding our trip down Costa Blanca's benevolent coastal paradise we have finally reached beach number nine. This beach is highly regarded by most Spaniards as the 'Best Beach in all of Spain'! Certainly, it is by far one of the best beaches in the province of Alicante.
This southernmost beach in Jávea was also awarded a Blue Flag for its excellent water quality and is a horseshoe-shape picturesque nirvana. You cannot help but be impressed by the natural beauty of the surrounding majestic mountains, caves, and woods begging to be explored. Its crystal clear water is a paradise for divers and snorkellers alike. The beach is a popular one and therefore quite busy in summer. Being only 160 metres long it would be wise to get there early!
Additional Small Beaches in Jávea
In addition to these beaches in Jávea, explore some of the coves that are too small to truly fall into the category of a "beach". These are also particularly great locations for diving enthusiasts.
Playa del Pope o del Tangó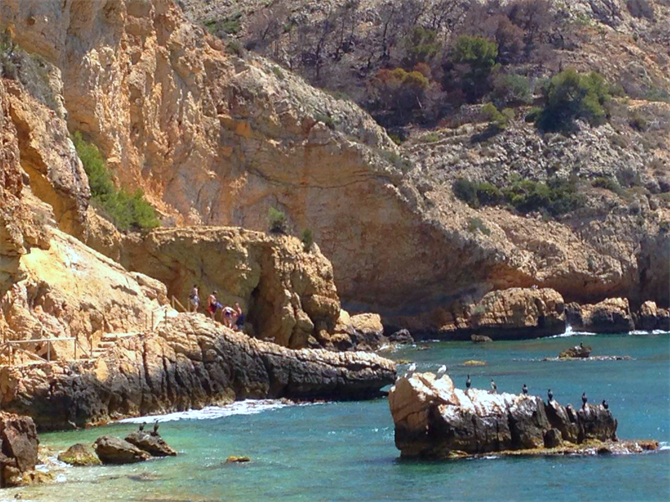 There is the Playa del Pope or del Tangó on the south side of the Marine Reserve of Cabo de San Antonio which is located in the very north of Jávea. Here are two small bays with coarse sand where divers can discover a spectacular natural wealth in crystal clear waters.
Cala del Ministro
At the end of the Primer Muntanyar beach, behind the Parador de Jávea, hides the Cala del Ministro. It is a beautiful small rocky cove with many rock pools hiding a plethora of little sea specimens waiting to be discovered. Also, this site contains natural swimming pools, clear water, and plenty of fish.
Still standing is a villa once gifted by the dictator Francis Franco to his minister of finance Navarro Rubio - hence the name. It is now uninhabited though and still visible from the Cala. There is no form of provisions or amenities here so come prepared. A great site to catch some rays and swim (we recommend wearing water shoes) as always useful on the pebble beaches of Jávea. Additionally, at the end of the Cala, a mirador can be found providing a beautiful view of the impressive Arenal Beach.
Lastly, if time permits, a day trip to the nearby town of Alicante is always worth a visit.
Map