Although Spain offers plenty of events and festivals for all ages, its main attractions have been and always will be the many beaches with clear water and fine sand, perfect for a relaxed day of sun and sea!
L'Estartit, the easternmost point of Spain nestled between the Montgrí Massif mountains and the Mediterranean, is one of those regions with beautiful seaside towns and beaches that every beach lover will appreciate.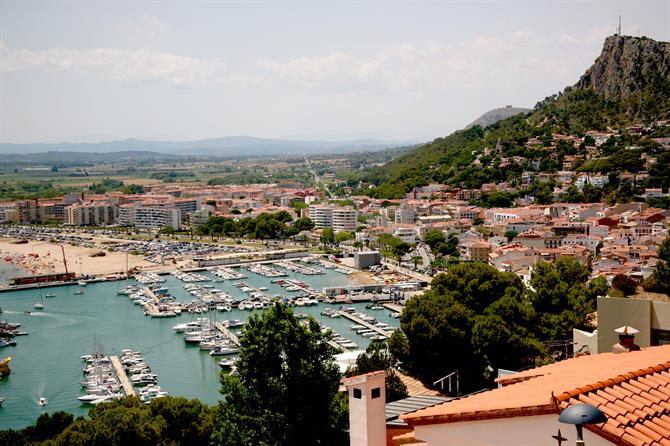 With a length of 50 kilometres and very diverse landscapes, the coastline of L'Estartit can be divided into two parts: about two thirds of the area is rocky, with plenty of coves and small, hidden beaches, while the other third offers wide, sandy beaches. If you want to make the most of your holiday in the region, rent a beach house in L'Estartit. You won't regret it!
Three city beaches: Platja Gran L'Estartit – The main beach
Just outside of the city of L'Estartit (the capital city of the region), you can find the three main urban beaches. During summer you will find most locals at one of those beaches enjoying a relaxing day with their families.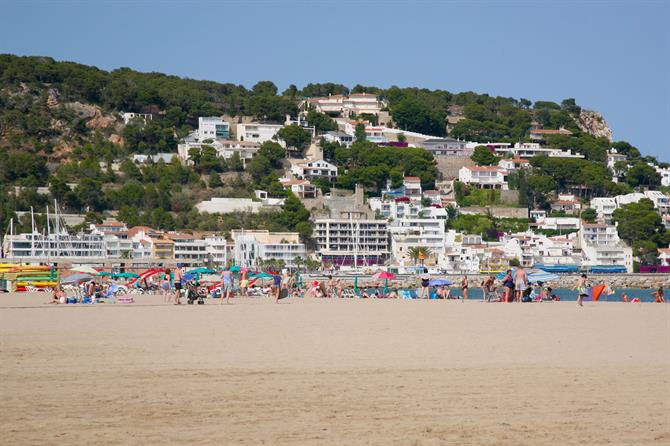 Most visitors go to Platja Gran, the main beach of L'Estartit, as it is the first beach you will come across and it's very easy to access. Platja Gran is located in front of L'Estartit's residential area and has plenty of amenities and services such as wheelchair accessible paths to get close to the water, beach chair rentals, and in July and August a children's club where your kids can take part in several fun activities!
The official kids club of Platja Gran is the Mini Beach Club, which offers plenty of entertainment and activities for children between the ages of 4 and 10. It combines fun and learning, with activities like water games, sports and workshops that focus on teamwork and the development of interpersonal skills. It is located on the part of the beach close to the Avenida de Grecia.
Three city beaches: Els Griells Beach
The Els Griells Beach guarantees more peace and quiet than Platja Gran, especially because it is located further away from the tourist areas and closer to the Ter Vell Nature Reserve, a beautiful and tranquil part of L'Estartit.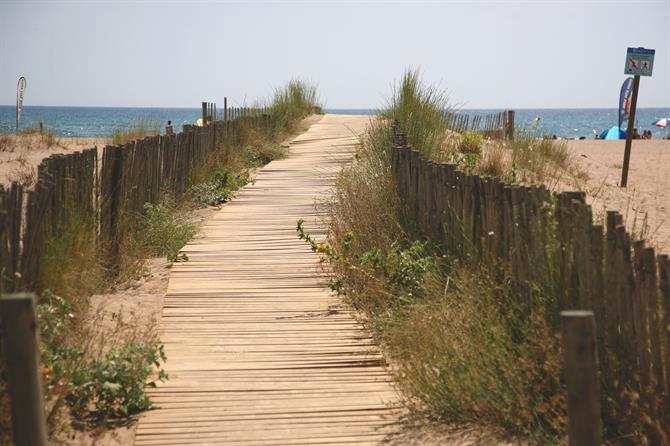 Els Griells is a unique beach because of its location between the reserve and the Ter Vell river. Take advantage of one of the many sports operators and try a water sport such as surfing or windsurfing. And if you prefer a calmer way to spend your day, kick back and enjoy the sun with a cocktail at one of the two beach clubs!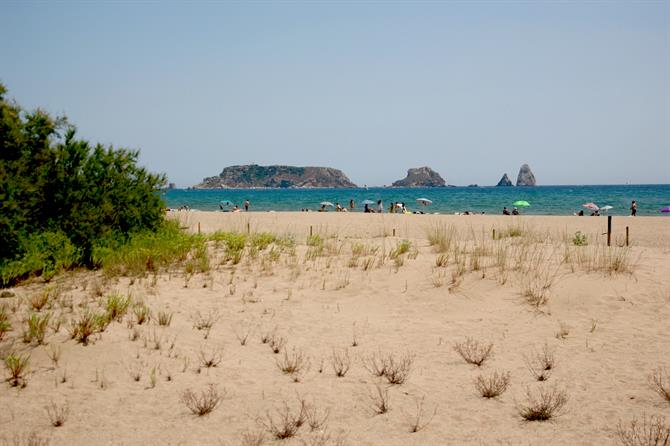 And most importantly, don't forget to bring your camera! The views of the Medes Islands and the mountain range surrounding L'Estartit are just incredible and will leave your friends green with envy.
Three city beaches: La Pletera Beach
Last but not least, La Pletera Beach is L'Estartit's hidden treasure. Because of its location inside the Ter Vell Nature Reserve and the fact that it is a bit more difficult to access, it is unknown to many and a secret haven for the lucky few who do know it.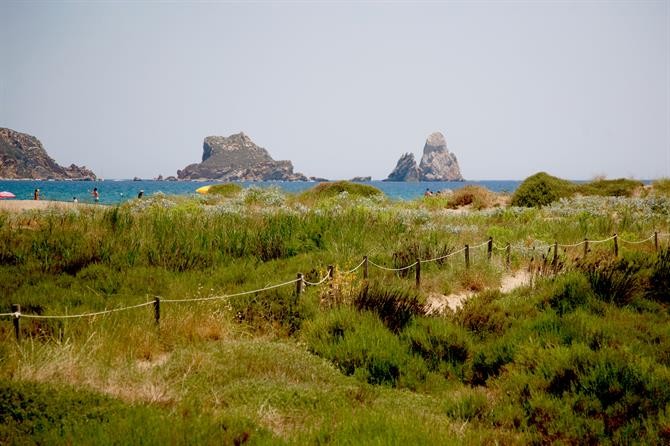 If you don't mind leaving the city centre, you will be able to enjoy this fantastic beach, part of an environmental protection programme for the recovery of natural heritage. Other landscapes and natural landmarks that are part of this programme are the coastal dunes and the lakes and swamps of Baix Empordà.
The pure air and natural beauty of La Pletera Beach guarantee a day of complete relaxation! And if you get bored of lying on the beach, take a dive in the crystal clear water or try some (kite) surfing!
Cala Montgó – A geological miracle
Cala Montgó is a very special and unique place in Spain. This bay created by years and years of erosion is sheltered from northern winds, which makes it feel more like a giant natural pool. Cala Montgó has clear blue water, it's 600 metres long and 80 metres wide.
This beautiful bay is located 20 kilometres from L'Estartit following the scenic coastal route, but it's also possible to get there through the mountains, a route that's only 12 kilometres. You can get there by car, bike, boat or even on foot if you fancy a hike, and enjoy water sports, laze on a beach lounger or have a cocktail at one of the many bars.
The small beaches of L'Estartit
Apart from the beaches we mentioned above, there are several smaller and less known beaches in and around L'Estartit that deserve to be mentioned.
Cala Calella is a 30-minute walk from the port of L'Estartit. Its viewpoint Els Arquets offers some of the best views of the region, all the way to the Medes Islands. Even though the rocky beach doesn't invite you to soak up the sun on a towel, it is worth a visit because of the interesting geological formations such as the Pou de la Calella well.
If you prefer a more secluded beach, try Cala Pedrosa, only 30 minutes walking from L'Estartit, a beach surrounded by cliffs and pine trees. When you get tired of relaxing in the sun, you can go to Pedrosa Island, a small island you can reach on foot!
Cala Ferriol is another beach on the Costa de Montgrí where you enjoy a day of peace and quiet. It's a 45-minute walk from the city of L'Estartit.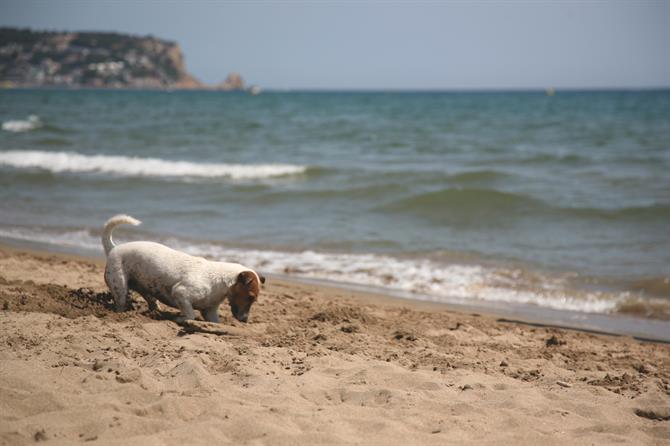 The amazing beaches of L'Estartit are just a fraction of everything you can see and do on the east coast of Spain. From having fun in Roses to spending a family holiday in L'Escala, the Costa Brava offers plenty of entertainment for everyone.
Keep an eye out for holiday homes on the Costa Brava close to the beach, and enjoy a holiday on Spain's fantastic east coast!