To a lot of visitors to the Canary Islands, La Gomera is the island they can see from their Tenerife sunbeds. To others it is a tranquil, get-away-from-it-all natural paradise.
About La Gomera
Although the second smallest Canary Island has never been a big draw for British visitors, it's popular with German ones who realised its potential for first class hiking years before it registered on British holidaymakers' radar.
Historically Tenerife, Gran Canaria and La Palma were the most populated islands with ports that welcomed ships sailing to and from the New World. La Gomera's historic claim is that Christopher Columbus docked at the island to take on supplies before he boldly went where no-one had gone before (or so it was thought). A well in the capital claims to hold water that baptised America. It's said he chose La Gomera as a place to stock up because he had a fancy for the Governor's wife, who was a bit of a girl by all accounts.
One of La Gomera's other claims to fame is that the islanders developed a unique whistling language called 'el Silbo' so that they could communicate across the island's steep and deep ravines, of which there are many. In some places it's quicker to walk from one place to another than drive.
Main Towns on La Gomera
San Sebastián de la Gomera
San Sebastián is the capital of La Gomera and has a small town feel to it. It's the place most visitors see first as ferries from Tenerife berth at its port. The centre of San Sebastián has some attractive historic architecture and there are a few historic curios including the house where Columbus stayed, the well he drew water from and the Torre del Conde, home of the object of Columbus' affections. You've probably noticed a theme running through the historic attractions. There are plenty of cafés and restaurants in San Sebastián as well as the biggest supermarket on the island and La Gomera's Parador is situated on the cliff-top above the town. It also has a decent black sand beach, so offers a nice combination of beach and traditional town holiday.
Valle Gran Grey
The Valley of the Great King is the main tourist resort on La Gomera and is more a series of barrios (neighbourhoods) spread along a series of small beaches and coves on the south west coast. It boasts the best variety of restaurants (including Malaysian and North African) on an island where most towns offer Canarian or Canarian. There are some 'lively' bars in Valle Gran Rey especially at Vueltas near the harbour, a night in one might come as a shock to those who view the island as a sleepy paradise. Watching sunset with a beer in hand is a popular event in Valle Gran Rey.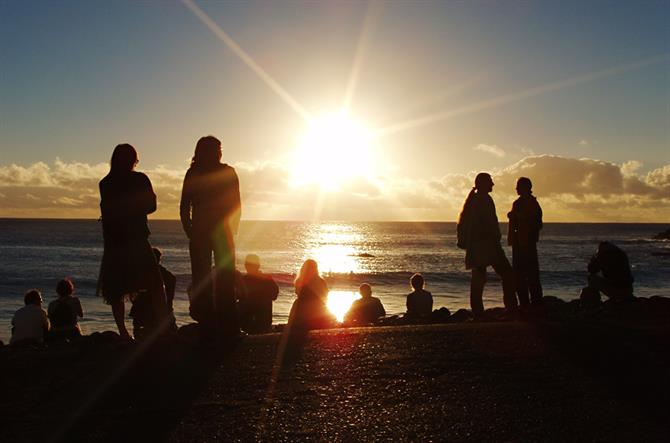 Playa Santiago
Playa Santiago, near La Gomera's airport, is a more tranquil resort than Valle Gran Rey and the location of the most popular hotel on the island, the Hotel Jardín Tecina, which has its own golf course. Whilst the Tecina occupies one headland above the small resort, the Hotel Santa Ana occupies the other. Between them they've made the town more popular with British visitors over the last decade. There's a small supermarket and good choice of restaurants including La Cuevita, part of which is set in a cave. The beach at Playa Santiago, like most beaches on La Gomera, isn't great but it does boast a cool ramshackle beach bar.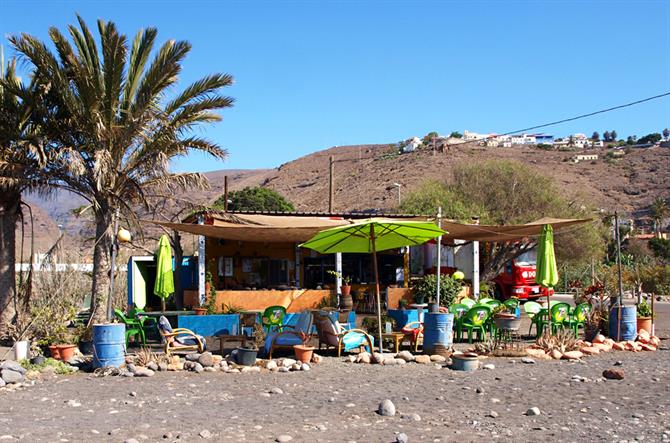 Vallehermoso
For me the real La Gomera lies inland at towns like Vallehermoso (beautiful valley) below the striking Roque Cano. This is hiking country where you can step out of rural accommodation straight onto walking trails. In one direction you've got magical springs, in another an enchanted lake and in another the rocky coast where there's an open air swimming pool. Bar Amaya on the plaza is best for drinks whilst Restaurant El Carraca serves good value local fare.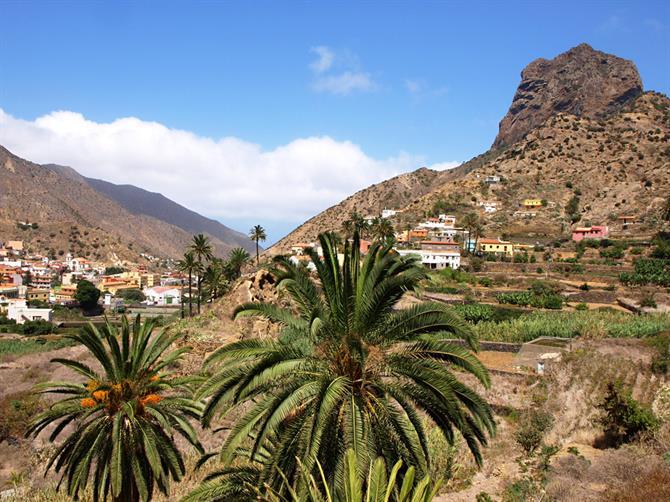 Hermigua
Another inland town that's a good base for walking, Hermigua is a bit of an oddity as it doesn't have a centre. Instead it runs from the hills down a beautiful valley carpeted by banana plants till it reaches the coast. There are a couple of supermarkets, a pastelaria, restaurants and bars – all strung out along the length of the town. Bar Pedro (known locally as Casa Creativa) is the place to meet up for a drink whilst Restaurant Chácarras is a friendly establishment for good local nosh including excellent almogrote (strong cheese pate, a La Gomera speciality). The best beach in the area is La Caleta in the next valley.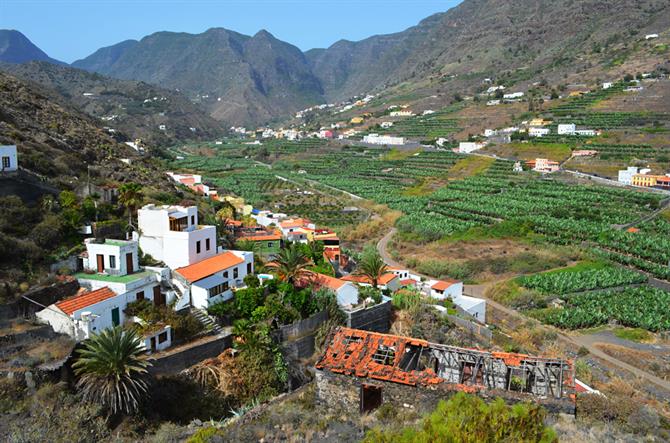 Things to do on La Gomera
You can play golf or take a whale watching trip below the unusual basalt rock formation of Los Órganos, but exploring the island by foot is the number one thing to do. Apart from the Garajonay National Park, a UNESCO World Heritage Site of consisting of 4000 hectares of ancient laurisilva rainforest, the island is a stunner of dramatic contrasts with well marked routes criss-crossing the countryside. I've walked across La Gomera and the views in all parts are just astounding. Sometimes the landscape is similar to North Africa, at others you could be in a South American rain forest or even South East Asia.
Hiking on La Gomera is the way to get to know this enchanting island.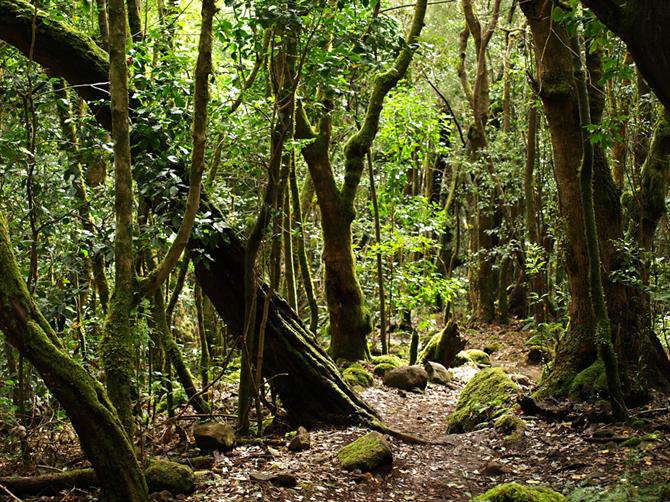 Getting to La Gomera
The most popular way to travel to La Gomera is by ferry from Los Cristianos on Tenerife. The Fred Olsen ferry sails three times daily, takes about 50 minutes and costs from €30 one way. Naviera Armas sails daily (from once to three times depending on which day), takes 10 minutes longer and a return voyage works out slightly cheaper than Fred Olsen. Alternatively Binter flies to La Gomera from Tenerife North Airport. The flight takes around thirty minutes and return flights can cost less than €100. You also get a tasty little biscuit. With all of the above there are discounts for residents.