As well as being one of the most popular holiday destinations in Europe for people whose most strenuous activity might be walking to the sun lounger by the hotel pool, the Canary Islands are becoming increasingly popular with both amateur and professional athletes.

Famously, his high altitude training regime in Tenerife contributed big time to Bradley Wiggins' triumph in the Tour de France in 2012. Each year any number of British football teams decamp to Tenerife for spells of winter training – some, unfortunately, ending up on the front pages of British tabloids.

However, Tenerife isn't the Canary Island which is gaining the greatest reputation as being the number one Canary Island for enjoying, if that's the right word, a variety of sports. That accolade would have to go to Lanzarote.

Here are ten reasons why.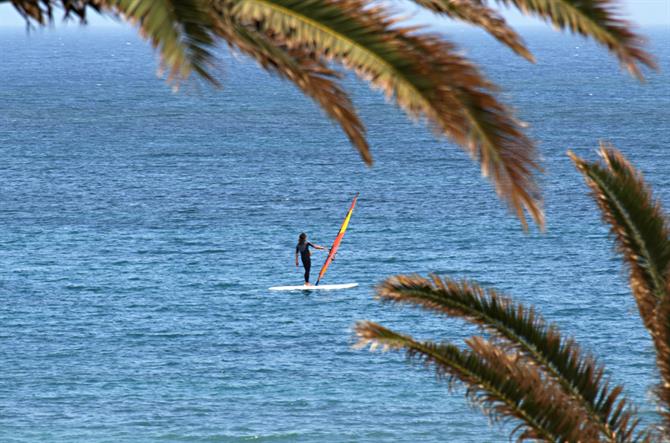 Lanzarote is warm
Let's start with the obvious one. You can't go wrong by renting a beach villa in Lanzarote, the island enjoys warm weather every month of the year. It rarely gets seriously cold in winter or too hot in summer to be able to enjoy outdoor activities whenever you want. But then, that applies to each of the islands.
It's breezy
Lanzarote is one of the breezy Canary Islands. In most places the wind isn't enough to spoil 'topping up the tan' time. But when it comes to some sporting activities, the constant breeze is a massive plus. Windsurfers and kiteboarders, from beginner level to world champions, flock to Lanzarote (specifically Costa Teguise, La Santa and Famara) each year to take advantage of conditions that are ideal for riding the waves. In the case of these sports, summer months are best as the winds are strongest but bigger waves in winter, especially around Famara, make Lanzarote an excellent all year choice for surf enthusiasts.
That cooling breeze can also be very welcome if you're a runner or cyclist, two of the other activities that have become massively popular on Lanzarote.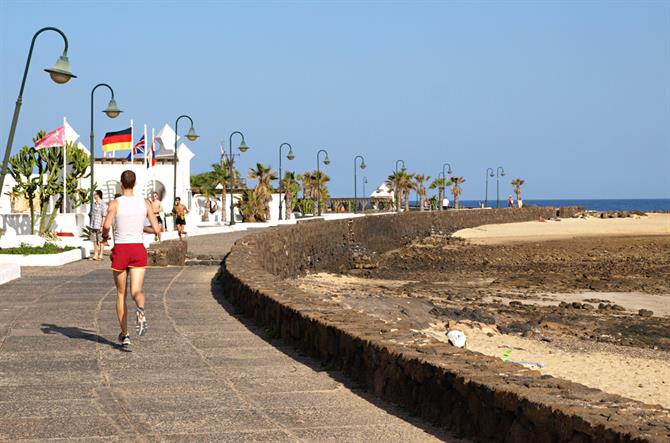 Perfect sea conditions
The sea around Lanzarote is basically one huge, wet adventure playground. Clearly it figures highly when it comes to good windsurfing and kiteboarding, but Atlantic rollers that rear invitingly or like to take their time before they break, create some of the best conditions in Europe for surfing. Generally speaking, west coast waves are bigger than east coast ones and, if it's a tube wave you're after, the holy grail for surfers is Famara's almost legendary 'pipe Canario'.
The sea around Lanzarote isn't just about hi-octane sports. Stand Up paddle is a more tranquil board sport that is dead easy to get to grips with – I speak from experience here – and the calm turquoise waters between Costa Teguise and Arrecife are perfect for some gentle Hawaii Five-O action.
Under the waves
Then, there's what's going on under that invitingly blue surface. What do you get if you add surreal volcanic rock formation, warm water all year, high definition visibility, shipwrecks and over 500 species of fish? Superb scuba diving, that's what.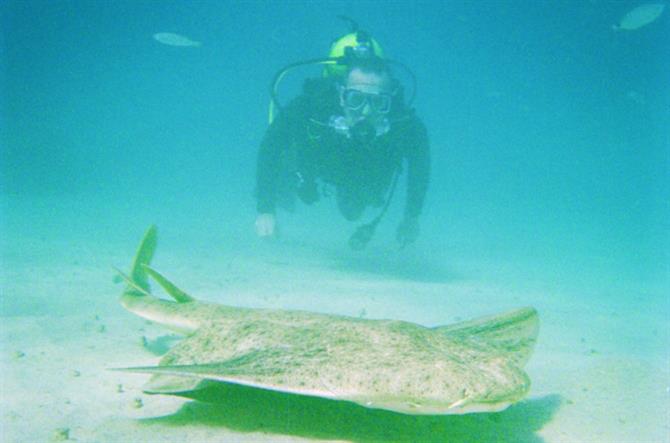 Quiet roads
Lanzarote isn't a densely populated island. The roads are relatively empty, making it a cyclist's and runner's paradise. As well as quiet main roads, there is a network of hard, flat dirt trails and rugged, off track courses. A few years ago, the island's government created a network of over 200 kilometres of cycling routes, ranging from gentle routes for beginners to more challenging ones aimed at die hard, masochistic veterans.
Stunning scenery
There's no point in having hundreds of kilometres in cycling routes if the surroundings aren't inspirational. You could say Lanzarote's arid and strangely beautiful lunar terrain with its army of ruddy, slightly threatening volcanic cones and unique vineyards is an 'out of this world' backdrop for any activity.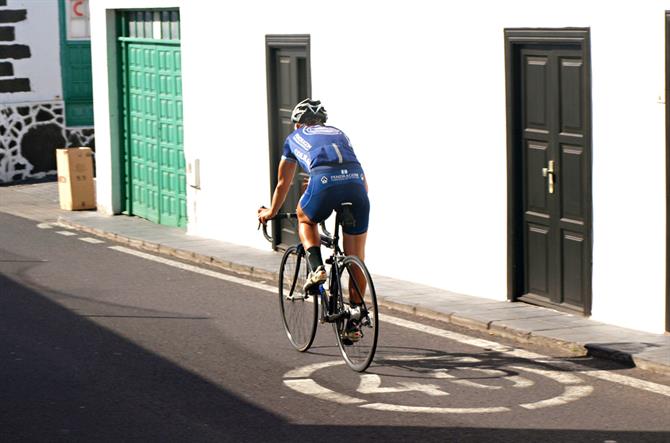 Friendly terrain
As a hiker, Lanzarote isn't my favourite Canary Island for pulling on the boots and heading into the countryside. I like lush valleys and challenging ascents. Lanzarote has neither, although I know walking guides on the island who would argue that its scenery is as spectacular in a different way. The tallest peak on the island is the Peñas del Chache rising 671m above the stunning coast at Famara. Considering the highest point on the Canary Islands is also the highest point in Spain, Mount Teide at 3718m, Lanzarote's main 'mountain' seems little more than a bit of a hill. However, one man's meat and all that. Lanzarote's relatively flat terrain is better suited to a wider range of sporting activities than the western Canary Islands. That means it's more accessible for people with varying levels of abilities and also for athletes with disabilities.
Beautiful beaches
Where the western islands might have more dramatic and diverse landscapes for hiking, the eastern islands boast better beaches by far – which is sweeter icing on the cake whether surfing the waves or relaxing on golden sands afterwards.
Top sporting facilities
The rise in popularity of the island as an activities destination has also seen a continual development of high quality sporting facilities. Whether into running, swimming, board sports, cycling, hiking or diving there are excellent sport facilities to suit everyone from enthusiastic beginners to top sports personalities, including the likes of Fernando Alonso. Locations which have been developed with sports tourism in mind are La Santa and Costa Teguise.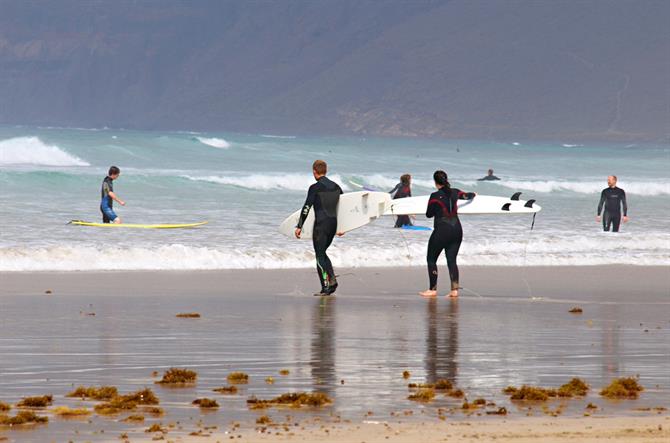 World class competitions
Undertaking a sporting activity for fun is one thing, but for anyone who relishes the thought of competing against others or pushing themselves to the limit, Lanzarote is a venue for numerous local and international sporting competitions throughout the year. These range from any number of gruelling triathlons (including Ironman in May) to the Lanzarote International Marathon in December and world championship kiteboarding and windsurfing competitions in summer.

Ultimately, some of the other Canary Islands may be better for practising specific activities, but for now they can't match the all round package, covering an impressive range of sports, that Lanzarote offers.