One of the most visited cities in the world - Palaces, plazas and warm-hearted people - Madrid has the lot!
Once upon a time it was the capital of the mightiest Empire on earth and is still adorned with the riches of those wondrous days. One of the simplest and most enjoyable things you can do when renting a holiday apartment in Madrid is 'paseo'- simply stroll around the streets in the centre, soaking up the atmosphere as you come across amazing architecture and an abundance of interesting relics from its magnificent past.
Madrid lies at the highest altitude of any capital in Europe, at 667m above sea level and is a city that prides itself on its eclectic history that can be traced back over 2000 years. Today, it is also known for its expansive boulevards and abundant parks - rumour has it that there are more trees in Madrid than locals!
So it should come as no surprise that it is one of the most visited cities in the world. If ever there was a need for a list of '10 best things to see and do' it is for this metropolis containing world-renowned gems and some hidden treasures too.
And by the way, with its extensive underground network, one of the most sensible things you can do is to get a prepaid metro card and explore all the different neighbourhoods in Madrid to your heart's content, especially on particularly hot days in the summer when the underground is actually the coolest place to be in the city.
1. Gran Vía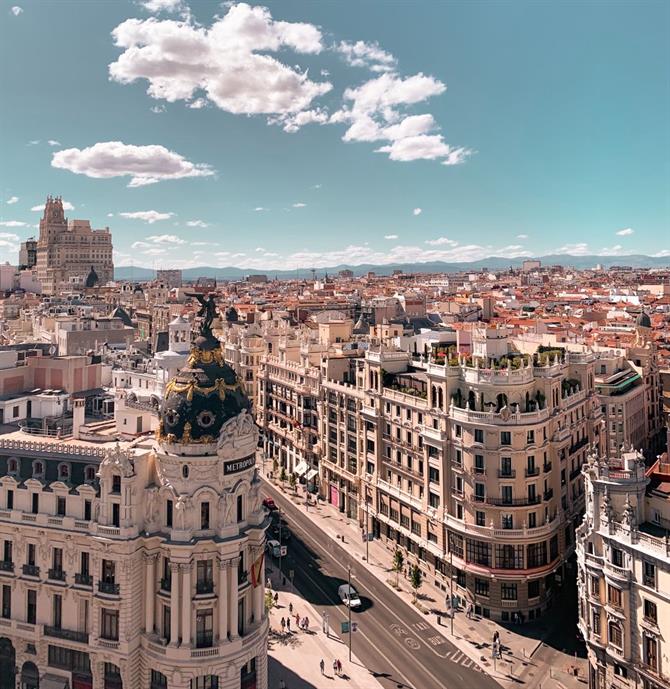 The bustling main street of Madrid, the Gran Vía, can be traced back to 1910. It has been described as Madrid's Broadway, where sightseeing, shopping, entertainment and dining come together. Indoor shopping centres, bars, restaurants, cinemas and theatres are all part of the experience.
It's a good idea to start at one end of Gran Vía at the Metropolis building - the most photographed building in Madrid - and end up at another one of Madrid's famous landmarks; Plaza de España. Plaza de Callao sits about mid-way on Gran Vía and is a vibrant place, especially in the evening, when the giant screens can be seen in their full glory and the place takes on a New York, Times Square feel.
Sampling some of the delights on the Gran Vía is, without doubt, one of the top things to do in Madrid.
2. Prado Museum
Madrid is well-known as one of the great art capitals of the world and the Prado has been instrumental in building this reputation. Within this impressive building, which is one of the most visited sites, contains the finest collections of Pre-20th Century European art in the world. The tapestries, paintings and sculptures, some dating back to the 12th Century make up some of the most recognised artwork on the planet.
It is here, in the Prado museum where you will find the world's largest and most important collection of works by Velázquez and Goya. It also houses an impressive collection of work by El Greco and Rubens as well as masterpieces by many other acclaimed artists.
Just as you would never consider going to Paris without seeing the Louvre, it would be amiss to come to Madrid and not see the Prado. Even if you are not an art buff, it is worth going to see the building and visit one or two of the most famous pieces of art on display.
What's more, it is free every day for two hours - a perfect amount of time if you have a particular piece of artwork or section you want to see, but not if you want to take full advantage of all this treasure-filled museum has to offer. The Prado museum is definitely in the top 10 of things to see in Madrid and for many, it is in the top 10 things to see in the world!
3. Royal Palace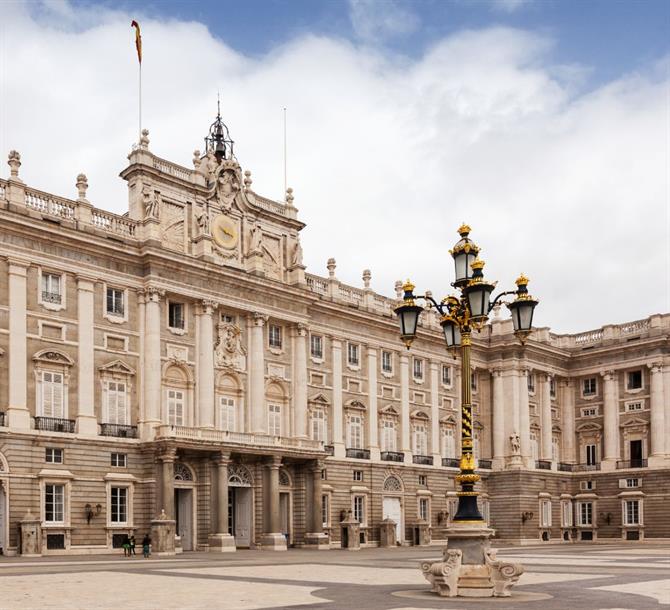 The Royal Palace is considered one of the most spectacular buildings in Europe. It consists of 3418 opulent rooms and is still the official residence of the Spanish Royal Family, although it is only used for special events and state occasions nowadays.
The palace, as it looks today, has been strongly influenced by King Philip V, who was born in Versaille and renovated the building to his 'very French' taste.
Today, some of the rooms are open to the public where the lavish lifestyle of Spanish royalty through the ages is on display. You can see priceless paintings and tapestries, ceiling frescos, from which magnificent chandeliers hang, statues, ornaments and historical artefacts galore! Goya's royal portraits are just one of the sights to behold in this fairy-tale palace.
The throne room is breath-taking and remains as it was since the reign of Charles III. The rococo décor and magnificent mirrors create light and colour making it one of the most stunning things to see in Madrid.
The gardens of the Royal Palace are free to roam at your leisure and shouldn't be overlooked. Campo del Moro, Plaza de Oriente and the Jardines de Sabatini are something to see in their own right. Each of the gardens has a distinct style and are a fitting landscape to the spectacular palace.
4. Sobrino de Botín Restaurant
The restaurant was founded in 1725 and, as such, it is officially recognised by the Guinness Book of Records as the oldest restaurant in the world.
You can find it in the medieval area of Los Austrias in Madrid and has many claims to fame. As a young lad, Goya worked in the kitchen washing dishes and many stars have visited this culinary treasure, including Frank Sinatra, Ava Gardner, as well as royalty and politicians.
Reservations are required to eat here and it's really worth the fore-thought, as the food is delicious and surprisingly affordable. Botín is made up of 4 floors all with their own unique atmosphere but with the overall dining experience of a traditional tavern with décor and memorabilia that takes you back to by-gone years.
It's possible to book 'The Botín Experience' where you can enjoy a guided tour of the establishment from the underground wine cellar to the multi-storied dining areas. It's a glimpse into the fascinating history, art and stories of this unusual restaurant. The tour ends with a generous set menu which includes the signature dish of suckling pig roasted in the original ovens dating back to 1725.
There's no doubt that you will be left feeling that it is one of the most memorable things you can do in Madrid as you become part of its 300 years of history.
5. Temple of Debod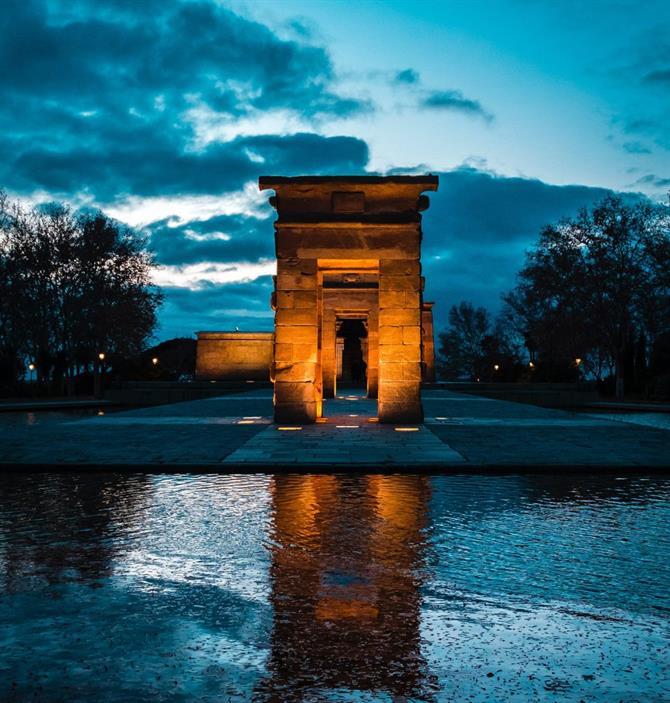 One of the most surprising things you can see in Madrid is the Egyptian Temple of Debod dating back to the 2nd Century BC. Gifted to Spain by Egypt and meticulously rebuilt stone by stone, it was opened to the public in 1972. If you are fortunate to visit, venture inside the temple and you will see a beautiful example of 2200-year-old Egyptian hieroglyphics.
The Temple of Debod can be found in the fascinating setting of the Cuartel de Montaña Park in an elevated position that secures some great panoramic views of the city.
From this vantage point, you can see the splendour of the Royal Palace and its gardens, a truly thought-provoking experience to see how two great world civilisations have come together in the most unusual way.
The best time to visit this curious Egyptian relic is in the late afternoon as this is an ideal spot to sit and enjoy the city's famous sunsets. Watch the Temple of Debod light up from the glow of the setting sun and admire the reflection of the temple on the water in front.
6. Shopping
Madrid is one of Europe's top shopping destinations and with prices cheaper than Paris, London, New York, Copenhagen and Berlin, why would you want to shop anywhere else? The Gran Vía is the place to start. Shop 'til you drop isn't just a cliché in Madrid, it is a real possibility!
If you want your shopping experience 'off piste' then the most exciting thing to do in Madrid is to shop and ski! At the indoor shopping centre of Intu Xanadu, you will find the largest indoor ski slope in Spain. A perfect way to spend the day, especially in the height of summer!
Madrid also has a selection of outlet villages. A trip to Las Rozas Village with its designer stores and chic cafés, all set in a leafy, luxurious complex is a great day out where you can pick up discounted brand names.
Or there is The Style Outlet of San Sebastían de Los Reyes which has guaranteed discounts all year round of no less than 30% off. There is an amazing array of national and international brand names. Not as upmarket as Las Rozas but definitely a place where bargains can be had!
For unashamed luxury and glamour, check out the classy neighbourhood of Salamanca. Historical buildings house the merchandise of exclusive international designers. It's an interesting location to go window-shopping if nothing else!
7. Retiro Park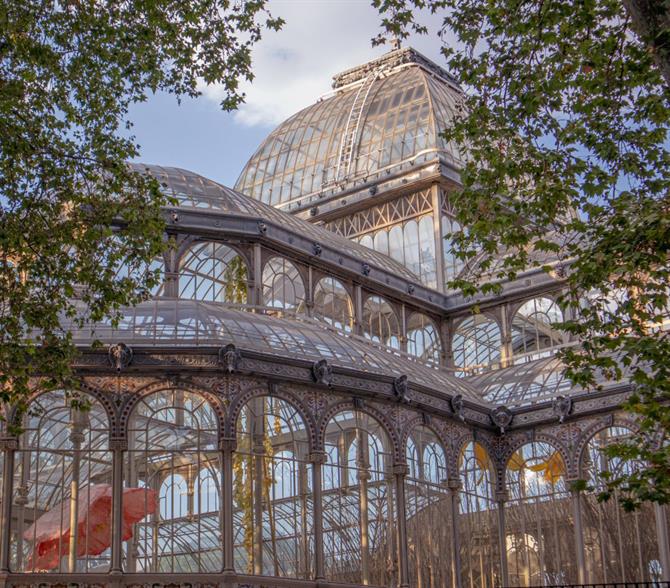 Retiro Park is to Madrid what Central Park is to New York. It is ideal for strolls any time of the day, sunbathing and even hiring a rowing boat on the amazing Grand Lake. You could easily forget you were in the centre of the city. A visit to Retiro Park is possibly the most relaxing thing to do in Madrid and definitely worth a visit. Scattered throughout the park are a vast array of interesting features; water fountains, statues, landscaped gardens and an abundant variety of plant life. Be sure to stop at the beautiful Crystal Palace and the oldest tree in Madrid, a Mexican conifer that is nearly 400 years old!
You can have lunch in the outdoor café here or take your own picnic and pick your perfect spot in this 350-acre wonderland.
There is nowhere better in Madrid to experience the changing seasons than in Retiro Park. Whatever season you choose to visit, one of the top things to do in Madrid is to take a stroll through this beautiful oasis.
8. Mercado San Miguel
This is one of Madrid's best markets where you can sample an abundance of traditional foods all under one roof.
Quality is valued at Mercado San Miguel; fresh seafood brought in daily from the distant Galician shores and the best Iberico Jamon produced from free-range acorn-fed pigs are just a couple of the foods served here.
It's a market to enjoy for its atmospheric surroundings too. A composition of beautiful iron and glass architecture dating back to 1916, it's a true work of art. Today, Mercado San Miguel is a modern, classy location where locals and tourists alike enjoy the unique atmosphere as well as the gourmet foods on offer.
With so much to choose from, you might not know where to start, but once you do it'll be difficult to stop! Be sure to leave room for the stunning array of mouth-watering desserts on display.
A trip to Mercado San Miguel is one of the trendiest things to do in Madrid. The ideal place to sample the delights of Spanish food and culture.
9. Chocolateria San Ginés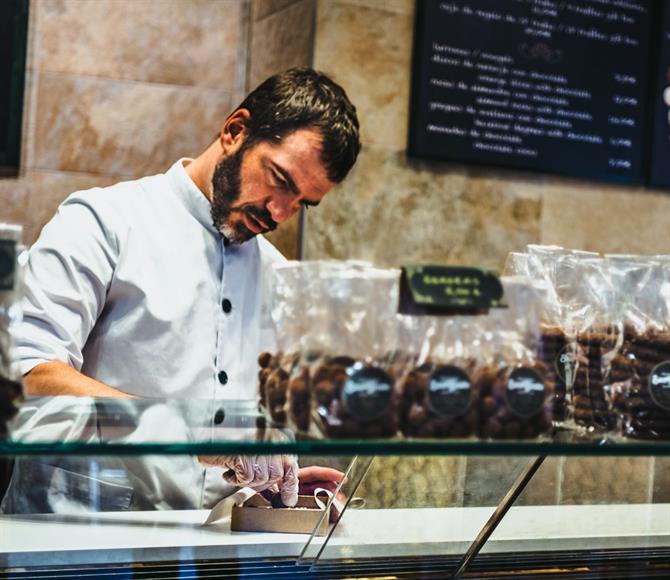 The sweetest thing you can do when visiting Madrid is to head towards the famous Chocolatería San Ginés, just off from the Puerta del Sol. It first opened its doors in 1894, making it Madrid's oldest chocolate café. It was commonly frequented by Bohemian Madrileños and those who had a passion for art and literature. It is for good reason that this establishment has been immortalised in famous Spanish literature.
You won't have a problem fitting a visit to Chocolatería San Ginés into your itinerary because it is open 24-hours a day, 365 days a year. The chef still uses an ancient technique for making the churros and many Madrileños consider this place to be the most authentic chocolatier in Madrid. Having chocolate and churros anywhere in the city is a great thing to do but having chocolate and churros at the oldest chocolatería in Madrid, now that's special!
10. Plaza Mayor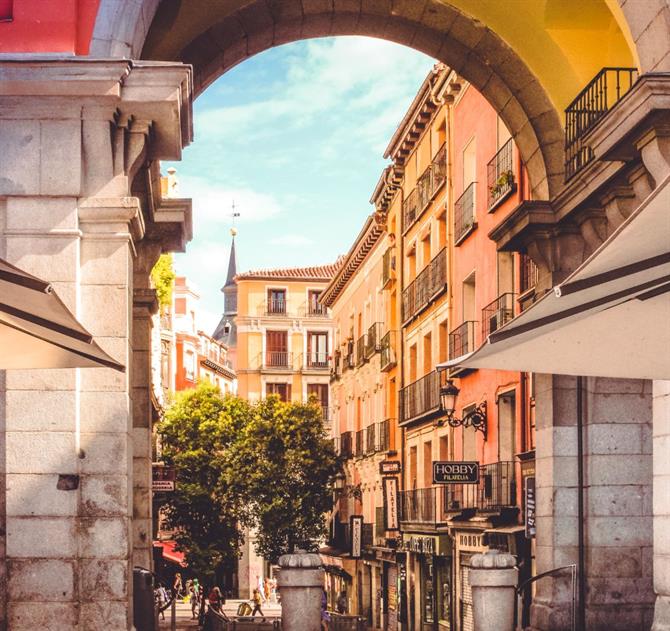 The Plaza Mayor is one of the main squares in Madrid. Construction started in 1617 and since then it has had a turbulent history. Almost burned to destruction on 3 occasions, the section called 'The House of Bread' is the only part of the square that remained standing after the last fire in 1790. It's an impressive place to chill and people watch over a cup of coffee and a tapa. A place where locals come to meet up with friends and tourists come to soak up the vibrant atmosphere.
The plaza has 9 gates from which you can gain access and it's worth exploring what lies beyond them. Side streets full of character and little shops, bars and restaurants are all worth checking out. Through one of the portals, you will find a fast food place that sells one of Madrid's typical snacks - a fried squid sandwich or a "bocadillo de calamari".
Whiling away your time in Plaza Mayor, entertained by quirky street artists, is one of the most popular things to do in Madrid.
The takeaway...
It is said that Madrid is a city of layers. With our 10 best things to see and do, you will have peeled off the top layers and we're sure you will be left wanting to see more of what this exciting city has to offer no matter how many times you visit.