Mallorca has got a well-deserved reputation for being a great place for sports: both in the winter and summer, on land and sea. It's a golfers' paradise and the perfect place to sail. And with the help of the Handisport Foundation it is completely possible for everyone to take part. All inclusive doesn't just mean hotels you know, with the range of activities on offer from this innovative organisation it is completely possible for the whole family or group to participate in the same activities. And when everyone is happy on holiday, then that's a step closer to the ideal break.
The Fundacion Handisport Project
The Fundacion Handisport Project was created in 2007 as a not-for-profit organization to provide the opportunity for disabled people to have the chance to participate in sports on holiday in Mallorca. Their slogan is #Enjoyyourabilities and that's what they intend for you to do.
Handisport offers seven activities in Mallorca: water skiing, golfing, sailing, canoeing, blokarting, hiking with 4 x 4s and scuba diving.All of their activities are planned to include friends and family, with or without disabilities. Handisport was started by a family for families, and it's a very active and well respected organization in Mallorca.
Don't worry about not speaking Spanish, the good people at Handisport speak English perfectly so you will be in very good hands, you can contact them at www.handisportmallorca.org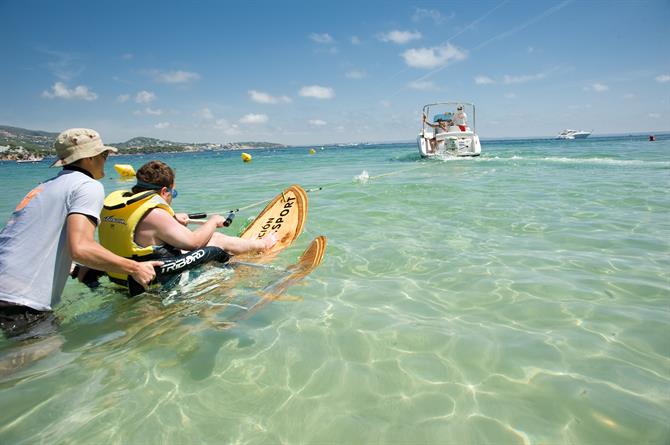 Waterskiing, it's not impossible.
Handisport uses the most suitable waterskiing equipment according to the type of disability, for example people with severe dysfunctional motor disabilities in the lower members (paraplegia, tetraplegia, espina bifida, amputation of both lower members, cerebral paralysis) can be seated while they water-ski.
The boards used in this activity have skids on the sides to make them very stable and ensure a good degree of safety. Life jackets must be used in this sport and participants may opt to wear a helmet, gloves or neoprene suit. Users will be taught basic practices about how to handle the boards before they begin to water-ski.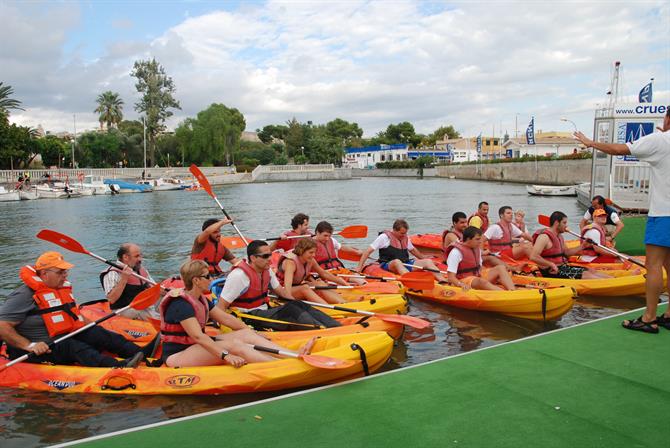 Canoeing, double up.
Handisport have double canoes (K2s). The boats feature automatic overflow and are unsinkable.You can go on a two-hour-long course which teaches users basic knowledge in handling canoes before they set out to sea on up to 90 minute long adventures.
Blokart, feel the wind on your face.
Blokart is still a new sport in Spain, basically it's sailing on land. You are seated on a secure tricycle equipped with a sail. Just wait for the wind to get up!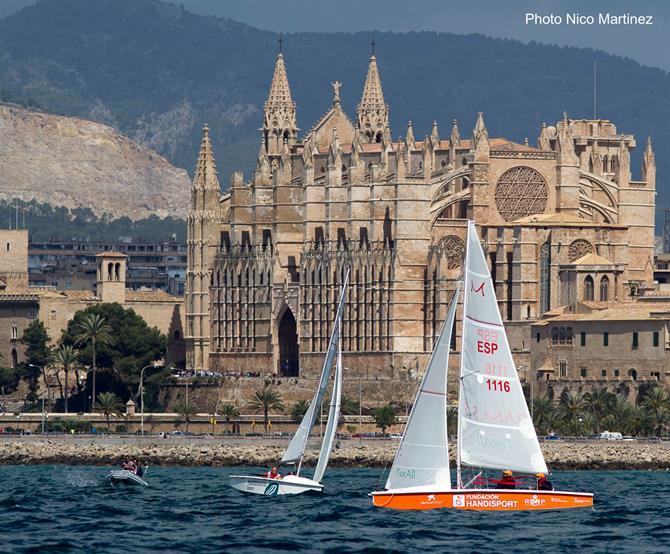 Sailing, see Palma from the sea.
Handisport sailing uses boats whose main difference lies in a series of adaptations. The main adaptation is a bulb or counterweight placed in the end of the keel to provide greater stability and make it more difficult to upset the vessel. Some of the Handisport sailors compete at national level, you can't learn from better teachers.
Golf, enjoy your swing.
Playing golf in Mallorca is nothing but fun! Handisport have certified instructors with years of experience of working with disabilities. They only use the very best and most advanced equipment, including the brand new paragolfer buggy. The buggy allows people with physical disabilities and reduced mobility to access more or less any part of the golf course and can handle different inclines.
Hiking/4x4, discover the mountains of Mallorca.
Handisport have a range of adapted vehicles with total traction, power steering, protective cabin bars and independent suspension. By pushing a button, the seating unit automatically slides towards the front axis, which facilitates boarding. The vehicles can handle inclines of up to 40% and have an oscillating seat that ensures totally safe ascents and descents. They also have Hippocampe chairs.
Excursions take place on a 14-million-square-metre publically-owned rural property in Galatzó, which is located in the municipality of Calviá. There are four different itineraries: Sa Vinya (low difficulty level - approx. 2 hours, 23 minutes), Ses Sínies (low difficulty level - approx. 2 hours, 15 minutes ), Ses Planas (medium difficulty level ? approx. 2 hours) and S'Esclop (medium/high difficulty level - approx. 4 and a half hours).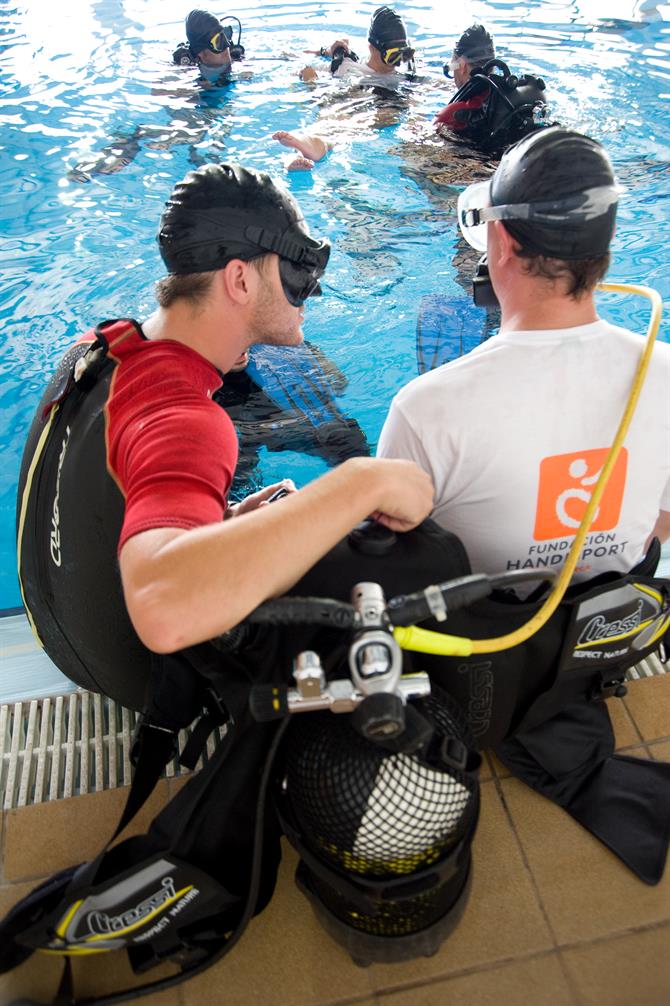 Diving, get in there!
The diving courses that Handisport offers have been designed in collaboration with the Balearic Federation of Underwater Activities. All of the instructors are very experienced and highly recommended.
We're very fortunate at Spain Holiday to have a great selection of accessible properties which you can choose from and they are located all around the island. You can see them here.