A slice of life in Mallorca
When you're on your self catering holiday in Mallorca you're going to need to get some supplies in. Try to get yourself to a local market and enjoy not only the bounty that Mallorca produces but also a very special cultural experience.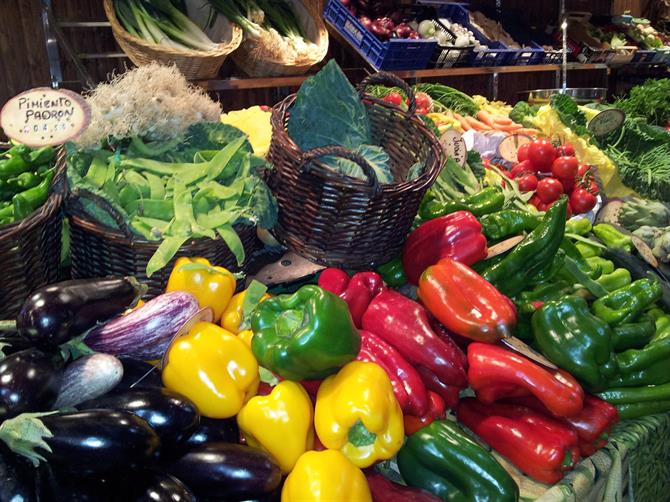 Mallorca Market Schedule
There's a market every day of the week in Mallorca so there will be something near to you.
Monday: Caimari, Calviá, Lloret, Manacor, Montuiri ·
Tuesday: Alcudia, Artá, Campanet, C'an Picafort, Llubí, Porreres, Santa Margarita ·
Wednesday: Andratx, Capdepera, Colonia de San Jordi, Llucmajor, Petra, Pòrtol, Port de Pollença, Santanyi, Selva, Sencelles, Sineu, Vilafranca ·
Thursday: El Arenal, Ariany, Campos, Consell, Inca, San Juan, San Llorenc, Ses Salines ·
Friday: Algaida, Binissalem, Sa Cabaneta, Ca'n Picafort, Maria de la Salut, Pont D'Inca, Santa Eugenia, Son Servera ·
Saturday: Alaró, Buger, Bunyola, Cala Ratjada, Campos, Costitx, Lloseta, Mancor del Vall, S'Arraco, Santa Margarita, Santanyi, Soller ·
Sunday: Alcudia, Felanitx, Llucmajor, Muro, Sa Pobla, Pollença, Porto Cristo, Santa Maria, Valldemossa
Mallorca Market Etiquette
Most markets are only on in the morning (from 9am to 1pm) so get down there and get shopping. It's important to remember that they measure their produce in kilos so you can ask for "un kilo" (1 kilo which is the equivalent of 2.2 pounds) or "un medio kilo" (half a kilo is just over a pound in weight) or "un cuarto de kilo" (a quarter of a kilo is about half a pound).
"Quiero un medio kilo de manzanas" is "I would like half a kilo of apples".
If you don't have any Spanish then you will be fine just pointing and smiling and holding up fingers to indicate numbers, but this is a good chance to have a little conversation in Spanish if you're feeling brave.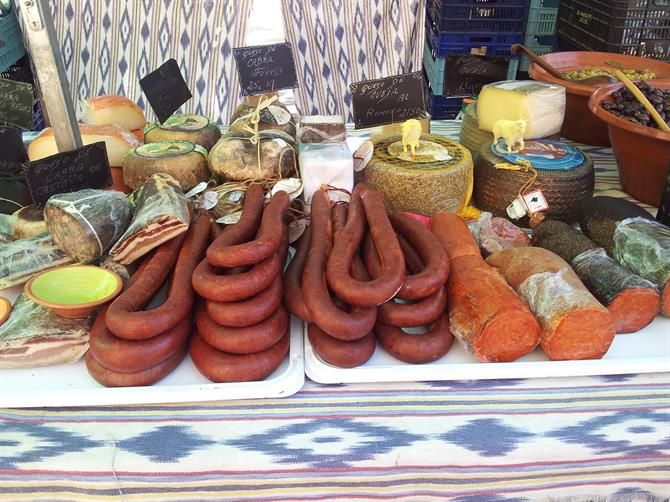 In addition to fruit and veg you will normally find plenty of stalls offering other Mallorcan foods such as cold meats and local cheese made with sheep and goat's milk as well as cow's. Pictured above you can see "sobrasada" on the far right which is a typical Mallorcan sausage made from local pork and spiced with paprika. It is used to flavour many of the island's traditional dishes and is also delicious spread on toast (try it drizzled with a little bit of honey).
It's still a curiosity to me that most of the cheese you will see sold in Mallorca is actually from Menorca! Even so it is great. If you want to have a taste before you buy then ask for "un poco para probar por favor" (a little to try please). Normally you will be offered a sample as it's a great sales technique!
Once you have decided what you fancy buying make sure you ask for the price first before they cut the product as it's not always advertised. ("¿Cuánto?" How much?). The older and stronger the cheese the higher the price. By the way, it's best to eat these cheeses as they come, don't cook them or use them as a grated cheese on top of a dish, it's a waste of good cheese! If you need something to use for a "gratin" them pop into a supermarket and grab a bag of pre-grated cheese from the cold cabinet.
Depending on the market, aside from fruit and veg, you can also find anything from leather goods, to olives and olive oils, souvenirs, pottery, ceramics, traditional baskets and linens, pastries, bread, hot roasted chickens, tablecloths, fans, shoes, t shirts, livestock, plants, flowers, junk, antiques, and local arts and crafts.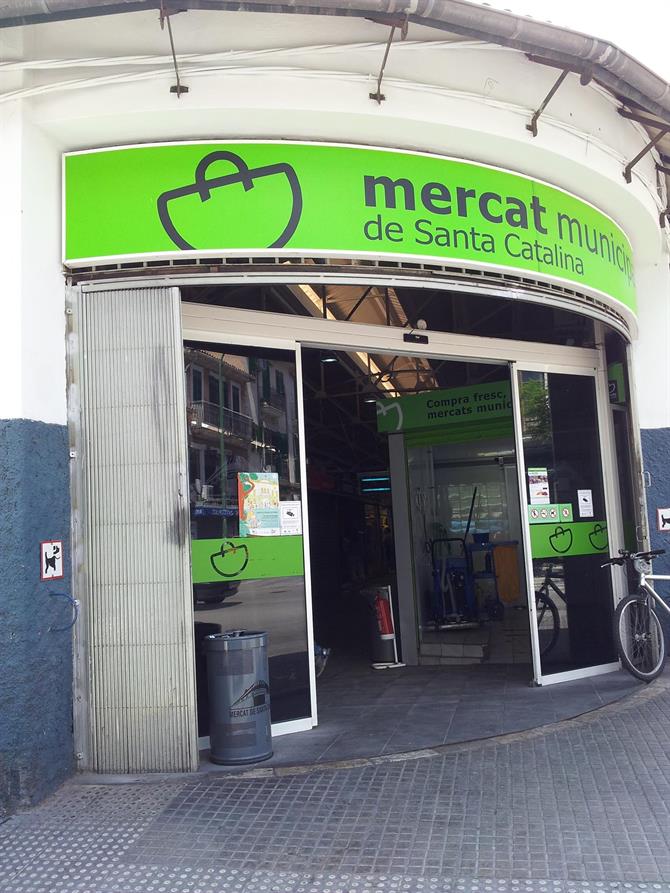 Head for Palma
There are also quite a few daily markets in Palma and they make a great destination for a day out. I recommend to you that you take a trip into Palma one day and visit Santa Catalina. The market there is open Monday to Saturday from 7am to 2pm. From the outside this covered market (pictured above) doesn't look particularly exciting but inside you will find they sell everything from fresh fish and meat to fruit and veg, local delicacies, flowers, bread and pastries and so on.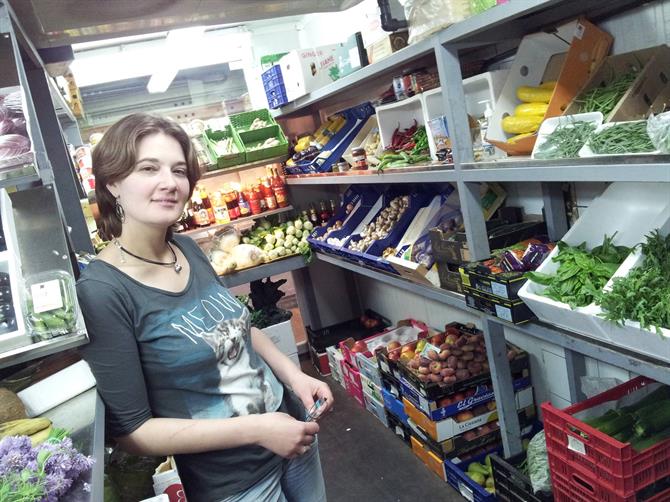 If you are looking for particular (some would say "exotic" in Mallorca because there are products which are still difficult to find in your local supermarket) foods for Asian cooking, herbs, or special salad ingredients (such as baby vegetables or sprouted seeds) then make sure you find Frutas Ramon at Santa Catalina. This Mallorcan family business is a great favourite with the superyacht chefs in Mallorca because they have great produce and lots of different varieties. The business is run by one of the "next generation" of Mallorcans, the lovely Carina Ramon (pictured above in her special "walk in" area of her stall). Carina speaks fluent English, is passionate about promoting her island and the amazing produce grown in Mallorca and is always very happy to help. So go say hi!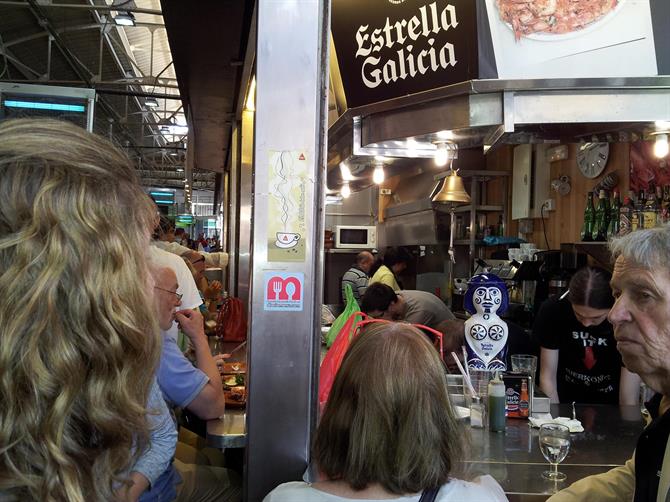 Once you have done your shopping you can get a drink, a quick snack or even lunch at one of the many stand up bars in the indoor markets in Palma. Just in Santa Catalina alone there are several to choose from: traditional tapas bars where you can buy a quick snack or a full on lunch, or fresh fish and sushi bars where you can watch your sashimi being prepared by experts.
Or step back outside onto the streets of Santa Catalina and choose from one of the many lovely restaurants in this district. More on Santa Catalina in another Mallorca article coming up.