Mallorca, the island where you can enjoy great beaches and life in general, does a fantastic job of creating what is known as 'peasant food'. Simple dishes, not particularly aesthetically pleasing, but that taste terrific and will fill up even the biggest hole in a hungry tummy.
Pimientos de Padrón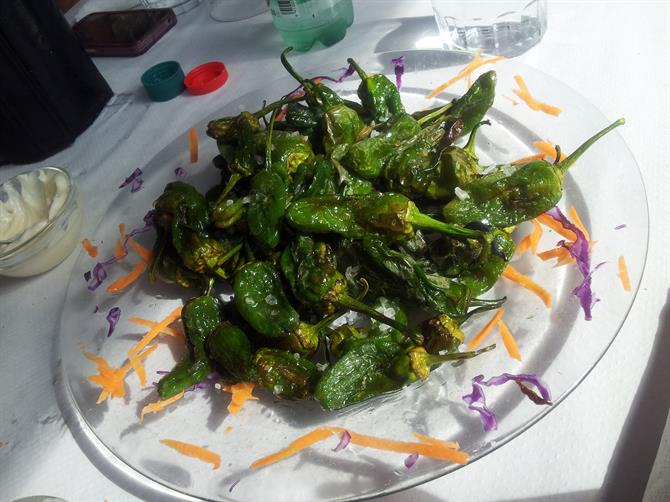 First off, let's take a look at Pimientos de Padrón. They are a simple and popular starter. Order a plateful and share them with your fellow diners.
The small green peppers are fried in olive oil and rock salt. Mostly they are sweet, but you'll find the occasional one which can punch above its weight in the spice stakes. Order a bowl of 'Aioli' (a garlicky mayonnaise) which goes very well with these veggie morsels. Use the stalks to shovel the peppers into your mouth: eat them whole, but leave the stalk on the plate.
Frito Mallorquín
Frito Mallorquín is not for the faint-hearted. Beware, there's offal in there! The dish consists of potatoes, red pepper, sometimes artichokes, sometimes peas, fennel tops, olive oil, chilli, garlic, sometimes black pudding, and the main ingredient is offal – normally just liver but often kidneys too.
This is another starter option, although you may want to hog it yourself and eat it as a main dish. If you're not crazy about offal then you could try Frito Marisco (which is a seafood Frito and offal free). It's lovely, you have to be a little brave to try it, but you should.
Pa amb Oli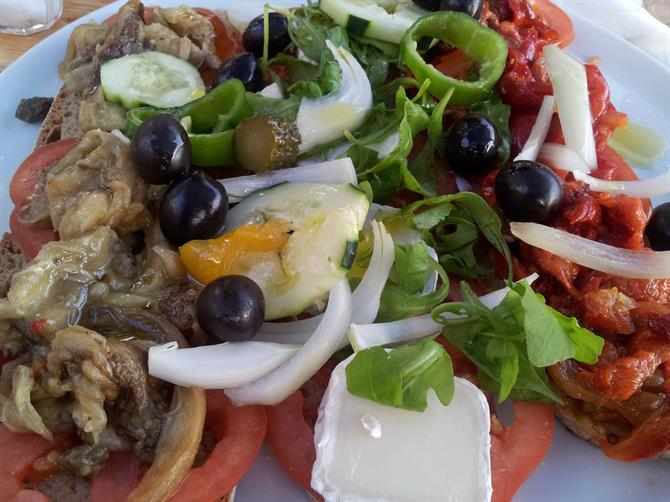 Pa amb Oli is bread with oil. It's deceptively simple, but subtly different too. The devil is in the details: the bread is a specific type, as is the tomato. It is an absolute classic, and you absolutely HAVE to try it when you are staying in a villa in Mallorca.
There are many different varieties of toppings, pictured is the Abuela from Tigys in Sant Elm (highly recommended if you are down that way). Most bars and traditional restaurants will at least offer you a Jamón (ham) or Queso (cheese) option.
Taken at its most simple a Pa amb Oli is slices of brown Mallorcan bread rubbed with a raw garlic clove and half a Ramallet tomato (only available on the island), drizzled with local olive oil. Then on top of that beautifully tasty base you will find your toppings placed lovingly and reverently. Oddly, Pa amb Oli can be quite pricy, but you normally get a generous helping of olives and pickles as well, so give it a go when you get the chance.
Apart from traditional dishes, Mallorca also has a lot of typical food products, such as Grimalt cheese and the unique ensaimada pastries.
Enjoy local food at the market or in restaurants in the historic town of Alcudia and Puerto de Alcudia.