There are many things that are special about Malaga.
The big skies, the guaranteed 300 days of sunshine a year, the warmth and beauty of its people, the Biznagas, Malaga's beaches and the food. Malaga is a city of food and drink.
It's home to some of Andalusia's best Chiringuitos. The beachfront bars and restaurants, that specialise in tapas, salads and above all else.....fish. Lots of fish.
Skewers of freshly caught and salted Mediterranean sardines, huge Spanish tomatoes splashed with olive oil and garlic, fresh salad hearts with fried garlic, anchovies, lightly fried slices of aubergine dunked in local honey. There's meat available, but it's fish and seafood tapas, hot and cold, that these places are renowned for. The menu is basically a list of things caught in the sea.
For the best Chiringuitos, head just east of the city towards a strip of beaches and to one of Malaga's oldest fishing neighbourhoods, Pedregalejo. The seafront is a long row of restaurants, with a paseo Maritimo that runs from El Palo to Baños de Carmen.
On the sand just in-front of the chiringuitos are boats full of stones, with olive wood slowing burning on top. This is the traditional way of grilling fish.
Here's a selection of some of our favourite chiringuitos.
Andrés Maricuchi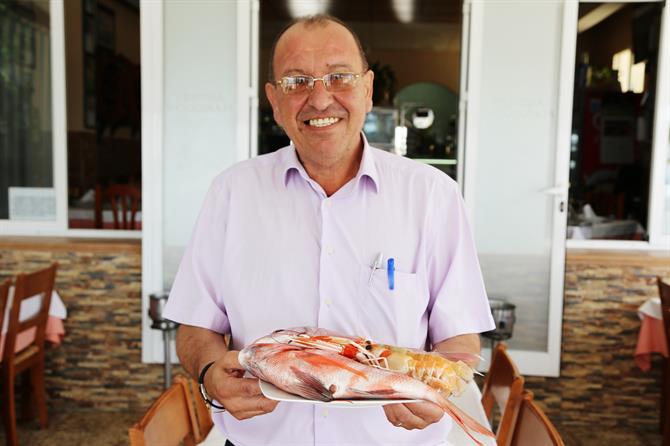 Maricuchi is one of the most popular and with good reason. Situated right on the beach in Pedregalejo, you couldn't hope for a better spot.
If looking for a quiet, relaxing meal, this is not the place for you. A popular spot with locals. Expect noise. Lots of it. But it's reasonably priced and authentic.
Price per person: 20€
Address:
Paseo Marítimo del Pedregal, 14
29017 Málaga
Reservations: +34 952 20 06 12
El Caleño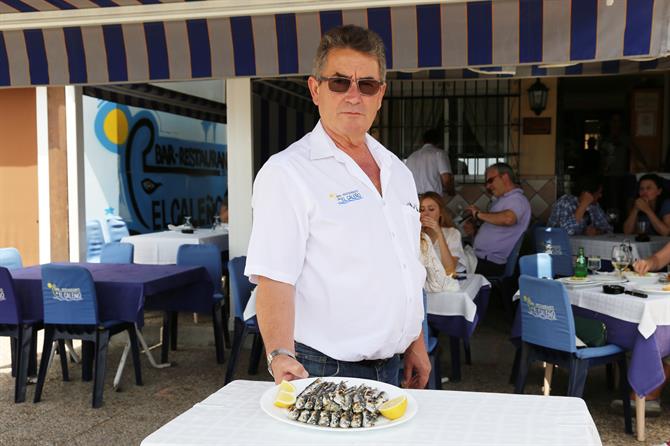 Rafael and Loli have been running this restaurant since 1987. Like Maricuchi, El Caleño is situated in Pedregalejo on the Paseo Maritimo. A very popular restaurant with locals, which is always a good sign.
Price per person: 30€
Address:
Calle Cenacheros 16
29019 - Málaga
Reservations +34 952 29 91 48
Hermanos Muñoz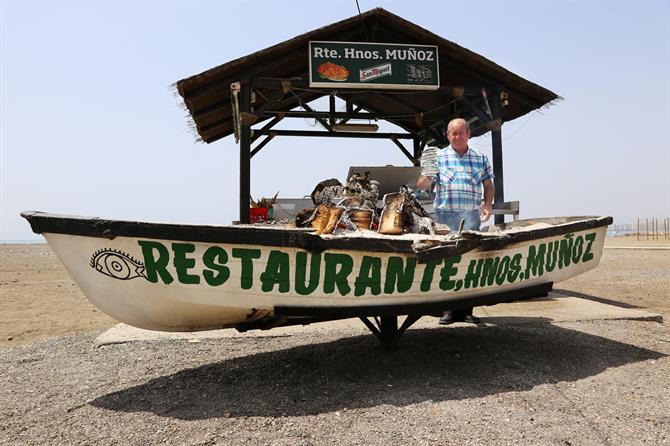 They don't come much more authentic than Hermanos Muñoz. Cheap and good. Bernardo has been frying sardines for decades and knows how to fry them to perfection.
All the fish dishes are good. The "calamares a la caña" are highly recommended. Gets busy on weekends.
Price per person: 15€
Address:
Paseo Marítimo
El Pedregal, 98 (El Pedregal),
29017 Málaga
Reservations: +34 952 20 32 86
El Lirio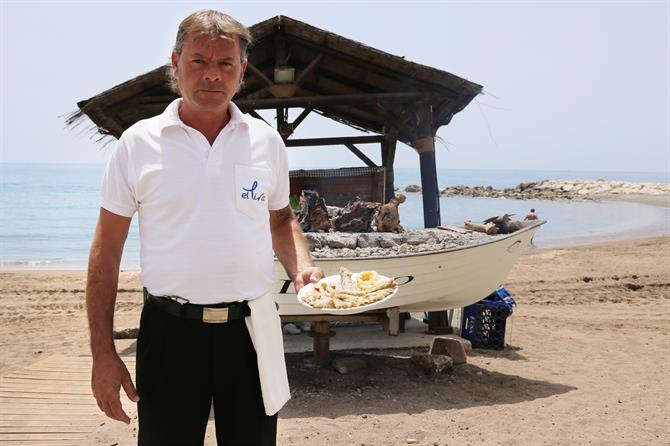 Good quality fish at reasonable prices. Aside from all the usual fish dishes, El Lirio also offers some great gazpacho, fish soups and their flagship dish the "arroz caldoso con boquerones." Rice with anchovies is simply amazing.
Menus for as little as 12€.
Price per person: 15€
Address:
Paseo Marítimo 11, 29017 MálagaReservations: +34 952 29 00 22
El Cabra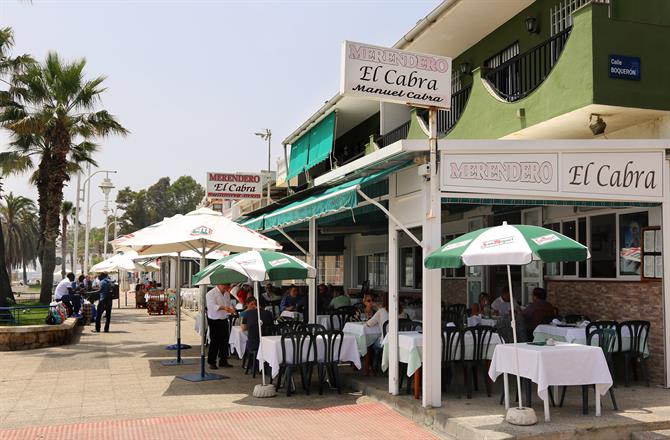 El Cabra is one of the most famous chiringuitos in Malaga. Situated right in the heart of Pedregalejo, the restaurant is popular with locals and tourists alike.
Price per person: 15€
Address:
Paseo Marítimo El Pedregal 17,
29017 Málaga
Reservations: +34 952 29 15 95
El Tintero II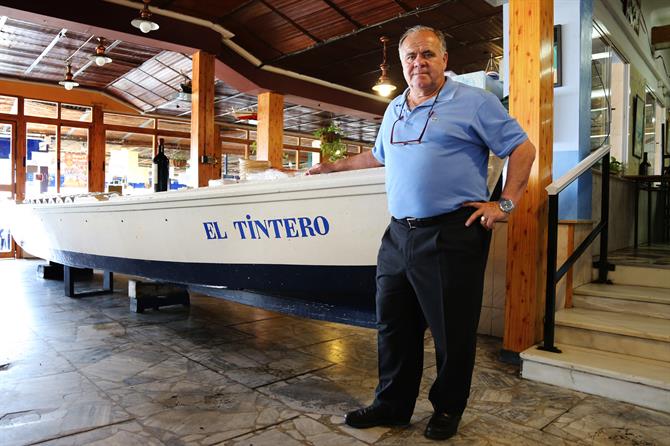 Tintero is so much more than a restaurant. It's become an institution. The atmosphere is unique and not something that's forgotten quickly. You never need to utter a word in Tintero. The waiters wander around with huge plates of fish and salads, all you need do is point. At the end of the meal you are charged by the plate (6€).
Price per person: 15€. All dishes are 6€
Address:
Playa del Dedo, s/n,
29018 Málaga
Hermanos Gutiérrez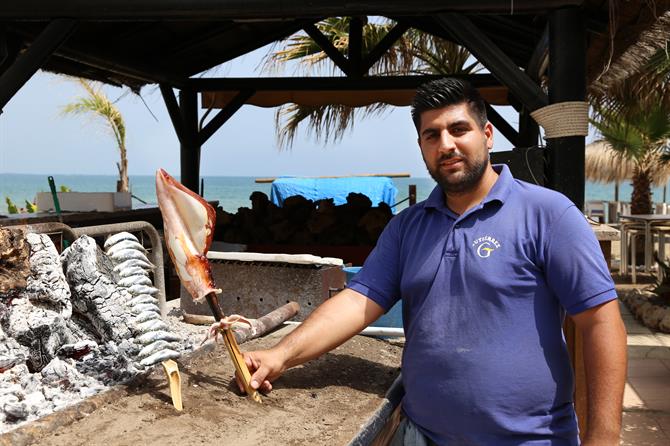 The Gutiérrez family have been living off the sea for generations. Some of the family are still fishing, others are running their three fish stalls in the local markets and the remaining ones working in the brilliant Hermanos Gutiérrez chiringuito.
The quality is exceptional. Prices are reasonable. And the restaurant is only really known to locals. Tourists still haven't discovered this gem of a restaurant. Yet.
Price per person: 35€
Address:
Paseo Marítimo Antonio Banderas, nº 6.
29004 - Málaga
Reservations: +34 952 11 89 08
Pimpi Florida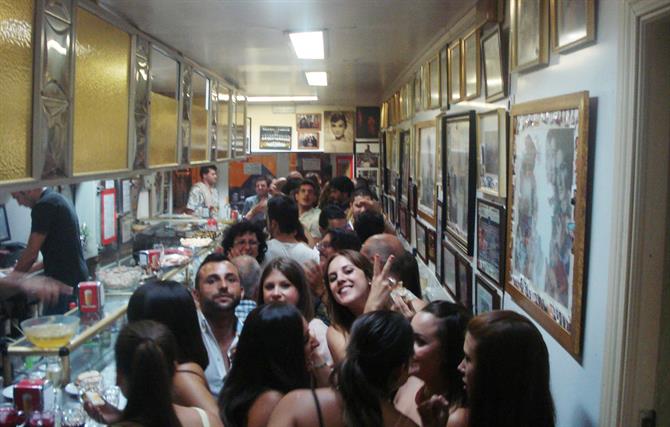 Pimpi Florida is small, crowded and uncomfortable.
It's also home to some of the best fish dishes on the coast. They doesn't come much more authentic than this. Only open for 5 hours a day and closed on Mondays and Tuesdays.
Expect to stand, to shout and plenty of noise.
This is where you'll see Malagueños do what they do best, eat, drink and enjoy themselves.
Price per person: 15€
Address:
Carretera de Almería 13,
29018 Málaga
Reservations: +34 952 29 26 25
Typical dishes from El Caleño and El Lirio
Spanish - English Fish Glossary
Almeja - White clam
Anguila / Angula - Eel
Arenque - Herring
Atún - Tuna
Besugo - Bream
Bacalao - Codfish
Berberechos - Cockle
Boquerones - Anchovies, deep-fried or marinated
Buey de mar - Edible crab, brown crab
Caballa - Mackerel
Calamar - Squid, often served fried in rings
Calamaritos - Baby squid, served fried whole
Cangrejo del río - Freshwater crayfish
Cangrejo - Crab
Caracolas búsanos - Sea snails
Cazón - Shark
Centolla - King crab, spider crab
Chipirones en su tinta - Small squid served in their ink
Chirla - Clam
Chopitos - Another name for baby squid, served fried whole
Cigala - Lobster
Coquinas - Clams
Conchas Finas - Smooth clam
Doradas - Bream
Fletán - Atlantic halibut
Gambas - Prawns
Gallo - Sole
Langostinos - Jumbo shrimp, tiger shrimp
Trucha - Trout
Trucha arco iris - Rainbow trout
Langosta - Lobster
Lapa - Limpet mollusk
Lenguado - Common sole
Lubina - Sea bass
Mariscos - Shellfish
Mejillónes - Mussels
Merluza - Hake
Mero - Halibut
Navajas - Razor clam
Necoras - Velvet crab
Ostras - Oysters
Percebes - Goose barnacles, gooseneck barnacles
Pescado - Fish
Pez Espada - Swordfish
Pulpo - Octopus
Rape - Monkfish
Rodaballo - Turbot
Rosada Nacional - Spanish hake, also known as 'Nacional'
Salmón - Salmon
Sardinas - Sardines
Santiaguiños - Slipper lobster
Sepia - Cuttlefish
Vieira - Scallop
Zamburiña - Another type of scallop