Whilst out enjoying the sun, the beaches and all the modern conveniences of southern-most Spain, spare a thought for the origins of today's glitzy resorts.
Until very recently, all of the towns along Malaga's coastline were simple fishing villages. Life depended on the sea.
Celebrations like the Virgen del Carmen serve to remind us how quickly things have changed and how integral the sea is in our local culture.
Virgen del Carmen
On July 16th, the towns and fishing villages along the southern coast of Spain honor La Virgen del Carmen, the protector of seamen. An effigy of the virgin is paraded through the streets and taken for a sail on one of the colourfully adorned boats in the harbor.
The best places to see this fiesta near Málaga city, are Rincón de la Victoria and El Palo/Pedregalejo areas (where the video was shot).
The Origins of the Virgen del Carmen
To trace the origins of "la Reina de los Mares" – the Queen of the Seas, it's necessary to go all the way back to the Old Testament. To when the prophet Elias retreated to a cave in Mount Carmelo near Haifa, in Israel.
This lead to the formation of the important Catholic religious order, the Carmelites, in the 12th century. Hundreds of years later, people began to ask for protection from the Virgin Mary of Mount Carmelo – the Virgin of Carmen. She was soon adopted by mariners and fishermen everywhere as their patron.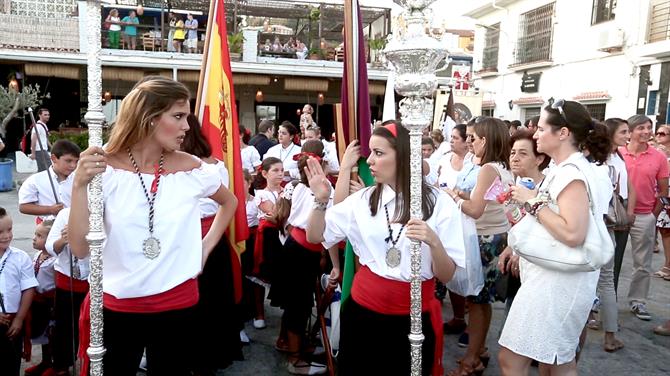 Present Day
On July 16th the statue of the Virgin is taken from her usual place of worship, decorated in flowers and carried into the sea on the shoulders of the local men.
She is then loaded onto a flower bedecked boat for a trip around the bay and accompanied by lots of smaller boats (including traditional jábegas), noise and fireworks.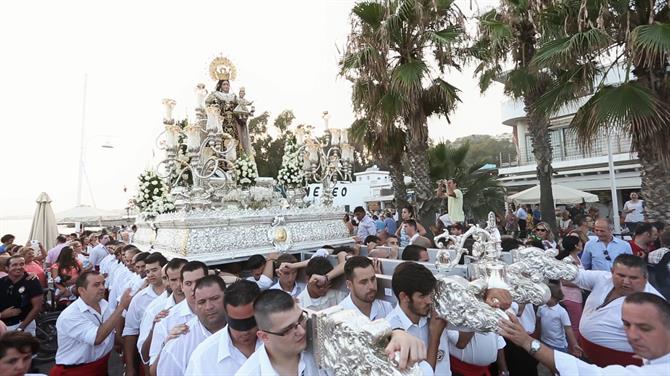 The fiesta is unlike the somber processions that take place in Easter, see here for Malaga's Easter/Semaña Santa celebrations.
The Virgen del Carmen celebrations are far more upbeat and celebrational, and usually culminate into a night of partying and drinking with shouts of "Guapa," and "Viva la Virgen" until the early hours.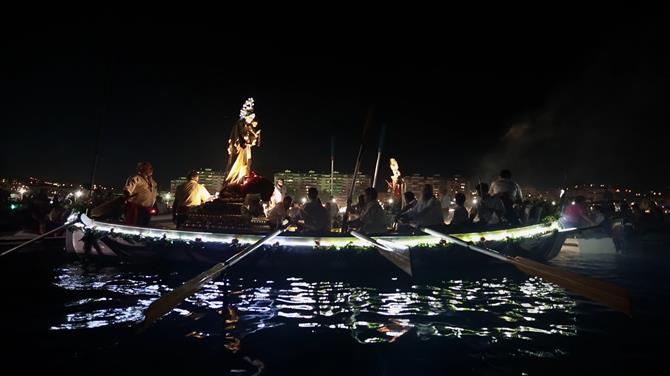 The exact date can vary from place to place. It's always best to check locally.