Over the years, water parks have become an integral part of Malaga's summer scene attracting many thousands of visitors.
Popular with both residents and holiday makers alike, a visit to one of them makes a fantastic day out for the whole family.
25 years of water parks on the Costa del Sol
There are three water parks that fall within Malaga's Provincial boundaries. Aquavelis in Torre del Mar – Velez Malaga, Aqualand in Torremolinos and the Aquamijas park, in Mijas.
With over 25 years of history and experience on the Costa del Sol, the parks have some great rides and always place safety first.
Although somewhat similar in layout and prices, they differ in the crowds they attract. Aquavelis in Torre del Mar is very family orientated and tends to be far more 'Spanish,' than either Aqualand or Aquamijas – which both attract a lot more foreign tourists during the summer months.
All three of the water parks cater for smaller children. One important point to note, is admission to individual slides is based on height. Something that can be very frustrating for smaller members of the family!!
Aquavelis Torre del Mar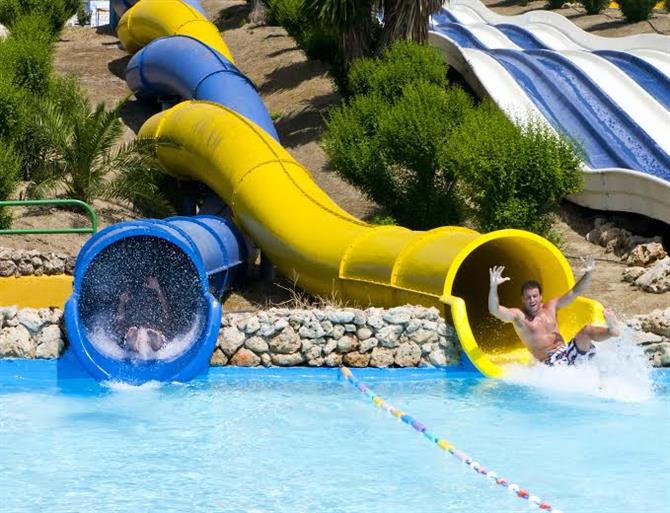 Aquavelis is situated just outside of Torre del Mar, in Velez Malaga. It sits almost adjacent to the El Ingenio shopping center. One of the older water parks, it's a firm favorite with many of Malaga's residents. Most of the visitors tend to be young Spanish families.
Attractions – Aquavelis has a good choice of attractions, with large gardens and picnic areas. There are eight slides, including two very fast ones and a children's one. There are also two large swimming pools, one of which, has a wave machine. The children's area is separate with its own paddling pool and slides. Be sure to try the 'Kamikaze' an incredible, near vertical 80m long slide.
Amenities – Two small gift shops, a cafeteria, a hamburger bar and a kiosk selling sweets/ice creams etc.
Prices – Prices are set according to height. Adults (over 1,40m) 22,50€, Junior (1,10m to 1,40m) 16,50€, Minis (0,90m to 1,10m) 12€, Seniors (over 65 years) 16,50€.
Opening – Aquavelis opens from June 9th until the end of September. 11am until 7pm (6pm in June and September).
Discounts – From 4pm onwards there are discounted prices – approximately 40% off. Keep your eyes open for promotions in supermarkets, newsagents etc. Aquavelis has a lot of them.
For more information and directions see the website – here.
Aqualand Torremolinos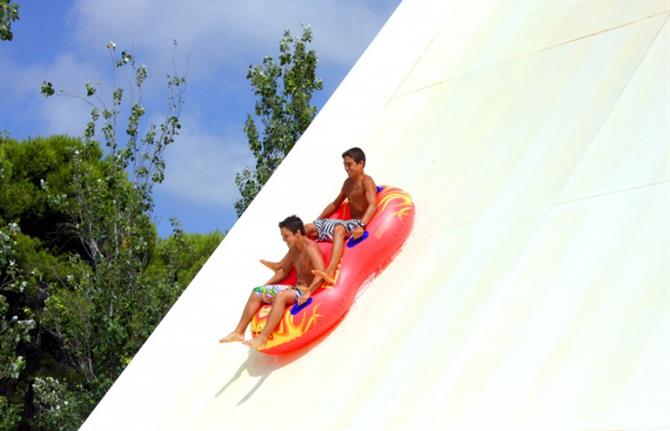 The oldest and largest of the three water parks, Aqualand Torremolinos is part of a chain (13 water parks across Europe) operated by the Spanish tourism group Aspro Ocio. It is situated just five minutes from the centre of Torremolinos and is the most popular of the three.
Attractions – Over 70,000m2 in total with landscaped gardens, attractions and swimming pools. There are a total of 19 water slides for adults and 15 slides suitable for children.
Highlights include the new 'Boomerang' and Europe's highest water slide – the 22m high 'Kamikaze' – not for the faint-hearted!! There are separate children's areas and a wave pool.
Amenities – Everything. There are three food kiosks that sell a variety of products: sandwiches, pizzas and hamburgers. The restaurant, 'La Palapa' has two options: an a-la-carte menu and a buffet style restaurant with a wide variety of choice. A cheaper option is to bring your own picnic (remember – no glass!).
Prices – Adults 26€, Children (4 to 12 years) 18.50€, Minis (3 to 4 years) 10€, babies free.
Opening – Aqualand is open from May 26th until September 20th. July and August: 10am to 7pm, May, June and September: 11am to 6pm.
Discounts – there are 10% discounts if you book online. Recommended during the peak season, the queues at the entrance can be long. Keep your tickets, you can return for: 12€ adults, 10€ children and minis free!
For more information and directions see the website – here.
Aquamijas Mijas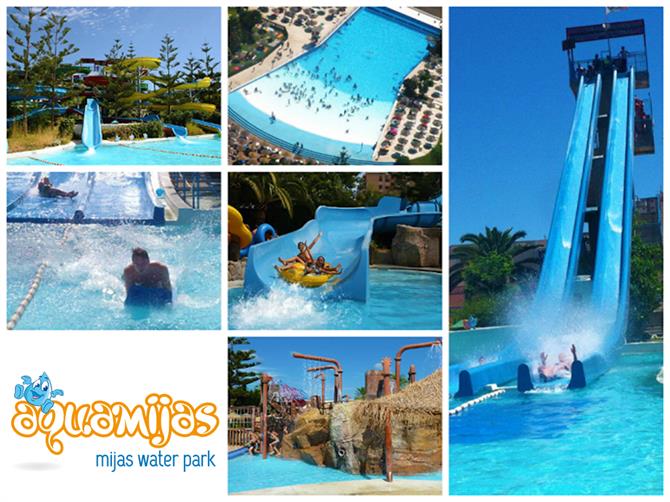 The Parque Acuatico in Mijas is the smallest of the three, it is ideally suited to families with smaller children. You can almost sit in the middle of the park and keep an eye on them while they go on all the attractions. Situated in Mijas, just off the Fuengirola bypass, the Parque Acuatico Mijas is also the least busy.
Attractions – There are five water slides in total. For older children, the Kamikaze, the Labyrinth Slides and the Body Ski will keep them entertained, while the Lizard Island and Kiddie Slide are both aimed at the younger members of the family. Other attractions include mini-golf, a rock-climbing wall and several jacuzzis. As with the other parks, there are also large picnic areas and gardens.
Amenities – a cafeteria, self-service restaurant (menu of the day is 9,50€) and a kiosk selling pizzas and ice creams.
Prices – Adults 25€, Juniors (8 to 12 years) 19€, Children (3 to 7 years) 14€.
Opening – Aquamijas opens from the 28th of April until the 2nd of October. The month of May and from mid-September onwards, the opening times are from 10am, until 5.30pm. June and the first couple of weeks of September, from 10am until 6pm. July and August, it is open from 10am until 7pm.
Discounts – From 3.30pm (2.30pm on off-season months) onwards there are 30% discounts available. 10% discount on online ticket purchases. There are also family and group offers.
For further information and directions see website – here.
Water parks near the Costa del Sol
There are two more water parks that fall just outside of the Costa del Sol. The Bahia Aquapark is situated near Algeciras and the Aqua Tropic park, is situated on the Costa Tropical, just outside of Almuñecar.
Bahia Park Algeciras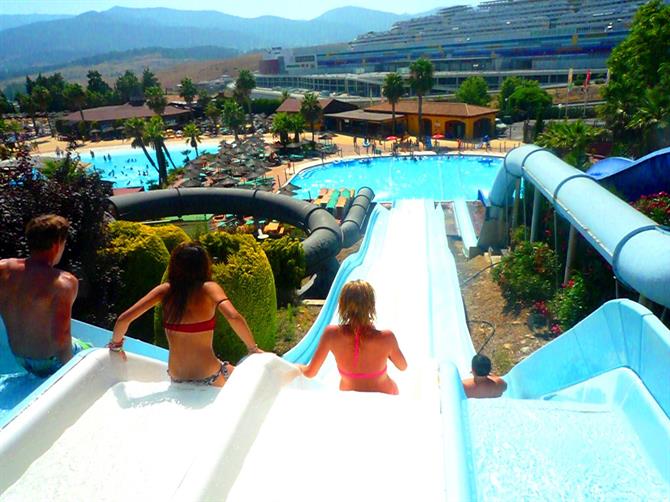 The Bahia Park is situated just west of Algeciras about 45 minutes from Marbella. The Bahia Park consistently receives rave reviews and is one of the best around. Being slightly further away from the bigger Costa del Sol hotspots, it also tends to be less crowded.
Attractions – There are eight big slides in total, including the Gran Niagara and Kamikaze. Several of the slides are on inner tubes, just adding to the fun and speed. Bahia Park is home to Andalucia's largest jacuzzi with a capacity for 50 people, several pools, including a wave pool and one that tips a 1000-litre bucket of water over swimmers. There is an 'activity pool' home to several attractions including a zipline, which provides an unforgettable experience. They cater for the younger members of the family with specifically adapted slides for children. Picnic areas and free parking.
Amenities – There's one self-service restaurant, a pizzeria that serves hamburgers, hot dogs, pizzas and kebabs. An ice-cream parlour and a small souvenir shop.
Prices – Adults 20€, Children (over 0.95m) 16€, Children under 0.95m go for free, Seniors (over 65 years) 16€.
Opening – Open from June until the end of August. 11am - 7pm June. 10.30am – 7.30 pm July and August.
Discounts–Half day offers: adults 14.50€, children 12€, seniors 12€. They have additional family packs and group discounts.
Aquatropic Almuñécar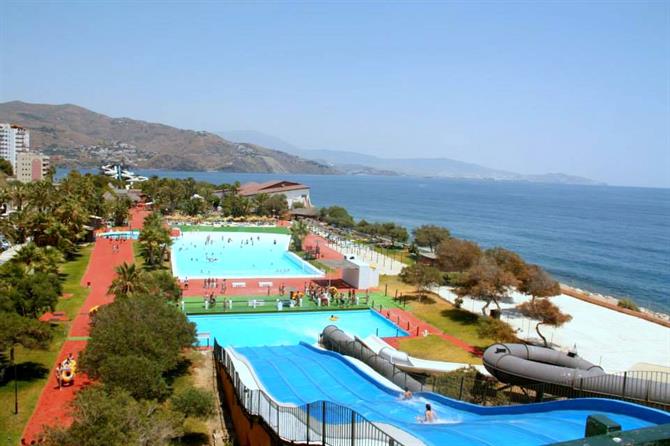 Aquatropic is spread over 35,000m² and is located at Playa Velilla, in Almunecar, on the beautiful Costa Tropical. It is situated right on the beach and is the only salt-water waterpark in Spain. One of the oldest around, it was opened over 20 years ago. Despite its history, it remains predominately Spanish, catering mainly for young Spanish families.
Attractions – Aquatropic just added three new attractions to their 2014 line-up. Which now includes six bigger slides, a 'water-tower,' two lakes, a wave pool and a new jacuzzi area. There are plenty of green areas and places to enjoy a picnic.
Amenities – Changing rooms and lockers, a children's playground, an ice-cream parlour and a restaurant 'Pipote,' which offers barbecued fish and meats. There is also a small kiosk selling snacks and a souvenir shop.
Prices – Adults 19€, juniors (12-15 years old) 16€, kids (4-11 years old) 15€, senior (over 65 years old) 15€
Opening – Open from the beginning of June until the end of September, from 11am until 7pm.
Discounts – Discounts available for afternoons only. Adults 13€, juniors 12€, kids 11€ and seniors 11€. They have additional family packs and group discounts.