Bounty beach is one of the youngest and hippest places to be on the Costa del Sol.
Bounty beach is a favourite with many of Marbella's younger residents. Its appeal is easy to understand.
With reasonably priced food and drink, palm and banana trees providing plenty of shade, the scene is completed with DJs playing soothing chillout music. The atmosphere is relaxed. Very relaxed.
About Bounty Beach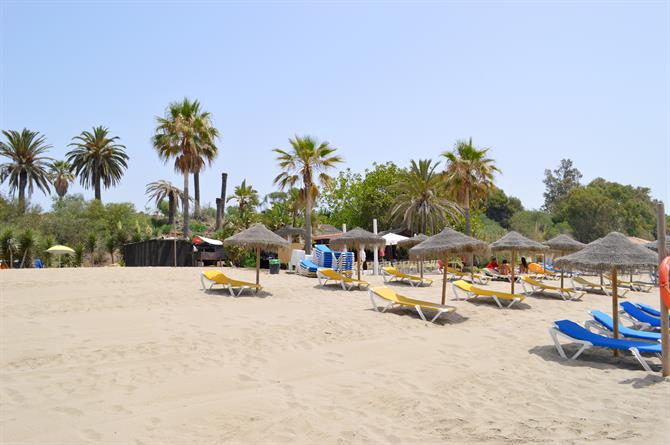 Bounty beach is actually the name of the beach bar - the beach itself is officially known as Playa del Cable, over the years they have become one in the same - particularly with Marbella's younger generation.
Playa del Cable is 1,300m long and 70m wide of fine, golden sand. The beach is cleaned regularly.
During the summer months, beach parties are often organised on Sunday nights. It is a great place to get out and meet some of the locals.
Bounty beach would be number one on Marbella's top ten best beaches list for trendiness.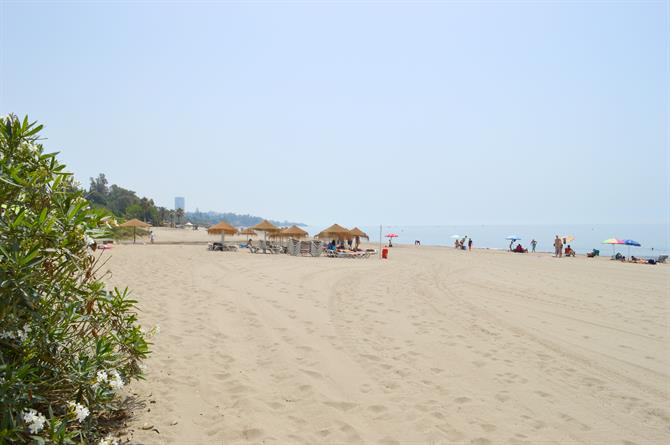 Amenities
Bounty beach offers responsibly priced food, drinks and plenty of atmosphere. Salads and pasta are around 9€, meat and fish dishes around 12€. There is also a daily special.
You can rent sun-loungers, pedalos and canoes from the bar. There are also showers and public toilets.
Bounty beach is popular with volleyball players and people looking to practice water sports (Funny beach that rents every conceivable water-sporting activity is also a very short walk away).
Video about Bounty beach
Getting there
Bounty beach is situated 3kms from Marbella's centre - map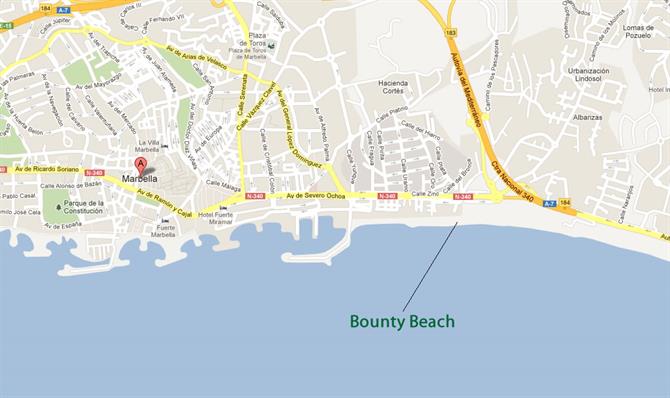 From Marbella - Calle de Ricardo Soriano (eventually becomes Av de Severo Ochoa) eastwards. Just before the Marbella, come off rightwards. The easiest route is to come off when you see the Marbella local police station and follow the road downwards/rightwards towards the beach.
From Malaga - N340-A7 towards Marbella. Take the exit for Marbella's city centre, falling onto Av de Severo Ochoa. Just after you pass through the 'Marbella arch' the large concrete Marbella sign, veer off and head towards the beach - leftwards. The bounty beach bar is almost parallel with the arch.