Playa Fontanilla or Fontanilla beach is a firm favourite with Marbella residents and holiday makers alike.
It is the most central of Marbella's top 10 beaches.
Playa Fontanilla is one of Marbella's urban beaches. From most parts of Marbella's city centre, its an easy walk.
It is classified as having 'high occupancy.' Playa Fontanilla is one of Marbella's most popular and most beautiful inner city beaches.
About Fontanilla beach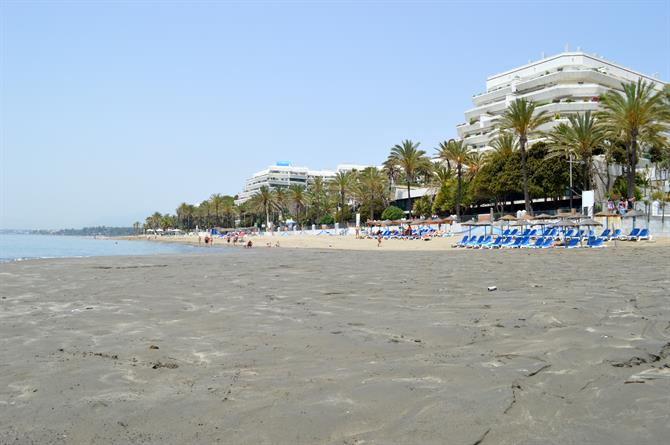 Fontanilla beach is 1,000m long and 30m wide.
Fontanilla beach starts from the marina and runs parallel to the seaside promenade.
The sand is fine and golden (the day these pictures were taken was very low tide and they were dredging a sand bank out at sea).
Amenities
Everything. Being a city beach, Playa Fontanilla has all everything at its doorstep. Plenty of bars, restaurants and activities. Public amenities include showers, toilets and lifeguards.
The newly constructed Paseo marítimo - promenade - has a number of kiosks, bars and restaurants that run its breath. There are cinemas, gyms, shopping centres....everything you'd want and more.
One responsibly priced restaurant that comes recommended is Restaurant La Red. It serves a combination of local sea food dishes and more traditional favourites - such as pasta and meat dishes. The prices are reasonable, the service quick and cheerful - Restaurant Red is a favourite with families.
Video about Playa Fontanilla
Getting there
Playa Fontanilla is within easy walking distance from Marbella's centre - map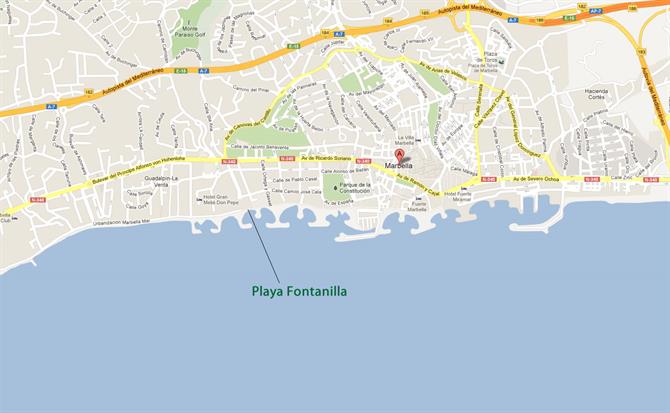 From Marbella - Fontanilla beach is about 600m west of Marbella's Parque de la Constitución. Its impossible to miss.
From Malaga - the quickest way would be take the A7 towards the centre of Marbella. Take exit 182 toward Nagüeles. Eventually dropping onto Bulevar de Ashmawy, follow the road downwards until reaching the beach.