Cabopino beach or Playa de Cabopino has gained a lot in popularity over the last few years and with good reason.
Exceptionally clean water, long sandy beaches and plenty of amenities to keep the whole family entertained, it is easy to understand Cabopino's ever-increasing popularity. Without a doubt, one of the stars on Marbella's top ten best beaches.
Situated just 13kms east of the centre of Marbella, Cabopino is classified as having 'medium occupancy.'
The beach area is large and incorporates the nearby Playa de las Dunas (Artola dunes). Even though the beach is popular, you can always find a quiet corner to yourself.
About Cabopino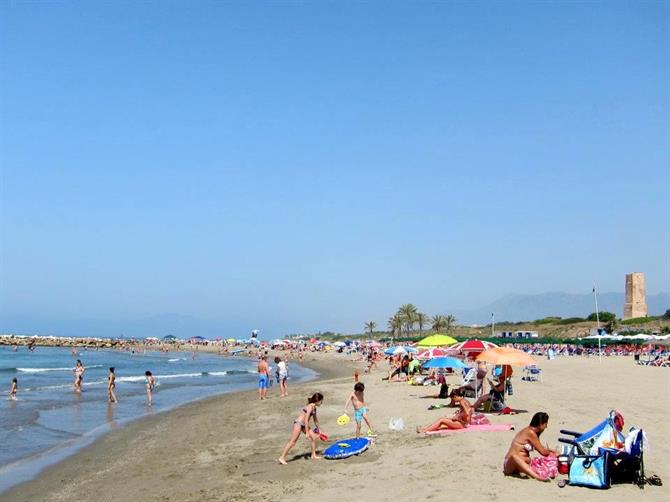 Cabopino beach is 1,500m long and 25m wide.
It borders Cabopino port on the one side and the protected Artola sand dunes on the other.
Something to bear in mind, is the Playa Artola and the surrounding sand dunes are a 'clothing optional,' area and are popular with the local gay community.
The sand is fine and golden.
The water is calm and shallow making Playa Cabopino and Playa Artola popular with families.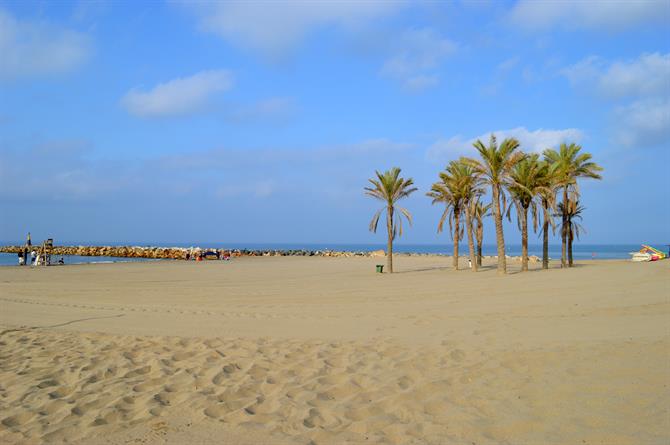 Amenities
Everything. Cabopino port and the urbanisation behind offer a wealth of restaurants, bars and chiringuitos.
There is plenty of parking available and most is close to the beach. There are also frequent buses from Marbella and Fuengirola making this an easy option as well.
Cabopino Port has 169 moorings and is occupied by exclusive yachts. The water is exceptionally clean and a great hit with young children who can easily spot schools of fish throughout the port area.
Cabopino beach has various bars and chiringuitos. All amenities are catered for with plenty of places to rent sun-loungers and parasols. Most bars/restaurants offer showers and toilets.
There are various locations for hiring pedalos, boats, jet skis, organised dolphin watching trips....you name it, you'll find it here!
One chiringuito that comes highly recommended is Andy's beach bar. Child friendly and offering a variety of Spanish and International dishes - all are reasonably priced.
Getting there
Cabopino beach is situated 13kms from Marbella and about 45kms from Malaga - map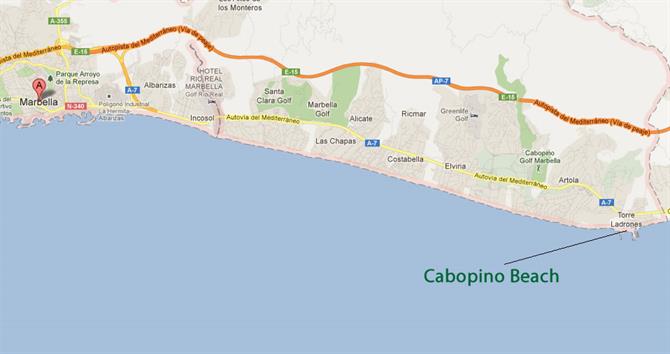 From Marbella - N340-A7 eastwards - towards Malaga, after passing Elviria there's a exit for Cabopino (clearly signposted), follow the road rightwards - down towards the beach or the port area (all signposted)
From Malaga - N340-A7 westwards - towards Marbella. The exit for Cabopino is clearly signposted. Follow the instructions above.