Situated just 10kms East of Marbella's city centre, it is a beach that is classified as 'medium occupancy,' even in the height of the summer it doesn't get as busy as some of the more urban beaches.
Playa Alicate borders an exclusive Urbanisation of the same name. It is home to some famous people, including Antonio Banderas who's house sits right on the beach.
By anyone's standards Alicate beach would be high on the Marbella's best beaches list
About El Alicate beach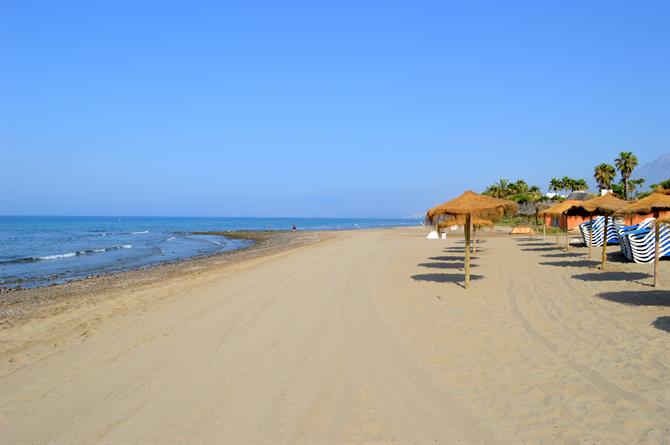 Playa El Alicate is 850m long and 25m wide.
It borders both Pinomar and Costabella beaches, they are often referred to as one and the same - thereby making up over 2kms of sandy beach.
The sand is the typically Mediterranean, dark and coarse.
Amenities
Playa El Alicate is regularly cleaned and offers all services. With plenty of beach bars, restaurants, one beach club, showers, toilets, parasols and sun loungers.
Parking - in and around the restaurant Los Sardinales - with close to 100 parking places available.
One restaurant that is recommended is Los Sardinales - pictured above. Situated on the beach it offers quality food at responsible prices. House specialities include both meat and fish dishes - a portion of fish is around 13€, a meat dish 18€, the house salad 9€, Paella 13€ etc.
Video about Playa El Alicate
Getting there
Playa El Alicate is located approximately 10kms East of Marbella's centre. Map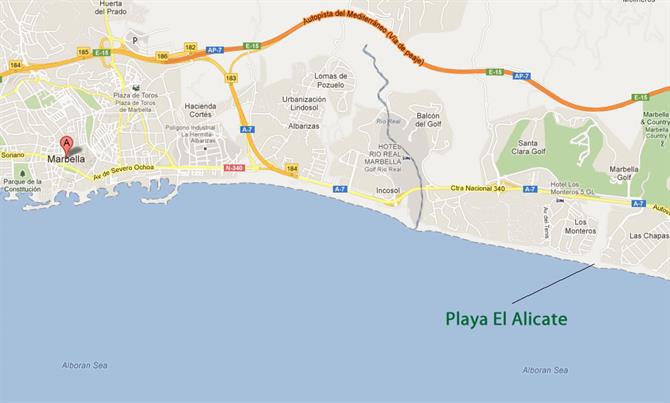 From Marbella - take the N340-A7 eastwards - towards Malaga, after passing the Hotel Los Monteros on the right take the second exit onto Av del Gaviero. Keep going through three roundabouts. Playa Alicate is at the end - 850m. There is parking in and around the restaurant area.
From Malaga - take the exit for Los Monteros. Double back on yourself, taking the N340/A7 back towards Malaga - eastwards. Take the first right exit falling onto Av del Gaviero (see above).