Playa Real de Zaragoza is without a doubt one of the Marbella's best beaches. In many people's eyes, the best.
Situated 13kms from the centre of Marbella. It is also one of the largest beaches in the area.
Real de Zaragoza is large enough and far enough from the centre to ensure that even in the height of summer you'll find a quiet part of the beach to yourself.
It is classified as having 'medium occupancy' and is situated parallel to the Real de Zaragoza Urbanisation.
About Real de Zaragoza beach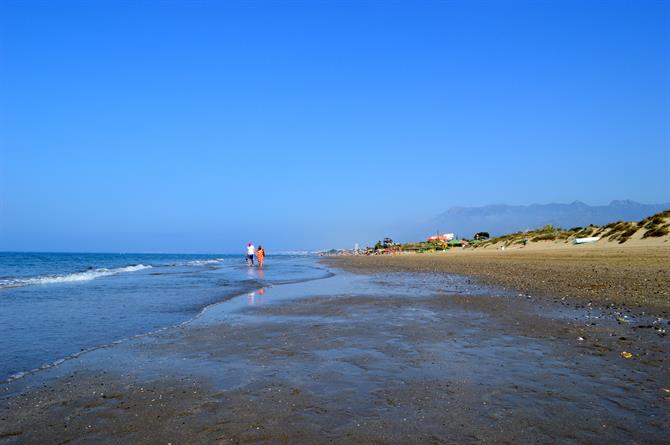 Real de Zaragoza beach is 1,700m long and 30m in width.
The beach borders some of Marbella's more exclusive and well known beaches, including Nikki beach and the Don Carlos beach club.
The sand is fine and golden.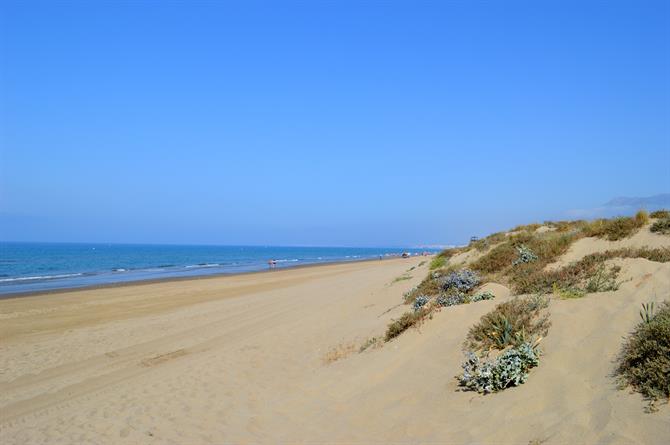 Amenities
Playa Real de Zaragoza is regularly cleaned and offers all services. There are plenty of beach bars, restaurants, showers, bins and toilets. Parasols and sun-loungers (5€ a day) can be rented from various places.
There are lifeguards on duty during the summer months.
Parking - beach parking. There are various places that are used as private lots or park on the roads leading onto the beach.
One restaurant/chiringuito that comes highly recommended is Ranchon Cubano. With a distinctly Latin American/Cuban feel to it, it is a great place to have a drink or a bite to eat. Offering live music on the weekends, it is also quite a party venue. The food is good and the prices are responsible. A salad will set you back 8€ and a plate of fish around 12€.
Video about Playa Real de Zaragoza
Getting there
Playa Real de Zaragoza is situated approximately 13kms from the centre of Marbella - map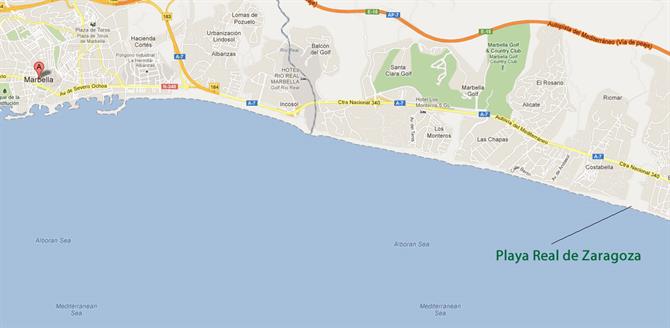 From Marbella - N340-A7 eastwards towards Malaga. Just after the Elviria exit, keep to the right, you'll pass a Repsol petrol station, take the next right (its a sharp turning), falling onto Av. de Cibeles. Keep following this road down to the beach.
From Malaga - N340-A7 westwards towards Marbella. After passing the Las Chapas exit and the English International College, take the exit for Urbanización de Ricmar, take a right, and then sharp left (you want to double back on yourself - its one way). You should be on Arroyo Playas de las Dunas, follow this road downwards towards the beach, taking a left onto Calle Pino Real at the first turning. Av. de Cibeles is the next left (see above).