La Charca del Canalón is most definitely not on the usual tourist route. It has remained something of a local, almost hidden, secret.
More and more people are beginning to hear about it, mainly through word of mouth.
About the Charca del Canalón - Istan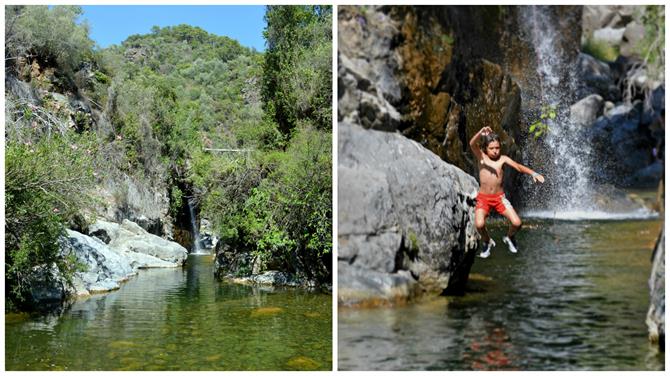 The Charca del Canalon is quite simply, a paradise. Crystal clear mountain water, waterfalls, hidden rock pools, schools of fish swimming with you.......need I go on?
If you are looking for something completely different, something completely natural and only 8kms from the village of Istan - then a visit to the Charco del Canalon is just the thing.
You couldn't hope for a better spot to have a family picnic.
What is it?
La Charca, in Spanish, can be translated as 'river pool.'
La Charca del Canalon refers to one of the larger river pools in the Rio Verde river. There are several larger sections for swimming, jumping and a couple of waterfalls that provide a fantastic massage.
The whole area is relatively untouched and if looking for a quiet spot to yourself, it shouldn't be too difficult to find (weekdays are always quieter). You can always go further up the river and find even more secluded spots.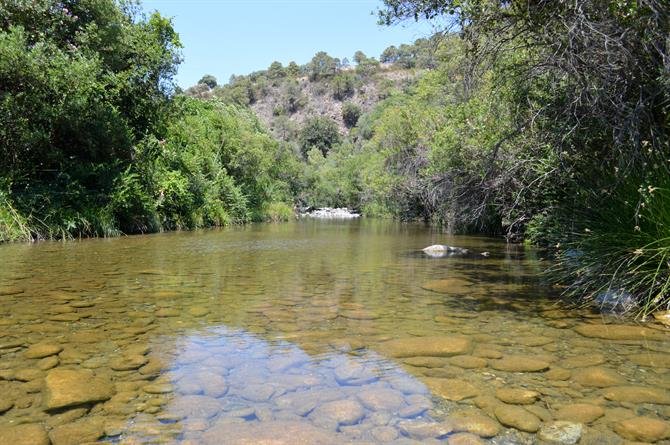 Getting there
The Charca is approximately 8kms from the village of Istan. If travelling with children or wanting to knock a few kilometers off the trip, you can drive most of the way there. Here's how -
Just before arriving in Istan's centre (if coming from Marbella), take a right following signs to Istan Alto, onto C/ Calvario.
Follow the road upwards, passing the sports centre, after approximately 1km you'll come to a crossroad - there is a track going rightwards and a paved track going leftwards (its labelled Nacimiento/Monda). Take the one to the left.
After 500m you'll pass the recreational area Nacimiento de Río Molinos - itself, a beautiful spot for a picnic.
The road quickly becomes a track. You are now on the old forestry track to Monda. The track is in good condition and is easily passable in all cars. You´ll pass various junctions, always keep left.
Eventually you'll drop down onto the river and you'll be forced to park (the track is cut.)
From here, there are two routes to choose between. Some people walk through the river, but its very slippery, deep in places and far (about 2kms).
I suggest you follow the track. I followed this route and found it to be perfect:

Parts of the track are signposted and basically you are walking parallel to the river - until arriving at the Charca. Its about 2kms.
One important point to bear in mind, is most of the land around is privately owned. Access routes and paths can be changed without warning.
Use common sense and come prepared - bring water, sunscreen and a mobile phone. It is also imperative that you bring a good pair of shoes that you don't mind getting wet.
Video about La Charca del Canalón