Menorca's traditional cuisine is part of what is called the Mediterranean diet: a predominantly peasant cuisine, with seasonal products from the land and the sea. Unsurprisingly, agriculture and fishing were the island's main activities before the arrival of tourism.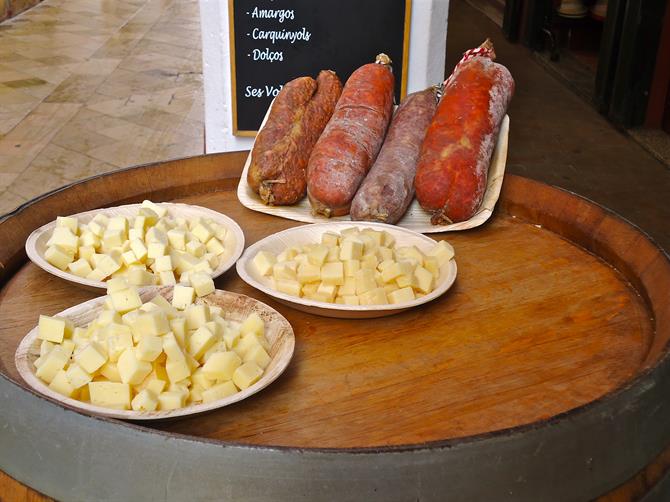 The dishes are simple, made with vegetables, fish and meat, although many note the cultural influence of those that colonized the island (Arabic, French and English).
Menorca also has a sweet side, and despite always using the same main ingredients - eggs, flour, sugar, lard - we can find a delicious variety of pastries, puddings, cakes and biscuits.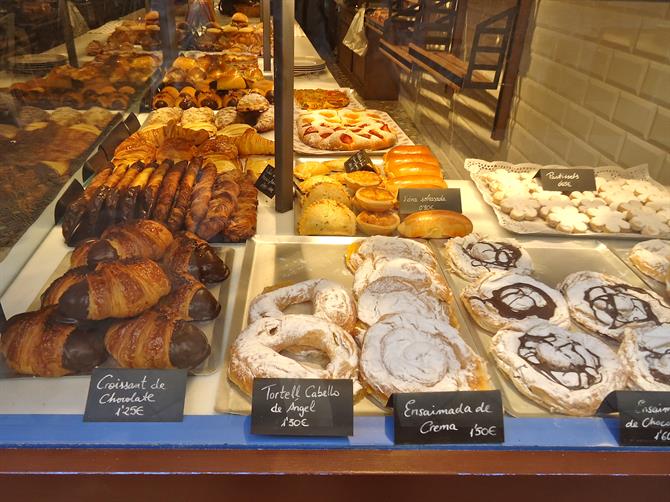 Here are some of the local foods that you can't miss during your next villa holiday in Menorca.
Mahón-Menorca cheese
This cheese is made with whole cow's milk, matured exclusively on the island of Menorca, which is why in 1985 it was given the protected Spanish designation of origin. It is geo-climatic factors, such as characteristics of the soil, temperature, humidity and light, its elaborate production process and traditional seasoning that determine the unique aroma and flavour of this cheese.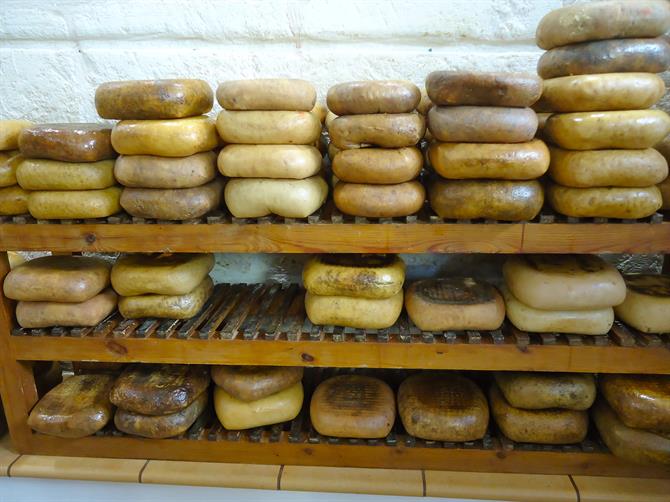 Depending on the treatment to which the milk is subjected, there is the Mahón-Menorca artesano cheese (this artisanal cheese is made with who unpasteurized cow's milk) and Mahón-Menorca cheese (made with pasteurized cow's milk).
These cheeses can in turn be divided into three groups, depending on the number of months of aging they undergo: the tierno cheese (soft, aged 21-60 days) is yellowish-white in colour, with a light sour touch; the semicurado (semi-old, aged 2-5 months) has orange or brown skin and a stronger flavour; the curado cheese (aged) has a very strong flavor and is slightly spicy.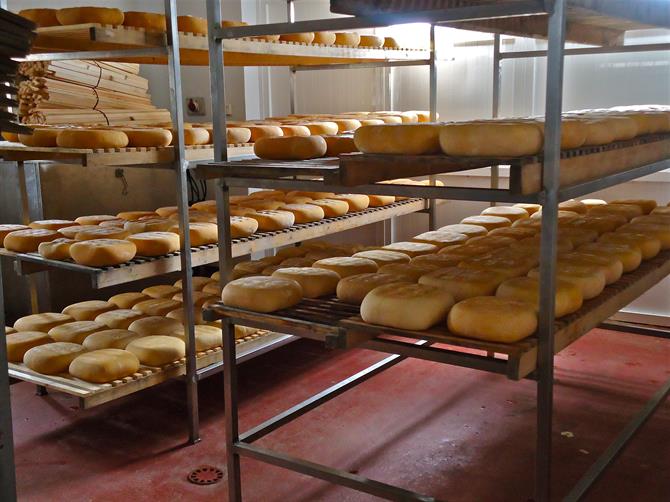 On the island you can find various farms that are dedicated to cheese production; you can visit them for free or on a guided tour, and buy cheese directly there.
A variety of cheeses are also found in any supermarket or souvenir shop on the island.
Sausages
Sausages are very common in Menorca and are linked to the matanza tradition (killing of the pig). The most famous among Menorcan sausages is perhaps the sobrasada, a kind of cured pork sausage that is a typical red colour because of the paprika in it. Usually they eat it roasted or cooked in the winter, with honey and cheese, raw or spread on bread in the summer.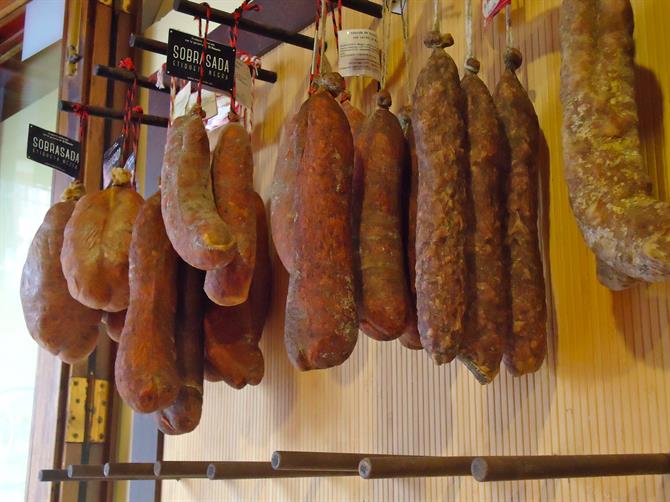 Carn-i-xulla is similar to salami and unlike the sobrasada you eat it raw. It is ideal for appetizers and sandwiches.
Other typical sausages include botifarró (the Spanish morcilla blood sausage) and camallot or cuixot (cooked minced meat).
Lobster stew
This is one of the island's typical dishes, but only since quite recently (this dish can't be found in recipe books before the 70s) and became popular thanks to tourism. It's a Menorcan lobster soup with fried onion, garlic, tomatoes and peppers, cooked in an earthenware pot and served with slices of stale bread. The name comes from caldero (a wrought-iron cauldron), where the stew was cooked onboard fishing boats.
In theory, before serving the dish, the waiter should show the live lobster or let you choose one from the aquarium. The prices are quite high, around €55 per person. Although this dish is originally from Fornells, you can find excellent calderetas in Mahón and Ciutadella restaurants.
Coques
Coca is a kind of flat bread, thinner, or thicker depending on whether it is sweet or savory, round or rectangular in shape.
The savoury coca is best known in Menorca and is often covered with tomato. They can also be topped with red peppers, sofrito (fried red and green peppers, garlic, tomatoes, onions, capers and salt), or with anchovies, olives, pickled sardines (typical during Lent). Coques can be found at any bakery in Menorca.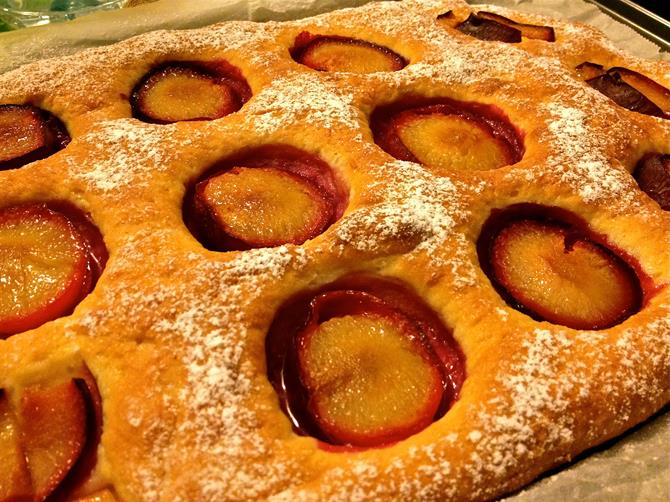 The sweet coca, however, is usually much thicker, and can be covered with cream, sugar, apricots or plums. These include the bamba coca, round in shape, typical during festivities and holidays in Menorca. It is eaten for breakfast and can be dipped into a cup of hot chocolate.
Pastissets
Pastissets are flower-shaped shortbread cookies with rounded tips. The name comes from pastis (sweet) and set (seven), so these should theoretically have seven flower petals, but you can also find them with less. They can be simple, covered with powdered sugar or with fig jam filling (these are the best ones!).
In old times these cookies were prepared at Christmas and for family celebrations such as weddings and communions, while today they are found throughout the year in any pastry shop. They are even sold in bags as souvenirs, but for an authentic experience, sample them in one of Menorca's best pastelerías.
Ensaimada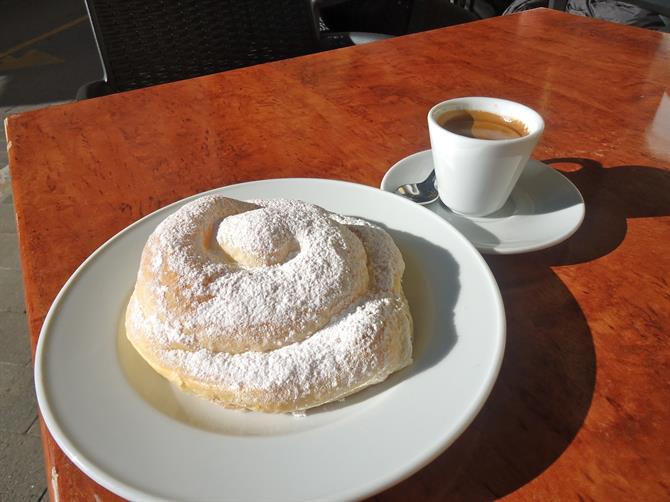 The name of this kind of spiral brioche comes from saim, pork lard in Catalan, the main ingredient of this cake. It's a product originally from Mallorca (but don't say this to a Menorcan!). However, Menorca is just as famous for its ensaimadas, so you will find them at all bakeries. It is also very common to see tourists at the airport with ensaimadas in octagonal packaging.
You will find several types at the market: natural or filled with cream, cabello de angel (a pumpkin jam), chocolate, cream, dried apricots or sobrasada. My favourite? Caramelized cream.
Xoriguer Gin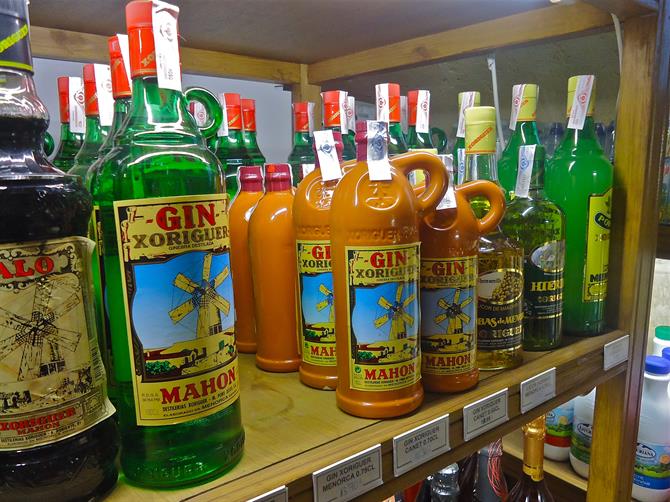 This Menorcan gin is a clear testimony of the British presence on the island.
Menorca was part of the British crown for more than 200 years, during which thousands of sailors and British soldiers occupied the island. To answer the high demand for gin, a typical beverage of the time, some Menorcan craftsmen decided to import juniper berries and produce gin on the island.
Over a century gin became more and more popular, even among Menorcans. Finally, a member of the Pons family began to market as with Xoriguer brand, the name of the old windmill, the family's business.
To date a bottle of Xoriguer Gin is one of the inevitable souvenirs from a holiday in Menorca. It is also one of the main ingredients of pomada or Gin amb llimonada, a typical drink during summer festivals.
Don't miss going on a guided tour of the Xoriguer distillery, in the Mahón port.
A culinary journey to discover the typical foods that you can't miss during your next holiday in Menorca.