Nestled on a hillside in Spain's Costa Almeria region, the quaint white-washed village of Mojacar is a relic of the legacy left behind by Moorish settlers more than 500 years ago. Though its rich history isn't what makes this site the most visited tourist resort on the Costa Almeria but instead, the modern beaches of Mojacar Playa!
With an average temperature of around 30°C in the summer, the area offers perfect weather to compliment it´s beautiful beaches and famous beach parties. It does get crowded come mid-summer, but even with the most excellent parties it still maintains the typical, laid-back Andalusian atmosphere.
Let´s explore Mojacar´s different party spots, laid back hang-outs and beach adventures...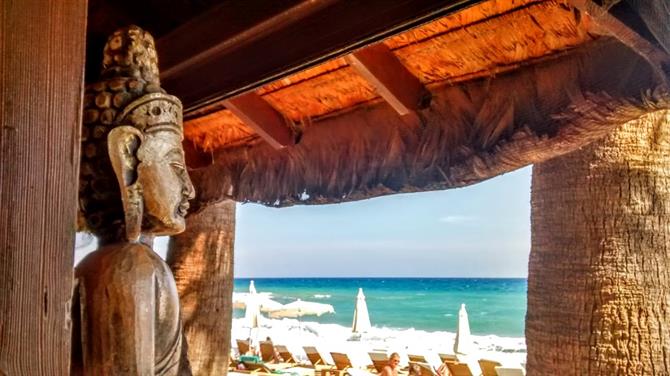 Comparable with the likes of Ibiza when it come to parties, the style here maintains a certain sensibility and less of the ''barn-yard'' hedonism of hotspots like Ibiza or Magaluf.
Famous throughout Spain, Playa del Cantal is a fairly long stretch of sun-drenched Mediterranean coastline with equal parts heaven and hedonism. It houses many nice beach bars called "chiringuitos", all strung together on the beachfront. Feel free to grab a drink and wade through the shallow, calm waters here, mingling with other beach-goers and a 'Tinto de Verano' in hand.
The northern most area of Playa del Cantal is known as Camping el Cantal and extends roughly 2.8km down to 'Aku-Aku' which also marks the end of the strand of chiringuitos.
The demographic at Playa del Cantal is mostly young Spaniards in a celebratory mood, though tourists from all over Europe can also be found here. Twenty and thirty-somethings come from as far as Madrid, road-tripping overnight to Mojacar then spend a long weekend getting loose.
Many stay in this beach party area at Playa Cantal where they find like-minded people with only one thing in mind - eat, drink and be merry.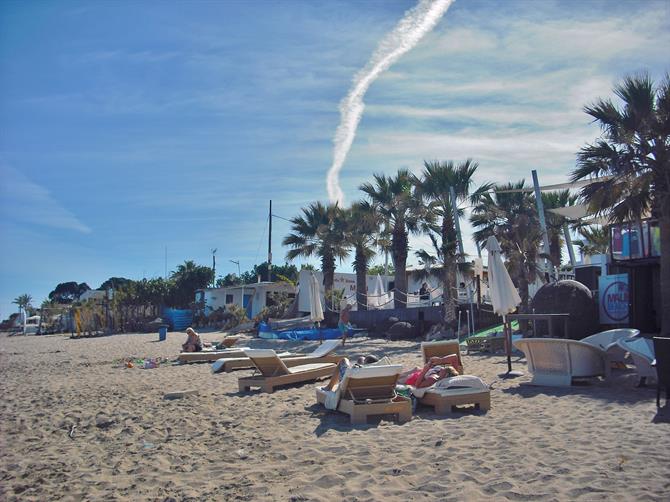 'Maui Beach' is a churinguito right on the water just a couple of metres from the calm lapping waves. Here, when the drinks are pouring so is the music, which typically consists of relaxing lounge music, new age sounds and electronic Spanish pop.
About Playa del Cantal
While Playa del Cantal is known for its parties, those who want a break from that scene can always find a quiet area and enjoy the excellent swimming conditions. The beach stretches out 2.8km along the coast and in some places up to 30m in width. Therefore, several sections are left to claim a nice quiet spot in the sun.
The northern end of the beach is especially good for this, as there are always peaceful spots to lay your towel down on the sand, out of earshot of the chiringuitos. The sand here is of a finer, lighter quality compared to the south, with calm water and little waves.
The preferred time to get out in the water here is anytime after sun-up until around 2pm and again at 6pm, when the wind is calm and the seas are gentle. The wind can be a bother at times, but this also makes for some perfect windsurfing opportunities so get out there and make lemonade or just enjoy a cocktail.
Playa del Cantal is also well suited for families with the sand and swimming conditions here being of superb quality leaving something to enjoy for everyone. It's common to find families under the beach umbrellas with the little ones, building sand-castles or daring to go for a swim. Also, the opportunity to relax on the shoreline with drink in hand or just enjoying some food and drink at the many tables provided on the patios is a lovely feeling.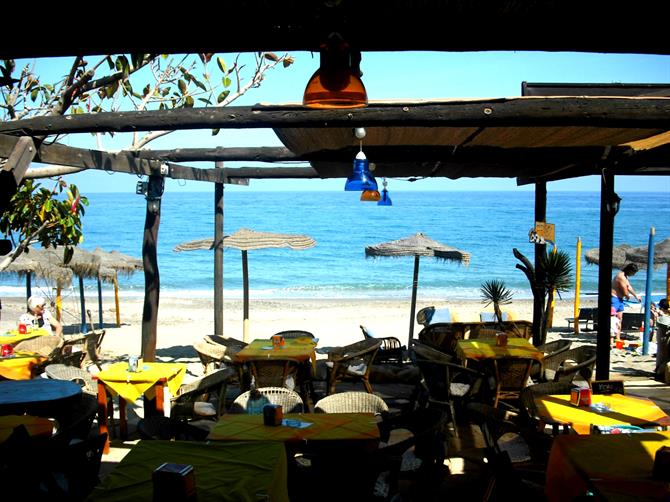 El Patio 2000 is a popular chiringuito and has more of a family friendly atmosphere, providing boogie boards to customers free of charge!
Restaurants, Shops and Services at Playa del Cantal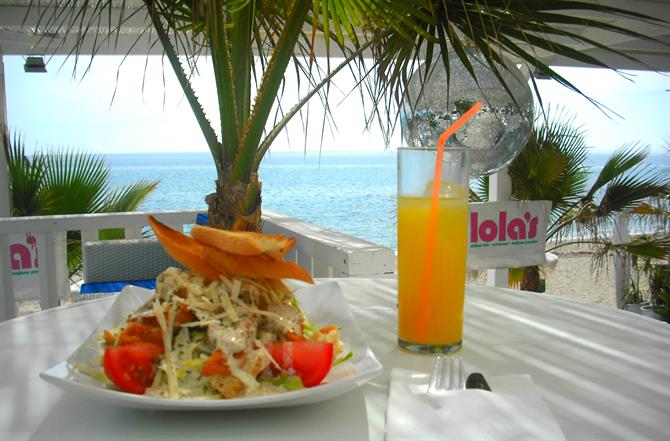 From pizzerias to tapas bars and open-air grills, Playa del Cantal has everything to satisfy your cravings. With people constantly coming and going, the chiringuitos are always buzzing. At lunchtime finding a table is a breeze, though early evenings can be a bit of a wait so it would be wise to plan for it.
We recommend the paella and tapas on offer at Aku-Aku, which is popular throughout Mojacar for its delicious cuisine. The laid-back atmosphere and airy, white terraces of Maui Beach and Lola's are something to that should be experienced as well. Don Pancho has some great Mexican dishes and premium tequila as well. Prices at these places are only slightly above average for the Almeria region though easily justifiable when you find yourself sitting on the edge of Mediterranean sea, enjoying live music under a blanket of twinkling stars.
The amenities at Playa del Cantal are extensive, there are toilets, showers, changing rooms, wheelchair ramps, lifeguards on site in the summer and nearby there is a Dia supermarket. Next to 'Hostal Flamenco' there is also a small shop for beach toys, swimsuits, postcards and cold drinks.
Sun loungers are available in almost all chiringuitos and cost nothing if you are there eating or drinking. Otherwise you will be required to pay a small fee.
Parking and Directions
At the time of writing, the parking is free at Mojacar Playa. But come mid-summer, it can be quite unnerving to find a parking space. Traffic jams along the narrow beach road AL-5107 are common and it is recommended to stick to the back roads if possible. Suffice to say, you would be better off arriving early in the morning if you are driving and stroll to the beach along the beautiful avenues.