Nerja is one of the most sought-after destinations on the Costa del Sol. Its popularity can be traced all the way back to the first bucket and spade tourists who began to grace Spain's sunny shores in the 1960s. Despite this fame, it has managed to maintain its traditional charm.
Architecturally speaking, many parts of Nerja's old town still feel exactly the same way they did before the tourism and real estate booms, with a quaint Spanish fishing village lying just beneath the surface. Notwithstanding, this popularity has meant the development of amenities and lots of them. Today, Nerja has everything you'd want and then some.
At last count there were over 300 restaurants. To provide a best-of list is a near enough impossible task. Everyone has their favourites. Here are 10 of ours.
As with our
best things to do in Nerja
and our
guide to Nerja's beaches
, we used plenty of local knowledge, and cross checked our favourites with local foodies. A special thanks to Karin and Monika from Casa Select Andalucia and Andrew from explorenerja.com.
The restaurants below are listed in no particular order.
Restaurant Oliva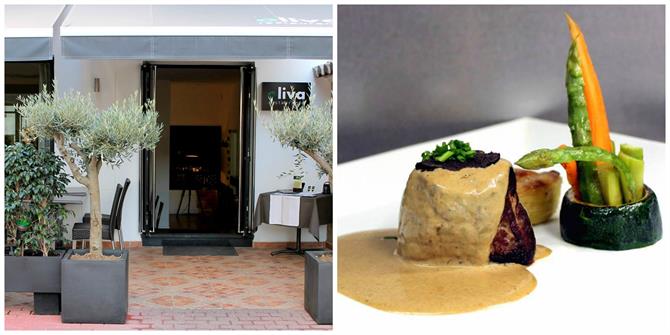 The
Oliva restaurant
always receives rave reviews and with good reason. The
Patronato de Turismo de Malaga
just voted them as being amongst the best restaurants on Costa del Sol. Opened in 2011, by Carlos Pardo and Kim Ranzaijin, Oliva is situated just a stone's throw from the
Balcon de Europa
.
Traditional Mediterranean cuisine with a modern twist. The decor is very trendy and minimalist, with a large terrace for alfresco dining. Scene setting chillout music is often playing in the background. Quite simply, Oliva has class.
Recommended - The menu is short and seasonal, with most of the ingredients locally sourced. Smoked salmon bombón, steak in a mushroom and black truffle sauce and the dish that can't be missed, is the house specialty the Atun Rojo de Albambrada - red tuna from Cádiz.
Opening times and address -
Open daily from 13.00 to 16.00 and from 19.00 to 23.00. Plaza de España n.2, Nerja. Tel. 952 52 29 88.
Website
.
Tapas Plaza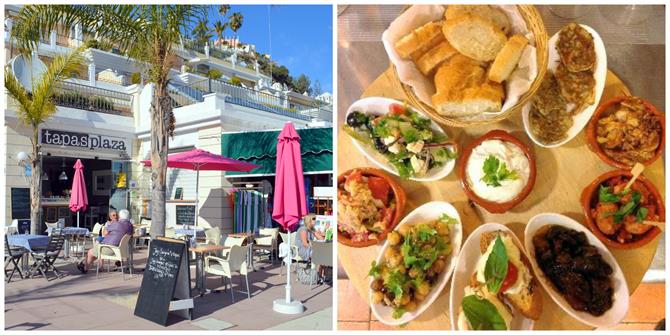 Husband and wife team, Johan and Jeannette, have recently moved to this prime location just in front of
Burriana beach
. No strangers to the Nerja culinary scene, they previously ran the successful
Sabor de Amor
. The new and stylish beach-bar-cum-restaurant offers a
fusion of Thai, Indonesian and Western specialities
. From simple tomato and mozzarella salads to Thai green curries. You couldn't hope for a more varied menu. As one of their more popular reviews on Tripadvisor states, "you can clearly taste the love that has gone into the cooking". A little piece of Asia on the Costa del Sol. And right on Burriana beach. Need I say more?
Recommended - If you go for tapas, you'll be back for dinner. Chicken satay, hot and sour soup, nasi goreng, Thai pork stew….the list is almost endless and it's all good.
Opening times and address - open daily from 12.00 to 18.00 and from 19.00 to 23.00. Tuesdays closed. Paseo Burriana Edf. HC Burriana, local 1A. Tel. 665 454 431.
Maria Bonita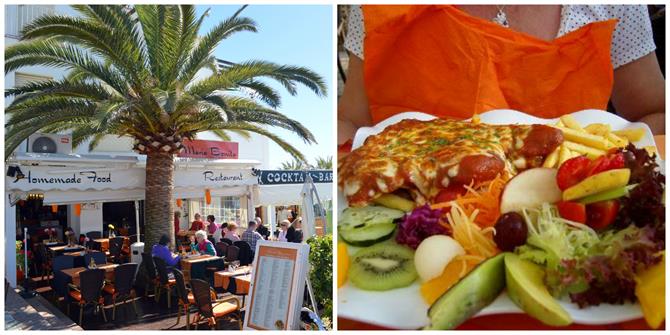 If wanting great food, at great prices and with unbeatable sea views, then Maria Bonita is the place for you. Any closer to the sea and you'd be in it. Situated on the stylish Plaza de los Cangrejos and within easy walking distance from Nerja's main beaches. The menu is varied and offers something for everyone. The portions are renowned for their size. Big. Very big. Prices are also reasonable.
All of the dishes are carefully presented and freshly cooked.
Recommended - A large variety of salads, meat and seafood dishes. The seafood Paella is their flagship dish. The tuna fish steak is also recommended.
Opening times and address - from 12.00 to 23.00 daily. Closed on Tuesdays during the winter months. Avenida Castilla Pérez, 21 (Plaza de los Cangrejos), Nerja. Tel. 952 520 213.
Vitaliano Da Christina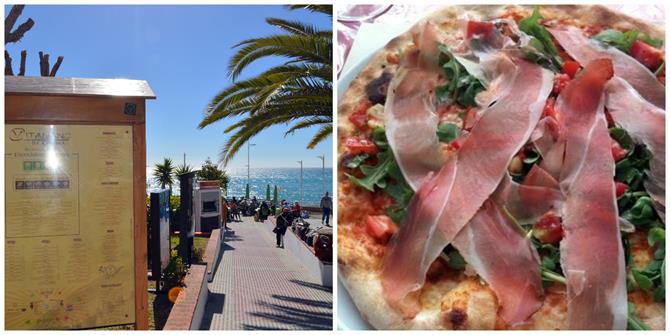 Vitaliano Restaurant, also known as Vitaliano Da Christina - Vitaliano by Christina is the restaurant to have traditional Italian cooking. After years working in catering, Italian chef Christina, turned her dream into reality and founded Vitaliano's. Two more Italian chefs, Massimo and Giggi complete the team. Pasta, pizza and everything else in-between.
Recommended - The food is freshly made, the ingredients locally sourced and the result will have you coming back for more. The pasta is quite simply outstanding and with the Salsa Alla Marinera (mariner's sauce) the final results are extraordinary. Pasta and pizzas aside, you also have a selection of fish and meat dishes. There's a cheaper/smaller children's menu for the younger members of the family.
Opening times and address - from 12.00 until 23.00 daily. Closed on Thursdays. Plaza de los Cangrejos, s/n, Nerja. Tel. 952 52 83 41.
Au Petit Paris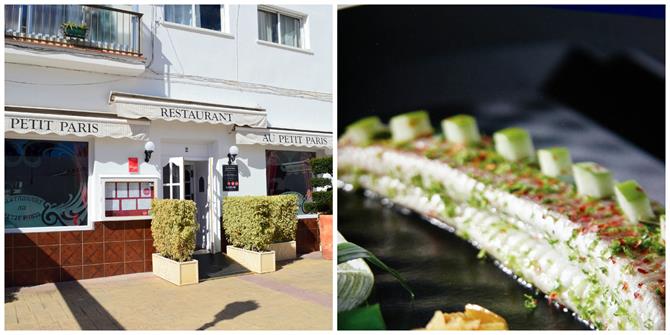 The Michelin Guide has recommended Au Petit Paris every year since 2012. The small, almost retro decorated restaurant is most definitely French, with black and white photographs from Paris adjourning the walls.
Au Petit Paris is run by Alain and Francoise. The food is outstanding. Traditional French cuisine at its best. Ingredients are seasonal and locally sourced. Every dish is loving prepared, with as Alain states 'the difference being in the sauces.'
The sauces of classical French cuisine are world famous and Alain does them justice. Combined with fresh and locally grown ingredients, the results are spectacular. Au Petit Paris is the place to come if looking for a quiet, romantic and unforgettable dinner.
Recommended - Homemade foie gras with apricot chutney and ginger, the steak tartar and the cod filet and potatoes in Provencal style.
Opening times and address - 19.00 until 20.30 Monday to Saturday, closed on Sundays. Calle Malaga, Edf. Cuarto Caminos, Nerja. Tel. 649 838 227.
Cafeteria Joanny
Joanny's has a history. Over 25 years of it. A favourite with locals and foreigners alike. If looking for good wholesome food at great prices, look no further. Price/quality is outstanding. Over the years, Cafeteria Joanny has built up a loyal band of regulars.
Freshly made, locally sourced and very reasonable prices have ensured this one is a success and has remained so for over 25 years.
Recommended - Plenty of traditional favourites such as omelettes, salads (try Joanny's house salad), breaded chicken breasts and Paella. The Paella and Cazuela de Fideos are recommended.
Opening times and address - Open daily from early until late. Plaza de Olvido, Nerja,
Restaurant 34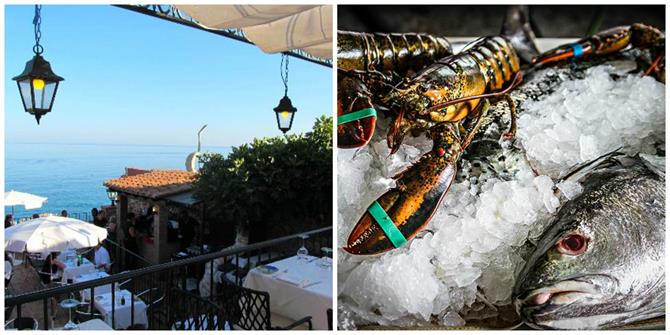 Restaurant 34 and Tapas Bar 34 are both part of Hotel Carabeo. A hotel that is situated in an unbeatable location, right in the heart of Nerja's old fishing neighbourhood and commanding spectacular views of Carabeo beach. Sea views don't come better than this.
The restaurant itself is luxurious and specialises in local Mediterranean dishes. Most of the fruit and vegetables are sourced from their own organic farm. Prices tend to be slightly higher than other restaurants on this list, but the quality is exceptional.
The neighbouring and less formal Tapas Bar 34 is a popular haunt during the summer months. With terraces that spill over into the adjoining pedestrianised streets, you are guaranteed an eventful evening.
Recommended - The goat's cheese salad with sundried tomatoes & walnuts, "Carrilleras" of Pork "34" traditional Spanish pork dish with cauliflower purée, asparagus & Málaga wine, Gratinated cod with Manchego cheese and a white wine, lemon & spring onion sauce, on a bed of spinach.
Opening times and address -
C/ Hernando de Carabeo, 34, 29780 Nerja. Tel. 952 52 54 44.
Website
.
Sekai Japanese Restaurant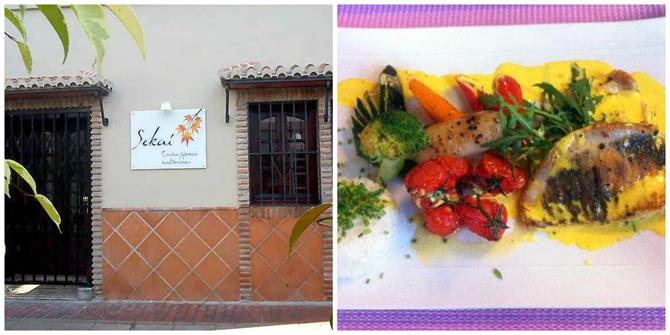 Sekai is at the cutting edge of a new style of Japanese cooking, where a traditional, minimal approach is fused with traditional Mediterranean cooking. A Japanese and Mediterranean fusion that works surprisingly well. So many flavours in a single course feels almost crazily luxurious.
Sekai has fast become one of Nerja's most fashionable restaurants for those in the know.
Recommended dishes -
The sushi is first rate (try the tuna and sea-bass sushi), as are some of the more traditional Mediterranean dishes - the seasonal roasted vegetables with basil was fantastic.
An intimate setting and well worth a visit for a more romantic meal.
Opening

times and

address -
Lunch from 13.00 until 15.30 and dinner from 19.00 until 23.30. Closed on Mondays. Castilla Perez 24, 29780 Nerja. Tel. 952 523 729.
Stephan's Wirtshaus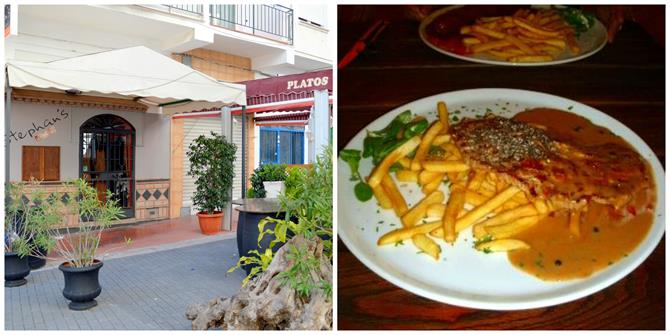 Hearty German food and large portions are what you'll find at Stephan's Wirtshaus. A unmistakably German restaurant situated at the corner of Calle Málaga and Calle Doctor Fleming. The food, beers and service are great. The theme is most definitely Bavarian, even the waiters are kitted out in Lederhosen. Price/quality is fantastic and the restaurant does get busy. Reservations are recommended during the summer months.
Recommended - all the German classics, sausages with Sauerkrautsour (sour cabbage), the steaks and German beers.
Opening times and address - Plaza Doctor Fleming, Calle Malaga, Nerja. Tel. 680 933 357.
Lan Sang Restaurant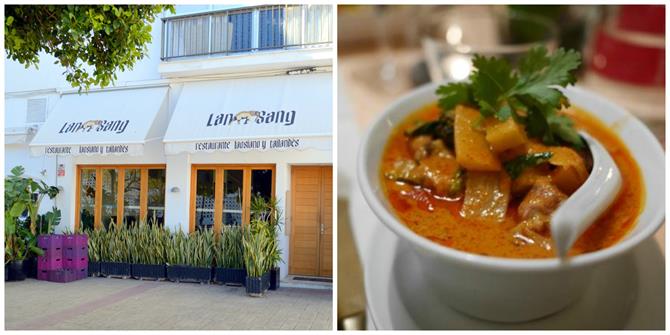 Lan Sang specialises in traditional Lao and Thai cuisine. The food is fantastic and offers some unusual dishes. Thai cuisine doesn't need any introduction and is far more popular and recognized than Laotian. In general, Laotian cuisine is spicier, with a healthy combination of roasted fresh chili paste and fermented shrimp paste; flavored with galangal, lemongrass and Laotian fish sauce; sweet and spicy sausages and all combined with locally sourced ingredients.
Situated right in the centre of Nerja, it's been one of the most popular restaurants for years. So much so, that they have just opened a new Thai rice and noodle bar next to Burriana beach - WaiWai Wok and an adjoining bar/restaurant Yuu Taley (which literally means "at the beach" in Lao and Thai), serving Lao inspired tapas and sushi.
Recommended - the Larb Salad - a Laotian style chicken with dry chili and lemongrass, Muu Curry Deang Red - pork curry with sweet basil, vegetables and coconut milk, and the Pad Thai - spicy stir fry noodles with chicken, pork or seafood with spring onion, peanuts and bean sprouts.
Opening times and address - between 13.00 and 15.00 for lunch and dinner is from 19.30 until 23.00. The restaurant is closed for Sunday lunch and all day Monday. Calle Málaga, 12, Edifico Cuatro Caminos, Nerja. Tel. 952 528 053 / 652 055 887. Website.