About Carabeillo beach
Another one of the Nerja's favourite beaches and one of the most picturesque in the area. There's no doubt about it, Playa Carabeillo is special.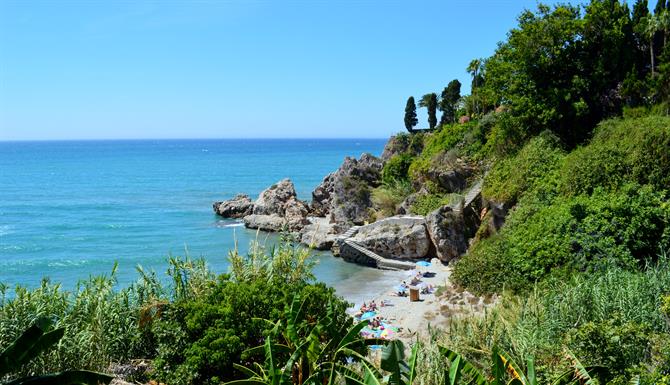 The cove-shaped beach, backed by cliffs and surrounded by lush vegetation looks like something straight out of a tropical island. Alas no, its in the centre of Nerja, within easy walking distance from the Balcón de Europa.
Here's what to expect.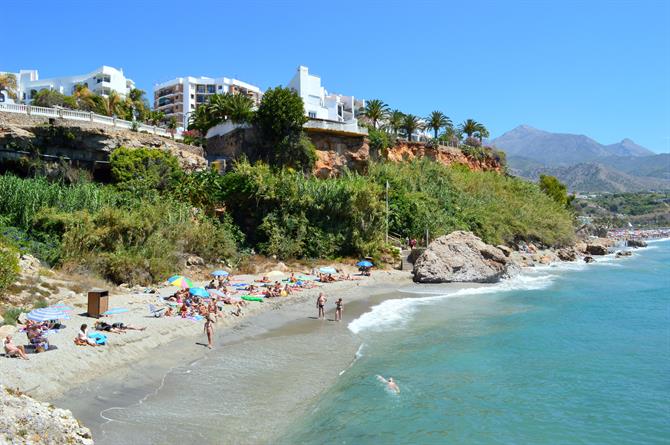 Amentities
Carabeillo beach is approximately 70m in length and about 10m in width. It consists of dark, coarse sand and pebbles. There are several large rocky outcrops, including sections of the old Paseo de los Carabineros, that you can climb, or sit behind, if looking for a quiet spot.
The local youngsters also use them to dive and jump off. Always check the water depth before doing so, there have been numerous accidents here. Some with truly tragic consequences.
Despite being an urban beach, Carabeillo offers very few amenities, showers, toilets and lifeguards during the summer months. Restaurants and bars are only a short walk away though, on Burriana beach or back up the stairs nearer to the town centre.
Getting to Carabeillo beach
The beach can only be reached by foot. The easiest way is to follow Calle Carabeillo and take the steps that sit parallel to theMirador del Bendito. Be warned, they are steep and not suitable for people with mobility problems. Tide permitting, you can also walk fairly easily from Burriana beach.
Parking around here is very difficult. If you're lucky you can drive and park in the town centre, but free parking is limited. Very limited during the summer months.
For additional information on Nerja's beaches, see our definitive Nerja beach guide.
Map of Carabeillo beach