Discover a pearl-necklace-like string of coves tucked away at the base of the Maro cliffs to the east of Nerja. These are the very opposite of the more built-up beaches to the resort's west. Facilities are conspicuous by their absence with the appeal lying in this stretch of shore's natural beauty over any man-made attractions.
Cala del Pino
A near 10-km, 15-minute drive will transport you from the bustling resort of Nerja to the altogether more sedate 350m-long Playa Cala del Pino. Dirt-track accessible, Pinetree Cove is as beautiful as its name. This blue-flag beach is mainly gravel in composition and moderate of wave. Visitors are rewarded in having to go out of their way to get here as the Mediterranean has never looked so inviting by the time you finally arrive.
El Cañuelo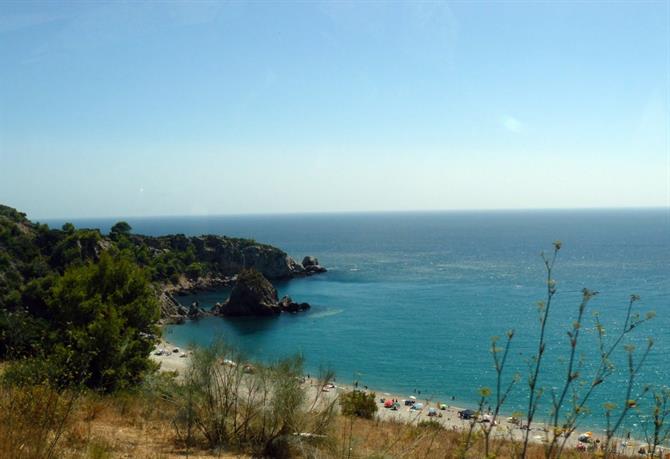 Reach Playa El Cañuelo, considered to be one of the finest beaches on the whole of the Costa del Sol, by turning off the N-340 just after the KM-420 sign. As it's located in a protected nature reserve, you'll have to leave your vehicle at the top of the cliff. Descend by foot or on one of the regularish shuttle minibuses.
It's a great beach to snorkel at, to see the marine life at first hand. Another place to get up close and personal with fish and their under-the-sea companions is at one of the two chiringuitos this beach has to offer - on a plate. These beach bars offer the freshest seafood, at prices noticeably lower than your average resort restaurant.
Las Alberquillas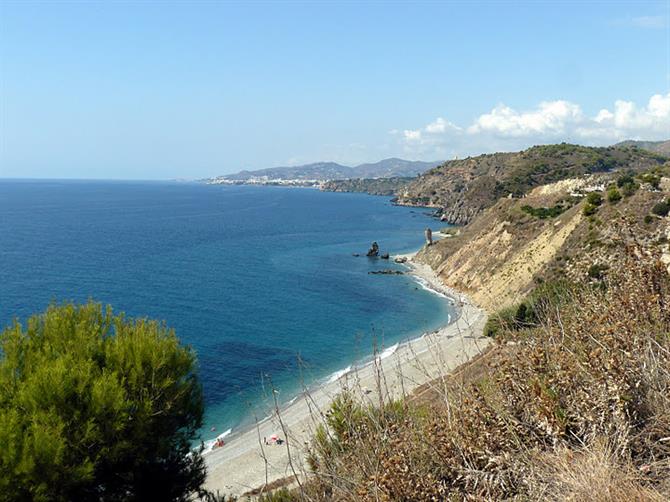 All aboard the Mediterranean Express(way) aka the N-340 for another of Nerja's hidden beaches, Playa de las Alberquillas. Despite being an isolated beach, there are rubbish bins here which are emptied regularly. In truth, though, it's the infrequency of visitors which is just as important in keeping the beach so pristine.
Crystal-clear waters make a swim here even more inviting. Situated in the Parque Nacional de los Acantilados de Maro, Las Alberquillas' setting is an unspolit one. Lay back and think of nothing in beautiful Andalusia.
Molino de Papel
Deriving its name from the ruins of a building which used to be a paper factory, Playa Molino de Papel boasts a car park which is rarely if ever full. The delightfully-sounding Rio de la Miel (Honey River) flows into the sea at this beach. Along with the Arroyo de los Colmenarejos stream.
At 400 metres long and 15 metres wide, thankfully this beach is difficult to get to which means it's never crowded. The lack of services reflect this. Which makes it feel a world away from the considerably more built-up Nerja.