Torrecilla beach is most probably Nerja's most recognised and loved beach after Burriana.
It was consistently awarded the Blue Flag and the 'Q flag' Q for quality by the Spanish authorities.
About Torrecilla beach
The beach consists of coarse dark sand and pebbles. It is 300 metres in length and approximately 40 metres wide. Being so conveniently located, the beach can get busy during the summer months.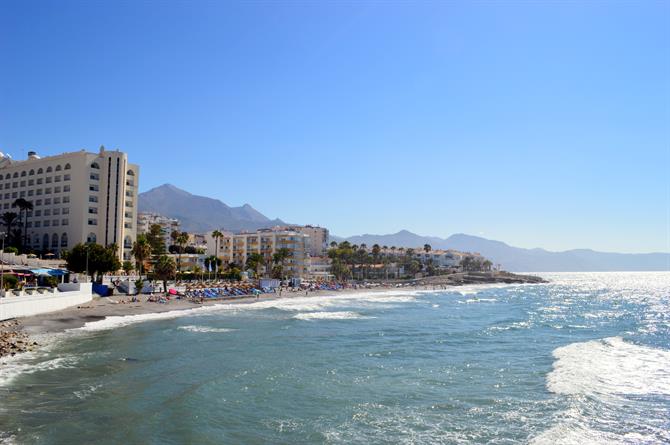 The promenade runs from El Chucho at one end - starting at the old Moorish watchtower - and runs all the way to the base of Plaza de los Cangrejos.
There are no less than five entrances to the beach. One at each end and three more throughout the length of the beach's promenade .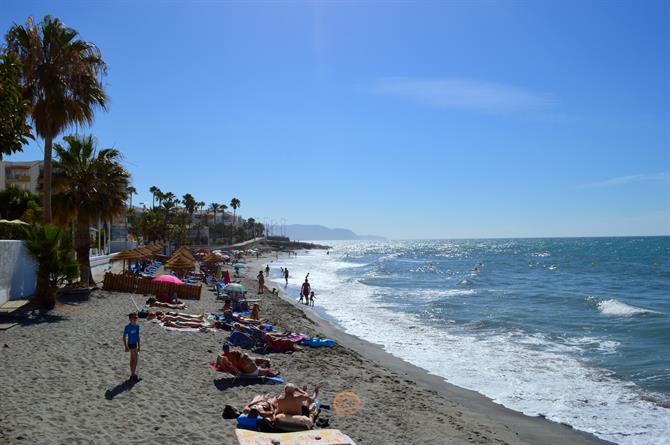 Amenities
As far as amenities go, Torrecilla has everything you'd want and more. Bars, restaurants, kiosks and shops.
There are two reasonably priced restaurants/chiringuitos situated at either end of the promenade - Chiringuito Torrecilla 3 (tel. 687 846092) and Merendero Cobos (tel. 952 526965). There are also numerous other restaurants within a very short walk from the beach, particularly around Plaza Fabrica de los Cangrejos and on Avenida Mediterraneo.
Toilets, showers, lifeguards, disabled access, sunbed rentals and even a small 'beach library.' You can borrow books to read on the beach. All you need is some form of identification.
There is no immediate parking other than that which is available in the nearby streets of the town, which can be difficult to find at the height of summer. Paid parking or walking are the best options.
For more beaches in the Nerja area, be sure to check out our definitive guide to Nerja's beaches.
Map of Torrecilla beach