This is our second and final adventure through the lands of Ribeiro. We will start off by reminiscing about Galicia's fascinating Castrexo past, visit a rural jewel restored as a touristic destination; follow the tracks of the region's Romanesque architecture; and end our trip with a visit to Ribadavia, the capital.
Visiting the Castros of San Cibrao de Las
Notable characteristics of this area are the forts or castles, castros. While visiting, we can tell that the northwestern peninsula seems to have been a good place to live for thousands of years.
Seen from the present day, what is surprising is not that hundreds of forts have survived, but that some have been restored. The treatment of Galician monumental heritages (also including the natural and scenic ones, but that's another story) over the centuries has been rather unfortunate.
In the best case scenario people would walk off with stones from the forts; at worst, megalithic tombs would be smashed by people looking for hidden treasures.
Returning to the world of castros, there is an interpretive centre that welcomes visitors at the entrance of the fort of San Cibrao de Las, allowing one to get to know the enigmatic story of the people who lived in Galicia before the arrival of the Romans a little better.
Understanding origins is what allows us to advance in many ways, and we all know that those who forget their history are doomed to repeat it.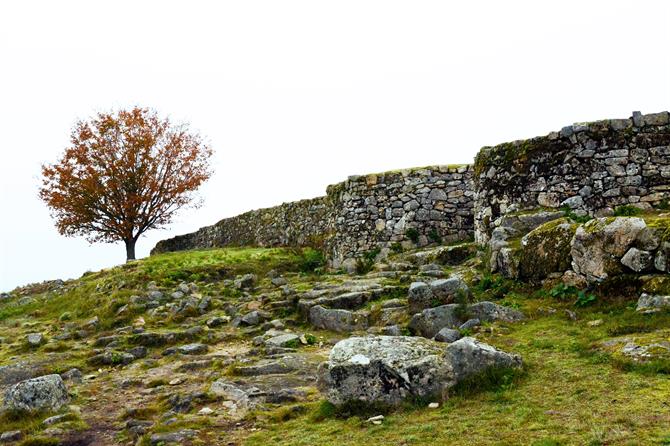 The Citania or the city of Lámbrica is a name that appears in the city known as Ara de Eiras; this also names the fort that is perched on a hill almost 500 metres high. The fort has two defensive walls and an acropolis. While it is less well known than other emblematic castros, such as Baroña or Santa Tecla, its large size will allow for the discovery of new secrets of castro culture in future excavations.
Pazos de Arenteiro: A trip into the 11th century
At 20 minutes from San Cibrao de Las lies a gem of rural tourism, Pazos de Arenteiro. The place is stunning, perched on the side of a mountain with the Avia and Arenteiro rivers just a stone's throw away.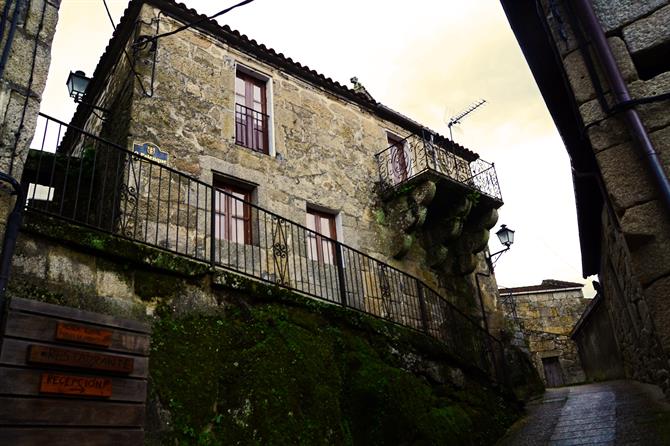 The extraordinary palatial architecture clearly speaks of a village surprised by the unexpected wealth generated by the region's wines hundreds of years before the idea of Denominación de Origen - classifying a wine or other product by its origin - occurred to anyone.
The rural village pays special attention to all that is culinary, investing in local cuisine and products grown in the town's organic garden. Hiking, wine tastings and courses, as well as many other activities related to rural life are some of the available activity options.
Romanesque route to Pazos de Arenteiro
Pazos de Arenteiro has its own temple, of course. It is a great Romanesque church that belonged to the Order of Malta. Most palaces are grouped around here, including Casa de Arriba, Casa e Granxa do Moto, Pazo de Cervela, Pazo do Currelo, Pazo Feixó, Pazo de Laxas and Pazo Tizón. There is no doubt that the ecclesiastical heritage represents a huge attraction of the area.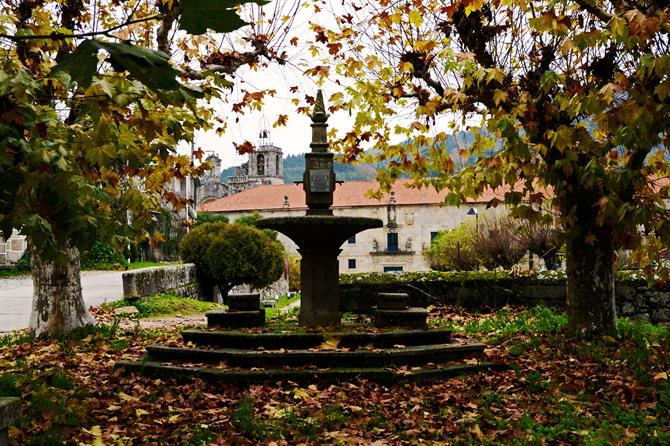 Although Ribeira Sacra, a Spanish Denominación de Origen, might come to mind first when there is talk of a romantic route through Ourense, Ribeiro also holds treasures capable of enthusing art lovers, starting out with the ancient monastery of San Clodio, in Leiro.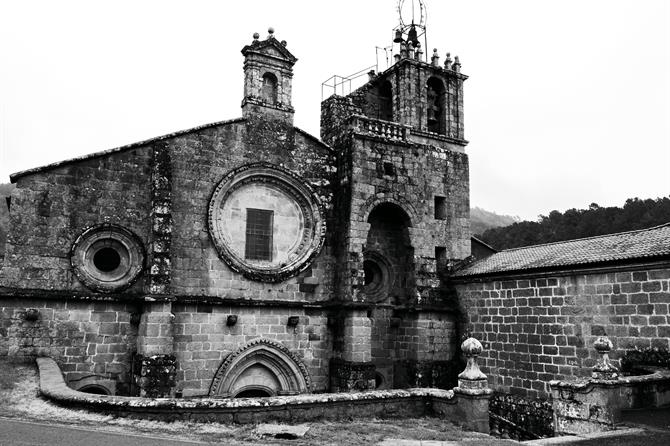 Although the beginnings of the convent are unsure, it is known that the Cistercian Order entered in 1225. That is to say, the same Order as that of Oseira, as we might recall from our previous article on the Ribeiro region. This explains the undisputed leadership of San Clodio in introducing grape vines and wine production throughout the region.
Expertly restored, the monastery is not far from the centre of Leiro. It is precisely in a section of Avia that passes through Leiro where the photo below was taken of the elegant cormorant bird that decided to join a stretch of the walk.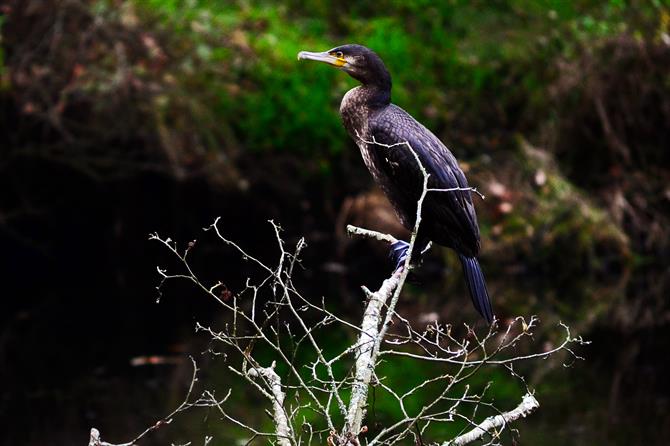 To discover the huge number of shrines, chapels and churches that dot the region, it is best to walk along and find them spontaneously. There are a lot of temples that have a Romanesque base, many also showing evidence of expansions or restorations during later periods. In any case, all are inspired by an undeniable Romanesque spirit.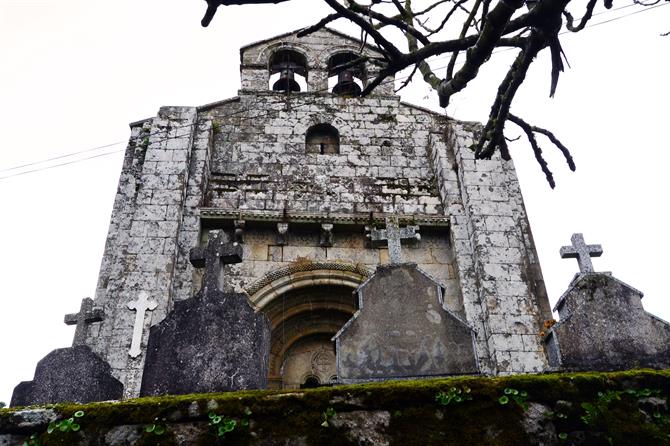 The municipality of Boborás is notable visiting point, with many churches of great artistic value. Among others, there is the church of San Martiño of Cameixa, which has a magnificent Romanesque apse and sundial. The church of San Xiao de Astureses, with a rectangular apse, was built by the Templars, who also take credit for the church of San Mamede de Moldes.
Castrelo de Miño, San Amaro, Leiro, Ribadavia and the rest of the municipalities of the area equally conceal Romanesque gems that are worth visiting.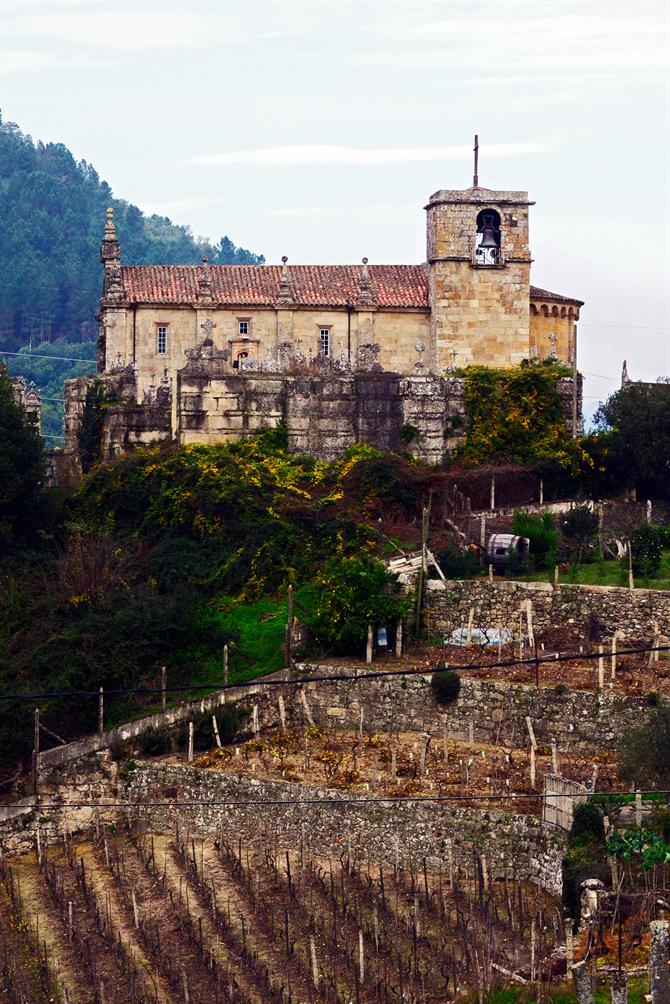 Wine route
Ribeiro's wines are experiencing a genuine boom throughout the world, but if anything should be highlighted about the region's wine production is that they are not newcomers to the sector. There are about a dozen wineries, which include the small and familiar ones, along with big brands competing on the international market.
Below is a small list of wineries in case you would like to book a visit to learn more about the fascinating world of Galician wine:
Val de Souto (Castrelo de Miño, +34 636 024 205)
Valdavia (Cenlle, +34 669 892 681)
Viña Costeira (Ribadavia, +34 988 477 210)
Pazo Tizón (Pazos de Arenteiro, Boboras, +34 902 120 915)
Val do Deva (Cortegada, +34 660 722 734)
Pousadoiro (Castrelo of Minho, +34 667 568 029)
Ribadavia: The 11th century Galician capital
Under no circumstances could we say goodbye to the Ribeiro region without visiting its capital, Ribadavia. Something to mention: expect horrific buildings that you will meet you at the entrance of the town, especially if you are coming from Vigo on the A-52. As in many other towns in Galicia and Spain, Franco left behind a monstrous aesthetic legacy.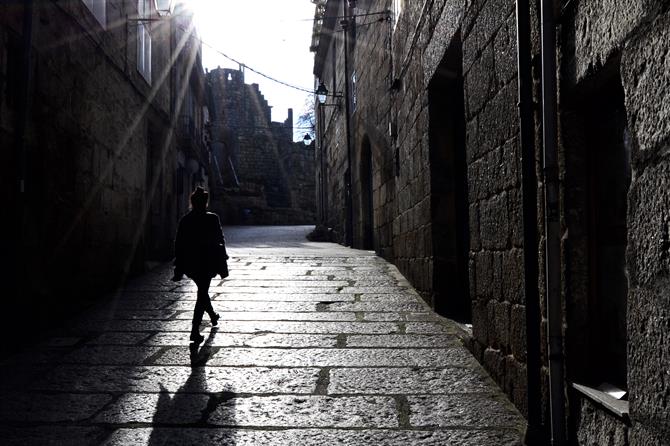 Driving into the city is much like passing through the layers of an onion until we reach the heart of Ribadavia, home to none other than its Jewish neighbourhood.
This historic area is one of the most important in all of Galicia and is superior, in terms of historical value, in comparison to other Galician cities that are nearly100 times the population of Ribadavia. Unsurprisingly, Ribadavia was the capital of the Kingdom of Galicia in the late eleventh century, under the reign of García I.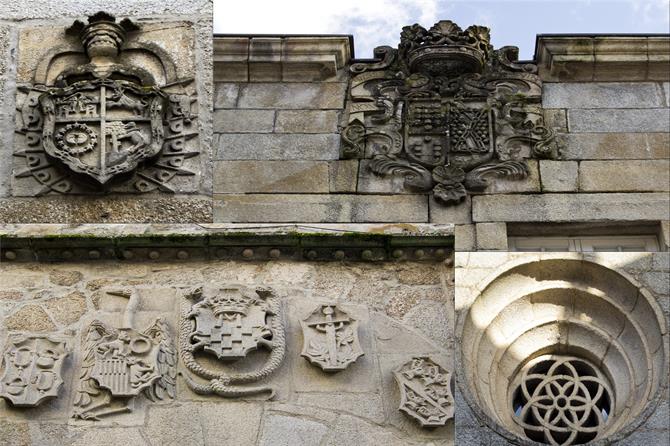 While it is true that the city was left to languish for a long time, the old Jewish quarter was able to hold onto an impressive catalog of charms that it displays today. Make sure to explore the ancient streets, arcaded squares, emblazoned buildings, and more.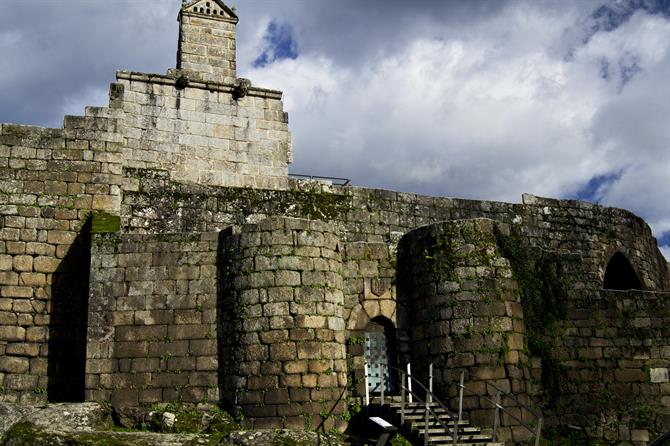 Among its broad religious heritage there are two convents: that of Santo Domingo and that of San Francisco. There are also the churches of Santiago, San Juan and Santa María. In terms of civil architecture, we must also mention the castle, located right in the city centre, and Pazo de Baamonde.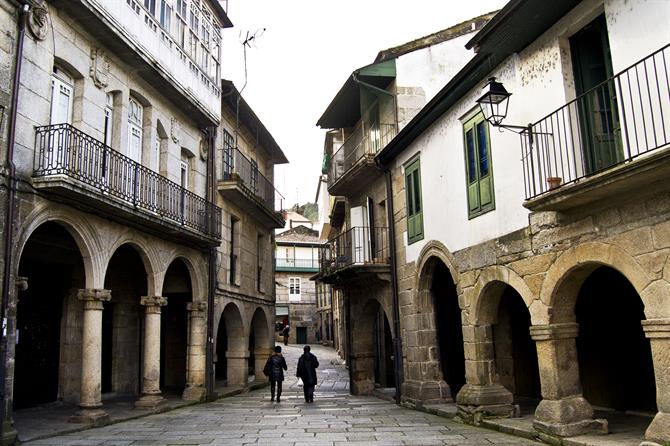 Although any moment of the year is a good time to visit Ribadavia, the town acquires a singular effervescence at certain times. Festa da Istoria, held the last weekend in August, attracts thousands of visitors from all of Galicia.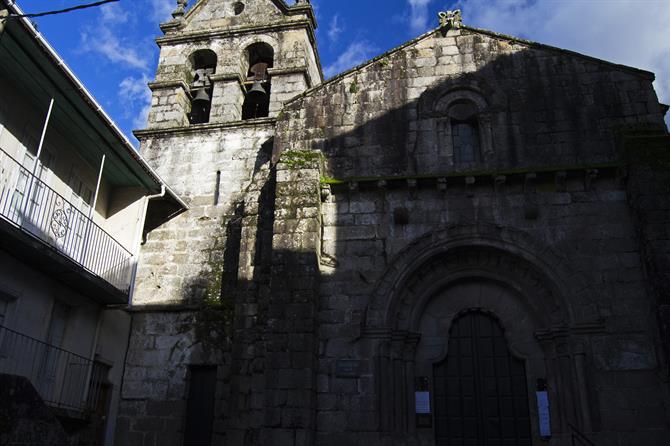 During this period, the most glorious days of Ribadavia are recreated: medieval tournaments, Jewish weddings and dinners, games of chess with human pieces. The fiesta prints its own currency: el maravedí. And most of the people attending (and we're talking about thousands) go disguised or dressed in period dress, which is to say that everyone has a good time.
Other relevant events in the calendar include Feira do Viño do Ribeiro, the Riberio Wine Festival, which is held annually in late April or early May, and Festival Internacional de Teatro, the International Theatre Festival held in the month of July.
Map