The
Costa Brava
may be famous for its pretty little beaches and coves, but the small, beautiful village of Pals offers visitors a
fantastic sandy beach
to enjoy. It is called
Platja de Pals
('Beach of Pals' in Catalan) and is one of the longest beaches on the Costa Brava (3.5 km in total). It has
two parts
with different names. One is referred to as
Platja Gran
and the other as
Platja del Grau
.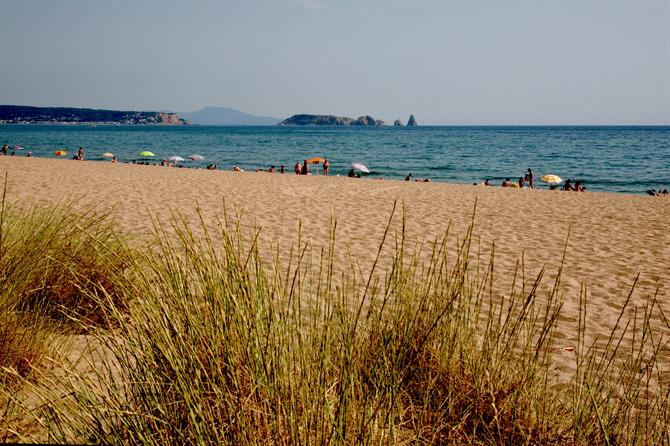 With pretty pine forests, dunes and reeds on one side and wonderful views over the Medes Islands on the other, Platja de Pals is a spectacular beauty. Its long stretch of fine golden sand is 70 metres wide on average and provides an excellent space to play beach volleyball and other games.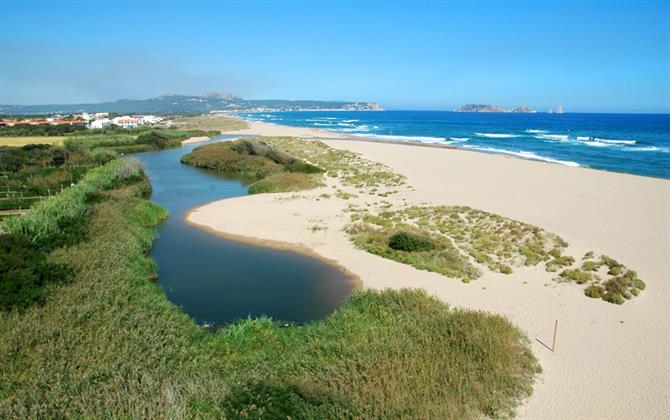 Wetlands and rice fields also run along the beach. These unique ecosystems offer an interesting route, starting from the information centre in Basses d'en Coll.
Platja de Pals is a great beach for young people who like to be active or families. There's also a part for nudists in the part called Platja Gran.
The average quality rating of this beach by the Catalan Water Agency is usually excellent. This agency tests the quality of the water regularly.
Beach facilities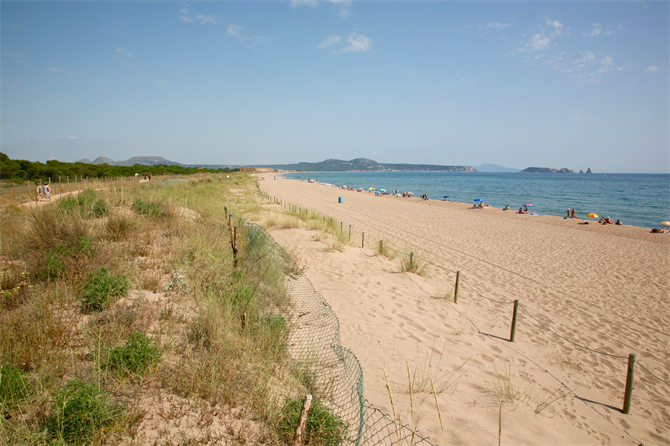 Platja de Pals has no beach promenade but protected dunes and walkways. On the beach there are enough facilities to make sure you spend a careless day in the sun: showers, public toilets, a tourist information stand (Platja Gran) and parking areas. It has disabled access too.
There are waste bins to keep this beach clean with lifeguards and cleaning services present every day during the summer months. Several bars are spread out along the beach, so you can enjoy the great panoramic views with a drink or something to eat.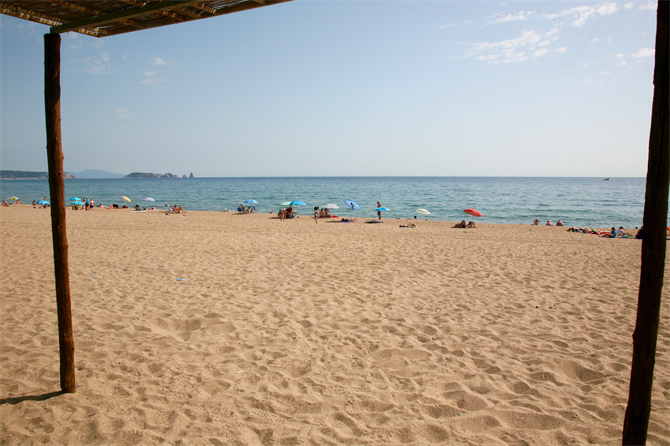 If you are looking for sunbeds to rent, you can find those in the part called Platja del Grau. This is also the beach to go to if you wish to take sailing classes.
If you can,
book a Pals holiday
and enjoy the beauty of this beach outside the busier summer months. September and October are usually great, as the weather is good and the water is still warm after a long hot summer.
Watersports and boat trips
The Medes Islands are not only beautiful to watch from the beach, you can also go there on a boat trip. You can even dive there if you are up for some action.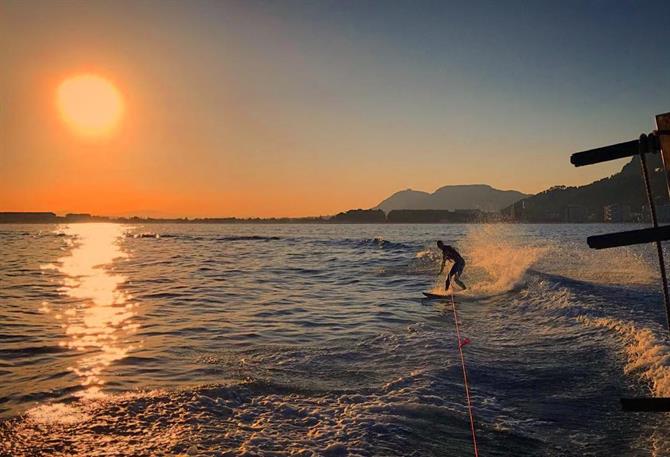 Although you may not expect it in this area, Platja de Pals is a good place to enjoy watersports. The Levante or Tramontana winds can sometimes bring about waves which are good enough for surfing, windsurfing or kite surfing. Platja de Pals is also popular with people who like to go sailing. The currents can be quite strong, something to keep in mind especially if you visit this beach with small children.
A special golf club
Along the northern part of the beach you will find the Platja de Pals Golf club. This is actually the oldest course on the Costa Brava and also one of the trickiest, as there are many trees and bunkers.
Platja Gran and Platja del Grau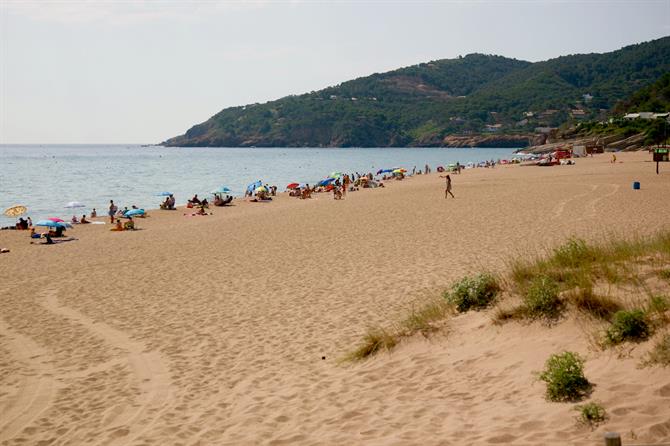 Now, what is the difference between the two parts of this beach: Platja del Grau and Platja Gran?
Platja del Grau
There's Platja del Grau - the most northern part - which is nice and quiet with shallow water and fine golden sand which is perfect for families. The Rec del Molí river mouth forms a natural border between this beach and the next, La Fonollera (l'Estartit). It runs from there to the golf area.
Platja Gran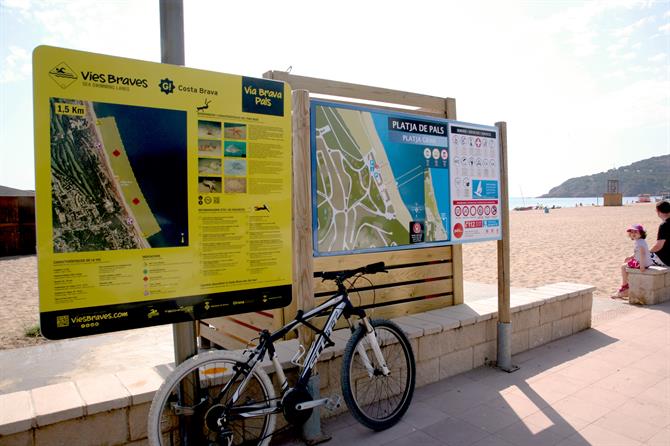 To the south there is Platja Gran which has coarser sand. The water becomes deep quite quickly (within the first 2 or 3 metres), which makes this beach less suited for families with children.
Platja Gran is the most untouched and has a large nudist zone, in front of its natural area with the site where Radio Liberty used to broadcast from. This American broadcasting base was financed by the CIA and transmitted propaganda to the communist countries of Eastern Europe. Nowadays, the radio masts are no longer there but Radio Liberty is historically the reason for the division of Platja de Pals and has also helped to keep this beach so beautifully untouched.
Surrounding area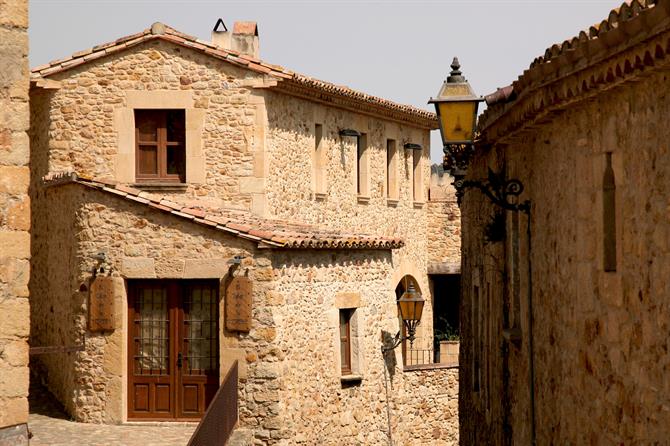 Platja del Racó
begins south of Pals and is the widest beach of
Begur
. If you walk past the rocky point (Punta Espinuda) at the south end, you will reach a beautiful secluded beach surrounded by cliffs, which is also nudist. It's called
Illa Roja
and belongs to
Begur, with beautiful beach villas
you can choose to rent for your holiday.
Platja de Pals is just 3 kilometres from the village of Pals. It has easy access from the coast road and parking is not usually a problem. The distance to Girona is about 45 km.
Map