A week away
Booked the Costa Almería for your summer holiday this year? Good choice. And there is a choice. Resorts, the bustling city itself, inland villages and small towns. But everyone likes a day beside the seaside, perhaps you've booked your entire stay doing just that? Take a second look at Roquetas de Mar, it's quite surprising - and more Spanish than you might think.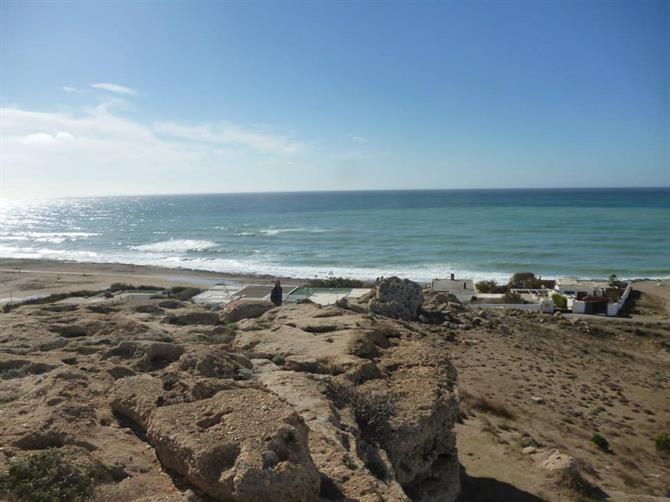 Not a hardship
A recent message from a cousin in wet and grey Ireland asking whether I would join her for a week by the beach in Roquetas didn't take much consideration on my part. Living in the remote mountains I love a chance to stretch out on the beach, and just like a sharp pebble, I need the occasional break there to work some magic and round off my sharp edges...!
So earlier this month I met her at Almería airport and we travelled the short distance to Roquetas de Mar, half an hour or so, where we had bagged some self catering accommodation for the week.
No chips!
We spent the week in the immediate area, in the barrio of Buena Vista, close to the port and castle. We were happy to do this having already explored 'out and about' at other times. I have to confess, though, I thought there might be a plethora of English or Irish 'theme' bars but there weren't. Great! If that's your thing, all well and good, but we were looking for a relaxing and fairly Spanish resort and that's exactly what we got.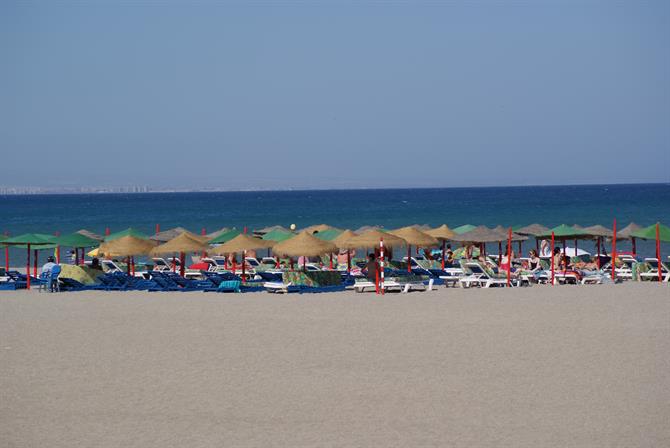 Tapas
Food - both tapas and meals from the menu - were 90% seafood, perfect! Hauled in each morning from the busy port area, just 20 minutes stroll - we made a good effort in depleting their catch. A tapa and a drink came in at €2 - €2.50 at any of the many seafront bars - which were mostly relaxed affairs. Everywhere we went was a 'choose your own tapas' too - great if you both fancy something different. Meals were around €25 per head in the evening with wine, but Menu del Dia during the daytime came in at around €10.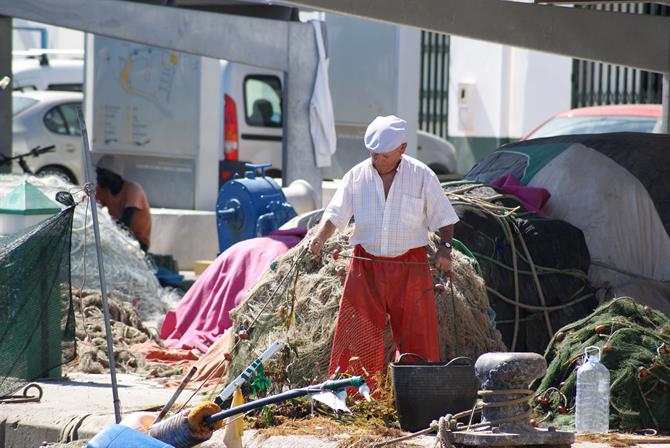 Mornings
Off to the beach! Grab a coffee and a tostada, or a delicious freshly squeezed smoothie (€4) from the local chiringuito. Sit and slurp with a view of the beach spread before you - then head down to the water's edge.
The beach. La Bajadilla. So wide - 80 metres - and long - 1300 metres - that it's front line all the way - a million people would never fill it! Dredged and cleaned every single night, it's serviced with bins, showers, board-walks, and lifeguards. Rental beds and parasols were €7 per day, but the fine pebble is comfortable to lie on. There are regularly spaced children's play areas, and I noticed a special wheelchair accessibility spot too, with a permanent covering of shade, right by the sea.
Not sand, but very fine pebble makes up the beach, and the surf is pretty high.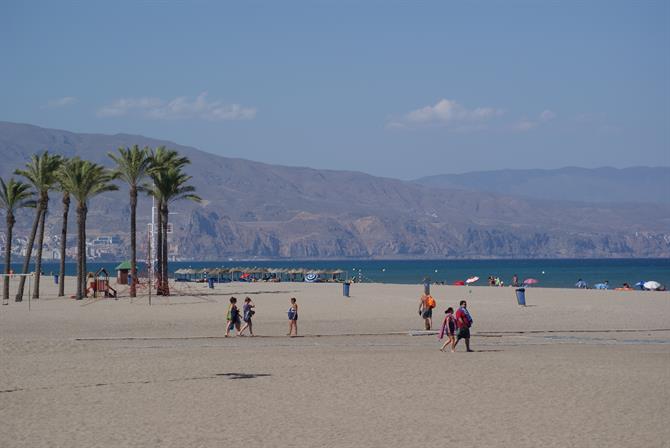 Evenings
From dusk, the long stretch of promenade is full of traffic. Just the pedestrian sort! Dressed up for the evening, entire families walking, riding bikes (a separate cycle path) and strolling, choosing the evening meal, or having one of the many flavours of ice cream. Little tented areas of artisan products pop up, lit by fairy-lights, selling clothes, hand-made jewellery, and paintings.
Night-life is quiet here, if you discount the sound of entertainment coming from the beach-front hotels. We found everything wound up around 11pm. Roquetas de Mar is in no way a loud night time resort, but is ideal for families with young children or older holiday-makers.
To do
There are things to do in the immediate area, if you don't want a week of total relaxation like we did.
Shop 'til you drop at Gran Plaza (Sales are still on right now)
Ride the water at Mario Park - great fun for all the family.
Visit the port area. Call down in the morning to see the catch being brought in.Or just admire the moored yachts.
See the castle in the same area, pretty at night with all the lights on - there was also an art exhibition on whilst we were there. More artisan stalls there too open in the evenings.
Go to the aquarium - right next to Mario Park. Not huge but interesting.
Play golf at one of the many nearby courses
Take a day trip to one of the best cities - in my opinion - of Arab splendour in Spain, Almería
Catch a match in season at U.D. Almería, in La Liga again this year :)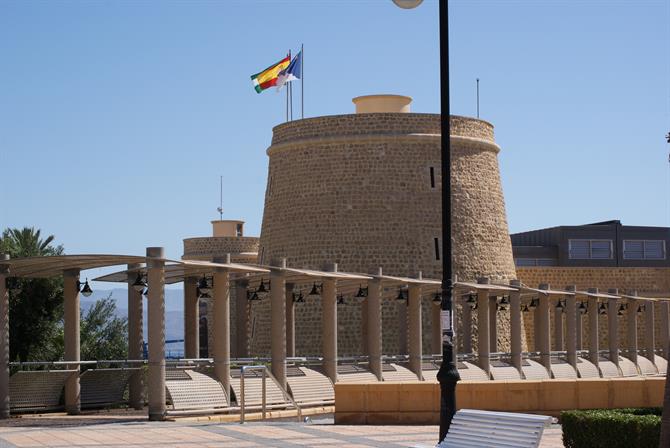 Overall view
To sum up, a spotlessly clean resort, with a local feel. Friendly, safe, perfect for families, older couples, lone travellers, but definitely not for groups of stags and hens. Would go back? Absolutely.