Hitting the right note
Do you know the way to San José? Just look around when you do get there, some Spanish destinations are just perfect camera fodder!
A recent short break to San José, situated within the pleasant confines of the Cabo de Gata Natural Park provided us with just that - so spend a little time looking at the iconic images of the area with us...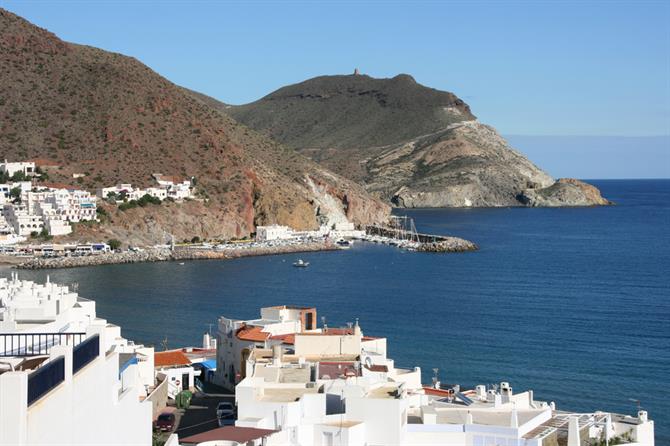 Expectations exceeded
We expected stunning scenery and perfect beaches, lapped by clear and clean water - we weren't disappointed, and left with a promise to return soon, maybe for a longer self catered break in the San José area.
Those beaches were white and golden, littered with only tiny shells and sparkles of gold.
The water was beyond clear, coloured fish darting between our legs and feet at the edge, more in the deeper blue depths, perfect for snorkelling and scuba diving.
Describe paradise...
Scribbling words as we drove from cove to cove, I am left with a jumble adjectives conjuring up a story of sleepy images, cubist houses, painted bright and startlingly white with tumbling fuchsia Bougainvillea. Sandy gardens with the perfect form and high art of planting with angular (and rather spiteful) Cacti. Around every bend the glimpse of turquoise water.
I knew as we ambled along, that to describe the area would be fairly futile, to show you instead would be the only way to let you in on this not very well-kept secret!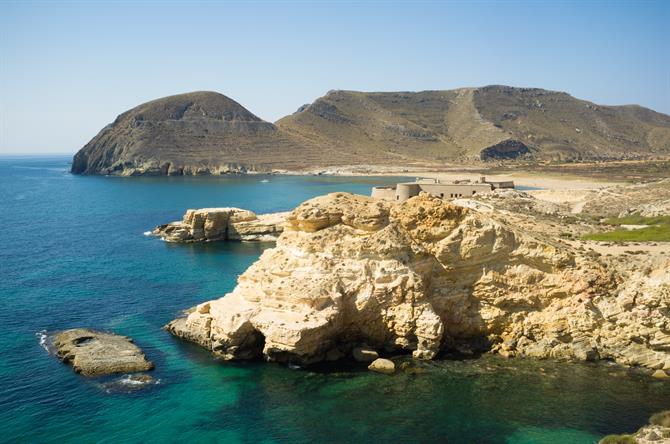 Tourist trap?
Not at all. Surprised at the lack of foreign tourist, San José - probably the busiest part - itself lacks the 'Lager loutishness' of some resorts.Small artisan shops, restaurants with bars, rather than designated bars. Spanish tourists sprinkled with a few northern Europeans mingled, as families and couples, the main centre and night-life winds up around midnight to provide peaceful and quiet nights, lit by the moon mirrored in the perfect bay.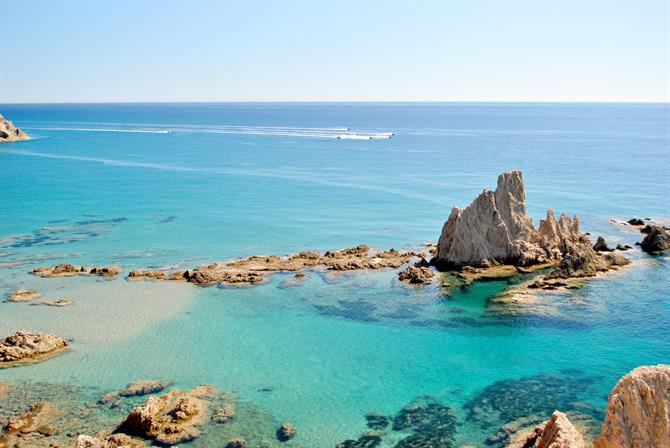 Eating out
Fish restaurants - naturally! - sit alongside Italian eateries - any we tried were excellent. Tapas and a beer came in at €2.20 - €2.50.
What's on the menu? We were presented with large prawns to peel and dip in garlic mayonnaise, pulpo salad, fried sardines, anchovies in vinegar. Don't like fish? Well, you might suffer, but just a little! The Italian restaurants are the best place for something a little different to a plate of good fish. My companion tried a Moussaka and declared it to be the best he had tasted since we were in Greece. Me? I'm perfectly happy with the fish! Look out for a tapas post coming soon.
*Top Tip: The busy and bustling Casa Miguel on the main drag, for towers of fried fish, excellent tapas, a western movie theme, and an owner who could not have been friendlier or more chatty. We noticed that kids were made to feel more than welcome too. Well, I guess that's not too unusual in Spain.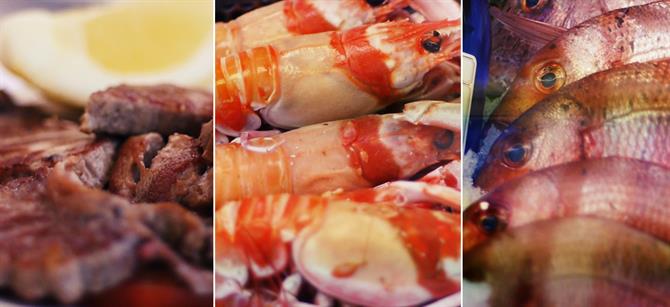 Sporty pursuits
Like to mix up lazing on the beach with something more energetic? Then hire a kayak and see the little coves you cannot walk to. Snorkel close to the shore, around the rocks. Scuba dive a little deeper. A snake of coloured Lycra passed us by - it seems San José is a cyclists dream too. Go out in the country,explore the Natural Park. Go to town. Pick up some pottery in Nijar. Explore the disused goldmines, towers and windmills. There's a friendly and helpful manned visitors centre Las Amoladeras, situated at the beginning of the park. Learn about the indigenous flora and fauna, and note the acres of wild Agave, with their sentry like flowering sticks that patrol the park.
Keep a promise
But do go. Soon. Be optimistic. Have high expectations from San José and the Cabo de Gata Natural Park- it won't disappoint. Because whatever you hope for, it's all there.