If you're looking for somewhere to unwind in the beautiful city of Sevilla, the Aire de Sevilla arabic baths and hammam are where you can experience ultimate tranquility.
You'll find this sanctuary along the narrow and whitewashed Calle Aire in the historic barrio Santa Cruz. The Santa Cruz neighbourhood, the former Jewish quarter and historical centre of the city, is home to some of the most famous sights in Sevilla including the Cathedral, Giralda tower and Royal Alcázar palace, as well as many great tapas bars.
So in between sightseeing, why not take a moment to re-energize at the Baños Árabes?
Historical Details of Arabic Baths
The Arabic tradition of taking long baths and relaxing in water was inherited from the Byzantines and the Romans.
In Andalusia, baths were originally built under Islamic tradition as they believed water to symbolize purity, and during ancient Moorish times these types of baths were key for social and business purposes. However, with the arrival of the Christian reconquista most Baños Árabes were destroyed, as the Christians believed lengthy bathing to be a decadent custom.
While few original baths can be found today in Spain, the practice has been kept alive in the form of spa-like sessions to relax the body, the spirit and the mind.
The Baños Árabes Experience
Walking down the bronze lantern-lit steps to the restored chambers of Aire de Sevilla, all voices are hushed to a whisper and you can tell that the ambience is equally as important as the aesthetical services provided.
With red-hued walls intensifying the warmth, glowing candle light, ambient background music, and incenses and natural oils all beneath dark latticework ceilings, it's impossible to feel anything but complete calm.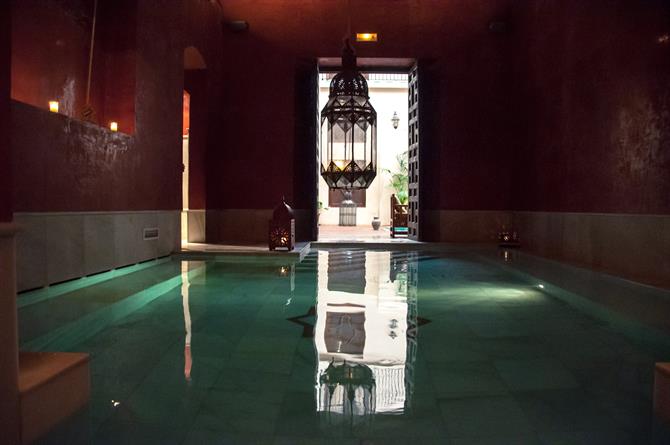 A classic visit includes an hour and a half Thermal Bath and Aromatherapy session within different spaces centred around a roman-tiled Relaxation room where you can sip hot and cool herbal teas and water between baths.
Your session begins in the thermal baths room. There are three pools; the warm bath (36℃) stabilizing your body temperature, the hot bath (40℃) producing a feeling of calm, and the cold bath (16℃) with dripping ice to revitalize and tone the skin. Next, you can make your way to the hammam steam room to experience cleansing essential oils, followed by a visit to the Thousand Jets pool. Finally, a level lower you'll find the salt water pool where you can experience weightlessness and float into ultimate relaxation.
Along with the Thermal Bath and Aromatherapy session, guests can also choose additional massage packages ranging from 15 minutes to a full hour, or other favourites including the Water Ritual underwater massage or the Four Hands Ritual relaxation massage.
You can be sure to enjoy peace, calm and privacy at all times because access is restricted to small groups in order to conserve the Aire de Sevilla "Sanctuary of Silence".
The Birth of An Idea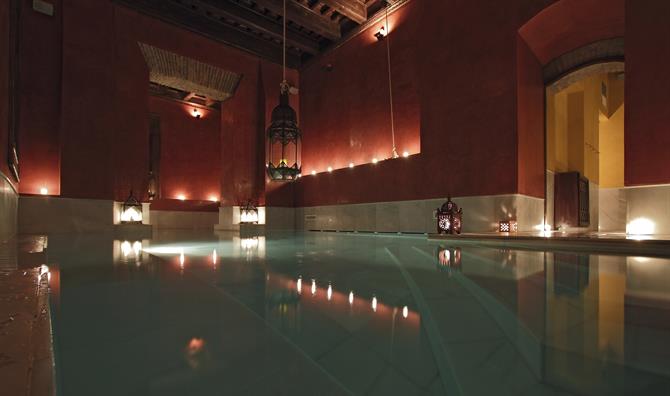 The idea behind Aire de Sevilla originated from the need for a place to relax and disconnect from daily stress combined with the cultural history of Andalusia.
Located within a 1200 square meter palace built in the 16th century by the Governor of the Indies on the site of an ancient bath, these Baños Árabes connect with past civilizations and the restorations focus on the mudéjar style influenced by 12th to 16th century Moorish artistry.
Following the first Aire centre opening in Sevilla and it's growing popularity, new centres were opened in Barcelona and Almería, and most recently in New York, each keeping in mind the practice of total disconnection within an adapted historical building.
Visiting Aire de Sevilla Baños Árabes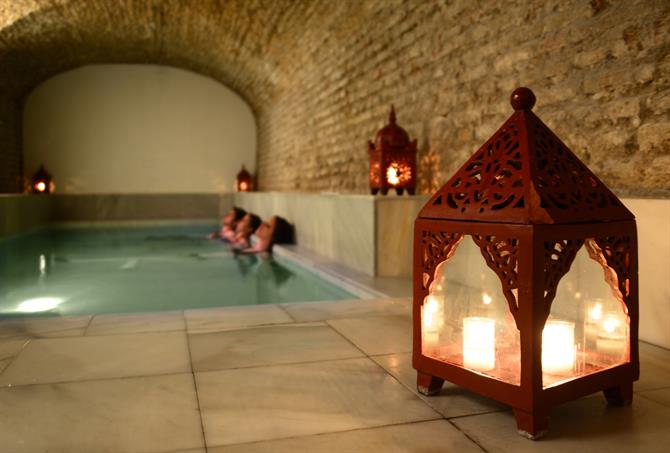 What to bring: A bathing suit and nothing else - Aire de Sevilla provides water shoes and towels, and their dressing rooms are equipped with lockers, shampoo, shower gel and hairdryers. If you do forget your bathing suit, complementary suits are available.
Schedule: Sessions are organized into hour and a half time slots and you should plan to arrive 15 minutes before your reservation to allow yourself time to change.
Day: 10:00-11:30, 12:00-13:30, 14:00-15:30
Evening: 16:00-17:30, 18:00-19:30, 20:00-21:30, 22:00-23:30
Friday and Saturday nights: The centre is also open from 00:00 until 1:30 for midnight baths.
Rates: Rates range from 26€ per person for a 1.5 hour Thermal Bath and Aromatherapy session to 210€ for the luxurious 4 hour Tratamiento Aire de Sevilla.
Reservations: When planning to visit Aire de Sevilla it is strongly recommended to reserve in advance online or by telephone.
Please note that baths are co-ed with the exception of private male/female sessions, and the minimum age to visit is 18.
Contact
Telephone: +34 955 01 00 25
Address: Calle Aire, 15, 41004 Sevilla, Spain
More information: www.airedesevilla.com
Other Aire Locations: Aire de Barcelona, Aire de Almería, Aire Ancient Baths New York