First off: if you haven't booked your accommodation in the city yet, you'll be lucky to find anything this late in the day. Semana Santa is one of Seville's most important festivals, with a million people visiting the city during the week.
Video of Semana Santa in Seville
Once you're here, what can you expect to see?
During the week, each parish church's brotherhood (or hermandad) goes out in a solemn procession consisting of the memorable pointy-hooded figures, nazarenos (yes, they do look like the Klu Klux Klan) - men, women (in some hermandades), and children; and two or three pasos (floats) with lifesized, sometimes gruesome statues of the Virgin Mary and her son. The largest hermandades have up to 3000 nazarenos.
These effigies are much-loved works of art, considered some of the most important artistic wealth of the city. Each Jesus figure is different, representing a scene from Christ's last days on earth – the more elaborate misterios have a supporting cast of characters such as Roman soldiers and Pontius Pilate.
The Virgin Mary figures wear velvet robes embroidered with gold thread; many years she has a new outfit for the processions. Both floats are decked with fresh flowers and candles.
When does it all start and what happens?
There are eight or nine processions every day, starting from around 12.30 (dayime) on Palm Sunday – some of the arriviste brotherhoods have been tacked onto the start of the week, on Friday and Saturday, but Semana Santa proper starts on the Sunday. Look out for palm leaves on balconies; people dress up in their best clothes and take a stroll in the afternoon.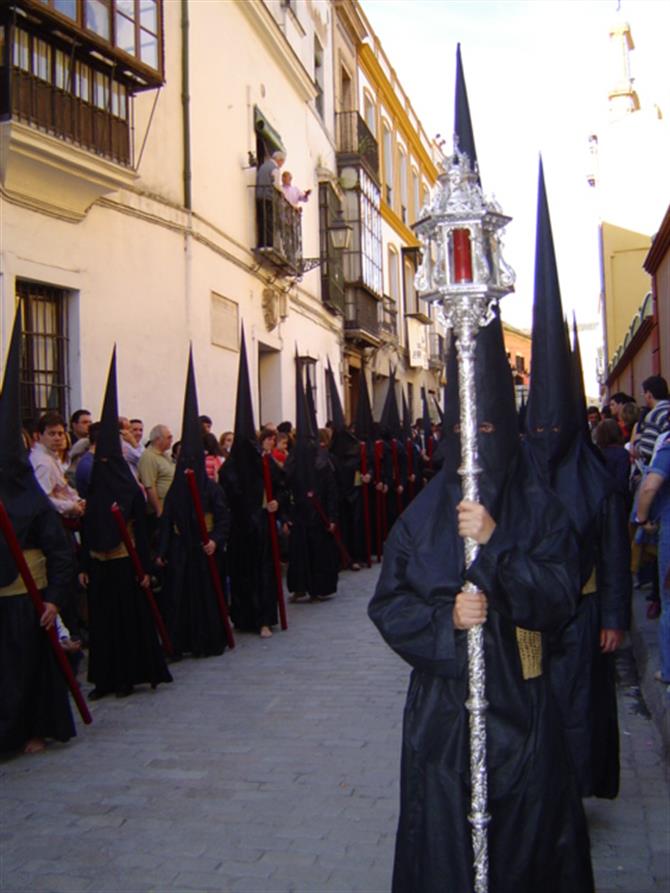 Each procession has its own set route - they leave their parish church, process to the cathedral, then make the return journey. The brotherhoods whose churches are furthest away from the basilica may take up to 14 hours for the whole round trip. All are carefully coordinated so they don't bump into each other – with up to nine procession in the street at any one time, taking up to an hour to go past, this is an amazing feat of logistics and organisation.
The floats are carried by men called costaleros, who walk underneath with padding on their necks and corset-like belts to help support the 2000-odd kilo weight of the wooden figures. There are 30-50 carrying each float, and you'll see them stopping for a break and a well-earned beer along the route of their procession, while a compañero takes over.
Also accompanying the processions are brass bands, whose wailing trumpets and slow drums provide an eerie soundtrack to these days. Listen for a saeta, the plaintive songs sung from balconies to the Virgin as she passes below in the street. These are prayers set to flamenco music.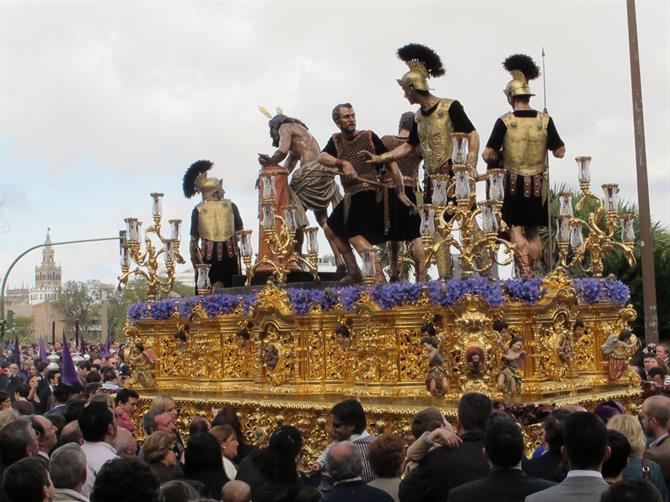 Where can you see the processions?
If your apartment has a balcony on the official route – calle Imagen, Sierpes, Plaza San Francisco, Avenida de la Constitucion – then that's the ideal vantage point, as well as providing space to eat, rest and use the facilities. Semana Santa is something of an endurance test, with 12 hours of action every day.
For the locals' view, go to a parish church and wait for the procession to come out (la salida). You'll feel great anticipation as the Virgin emerges, and hear gasps of admiration. People throw confetti and flower petals over her paso as she passes.
It's worth staying out after dark – around 7.30pm this year – to see the scenes by candlelight - the floats have them, and the nazarenos carry them in their hands. The statues look even more realistic in the gentle, flickering light, while the nazarenos take on a sinister edge, with their faceless hoods.
What you need to know
Most shops are closed in the afternoon during Semana Santa, and Jueves and Viernes Santo (18 and 19 April) are national holidays, so expect all shops and banks, and most monuments, to be closed. Bars and restaurants, however, do a roaring trade all week, making as much as they would in three months.
Check the forecast before you head out, as April in Seville can be unpredictable, switching from rain to sun in minutes. Take a street map, water, snacks, spare camera battery and memory card; wear layers of clothes and comfortable shoes, as you will be standing outside in the street for many hours.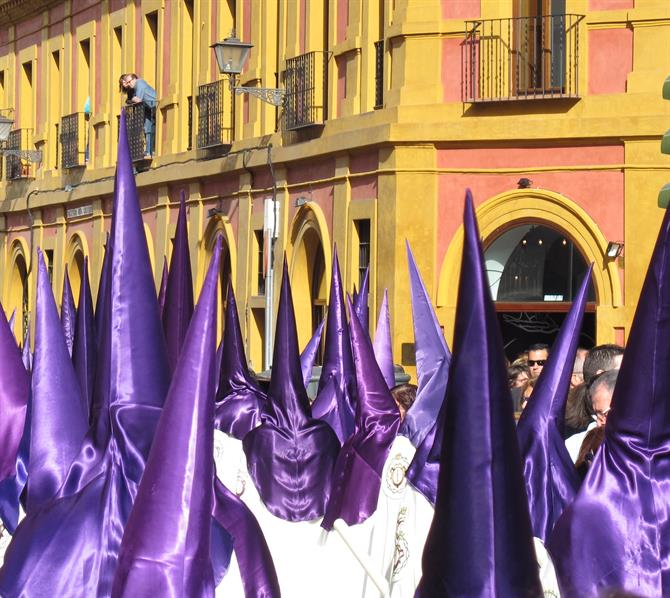 If rain is forecast, the processions are often cancelled, so as not to risk damaging the statues, with decisions on whether or not to go out often left to the very last minute.
A printed guide to Semana Santa with timings and locations of processions is essential: pick one up from the tourist office, bar, shop, or with a local newspaper. It lists the route and (approximate) times of each procession, with its location at certain times (use your map to plan your afternoon), along with the colour of robes worn (each brotherhood has its own strip) and description of the images.
You can see a detailed listing of each hermandad's schedule here, and useful apps include Canal Sur's iLlamador or Giralda TV's iSemana Santa.
Recommended processions to watch
Good vantage points, apart from balconies, include open spaces such as wide avenues – the Alameda (Monte-Sion, Thursday evening); squares - Plaza de Triunfo, where all processions come out of the cathedral; and the park - La Paz on Sunday and Santa Genoveva on Tuesday go through Parque Maria Luisa – a good option if you have children with you.
Some pasos pass though Plaza de Encarnacion, where you can stand on the steps of Metropol Parasol for a great view: San Roque and La Cena, on Palm Sunday afternoon/evening; La Sed on Wednesday afternoon – Plaza de Pilatos is also a good spot to see this; La Macarena, on Friday morning.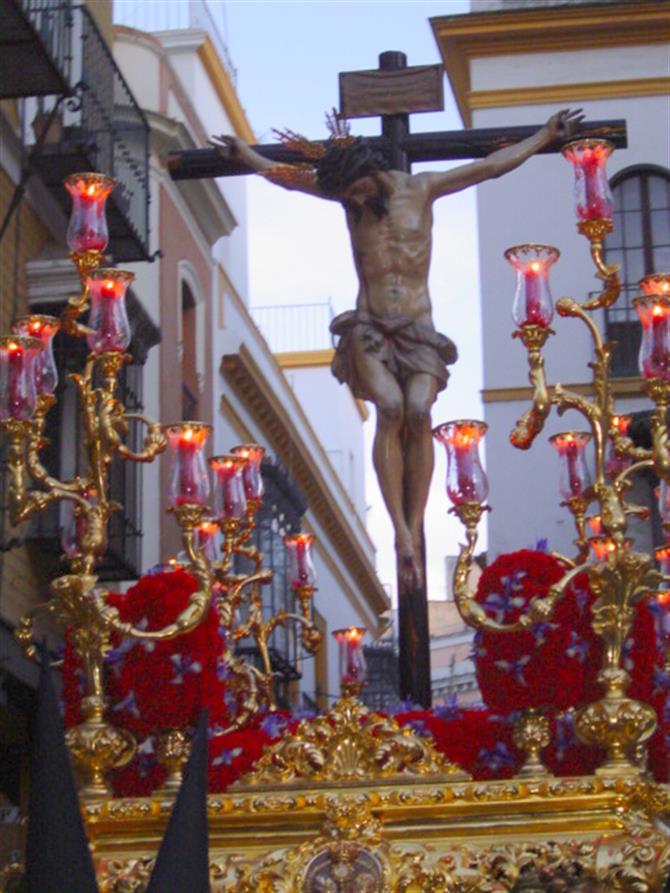 If you want to watch a salida, try San Benito (Tuesday afternoon) - they have to kneel to fit the paso through the doorway. La Rendicion (Monday) has an interesting misterio paso showing Judas' Kiss. Another spectacular sight is processions crossing Triana bridge: Esperanza de Triana (Friday morning).
La Madrugada, Thursday night, is considered the high point of the entire week. The most famous and best-loved Virgins of Seville - Macarena and La Esperanza de Triana - come out to a rapturous welcome from the locals, who pack the streets to glimpse their beloved icons. Also worth seeing are El Silencio, which is a silent procession, and starts off in the dark, and El Gran Poder, one of the oldest hermandades.
Remember that the narrow streets of the centre get extremely crowded; arrive early to see a paso, or you be not able to get into the street, and if you want to leave quickly it can be tricky. As in any crowd, watch your pockets, and above all make sure to immortalise every colourful, extraordinary moment on camera – these will be photos to treasure.