Seville is a city alight with the buzz of culture and history.
The incredible richness of the Andalusian capital is best understood by allowing yourself the time to get lost in the streets of the historic centre. Once you've worked up an appetite, what better way to experience a culture than by tasting the diversity of flavours that embody its unique charm?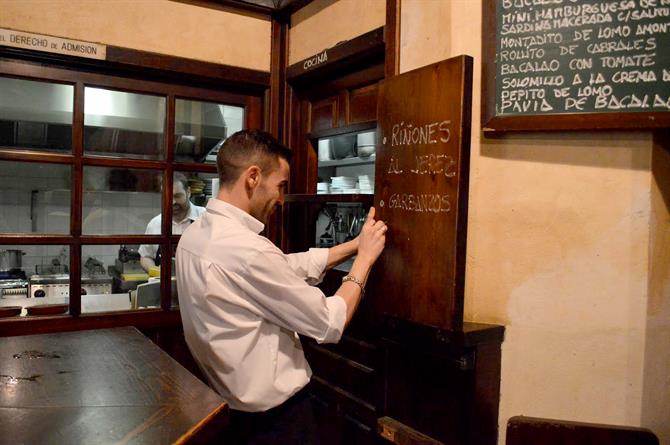 Make the Most of Tapeo
Tapeo is defined as the art of eating and socializing; hopping from one tapas bar to the next for small shareable plates of food.
Choosing venues to tapear in Seville, Spain is both alluring and overwhelming because of the wealth of food and drink. To travellers, the sea of tapas bars in Seville is as vast and beautiful as the Seville Cathedral.
If you're interested in acquiring a deeper understanding of local tapas culture, joining a tapas tour is a great option that will be sure to entertain during an evening or an afternoon. Taking a tapas tour, such as those offered by Azahar Sevilla, will help you enjoy the best tapas Seville has to offer.
If joining one of these enjoyable outings doesn't correspond with your holiday agenda, we recommend consulting our list before venturing the vast tapas selection found within the streets of Seville.
Inspired by Azahar Sevilla's informative tour following years of passionate research, these tapas bars are so good, you'll taste the magic that earned Seville its title as the capital of Andalusia.
Bodeguita Romero
This restaurant is celebrated for the home-cooked quality of the menu and for the warm, welcoming atmosphere.
The quality of the tapas prepared in this family-owned joint are comparable to the comfort food that your grandmother would indulge you with during a visit to the warm confines of her kitchen.
Despite its ordinary appearance, the pringa (a type of slow-roasted pork) offered at Bodeguita Romero is famous for the succulent pork used to fill its crusty bun. Also notable is the pork cheek and the potato salad.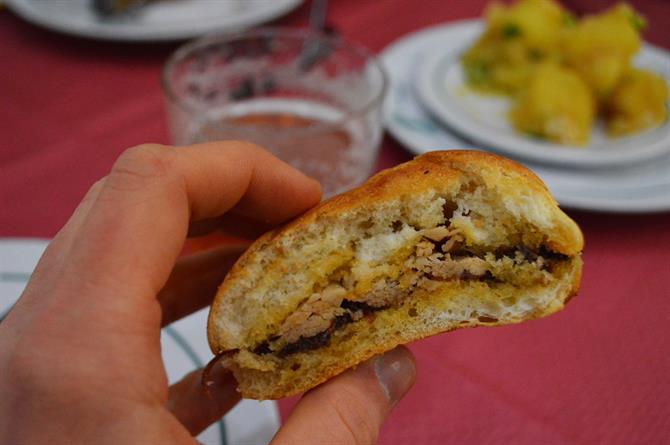 Though relatively close to the cathedral, this restaurant is a little tricky to locate. Like most worthwhile tapas bars in Seville, it can become quite crowded and the staff know little English, so prepare yourself for a genuine cultural experience. Every item of the menu is as affordable as it is flavourful. Most of the tapas offered are between €2-€3.
Calle Harinas, 10
Tel. 954 229 556
Open: 12:00 – 17:00 / 20:00 – 00:00
Closed: Sunday evening and Monday
Eslava
The charm of this particular tapas bar is its balance of great service, ambiance, and food. The menu is traditional with a twist, as it features many of the same items found elsewhere in Spain but with a refined presentation.
Prize-winning tapas on the menu at Eslava include the pork ribs in honey sauce and the egg served on boletus cake with caramelized wine sauce.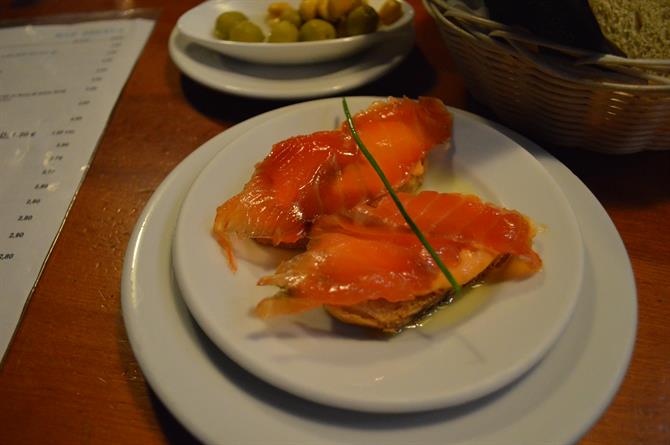 All of the items are both affordable and delicious. These impressive tapas attract quite a crowd, and it doesn't take long for this bar to be bursting out the door with customers.
Expect a full restaurant and a short walk, as it is located slightly outside of the city-center. Prices generally range from €2-€5.
Calle Eslava, 5
Tel. 954 906 568
13.00 – midnight
(Kitchen closed 16.30 – 19.30)
Closed Sunday evening and Monday
Vineria San Telmo
For tapas with a twist, this is the place to visit. Vineria San Telmo has an artistic atmosphere, characterized by the words, art, and photos that decorate the ceilings and the walls. The wine list is impressive, and is further complemented by a beautiful menu that changes regularly.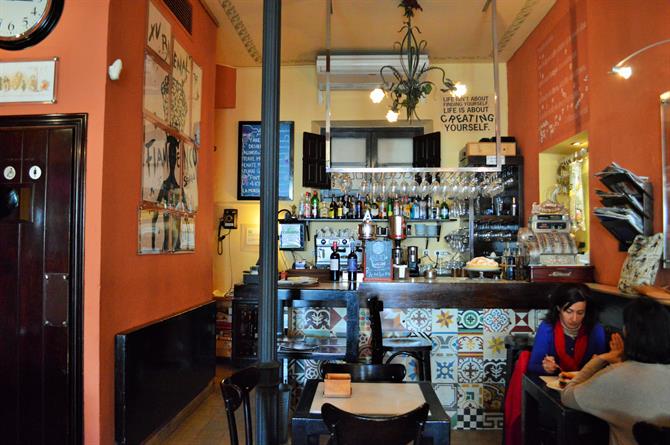 Squid ink spaghetti, pluma Ibérica with curried pumpkin and fried rocket, and famed lemon-meringue pie are all worth the slightly-higher price you pay for such decadence. Most of the tapas menu offers a selection from €3-€5, with wines by the glass around €2,50.
Located in the Santa Cruz area of Seville, this fun restaurant has a fantastic atmosphere and food within a neighbourhood worth visiting.
Paseo Catalina de Ribera, 4
Tel. 954 410 600
Open 7 days a week 11.00 – midnight
Kitchen closed 17.00 – 20.00
Casa Morales
Though the loud, crowded environment may be initially intimidating, this restaurant is renowned for its traditional Spanish feel and for the incredible quality of their food. Elbow your way to the bar and take in the traditional décor that gives this place its authenticity.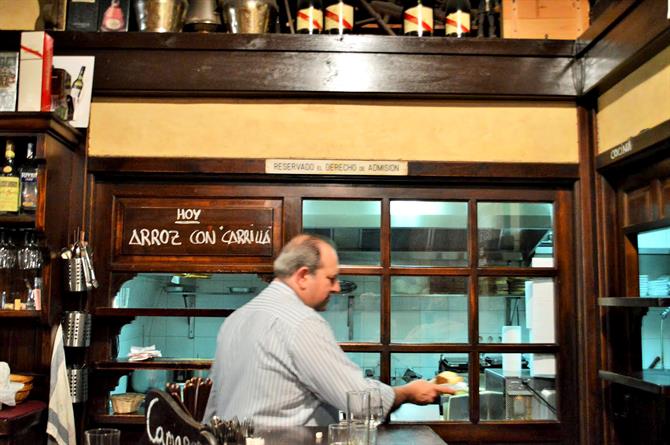 Lined with large terracotta wine vats, hanging hams and bottles, the atmosphere feels as genuine as the food.
Choose from an impressive selection of wine, beer, and sherry, and order some plates of their incredible tapas. Given the impressive menu, we recommend asking the chef to make a selection of tapas for you to sample the diversity of their quality foods.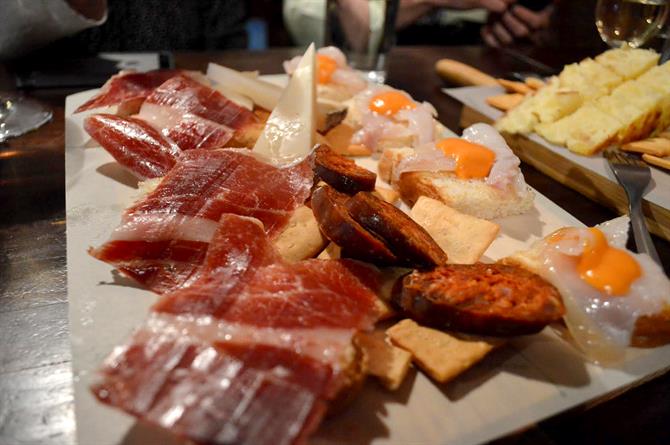 Located only a short walk from the Cathedral, Casa Morales is a great experience for anyone seeking traditional tapas at an affordable price. Most of the tapas are between €2-€3 in price.
Garcia de Vinuesa, 11
Tel. 954 22 12 42
Open 12.00 – 16.00 / 20.00 – midnight
Closed Sunday
Tasting Tour
To truly savour your time in Seville, explore this collection of unmissable tapas bars and experience the incredibly delicious and rich history of the Andalusian capital.
Buen provecho
and happy holiday in Seville, Spain!