History lessons are fun in Spain when you visit a castle. Kids will love imagining themselves as princes and princesses or knights and damsels. Learn something old on holiday.
Castillo de Manzanares El Real
You might well have seen this castle on the big or small screen, in 1961's El Cid starring Charlton Heston and Sophia Loren. It's relatively straightforward to view in real life too. A 50-minute journey by bus transports you from Madrid's Plaza de Castilla on the 724 line, although note the castle is closed to the public on Mondays.
Alcázar de Segovia
Buy a postcard in Segovia and it's bound to feature its famous castillo. This the sort of castle you'd imagine Rapunzel being imprisoned in. Featuring classical towers, it would come as little surprise to see a window being opened from up high and a beautiful maiden letting down her hair so that you may climb the golden stair.
Castillo de la Mota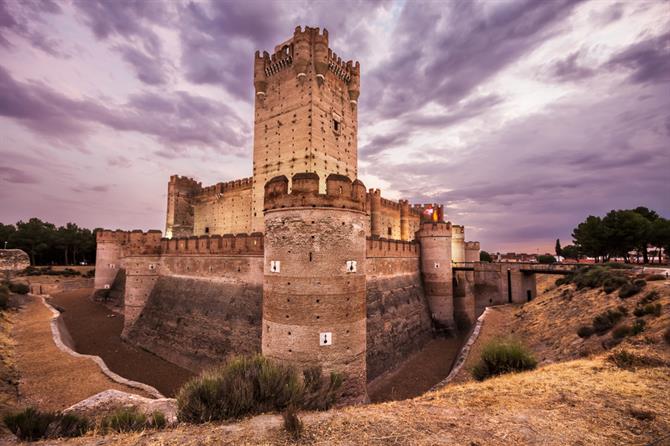 Built on the site of an 11th-century fortress, this Valladolid castle owes its 20th-century reconstruction to one Francisco Franco. The dictator took a fancy to any constructions with links to the Catholic Monarchs. The heraldic shields of Ferdinand and Isabella above the main gate date back to 1483.
Castillo de Almodóvar del Río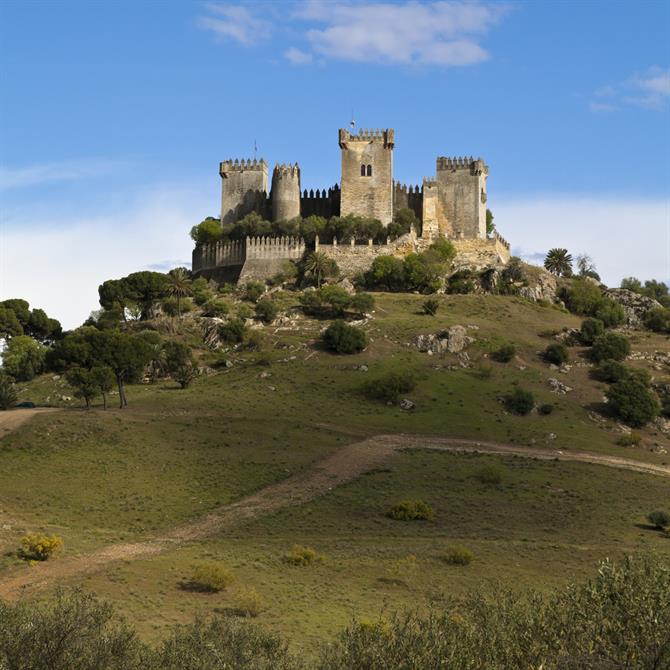 The Córdoba province is home to this imposing Moorish fortress. Constructed in 760, this Berber-designed castle was built on the site of a previous Roman fort. Which only goes to emphasize its strategically-important location.
Castillo de los Templarios en Ponferrada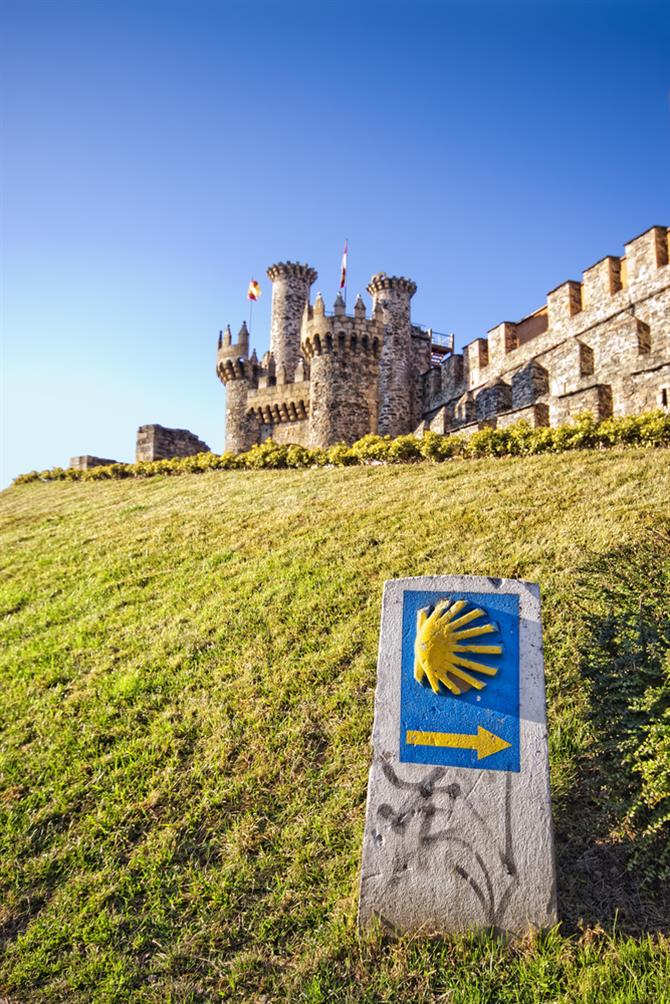 A landmark on Spain's famous Camino de Santiago, this León castle was originally a hill fort and then a Roman citadel. Before the Templar knights took possession of it in the 12th century, transforming it into a refuge for pilgrims progressing to Santiago de Compostela. A proper castle of the old-school variety, there's even a drawbridge and moat.
Castillo de Javier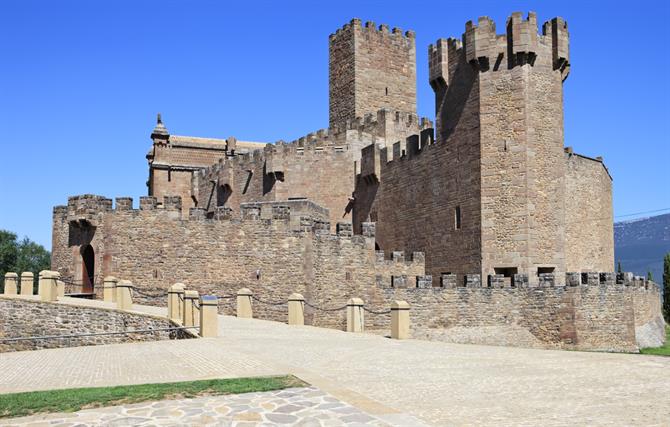 Another to offer hospitality to pilgrims, Javier Castle stands on a rock in the town of the same name. Originally constructed in the 10th century, this Navarra citadel became a museum in 1901. Of especial interest is the Torre de Cristo, Tower of Christ, which houses a Gothic chapel.
Castillo de Xátiva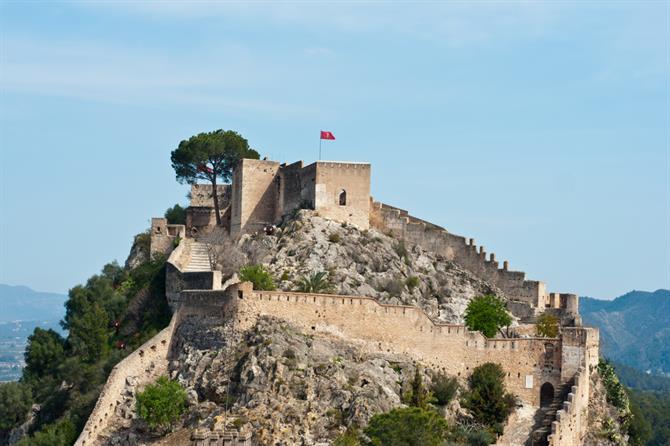 Not one but two interconnecting castles, Xátiva's location on the Roman Road, Via Augusta, made it of vast strategic importance. And so capturing the castle was key to triumphant campaigns by the likes of Hannibal, Scipio, and Sertorius. Near Valencia, it links Rome via the Pyrenees with Cartagena and Cádiz, further along the Mediterranean coast.
Castillo de Gibralfaro

Sitting 130 metres above sea level, Gibralfaro Castle enjoys a commanding position. Overlooking Málaga's city and port, it also takes pride of place on the province's flag and seal. Dating back to the 10th century, it was constructed on the orders of Abd-al-Rahman III, Caliph of Cordoba.
Castillo de Olite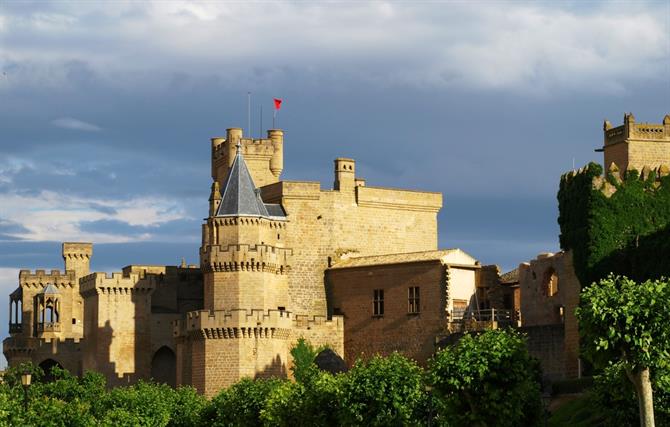 Also known as the Palacio de los Reyes de Navarra de Olite, this castle really is fit for a king. Built during the 13th and 14th centuries, it was one of the seats of the Court of the Kingdom of Navarre. Its first occupant was Carlos III, nicknamed Charles the Noble.
Castell de Tossa de Mar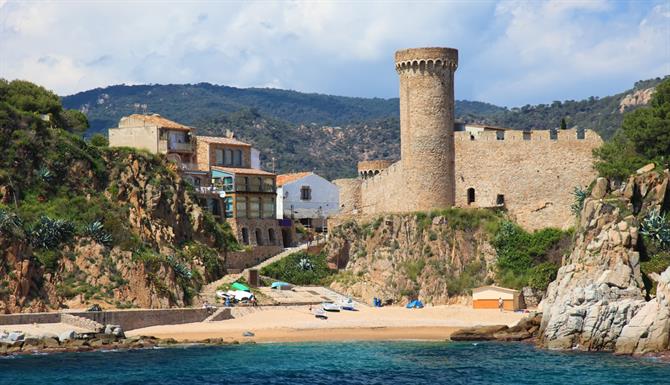 The Costa Brava isn't only a place to go to top up your tan. This castle is the highlight of Tossa de Mar old town, a location which was declared a National Historic and Artistic Monument back in 1931. Situated in the south of Girona province, it was constructed by Abbot Ramon Dezcatlar back in 1387 and has survived pirate raids and even a French invasion.