Visit any Spanish square and the only people moving will be kids playing and waiters serving. Spaniards love to chat with their friends over a beer or coffee. Stop and join them for a while, why don't you.
Plaza Mayor, Madrid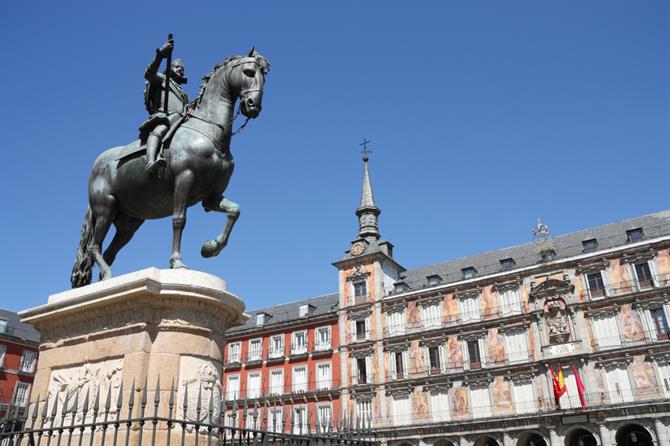 Habsburg old, this central Madrid plaza isn't square at all. Rather, it's rectangular in shape, measuring 129m x 94m. Visit for a coffee or drink, but be prepared to pay more as you enjoy a seat with a view of one of the Spanish capital's most famous areas.
Plaza de España, Seville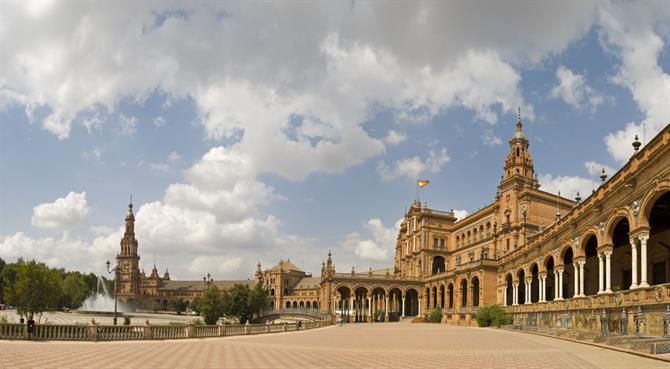 Seville's tourist trap works on Spanish visitors as much as it does those from overseas. The Plaza here is a building constructed for Expo 29. In front of it is a canal whose wall features 48 alcoves with benches, one corresponding to each province of Spain. This is where you'll find your average Spanish tourist being photographed, sitting on their province's bench. Non-Spanish visitors prefer ending a horse-and-carriage ride here.
Plaza de Santa Teresa, Ávila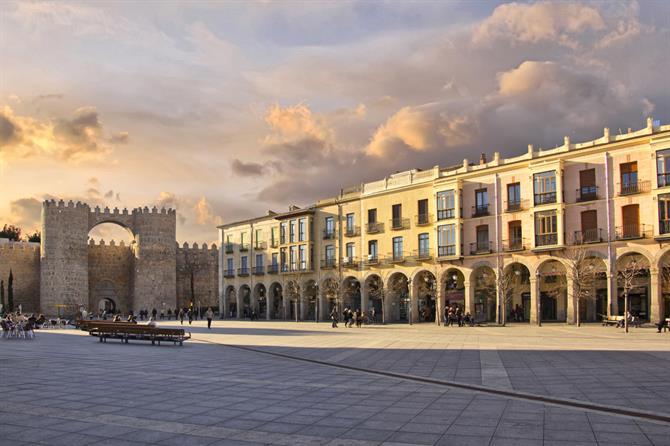 There are two main squares in Ávila. El Mercado Chico's located within the city walls and is aka Ávila's Plaza Mayor. However, Plaza de Santa Teresa, despite falling outside the city walls, is known as El Grande. And grand it most certainly is.
Plaza de la Virgen, Valencia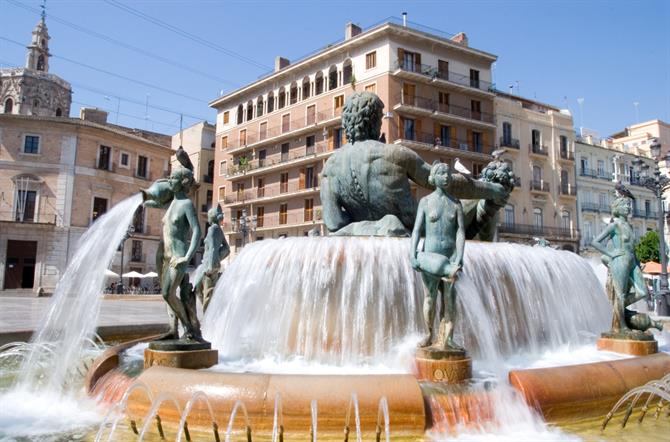 Where the City of Arts and Sciences is Valencia at its most dynamic and modern, Valencia's erstwhile main square is the city at its most reverential and traditional. Playing a prominent part in Valencia's fortunes since Roman times, this square will waylay you. For who can resist an ice-cold glass of local drink horchata on a sunny day? It's a rhetorical question.
Plaça Reial, Barcelona

Royal Square is not to be confused with the similarly-sounding Plaça de Reial, which, wouldn't you know it, shares a Barri Gótic postcode. Crowds spill onto the tables of the square's various bars and restaurants, particularly at night. Next to La Rambla, Plaça de Reial's impossible to miss and an essential stop on any Barcelona itinerary.
Plaza Mayor, Vic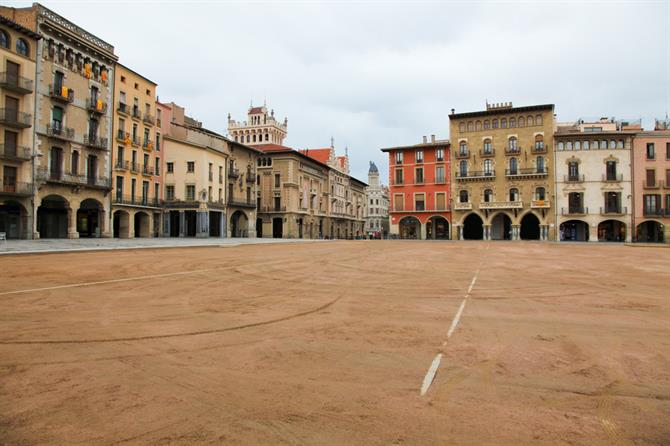 An altogether smaller Catalan city than the capital is Vic. But it's had an interesting history, conquered and destroyed by Moors before being reconquered by the gloriously-nicknamed Wilfred the Hairy in 878 AD. The city's main square comes to life on Tuesdays and Saturdays which are the traditional market days.
Plaza del Potro, Córdoba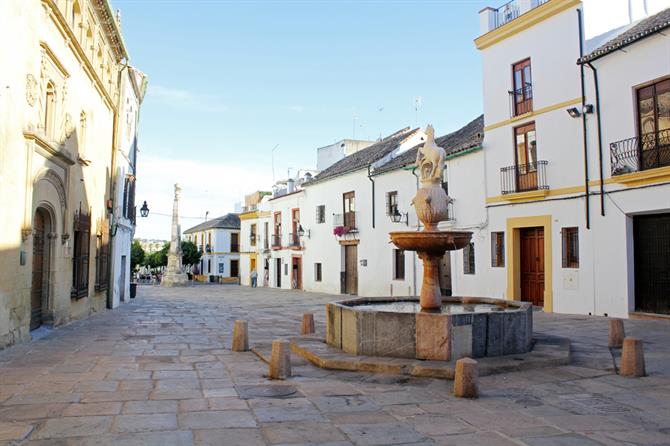 Potro's the colt who stands, hooves aloft in the Fuente del Potro fountain situated in the middle of the square. Hooves which proudly display Córdoba's city of arms. Spain's most famous author Cervantes referenced the Puente del Potro well in his classic novel, Don Quixote.
Plaza de la Constitucion, San Sebastián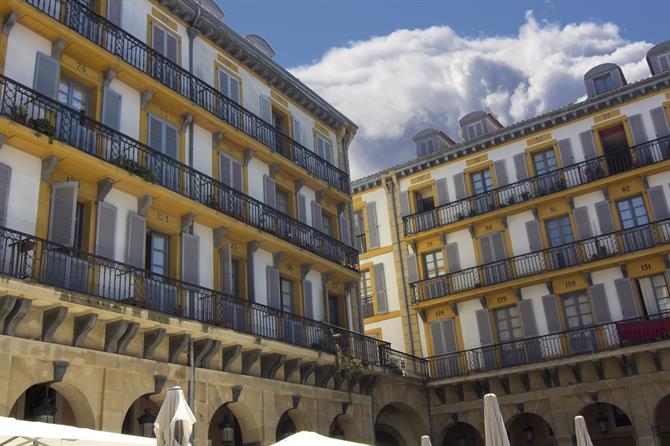 Until the 1940s, Plaza de la Constitución housed San Sebastián's town hall. Its clock, which still stands, bears the city's seal. Look carefully at the picturesque balconies above and you'll see numbers displayed. For whilst the properties might have belonged to their owner, their balconies formed part of the city's bullring. So they were sold to paying customers.
Plaza del Pilar, Zaragoza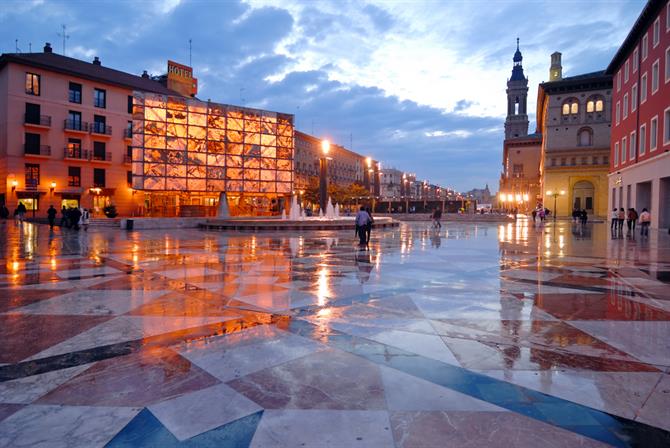 Access this popular plaza through calles Don Jaime I and Alfonso I. It's also known as Cathedral Square as Zaragoza's two cathedrals are located here: La Seo and the Basilicia-Cathedral of Our Lady of Pilar. Today, it's one of the largest pedestrianized squares in the whole of Europe.
Plaza Mayor, Léon

Underground parking transformed León's main square into a pedestrian-only zone. Dating back to the 17th century, it becomes market square on Wednesdays and Saturdays. Baroque buildings make this plaza suitably exuberant in style.